Comics
Published January 8, 2021
5 Times Kate Bishop Hit the Mark
Read the ace archer's best moves on Marvel Unlimited.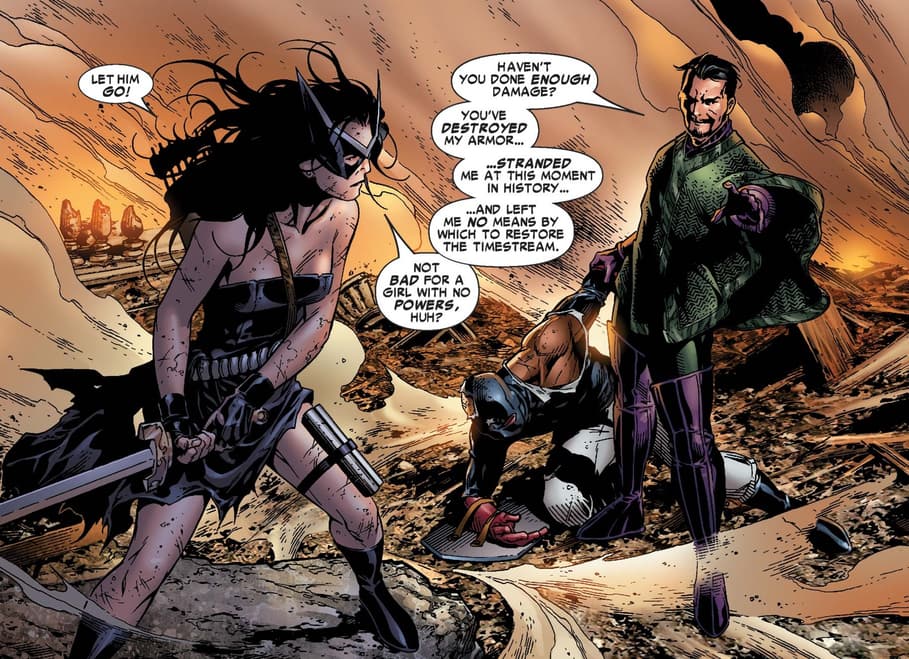 In her first series (and first appearance of the Young Avengers), Kate Bishop and her newly-assembled team found themselves taking on the grown-up Avengers' most persistent enemy: Kang the Conqueror.
Kate may have been a relative newbie to the Hawkeye game, but she handled herself like an absolute pro. Using all the mastery she had acquired from summer camp archery, Kate loosed an arrow, effectively disrupting the armor on the time travelling menaces' super-suit.
Don't worry, guys. She plays the cello.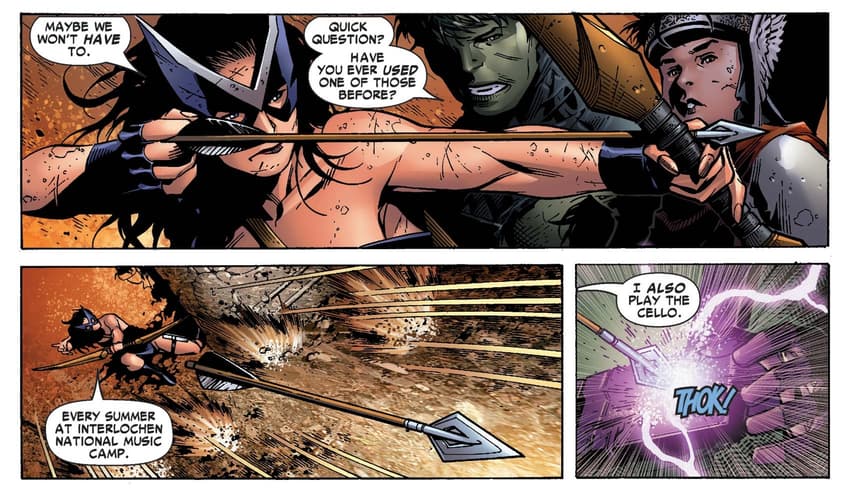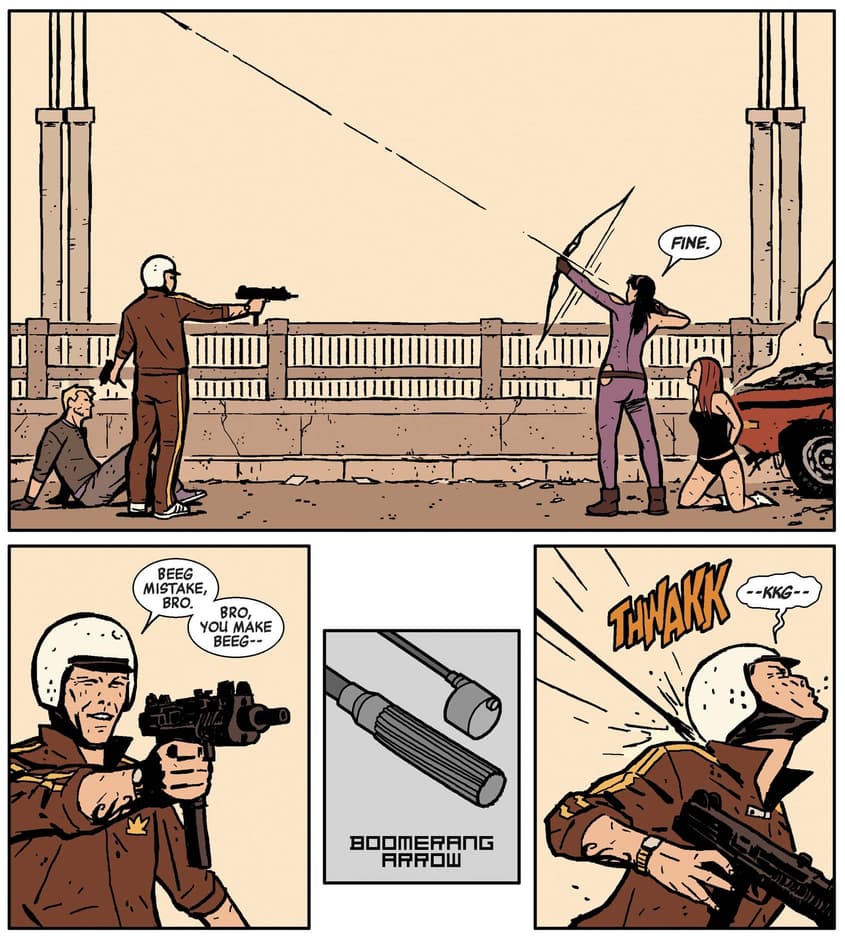 If we've said it once, we've said it a thousand times: Read this critically-acclaimed run in full. Creators Matt Fraction, David Aja, Matt Hollingsworth, and more delivered a pulpy street-level series that never failed to see Hawkeye: Clint Barton get his kicks in (and get copiously kicked).
Working closely with her mentor and partner, "Lady Hawkguy," AKA Kate, learned all the tricks of the Hawkeye trade, even taking on her first Big Bad in Los Angeles by series end. And, in issue #3, Kate learned to never underestimate the trick arrow, an essential tool in the super-archer's arsenal. This member of the "Tracksuit Mafia" never saw it coming.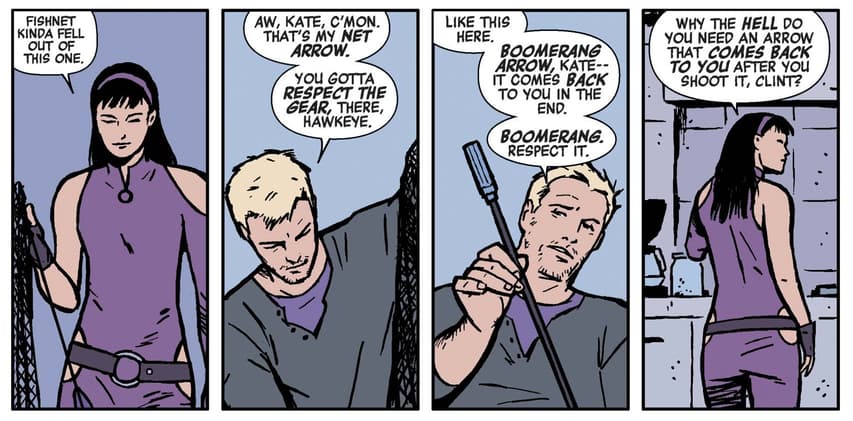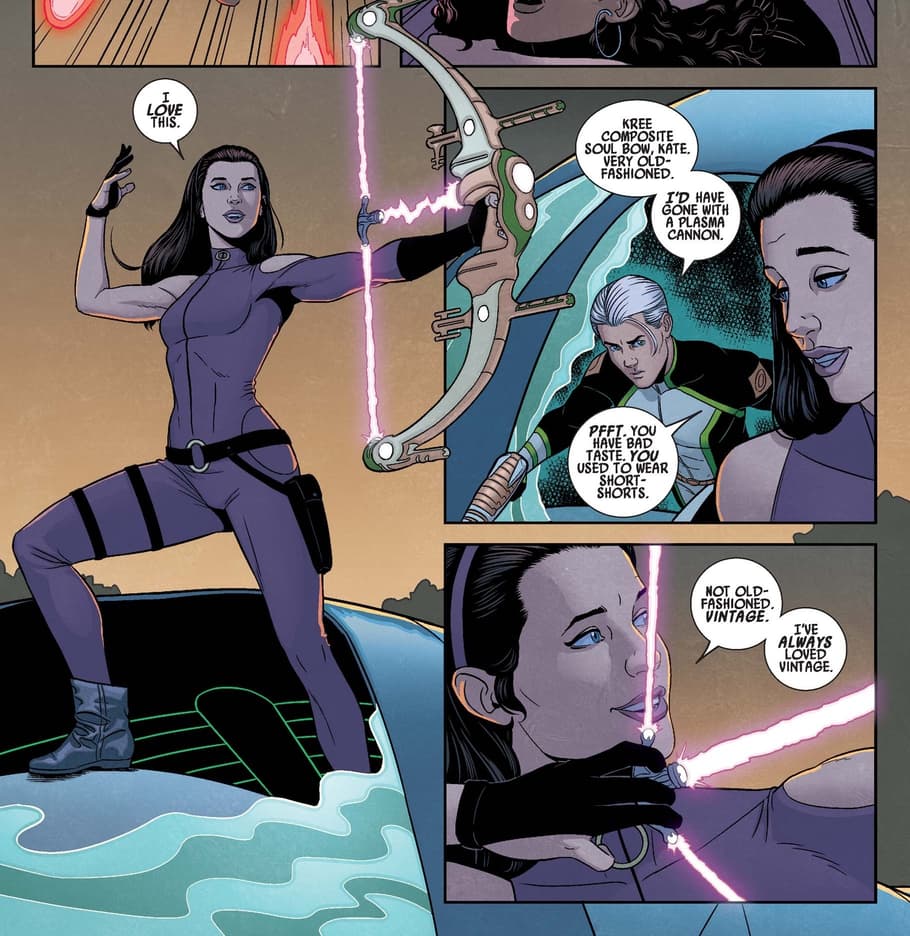 There are so many reasons to read YOUNG AVENGERS (2013): Stunning substance and style from dream team Kieron Gillen and Jamie McKelvie, teen soapiness, romance, a parasitic alien named "Mother," a de-aged Kid Loki spreading mistruths at every turn…
But for Kate, this is the series where she added some Kree weaponry to her quiver. While facing Mother's "parent parasites" in New York City's Central Park, Kate had a blast using a "vintage" Kree Composite Soul Bow.
THE SINGLE-ARROW SMACKDOWN (HAWKEYE #1)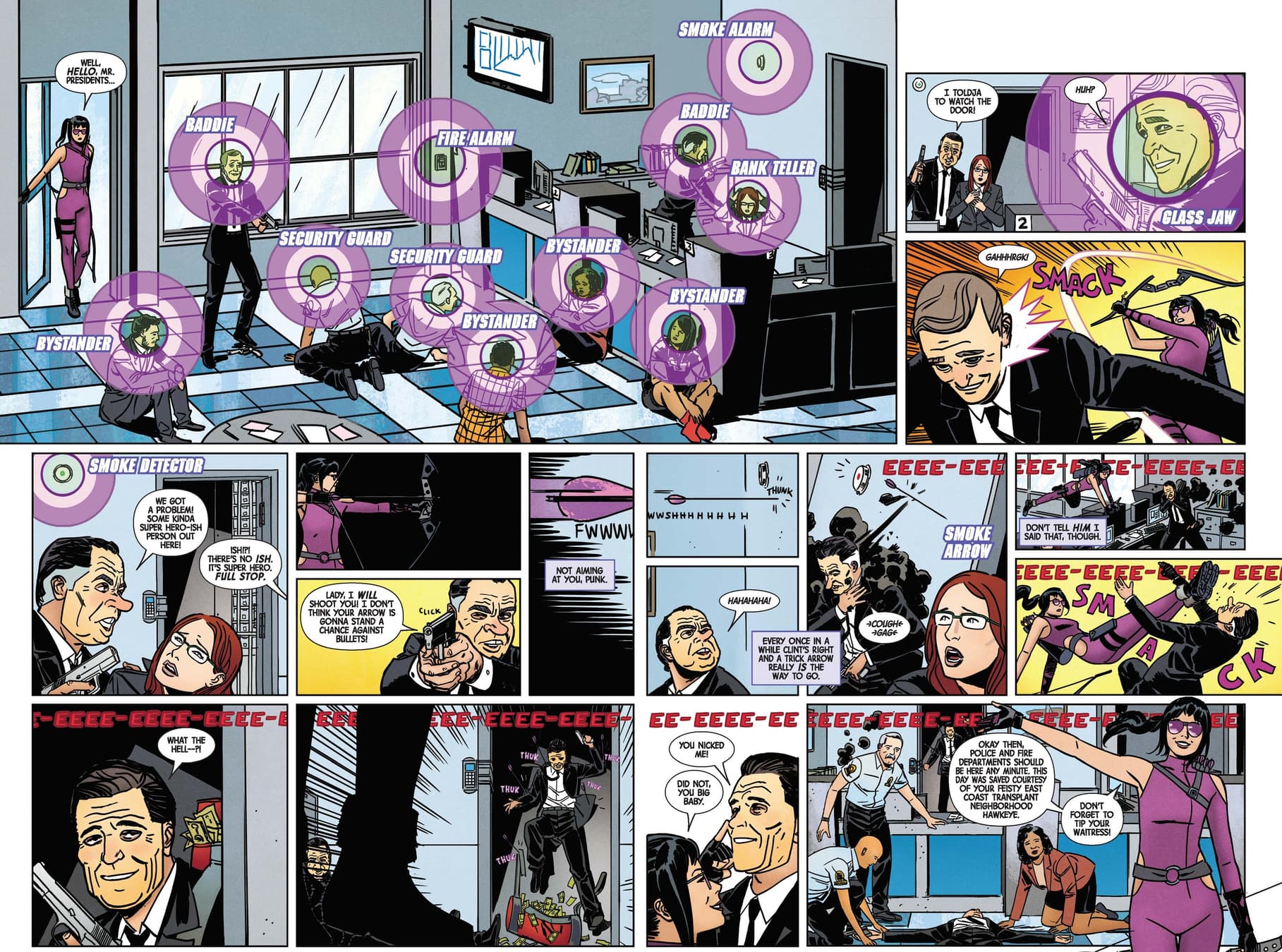 The City of Angels got a new guardian in this splashy series by Kelly Thompson, Leonardo Romero, and Jordie Bellaire.
Armed with a bow, a single arrow, and a mean flying kick, Kate cut down two crooks in this double-page whammy from her first solo run. Following Clint Barton's trial in CIVIL WAR II, Bishop went west to establish Hawkeye Investigations, her detective agency that dealt with superhuman and (human) mysteries. There are guest-stars galore in this great starter series, notably New York's own Jessica Jones!
Venice Beach has never looked so cool.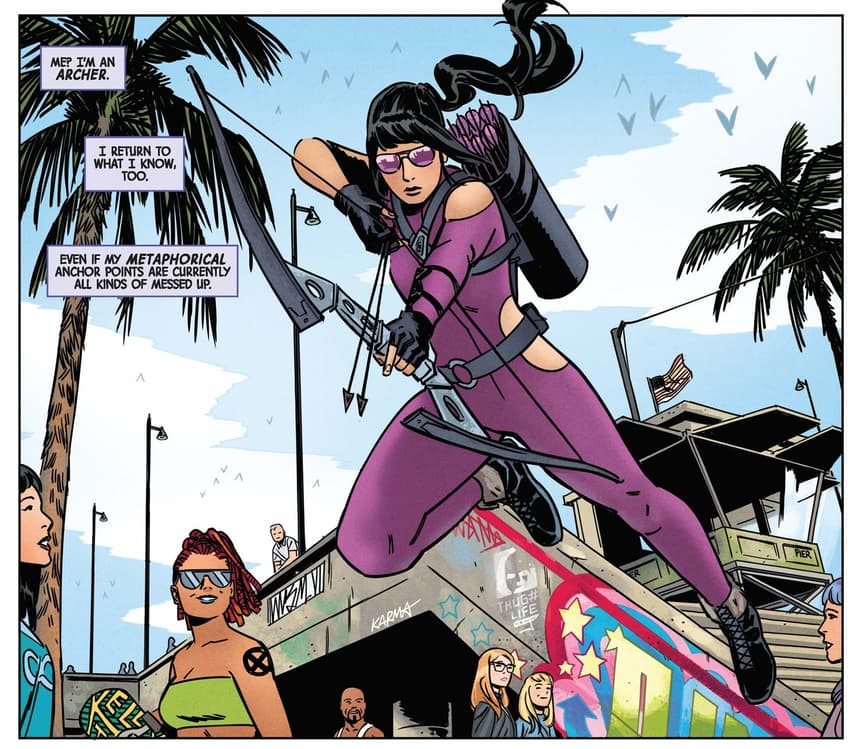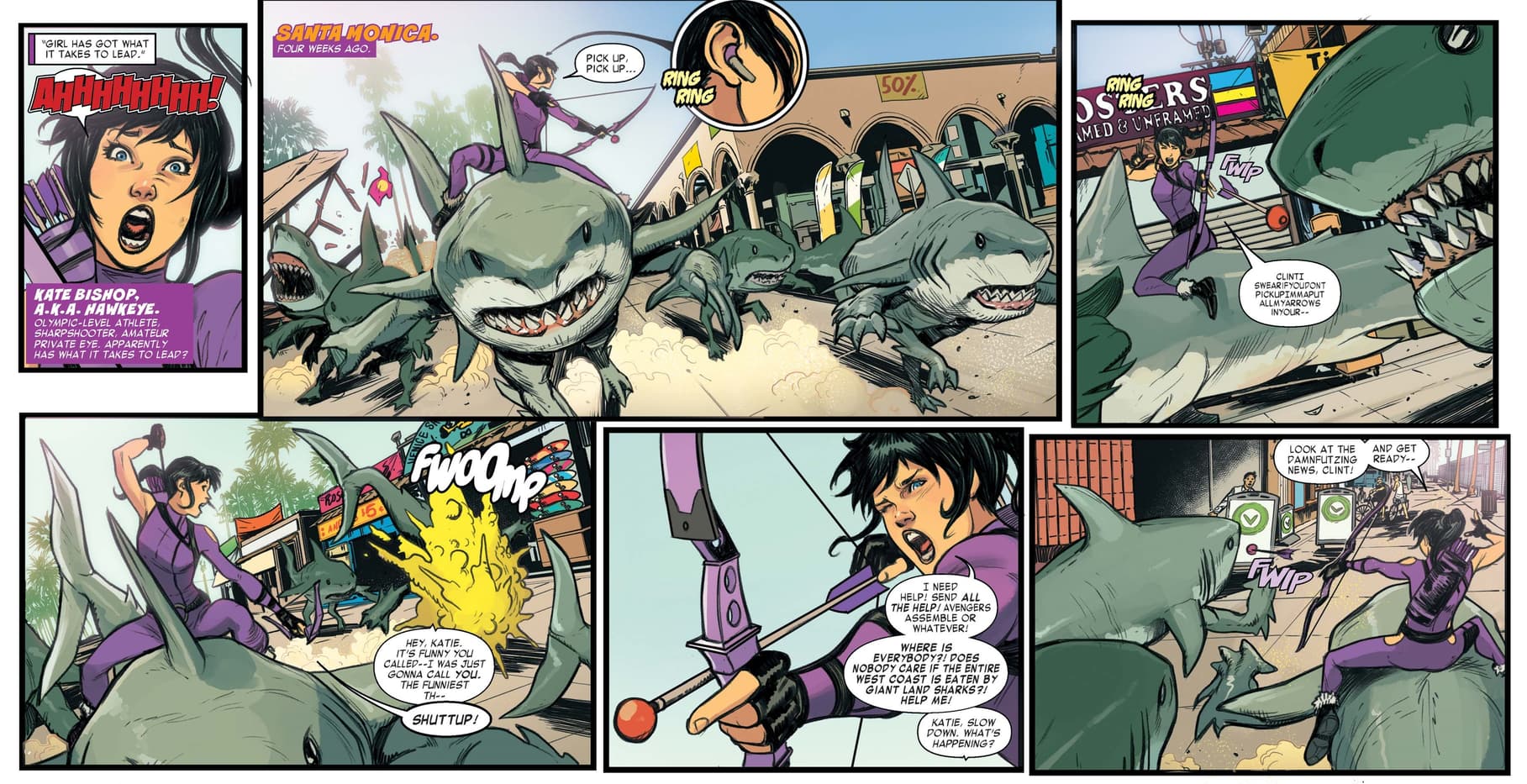 This entire 10-issue run reads as one big hit for Bishop. Continuing the "Best" Coast adventures of her detective-ing and super hero-ing, Bishop and a cast of disparate weirdos (and we do mean that in the best way), assembled against some of the strangest threats this side of the Pacific. The only catch? Their super-team was funded by a film crew, meaning every action, feeling, and open threat by Quentin Quire was documented for public view.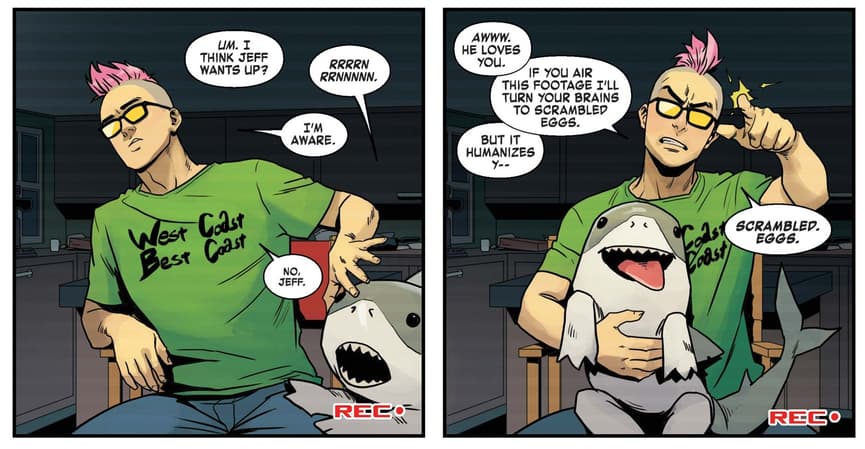 Hawkeye: Kate Bishop. Hawkeye: Clint Barton. A guy named Fuse. Never have they ever been called "the Big Three" of... anything. Yet here they were, reunited for, okay, only the second time ever. In the debut appearance of the West Coast Avengers, Kate showed she had the mettle of a leader when an invasion of terranean sharks destroyed the boardwalk in chaotic fashion. Don't worry, Kate got it done.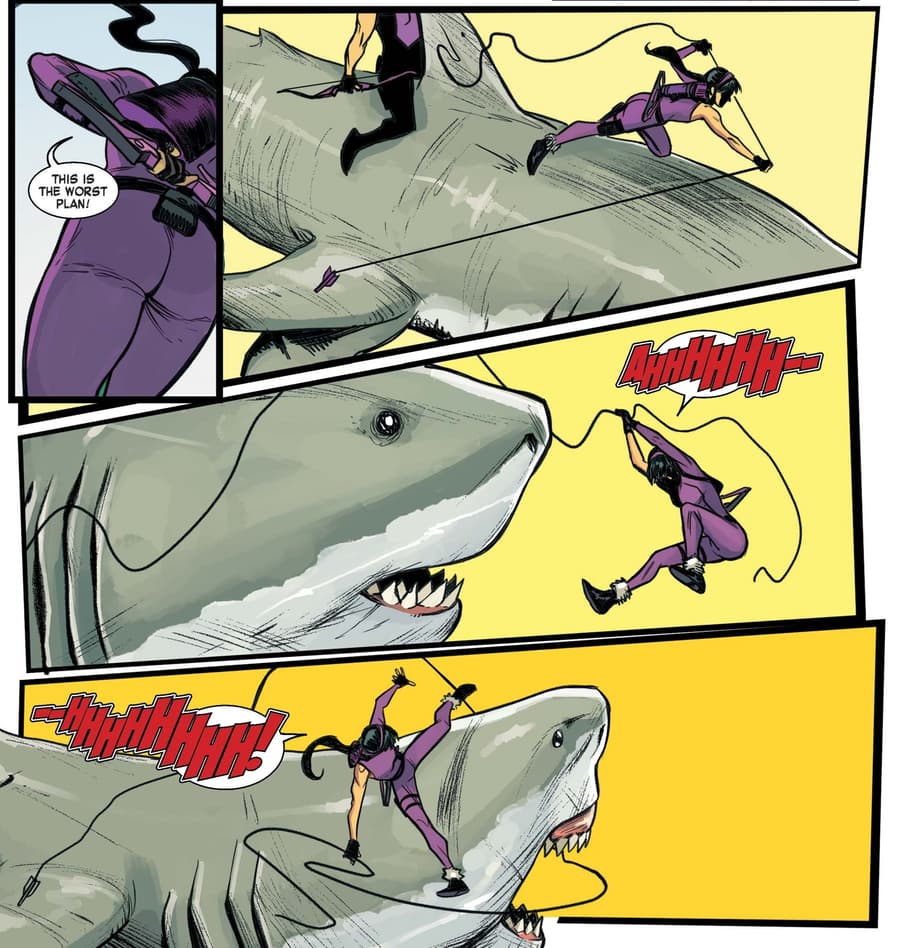 Want to read even more arrow-singing moments courtesy of Kate? Head over to Marvel Unlimited for all our comic picks, and read her YOUNG AVENGERS runs in full today!
Follow Marvel Unlimited on Twitter and Facebook to stay tuned in to weekly announcements, articles, and more, all at @MarvelUnlimited. Follow us today to join the conversation with thousands of fellow fans, and let us know what you're reading!
The Hype Box
Can't-miss news and updates from across the Marvel Universe!