Comics
Published October 12, 2017
Kirby 100: To Become an Immortal
Jane Foster finally travels to Asgard in another Kirby classic!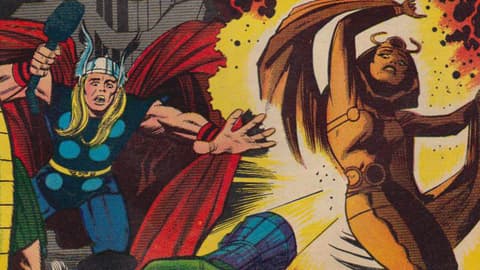 1917 to 2017: 100 years of Kirby.
Join us to celebrate Jack "King" Kirby's 100th birthday by learning about the characters and stories he created that changed comics forever. To commemorate Jack's centennial, we've sat down with the modern-day creators he influenced—and the decades of work he gifted us all.
Meeting your betrothed's dad can be a nerve-wracking and tricky situation. Now imagine you're getting hitched to a guy who happens to be a Norse god with none other than the All-Father, Odin, for a dad! That's the strange life Jane Foster found herself living as THOR #136 launched in 1967 thanks to Stan Lee and Jack Kirby. At that point, Odin had finally approved of Thor's relationship with Foster and she knew all about Don Blake's secret identity, so the time seemed right to visit his homeland.
Upon their arrival on the Rainbow Bridge, the lovers saw the Calvary of Asgard running off to battle trolls and then one of the captured enemies brought back for interrogation. Jane met Heimdall and Odin, saw the Asgardian war room, and then received garb worthy of a god and the ability of flight from the All-Father! Foster then took off into the skies and enjoyed her new powers for just a few moments before doubting that they might remain consistent. As she plummeted, Thor flew to save her, but wondered why she lost faith in Odin so quickly.
All of this turned out to be the road to Thor and Jane marrying which would include her evolution into a goddess herself! As another test of Jane Foster, the All-Father requested the presence of The Unknown and sent Jane in after the mysterious being. Paralyzed by fear, Foster called for Thor's help, which he quickly provided his beloved, seemingly sending the creature away. Convinced that Jane had not proved herself prepared for godhood, Odin reminded them that The Unknown fed on fear, an emotion that no immortal on Asgard could hold in their breast. Speaking for herself, Jane said that she wanted no part in godhood and left for Midgard alone!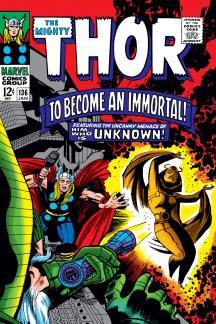 Angered with his father, Thor lashed out, claiming that all of this had been Odin's plan from the beginning to get Jane out of his son's life! The accused denied these claims, put Thor in his place, and then ordered him to the Glade of Crystals to keep an eye out for the still-loose Unknown. Once there he found a Troll summoning the creature!
The Odinson soothed his inner turmoil to some extent by trying to destroy The Unknown. Heart-sick and off his game, our hero nearly fell to his foe, but regained himself thanks to the help of an unseen ally. After vanquishing the beast, Thor got a good look at the one offering assistance and recognized Sif, sister of Heimdall. As it happened, she had romantic feelings towards him dating years back and he seemed quite taken aback by her, all of which proved part of Odin's master plan to help move his son along.
But what of Jane Foster? Of course, as we now know, Jane Foster would eventually return to Asgard, not as a potential goddess, but as Thor herself!
Stay tuned to Marvel.com for more throughout Kirby Month and beyond! And join the conversation on all of our social channels with the hashtag #Kirby100.
The Hype Box
Can't-miss news and updates from across the Marvel Universe!