Comics
Published June 19, 2020
Listen to These Super Hero Dads, They Know Things
To celebrate Father's Day, we take a closer look at some of our favorite dads in the Marvel Universe.
READ EVEN MORE MARVEL DADS HERE!
You don't have to have super-powers to be a parent, but it would probably help! As it happens, several of Marvel's best heroes are also proud fathers. Life may sometimes get in the way of spending quality time with their families, but these dads are doing their best to impart their life lessons to the next generation.
Parenting is truly a never-ending battle, and there's always a new challenge on the horizon. For these Marvel dads and father figures, embracing their best selves and sharing wisdom comes with the territory. We can all follow in their example, so pay attention!
PARENTHOOD CAN CHANGE YOU FOR THE BETTER.
Marvel's Merc with a Mouth, AKA Wade Wilson, AKA Deadpool, is infamously irrelevant and prone to extreme violence at the drop of a hat. But in SPIDER-MAN/DEADPOOL (2016) #3, Peter Parker got to meet Wade's daughter, Eleanor. That allowed Spidey to see firsthand just how devoted Wade was to his Ellie.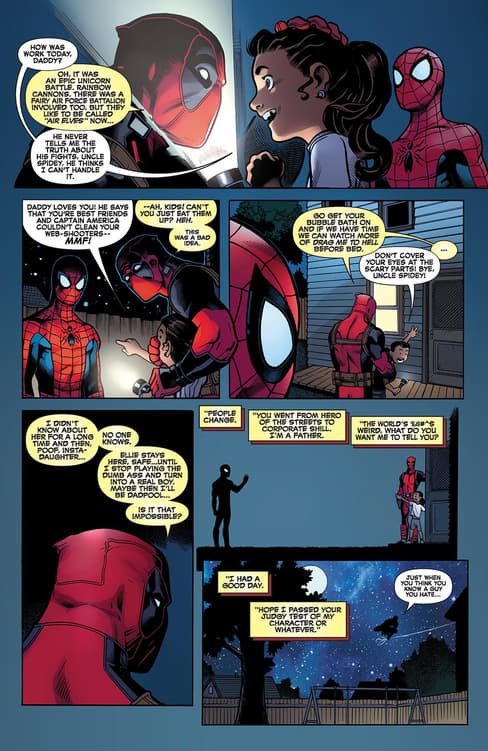 Wade was still Wade. But being a father helped Deadpool become a better person and it also strengthened his friendship with Spidey.
FAMILY COMES FIRST.
In the aftermath to SECRET INVASION, Luke Cage and Jessica Jones' daughter, Danielle, was kidnapped by Skrulls. In NEW AVENGERS (2004) #48-49, Cage even turned to Norman Osborn for help in order to get his child home safely.
Once Danielle was back in their arms, Luke and Jessica reaffirmed her importance to them and each other. This was the moment they realized that Danielle's well-being was their primary concern, now and forever.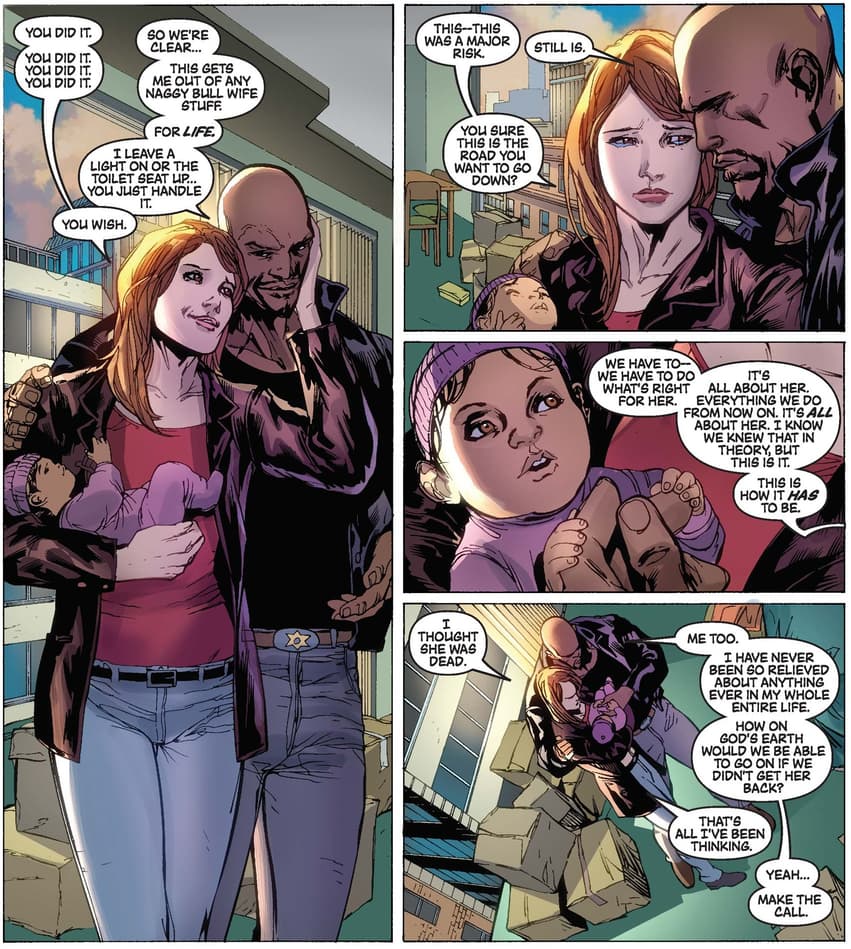 MAKE SPACE FOR YOUR CHILDREN.
Reed Richards has a reputation of burying himself in his laboratory rather than spending time with his wife or children. But that doesn't mean that Mister Fantastic doesn't love his family dearly.
During a time of personal crisis in FANTASTIC FOUR VS. X-MEN (1987) #3, Reed comforted his son, Franklin, after he had an unsettling dream. Reed then cheered up Franklin with a story that only an elasticized hero can provide. That heartwarming moment also helped heal the rift between Reed and the Invisible Woman during a rocky patch in their marriage.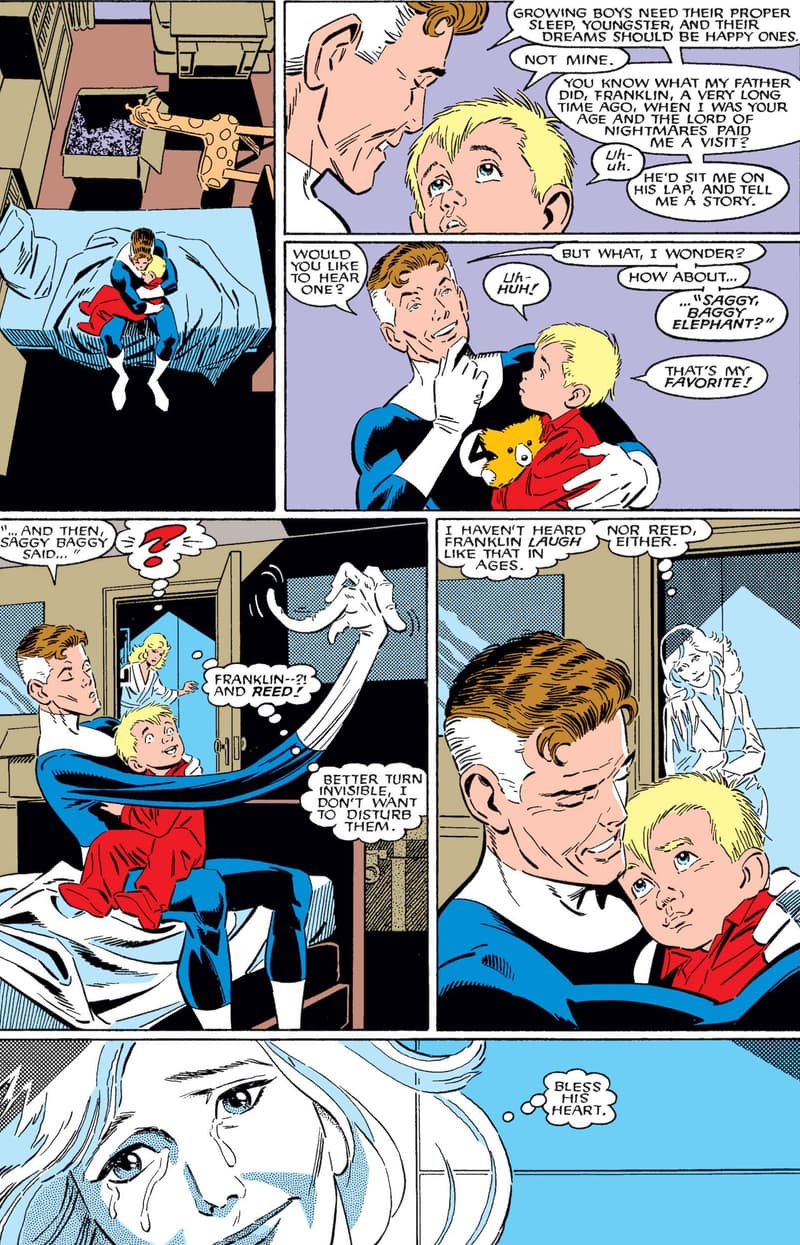 BUILD TRUST OVER TIME.
Magneto doesn't exactly have a great track record with his kids. His relationship with Scarlet Witch and Quicksilver is tenuous at best. And, the events of AXIS implied that they weren't really his children after all. That means Lorna Dane, AKA Polaris, is Magneto's only living child. And he's treated her horribly in the past.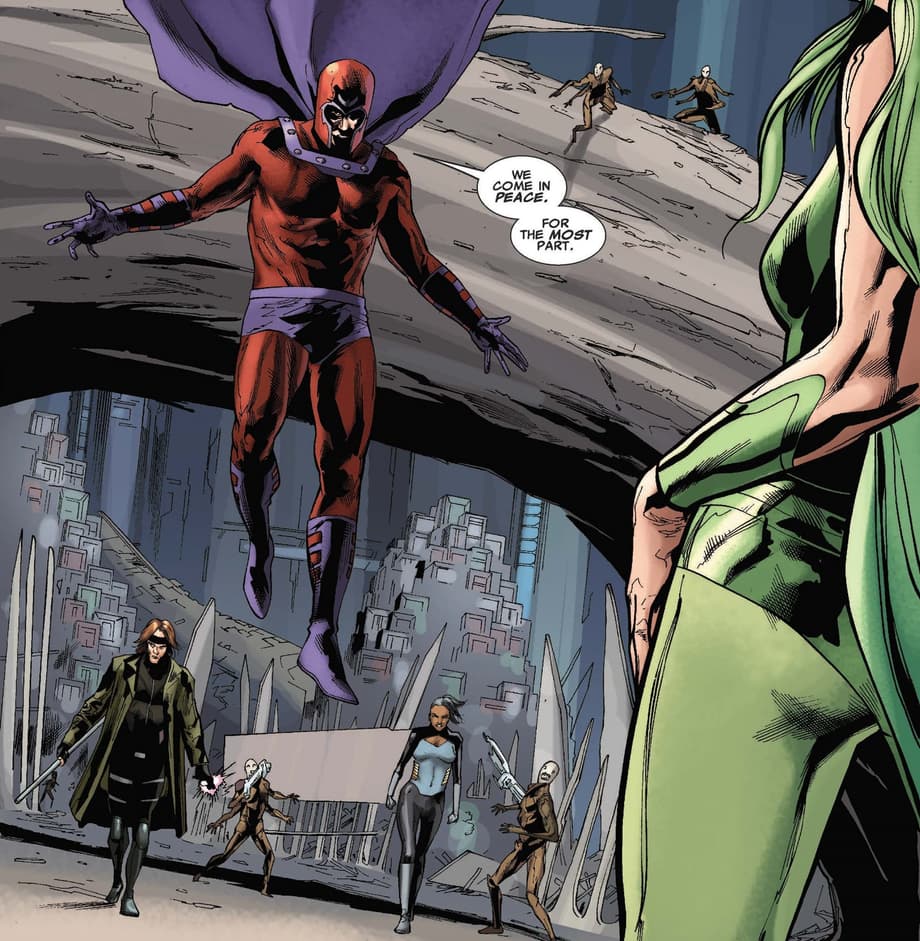 In X-MEN: BLUE (2017), Magneto and Polaris tried to move past their emotional baggage and work together while guiding the teen-version X-Men team from the past (see: 2012's ALL-NEW X-MEN). Lorna was particularly moved by the revelation that Magneto wanted her around to challenge him and keep him on the right path.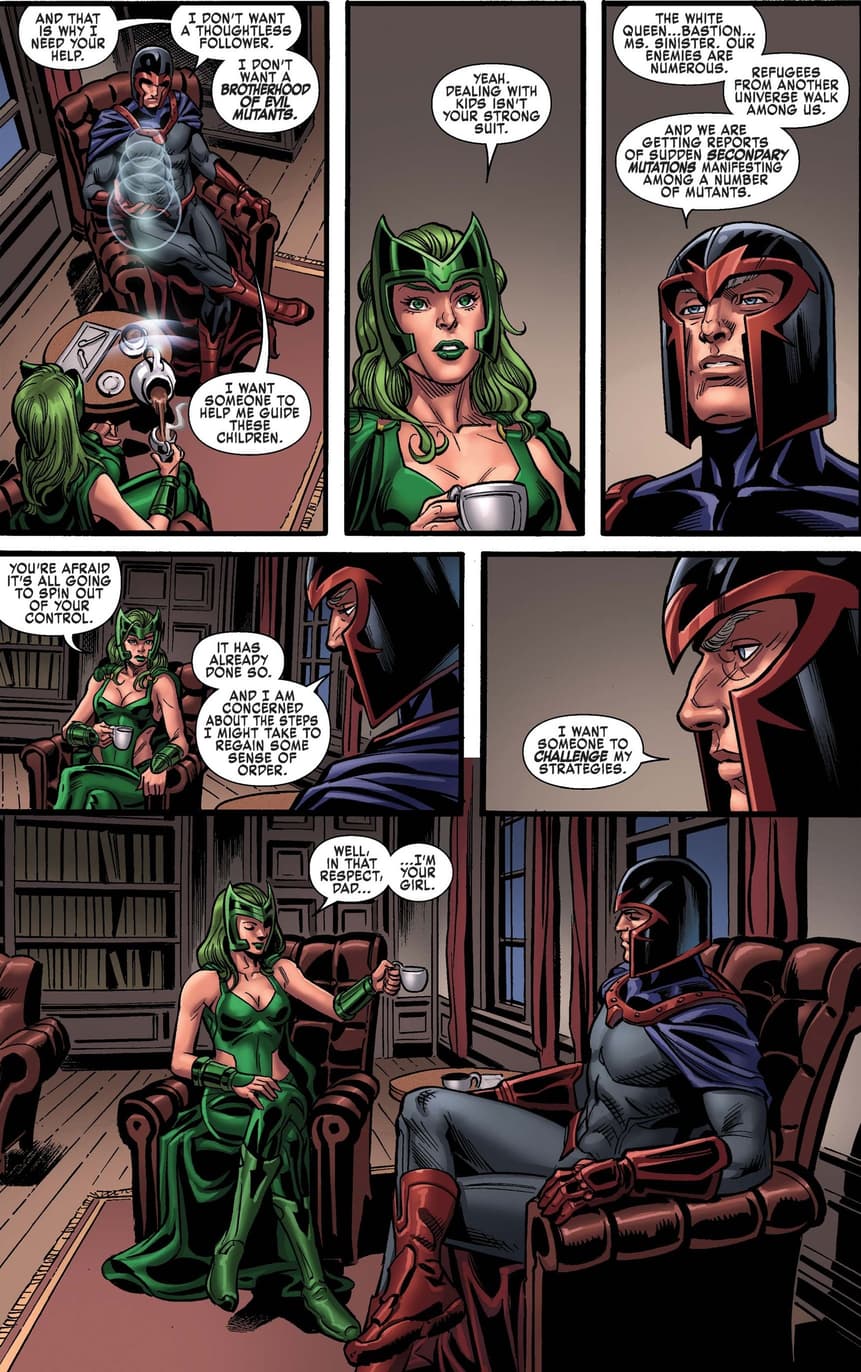 COMMITMENT IS KEY.
After serving on the New Mutants, X-Force, the X-Men, and the Avengers, Cannonball settled down in space with his wife, Isabel Kane, AKA Smasher. In NEW MUTANTS (2019), Sunspot recruited the original team for an interstellar trip to get Cannonball to come back home with them.
However, in issue #7, Cannonball stated that he had no intention of leaving his wife or their son behind. Reluctantly, Sunspot finally understood the strength of Sam's commitment to his family. So, he decided to move in next door so he could spend every waking second possible with his best friend!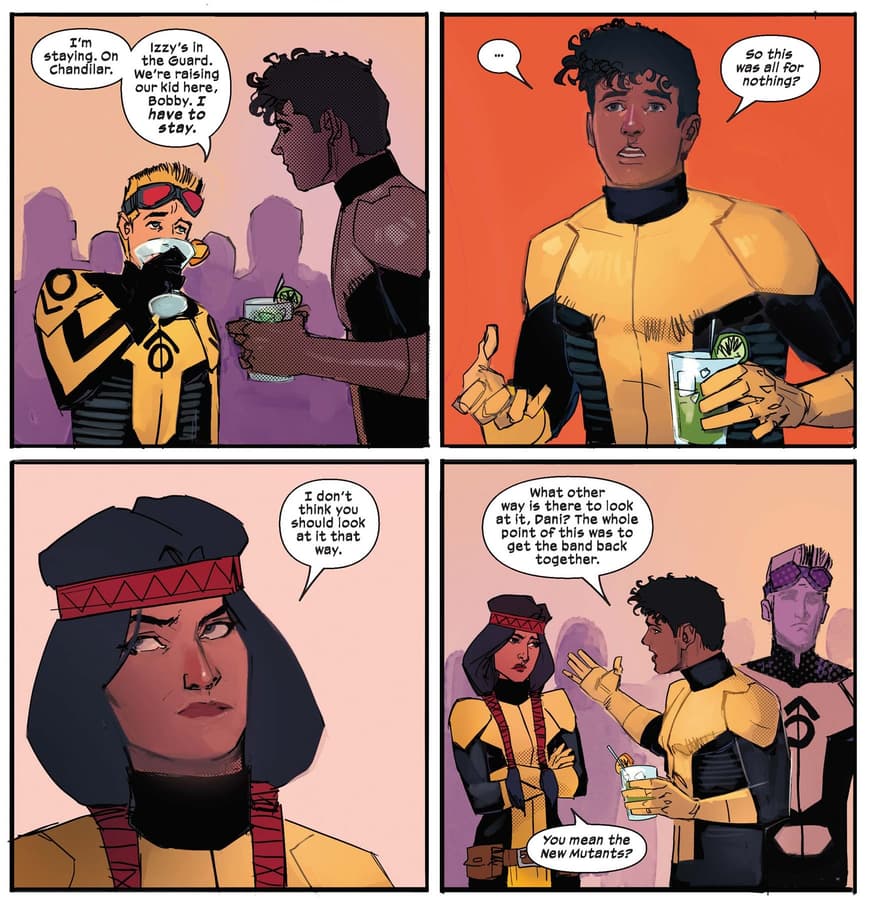 BE THE COOL DAD.
Parenthood is all about ensuring that your children have an opportunity to grow and develop into young adults. Part of that means establishing rules to keep them safe. But sometimes, it pays to be the "cool dad."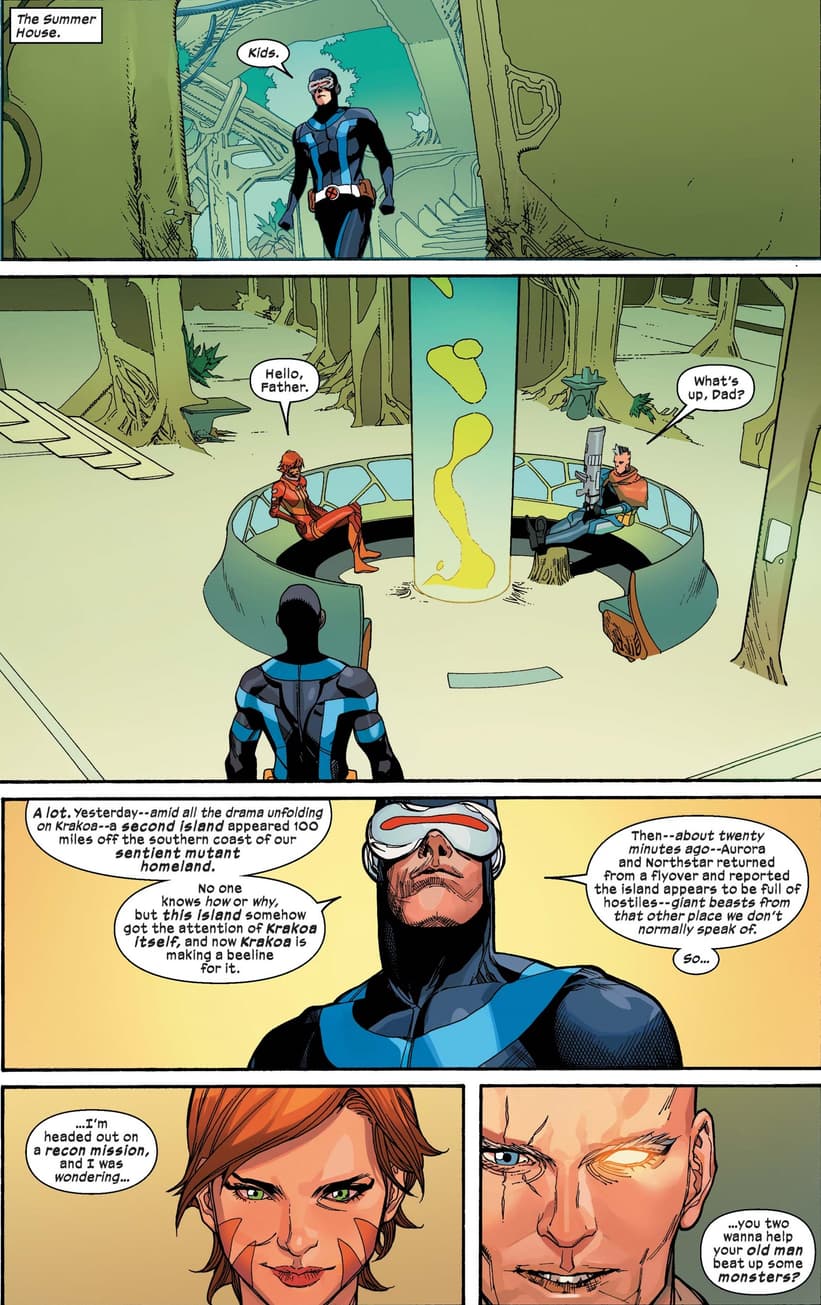 Take for instance, Scott Summers, AKA Cyclops. The leader of the X-Men hasn't always been close with Rachel Summers, his daughter from an alternate timeline. Similarly, Scott's son, Nathan Summers, AKA Cable, spends more time in the future than he does in the present!
Fortunately, X-MEN (2019) has given the extended Summers clan their own home on the moon. In issue #2, they even went monster hunting together. And, in the near future, they may be going on an outer space vacation with Uncle Logan tagging along.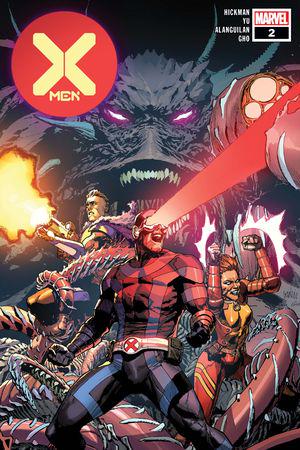 X-Men (2019) #2
published

added to marvel unlimited

inker (cover)

penciler

penciler (cover)

inker

editor

letterer

colorist

colorist (cover)

writer
What is Marvel Unlimited?
LET THE KIDS MAKE THEIR OWN CHOICES!
Speaking of Wolverine, the Ol' Canucklehead still has a fairly contentious relationship with his son, Daken. Fortunately, Logan's had much better luck with his surrogate daughters, Kitty Pryde and Jubilee. Forging a relationship with his actual clone daughter, X-23, has proven to be more complex however.
But in ALL-NEW WOLVERINE (2015) #1, Logan demonstrated that his dad game is strong. He praised Laura for choosing to spare their mutual enemy. He also seemed astonished that X-23 came out so well-adjusted despite the abuse she suffered in isolation during her formative years. In short, he's one proud dad.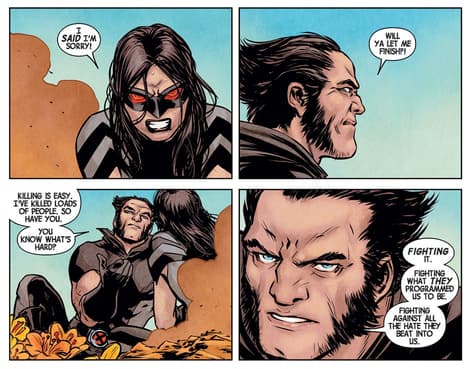 KNOW WHEN TO PASS THE TORCH.
Thor and Odin haven't always seen eye-to-eye. In fact, Odin once banished Thor to Earth to teach him some humility! But in WAR OF THE REALMS (2019), Odin finally realized that the son had surpassed the father.
At the event's conclusion, Odin knelt before his son and declared Thor to be the new All-Father of Asgard. It was a moment thousands of years in the making. Odin knew that it was the right choice to step aside and let his son fulfill his destiny as king.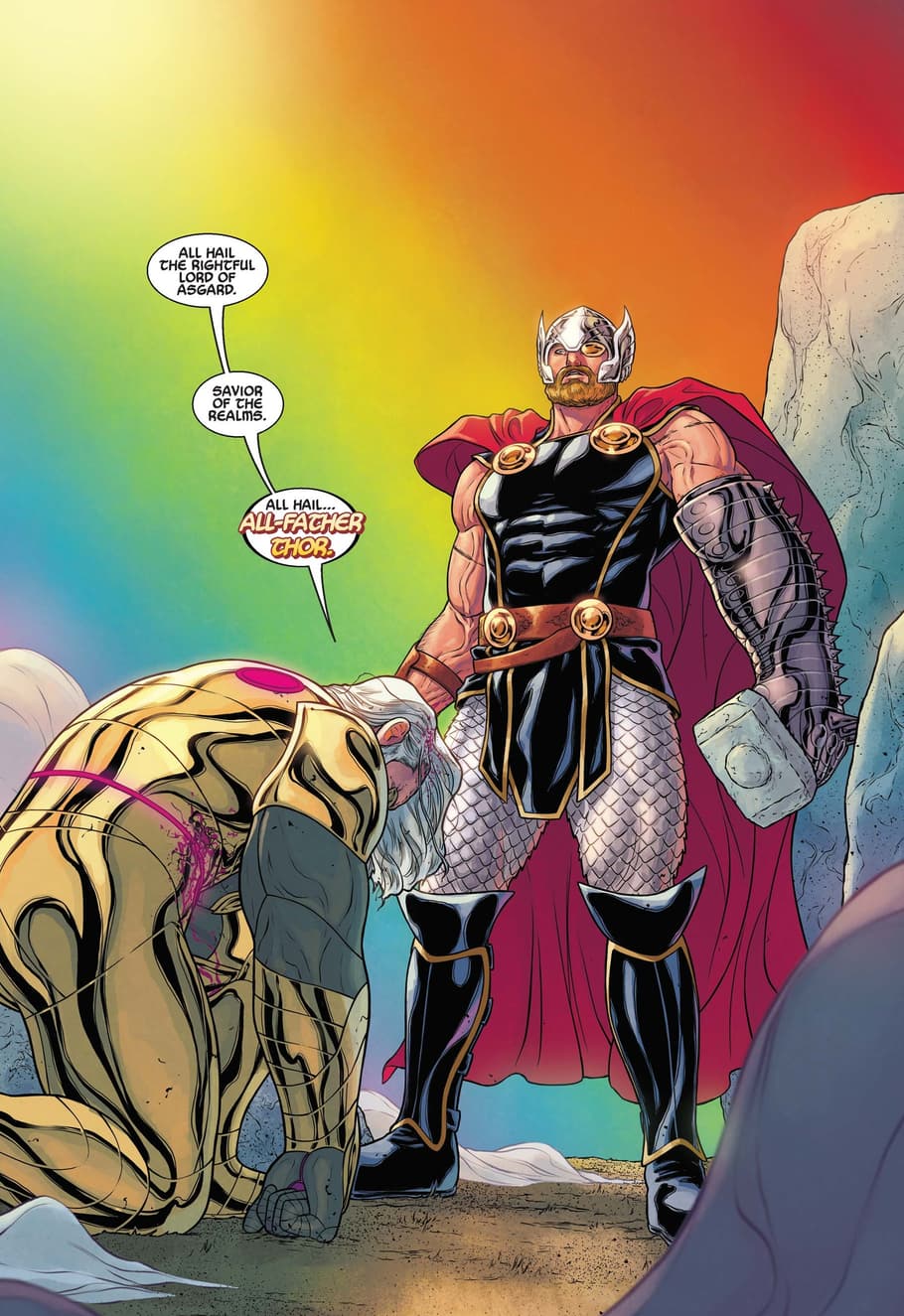 WITH GREAT POWER COMES GREAT FORGIVENESS.
Rifts in the family are sometimes unavoidable. But the deepest wounds can also be self-inflicted. In AMAZING SPIDER-MAN (1999) #500, Peter Parker received a supernatural opportunity to spend five more minutes with his beloved Uncle Ben. And Ben quickly absolved Peter of the guilt that he carried for his death so many years prior. Ben only wanted to ensure that Peter was happy with his life. That allowed Peter to realize that he's moved on from his original motivation to be Spider-Man.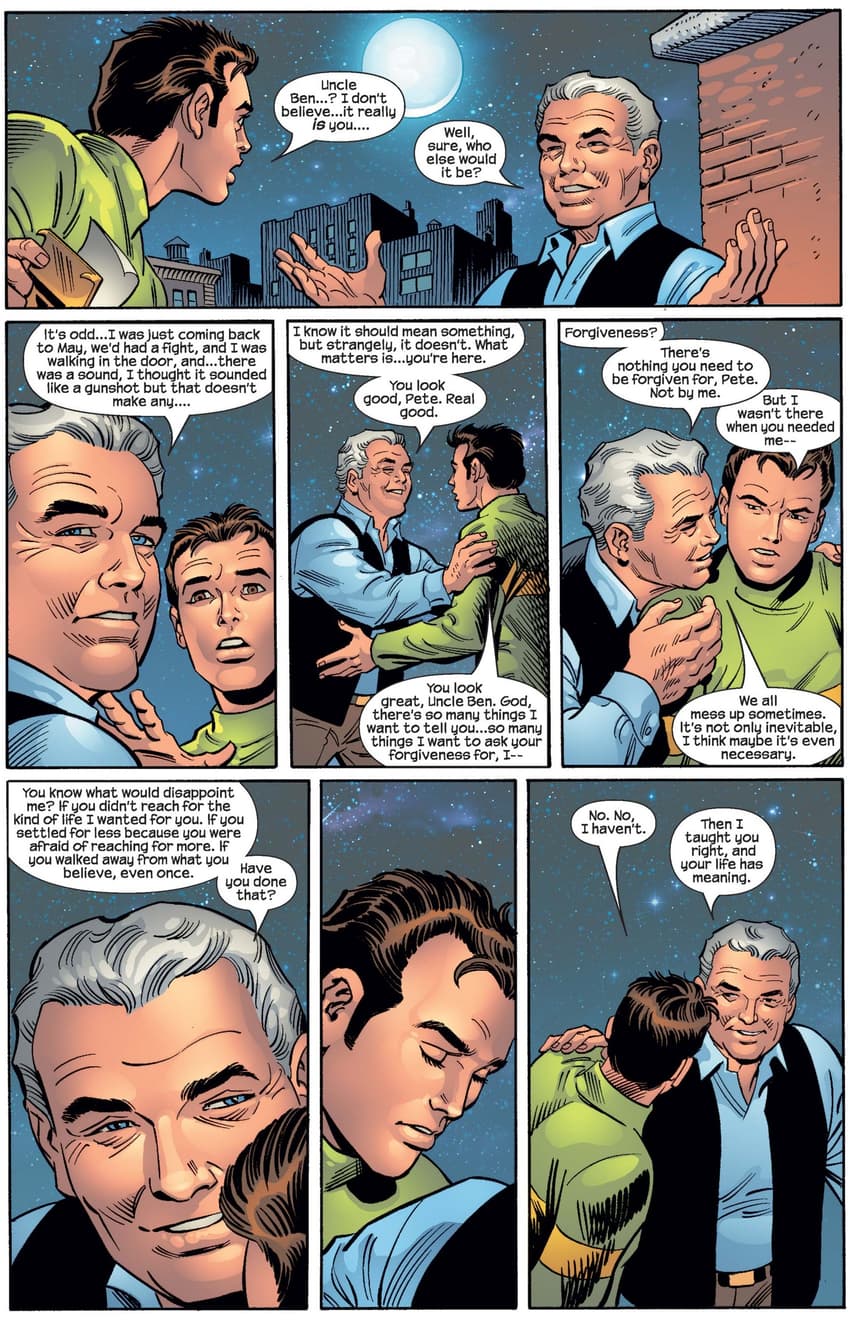 Similarly, Miles Morales and his father, Jeff Davis, had some bumpy ground to cover too. Miles kept his activities as Spider-Man hidden from both of his parents, while Jeff had secrets of his own. But this father/son duo were also able to reconcile and forgive. Their familial bonds are strong and can't be broken. In fact, those bonds make Miles a better hero every day.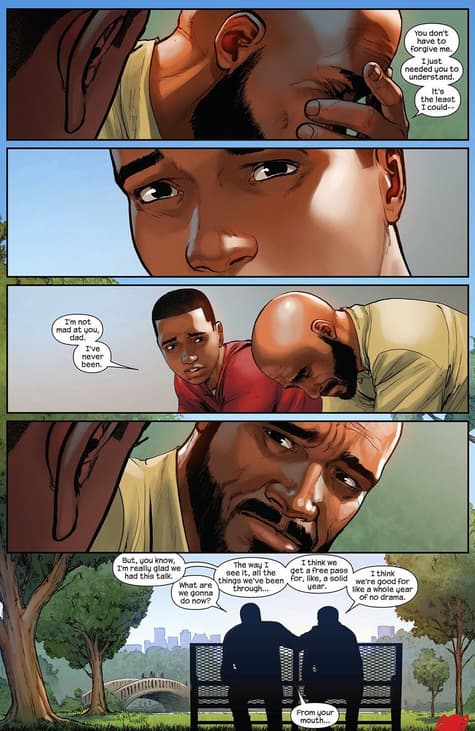 This is but a handful out of many Marvel Dads, so read our complete Father's Day list on Marvel Unlimited to celebrate the super-dads in your life!
Looking for more classic arcs and Marvel must-reads you can read for FREE? Read online here, or download or update the Marvel Unlimited app for iOS or Android at the Apple or Google Play app stores today.
For more of Marvel's greatest comic books in print, please reach out to your local comic book shop to ask about services they may offer, including holding or creating pull lists, curbside pick-ups, special deliveries and other options to accommodate. Find and support your local comic book shop at http://comicshoplocator.com.
The Hype Box
Can't-miss news and updates from across the Marvel Universe!