Comics
Published February 28, 2018
Lockjaw is a Good Boy
Daniel Kibblesmith and Carlos Villa unleash the Universe's greatest pup!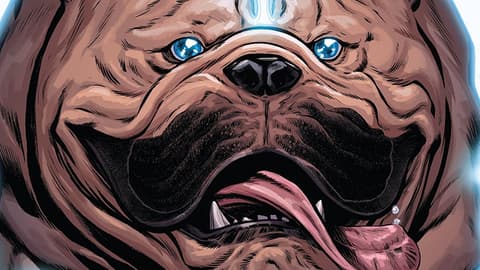 Break out your pens and clipboards! It's time to assign marks to the latest members of the Marvel Universe's distinguished hall of creature companions!
LOCKJAW #1, by writer Daniel Kibblesmith and artist Carlos Villa, kicks off an all-new four issue limited series that gives us an inside look at what makes the Inhuman dog the best good boy—and number one on the creators' list of Marvel's finest animal friends. "I think he is much more intelligent than what people think. He is almost indestructible and he cares for the good people around him," explains Villa.
The series finds our protagonist Lockjaw on a mission to locate his four newly discovered siblings, who may or may not be as super powered as he is. "Don't expect five full-sized Lockjaws teleporting around. That being said, there must be something unusual about all of them, if they came from the same genetic stock as the only Inhuman dog," notes Kibblesmith.
With so many new cute and cuddly faces on the way, Lockjaw may face some competition for the spot of top dog in the companion competition. "I think people are going to love his sassy sister in issue #2 as much as I do," says the writer. "You'll get to see lots of different family dynamics, all masterfully penciled by Carlos Villa. The amount of personality he can convey on the face of a bulldog is terrifying(ly adorable)."
So, which friend earns the title of greatest companion? We asked Kibblesmith and Villa for their rankings. Currently clutching the top spot is, of course, Lockjaw. Second place goes to Lockheed, because as Villa puts it, "Lockjaw is the only thing that is cooler than hanging around a pet alien dragon."
Third place, however, served as a point of contention. Villa gives his vote to Throng, while Kibblesmith feels torn between Ms. Lion and Zabu—unless you're judging on cuteness only, in which case the writer changes his votes to Devil Dinosaur!
Witness what puts the good boy on top of this list in LOCKJAW #1, by Daniel Kibblesmith and Carlos Villa—out today!
The Hype Box
Can't-miss news and updates from across the Marvel Universe!