Comics
Published October 25, 2017
Luke Cage: Rattled
David F. Walker dives deep into the past, present, and future of Luke Cage!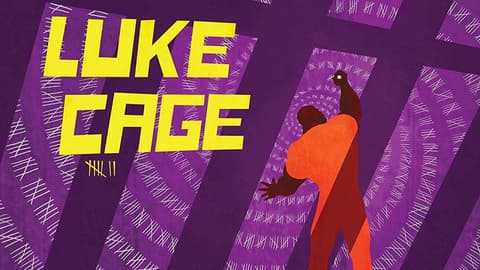 On November 22, writer David F. Walker and artist Guillermo Sanna send our hero back to the slammer in LUKE CAGE #167!
This time, however, the prison Luke gets trapped in can't be easily escaped—as the metal bars exist as much mentally as they do physically. Stuck in this incarceration of the mind, the only pathway to freedom will be found by embracing the man he used to be…
David F. Walker stopped by to discuss Luke's legacy and how the comic continues to evolve.
Marvel.com: Issue #167 will be the second chapter in the "Caged" storyline—catch us up on the events so far.
David F. Walker: With the first arc we had Luke in New Orleans dealing with some ghosts from his past and going through a sort of existential crisis. Which seems like a thing I have all my characters go through because I'm constantly going through an existential crisis. [Laughs] So we have him in New Orleans and he dealt with a bunch of nonsense that he got through—I don't want to spoil it in case some readers haven't read through—but he had to go back home for an event…
But now, in issue #167, he'll be in worse trouble than he got into in New Orleans. It essentially starts out as a road trip—which only really lasts two pages—and now he finds himself back in prison! Marvel wanted to do Legacy storylines for characters across the board and I knew from the very beginning that the obvious thing to do for us would be to send Luke back to prison. Then it just became an issue of how do we get him into prison and then how do we try to get him out of prison.
When the character debuted in the '70s, we saw him as a prisoner, a guy locked up in the joint for a crime he didn't commit. And I thought to myself, well, that feels like a great place to start again. You don't have that opportunity with too many characters in the Marvel Universe. It's not like all of a sudden we could have Peter Parker bit by a radioactive spider all over again, but with Luke we can put him in prison—we just had a few little things to iron out, a few little details. And that's where we are!
Marvel.com: Now that we have the backstory, what can you tease about part two of "Caged"?
David F. Walker: Well, I think the lenticular cover for issue #166 gave away The Ringmaster as the villain already. I'll say that not only is Luke in prison for a crime he didn't commit, he's actually incapable of punching his way out.
He finds himself in a situation where he's not just trapped or wrongfully accused…part of the story will be about calling into question who Luke actually is—not only as a person, but also in terms of what he's capable of doing as a super hero. What would happen if Carl Lucas went back to prison?
Marvel.com: Coming back to his origins feels like such a great choice right now—especially as so many people just got their first exposure to the character in "Marvel's Luke Cage" on Netflix.
David F. Walker: And that's an interesting thing because there's that balance now—and every single writer at Marvel has to deal with it—because there are all these characters that have been known for decades to readers and hardcore fans but they're just being discovered for the first time by new people jumping onboard.
Whether it's from the Netflix shows or the movies or something like that, there's that balance of trying to write a story that will appeal to Luke Cage fans—whether they're a middle-aged guy like me who's been reading the books since childhood, or someone who discovered him in NEW AVENGERS back when Brian Michael Bendis wrote them, or in THUNDERBOLTS when Jeff Parker wrote them, or they just discovered him from the TV show. That balance hasn't been without its challenges, but dealing with challenges is part of being a writer.
Marvel.com: What kind of research did you do to get back to Luke's origin?
David F. Walker: Well, here's an interesting side-note that not a lot of people know: Archie Goodwin wrote the initial Luke Cage adventures, but the writers of Luke Cage were actually more influenced by the works of Chester Himes than they were blaxploitation films of the '70s. Chester Himes' work goes back 10-20 years before blaxsploitation, which is why, when you read the Luke Cage stuff, some of it seems almost otherworldly; Chester Himes wrote these really gritty crime novels but they also felt really surreal. If someone read a Chester Himes book and didn't know any better, they would think, oh, this is what life in Harlem must be like. But it wasn't—it became almost, like, this weird fairy tale world.
And that's the stuff that I've studied for years—not just blaxsploitation films, but also the works of Chester Himes and Donald Goines and all these crime novelists from the '50s all the way into the '70s. So when you read Chester Himes stuff you're like, oh yeah! I can see it! This is where Luke Cage came from!
So that's just me on a super nerd level. [Laughs]
Marvel.com: "Caged" seems like the perfect opportunity to explore Luke's psychology. Did getting past his bravado and diving into his vulnerability prove a difficult task?
David F. Walker: You know, there have been a couple retellings of his origin, but usually it's within a flashback or something like that. I still think—and I sort of beat my chest as I proclaim this all the time—that there's so much of Carl Lucas that's been left unexplored. And you saw it! It seemed like every issue of POWER MAN back in the 1970s saw him, like, running into someone he knew from his past before he had his powers and getting into a fight with them. And between Big Ben Donovan, and Diamondback, and Shades, and Comanche—all these crazy villains that he had!—it felt like there's all this stuff to do there. Someday I'm hoping to get to some of it because I think it's really fun to play with all that.
Marvel.com: What inspires you about the character?
David F. Walker: For me, Luke Cage needs to be as developed and as nuanced as all the greatest Marvel characters. Like Tony Stark with his alcoholism, or Steve Rogers as the man out of time, having a different set of morals and values than everybody else. Luke deserves that as much as everybody else and not just be relegated to being the "cool black super hero."
With many black characters in the media, you get no sense of character, no sense of depth and humanity…and that drives me insane! I think that within our medium, industry, and society, we have evolved past that point where just being the cool black guy can't be enough. It's certainly not enough to some readers—myself being one of them—and we should try for more.
Marvel.com: You've mentioned before that these elements of Luke's past make big impacts on his future. Can you expand on that thought?
David F. Walker: Every time you take on a new character as a writer—especially if it's an old, established character—you start looking for these things you could sink your teeth into that maybe no other writer has sunk their teeth into before; to carry on an exploration of that character. A lot of him has just been on the surface and he's always been just sort of a cool and kick-ass character, but I personally think it wasn't until he hooked up with Jessica Jones and joined the NEW AVENGERS—all within the last 15 or 20 years—that he became a truly interesting, fully developed character and not just a trope.
Marvel.com: In the spirit of Marvel Legacy, what does the legacy of Marvel mean to you personally?
David F. Walker: Oh, man. I wouldn't even know who I would be without these characters and these stories. So much of who I am as a person and how I think was informed by these morality tales.
I'm an old school Marvel guy; a kid growing up in the '70s. And I'm not saying this just to say this, but I was a "Make Mine Marvel" kid. I learned how to read with comic books and they taught me the art of storytelling—I do believe that they're our modern mythology. I learned the power of story with Marvel. And as for what that legacy means to me…it's practically in my DNA.
LUKE CAGE #167, by David F. Walker and artist Guillermo Sanna, drops on November 22!
The Hype Box
Can't-miss news and updates from across the Marvel Universe!