Comics
Published May 12, 2023
Marvel Moms in Action
Learn more about these powerful moms from Marvel Comics!
Have you tried Marvel Unlimited yet? It's your all-access pass to over 30,000 Marvel comics at your fingertips. Sign up today and get one year for just $5 a month!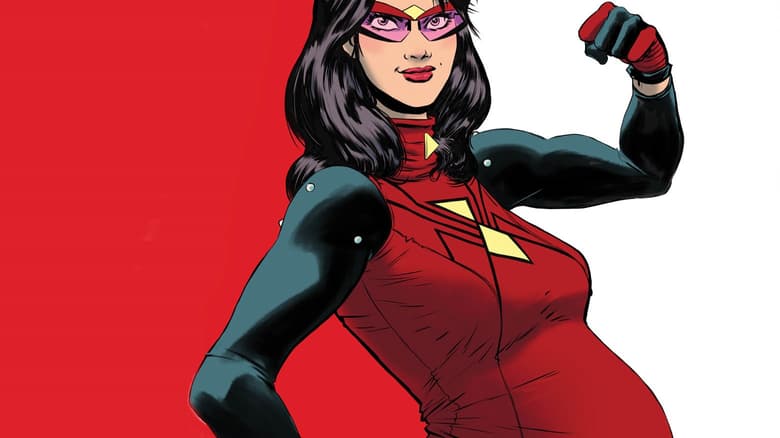 On Mother's Day, we take time to recognize the outstanding moms in our life—and there are no exceptions in the Marvel Universe! Last year, we celebrated six Marvel Moms, and this year, we're celebrating five more moms with their super-powered moments!
Let's take a moment to highlight these multifaceted women from the world of Marvel Comics.
[RELATED: Celebrate Mother's Day with 6 Special Super Heroes]
In SPIDER-WOMAN (2015) #4, Jessica—very pregnant and having contractions—was in space at the Alpha Flight Intergalactic Hospital when Skrull rebels attacked. After delivering her son Gerry via C-section, Jessica commanded the doctor to "close me up" and, before passing out, proceeded to blast every Skrull she laid eyes on. She would need that strength and tenacity to handle her active son—especially when he manifested his own super-powers!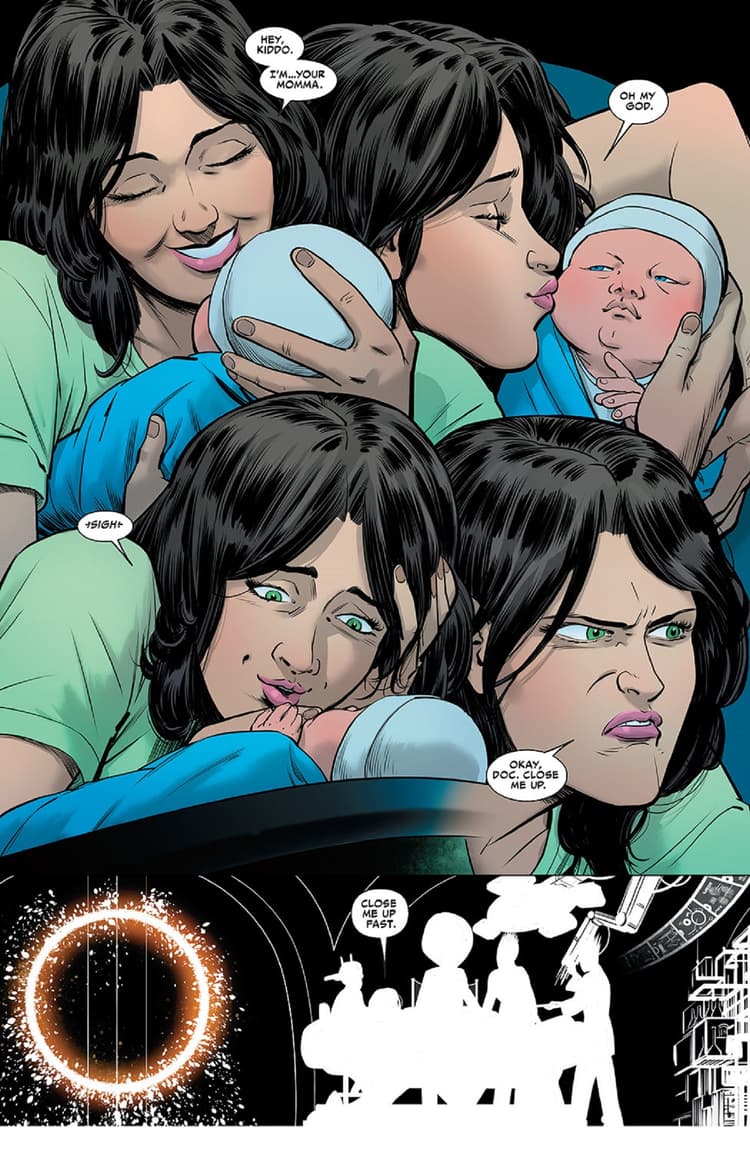 Another Jessica whose bad side you don't want to be on. Jessica Jones has done it all: Super Hero, investigative reporter, private investigator, plus a role some would probably not have expected: mom. After the birth of her daughter Danielle, Jessica's partner Luke Cage proposed to her, and in PULSE (2004) #14, Jessica recalled to her baby how she met him. It was in this story that she revealed that she tried super hero-ing one more time under the name Knightress. She briefly teamed up with Luke and Iron Fist: Danny Rand, showing the Owl that she's still got it, and took in the villain's innocent children for the night so they wouldn't spend it at the police station. Jessica Jones: a protector through and through.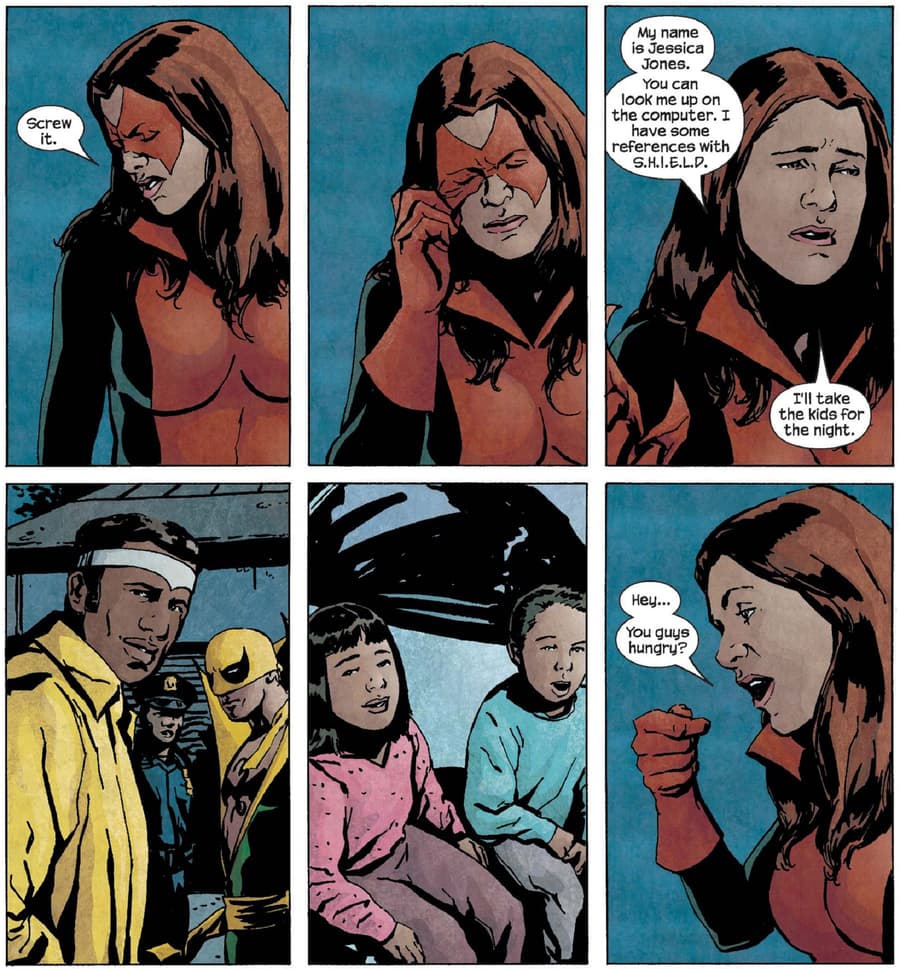 Wanda had a unique entrance into motherhood. In VISION AND THE SCARLET WITCH (1985) #12, she magically gave birth to twin sons, Thomas (Tommy) and William (Billy) with the synthezoid Avenger Vision. The boys weren't made only of Wanda's reality-warping magic but slivers of Mephisto's life energy too, which led the twins to be eventually reabsorbed by him. Agatha Harkness, Wanda's mystical mentor, cast a spell on Wanda to forget her children, which would lead to one of the biggest events in Marvel history, HOUSE OF M (2005). All she wanted was her sons, even if that meant breaking the world—and decimating almost 92% of mutants—to do so. However, Wanda would reunite with her sons, who had been reincarnated into different families, in AVENGERS: THE CHILDREN'S CRUSADE (2010) #6.
[RELATED: The Comics History of Billy and Tommy]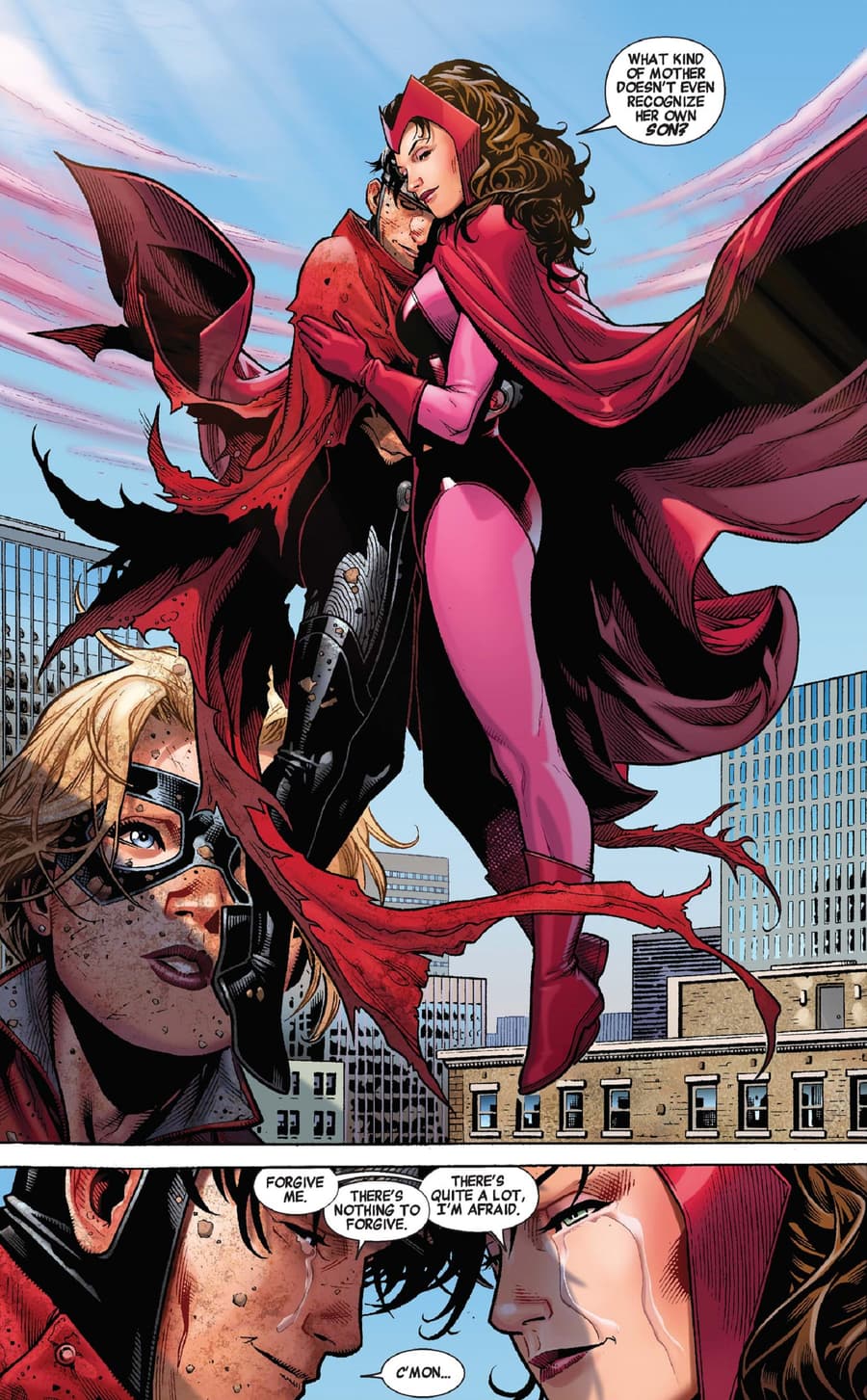 Speaking of complicated, enter Mystique. First appearing on the scene as a major antagonist to the X-Men, this mutant shapeshifter birthed Nightcrawler and anti-mutant demagogue Graydon Creed (yikes) and became the foster mother to Rogue with her longtime love Destiny. While not the most caring mom, she's good at what she does. Really good. In MYSTIQUE (2003) #5, Raven not only infiltrated a secret Cuban military base but used her abilities to turn herself into a one-woman army. This exertion of her powers was worth it as she was able to save the mutant children who were kidnapped by the army.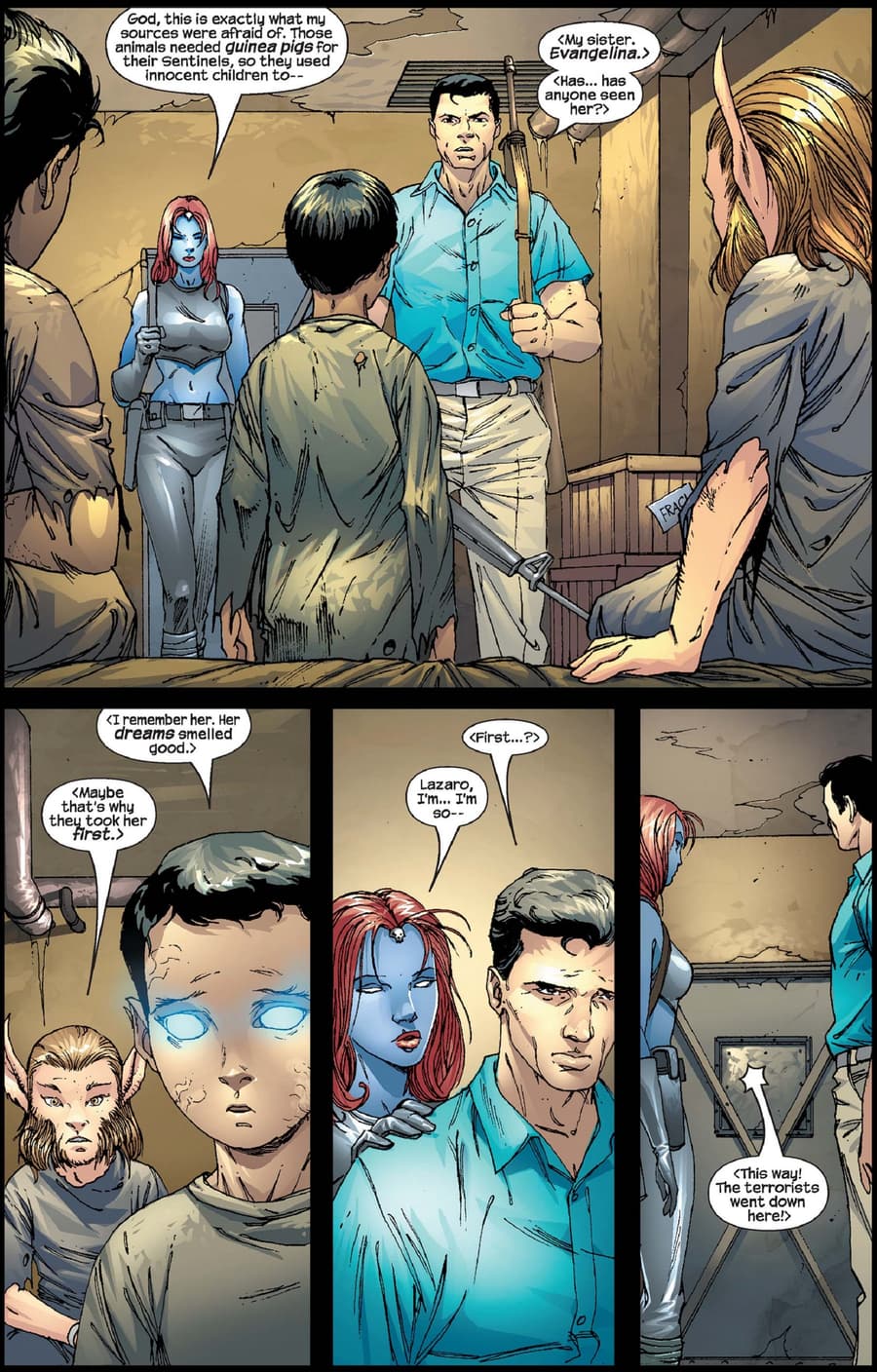 Long ago, in WHAT IF? (1989) #105, Mary Jane was the mother to May "Mayday" Parker, a Spider-Hero in her own right. She would become a mother again, in another alternate universe, during AMAZING SPIDER-MAN: RENEW YOUR VOWS (2015). In the first issue, Venom attacked her and Peter Parker's apartment. Although she didn't have super-powers, it didn't mean Mary Jane wasn't resourceful. With her daughter Anna-May in her arms, she found a fire truck and activated its siren to stun Venom, allowing Spider-Man to catch him off-guard.
It was also during this series that Mary Jane became Spinneret, working together alongside her husband and their daughter under the codename Spiderling!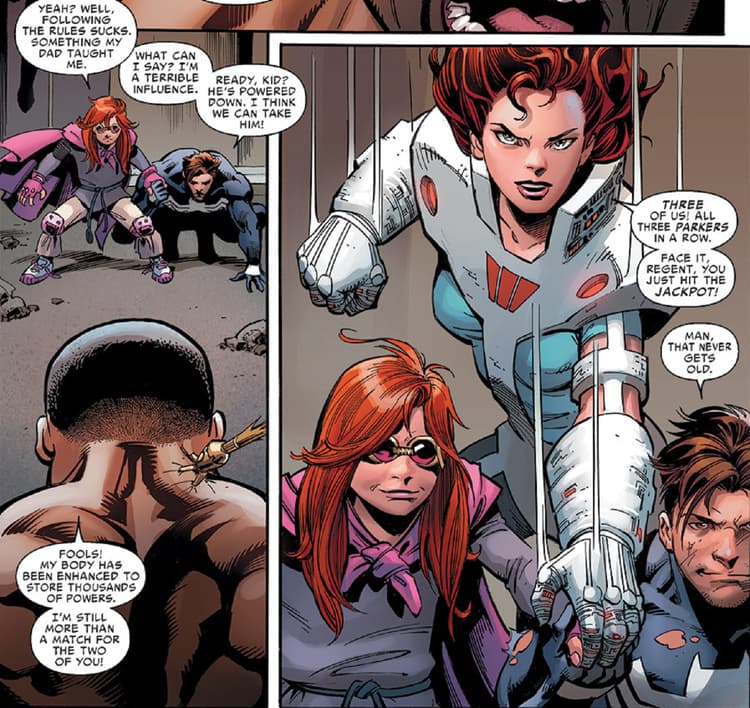 All comics mentioned are available to read on digital comics super-service Marvel Unlimited! Download the app for iOS or Android devices now for instant access to 30,000+ comics starring favorite Marvel characters. 
The Hype Box
Can't-miss news and updates from across the Marvel Universe!