Comics
Published May 12, 2022
Your Complete Guide to 'Marvel's Voices: Pride' #1
Learn more about the eight all-new stories featured in this year's 'Marvel's Voices: Pride' #1, on sale June 22.
On June 22, Marvel Comics will celebrate Pride Month with a new giant-sized one-shot spotlighting LGBTQIA+ creators and characters!
A queer-centered anthology brought together by an amazing lineup of writers and artists from all walks of life, MARVEL'S VOICES: PRIDE #1 will feature eight extraordinary adventures, an introduction by Vice President of Television at Bad Robot Productions Alex Phillips, and more. From uplifting to thrilling, this diverse collection of stories take place all throughout the Marvel Universe and celebrate the themes and joy of Pride Month.
Today, fans can get a first look at each one! See below for a preview each of the featured stories, including: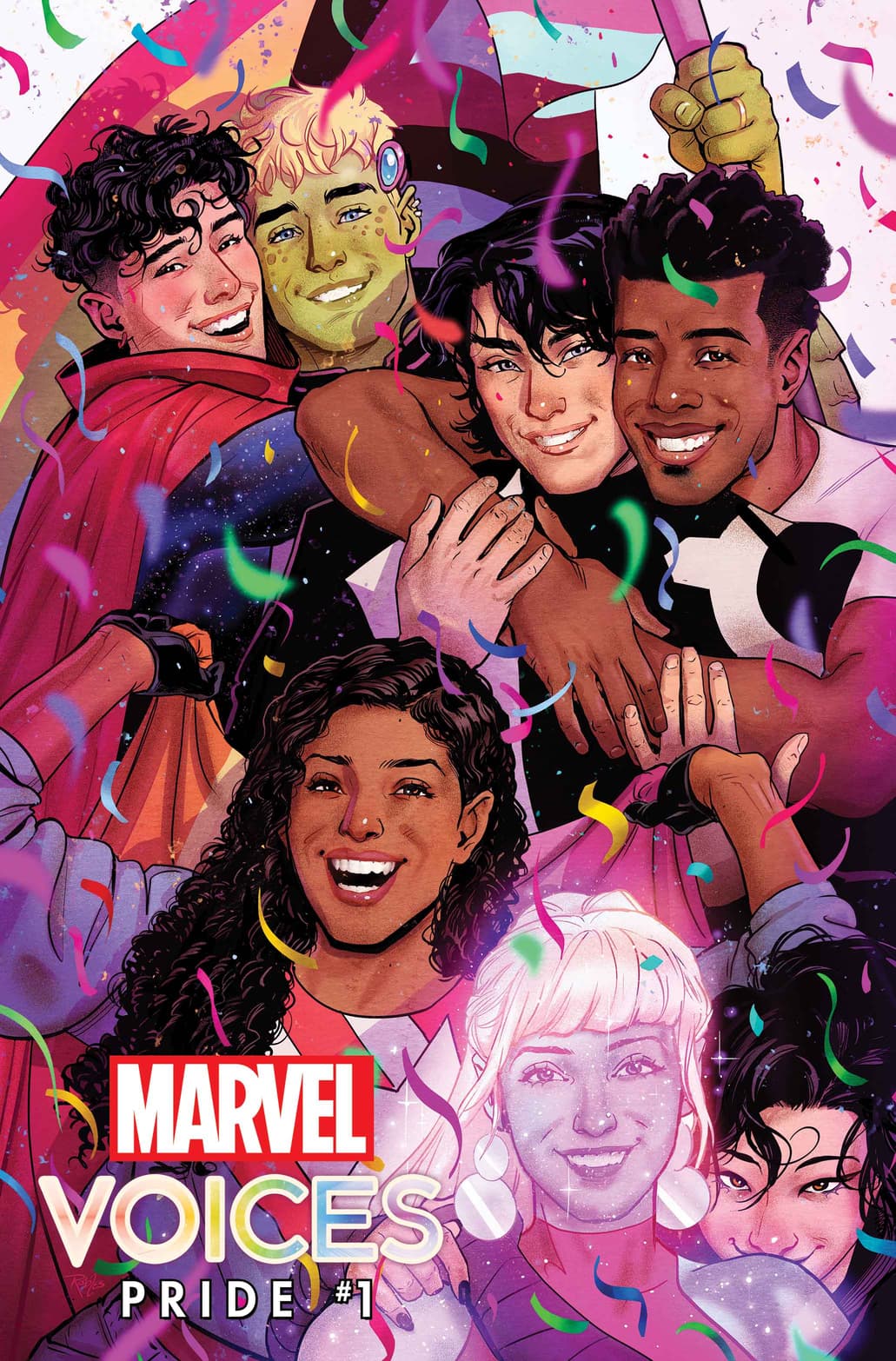 Escapade in "Permanent Sleepover"
Written by CHARLIE JANE ANDERS 
Art by RO STEIN & TED BRANDT 
Colors by TAMRA BONVILLAIN 
In last year's MARVEL'S VOICES: PRIDE, Steve Orlando and Luciano Vecchio introduced the dreamy mutant hero Somnus, who now stars in the ongoing X-Men series MARAUDERS. New York Times-bestselling author Charlie Jane Anders and artist duo and Eisner-nominated cartoonists Ro Stein and Ted Brandt continues this tradition with the debut of Escapade! Readers will meet this all-new trans mutant super hero in a 20-page adventure that will introduce her career as a super thief and set the stage for her exciting future.
"I have loved the Marvel Universe for as long as I can remember, and may or may not sing the Spider-Man cartoon theme in the shower on a regular basis. So I was so thrilled to be able to introduce a brand-new hero to stand alongside all of my favorites," Anders said. "I hope that Escapade and Morgan Red will inspire trans and non-binary people everywhere to believe that they, too, can fight for justice with the power of creativity and chosen family."
"Now more than ever, we need a hero like Shela Sexton for people to look up to," Brandt explained. "It was a real honor and a privilege to be a part of her creation process!"
"It's very exciting to be part of bringing a new character into Marvel comics," Stein added. "Working with Charlie Jane's script was a lot of fun, and I hope people enjoy reading about Escapade as much as we did putting together her first outing on the page."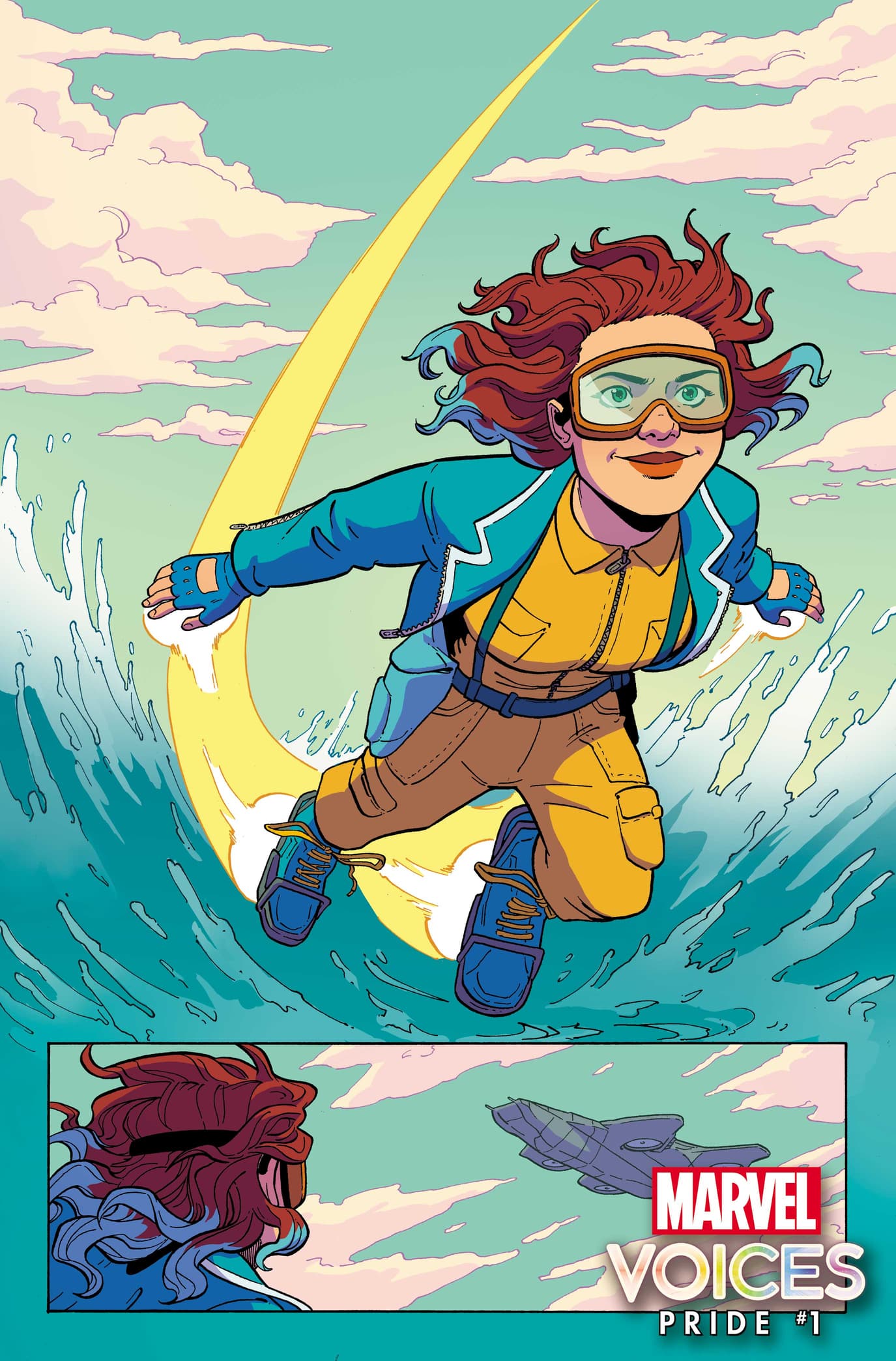 Valkyrie (Rúna) in "Over the Rainbow"
Written by IRA MADISON III 
Art by LORENZO SUSI 
Colors by RACHELLE ROSENBERG
Valkyrie Rúna puts on the first ever Asgard Pride celebration in television writer and podcaster Ira Madison III and artist Lorenzo Susi's Marvel Comics debut.
"The Valkyries are bad bitches and Runa should become a Marvel icon," Madison stated. "Plus, I've always wanted to write for the Loki and Thor (the Goofus and Gallant of Marvel), and who doesn't love Pride???"
"It was a great experience and really exciting to make my debut in MARVEL'S VOICES: PRIDE #1," Susi shared. "As a member of the LGBTIQA+ community, it means a lot to me and getting the chance to draw the first Pride celebration in Asgard was crazy. I liked that it was Rúna, a character I fell in love with at first sight, to start the rainbow celebrations in distant Asgard. That's all I could ask for."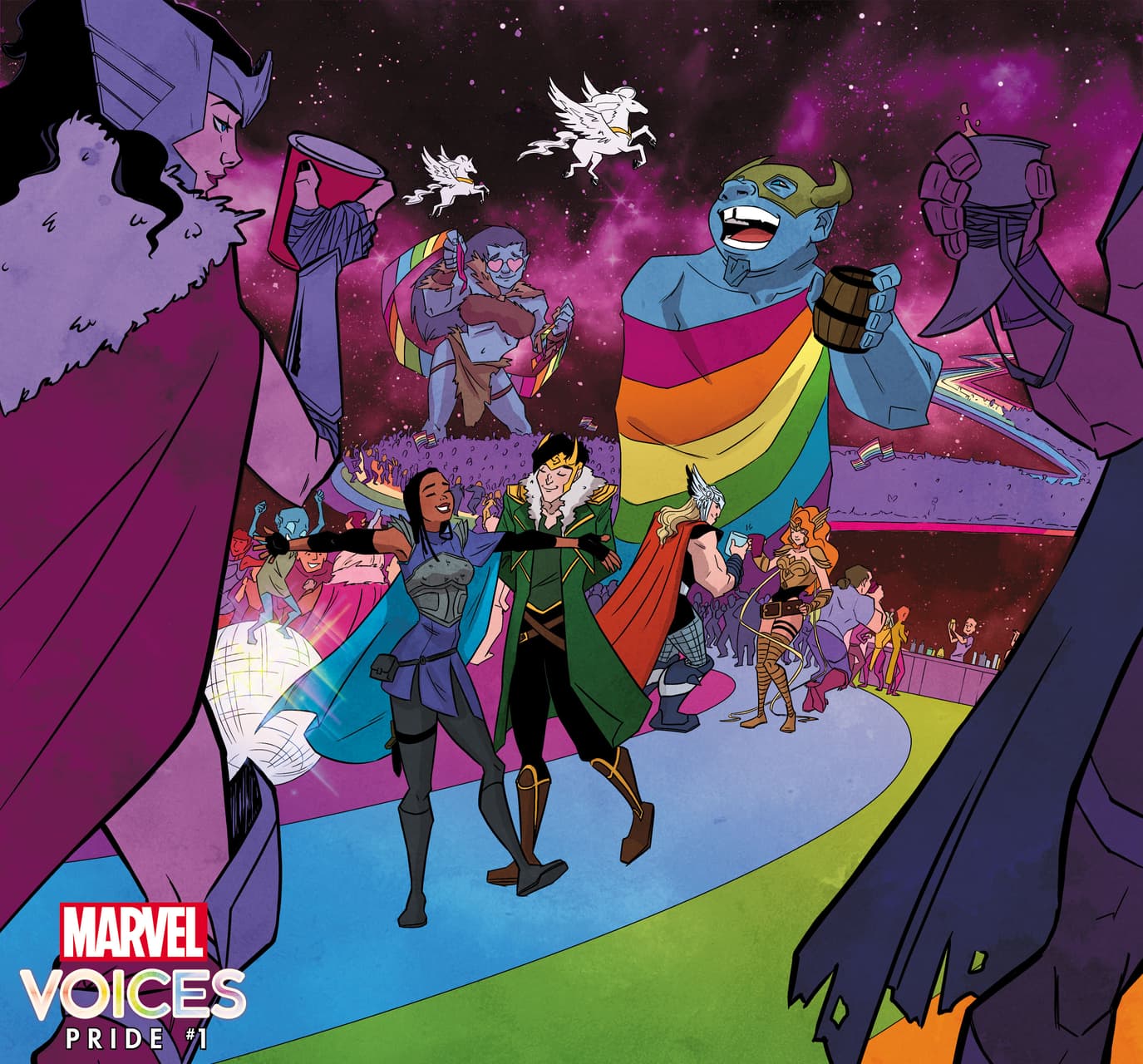 Hercules and Marvel Boy in "Ancient & Modern"
Written by ANDREW WHEELER 
Art by BRITTNEY L. WILLIAMS 
Colors by JOSÉ VILLARRUBIA
Shuster and Eisner-winning writer Andrew Wheeler makes his Marvel debut alongside PATSY WALKER artist Brittney L. Williams in an action-packed story about Marvel's newest power couple: Hercules and Marvel Boy! 
"As a longtime advocate for LGBTQIA+ voices, I'm really honored to make my Marvel debut alongside so many other talented creators in MARVEL'S VOICES: PRIDE!" Wheeler said. "I wanted to tell a story about Hercules because his bisexuality has been downplayed or erased for literally centuries. It's a sign of how much progress we've made that we can now explore this side of the character in a Marvel comic!"
"Contributing to MARVEL'S VOICES: PRIDE has been a super cool experience. I love the dynamic partnership between Herc and Noh, it was so fun drawing these two for Pride," Williams added.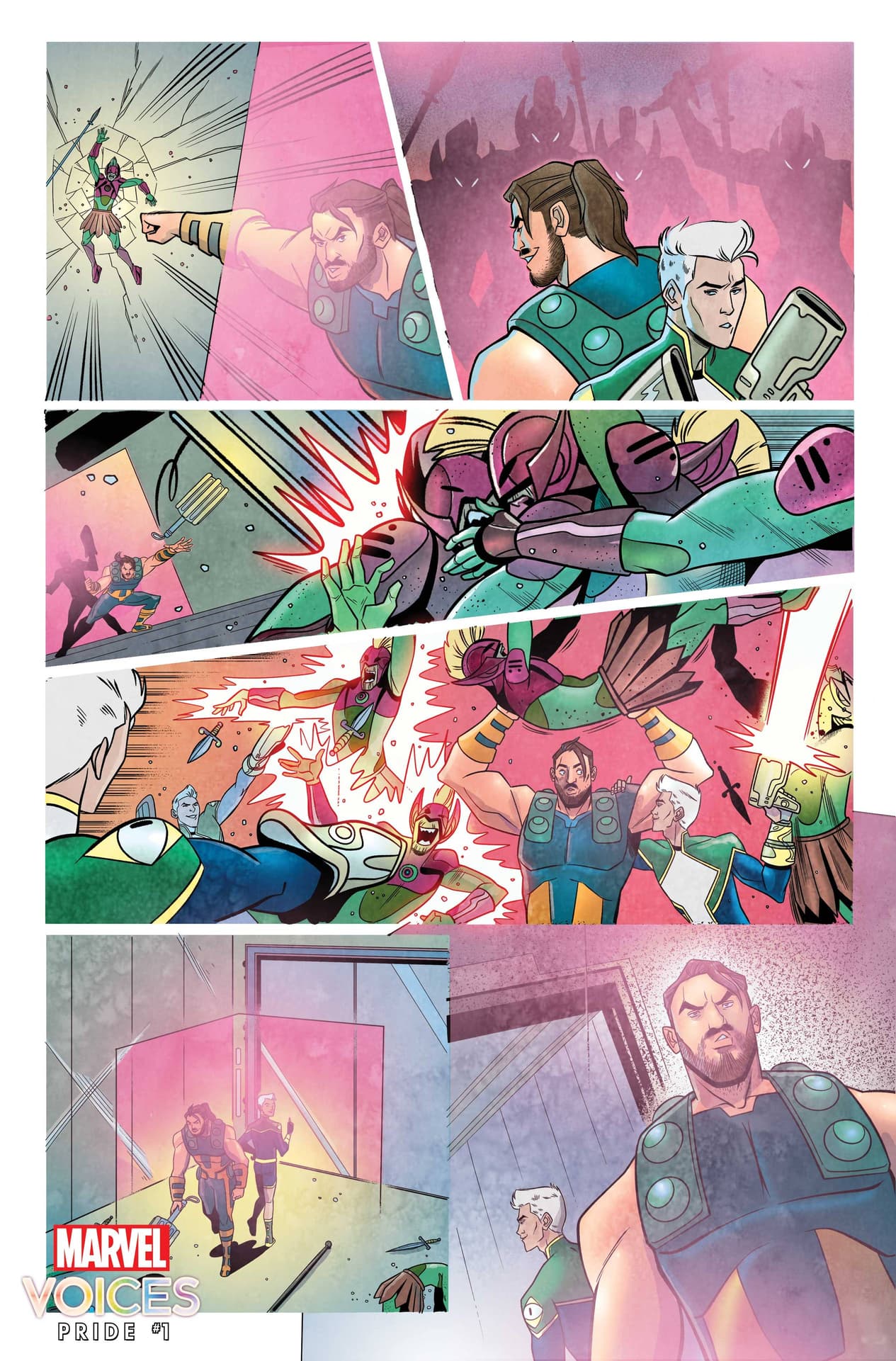 Moondragon in "Stay Outta My Mind Turf, Jack"
Written by CHRISTOPHER CANTWELL 
Art by KEI ZAMA
Colors by RICO RENZI
Rev up your engines for a heart-bending story across space and time in a Moondragon story by IRON MAN scribe and lauded TV showrunner Christopher Cantwell and artist Kei Zama.
"I'm incredibly honored to be a part of MARVEL'S VOICES: PRIDE this year and had a blast tackling Moondragon in her own solo story. I wanted to bust Moondragon out of her usual meditative discipline and do something more outlandish…so we did a biker story," Cantwell explained. "I loved pulling in imagery from that genre—which has its own fascinating queer history—as a way to shake up Moondragon and Phyla-Vell, and also have some crazy fun."
"As a member of the queer community, I'm proud to draw this LGBTQIA+ character's story," Zama shared. "I enjoyed drawing every scene because these pages are full of punk/rock/metal vibes, and I also loved making punk designs for Moondragon and Phyla-Vell. It was so fun."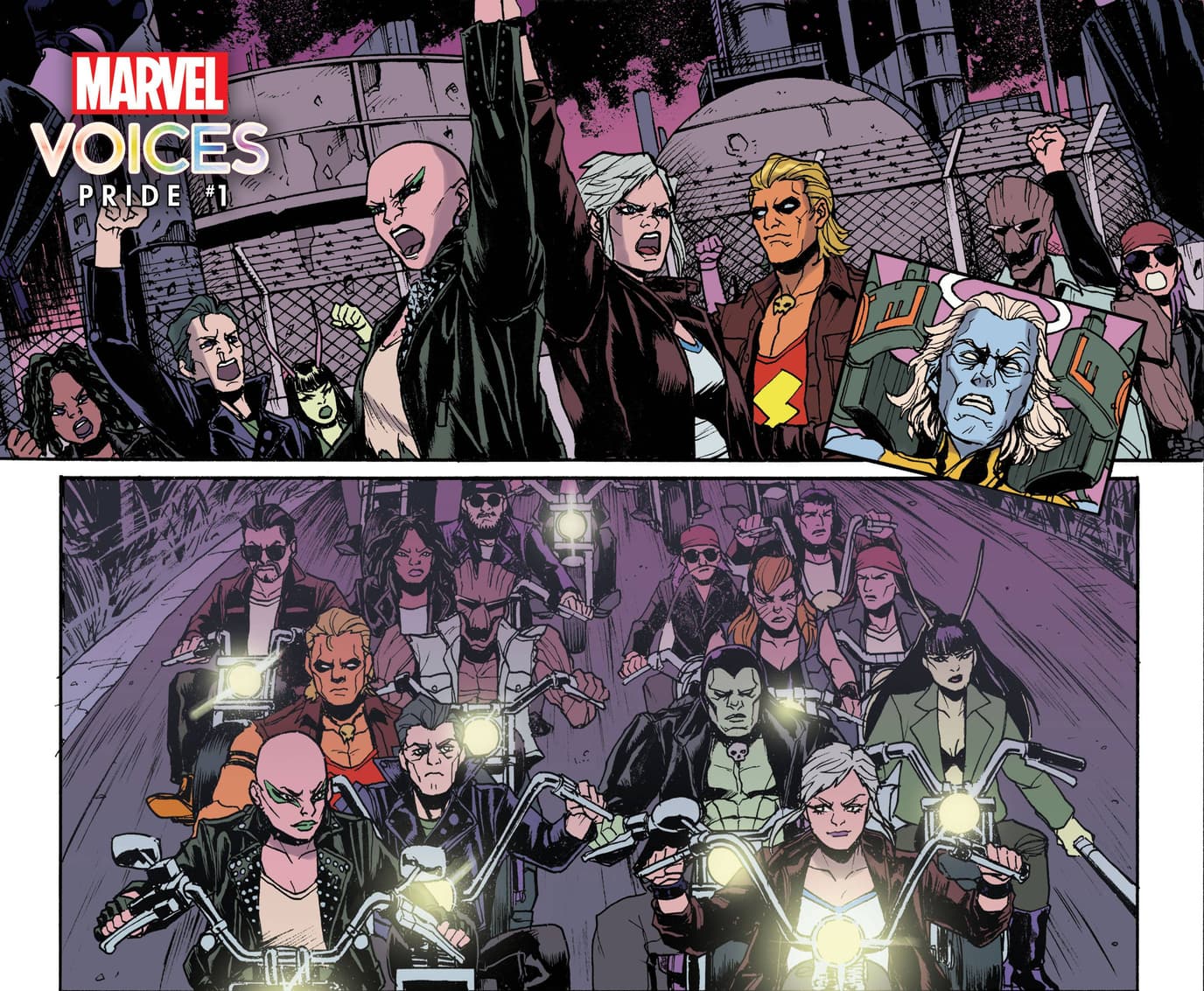 The Young Avengers in "All My Exes in the Nexus"
Written by ALYSSA WONG
Art by STEPHEN BYRNE
Nebula, World Fantasy, and Locus-award winner Alyssa Wong and fan-favorite artist Stephen Byrne reunite the Young Avengers in a story guaranteed to please fans new and old! Byrne will also depict the team in one of the issue's variant covers.
"YOUNG AVENGERS is one of my cornerstone comics: fun, romantic, hilarious, ambitious, queer, and utterly buck wild. 'All My Exes In the Nexus' is a love letter to the queer chaos, camaraderie, and joy that the Young Avengers embody. (And it's a Loki story, because of course it is)," Wong teased.
"I couldn't be more excited to work on the Young Avengers story for MARVEL'S VOICES: PRIDE. The Gillen/McKelvie run was one of my earliest encounters with queer representation in comics and it is an exciting honor to be drawing them now," Byrne added.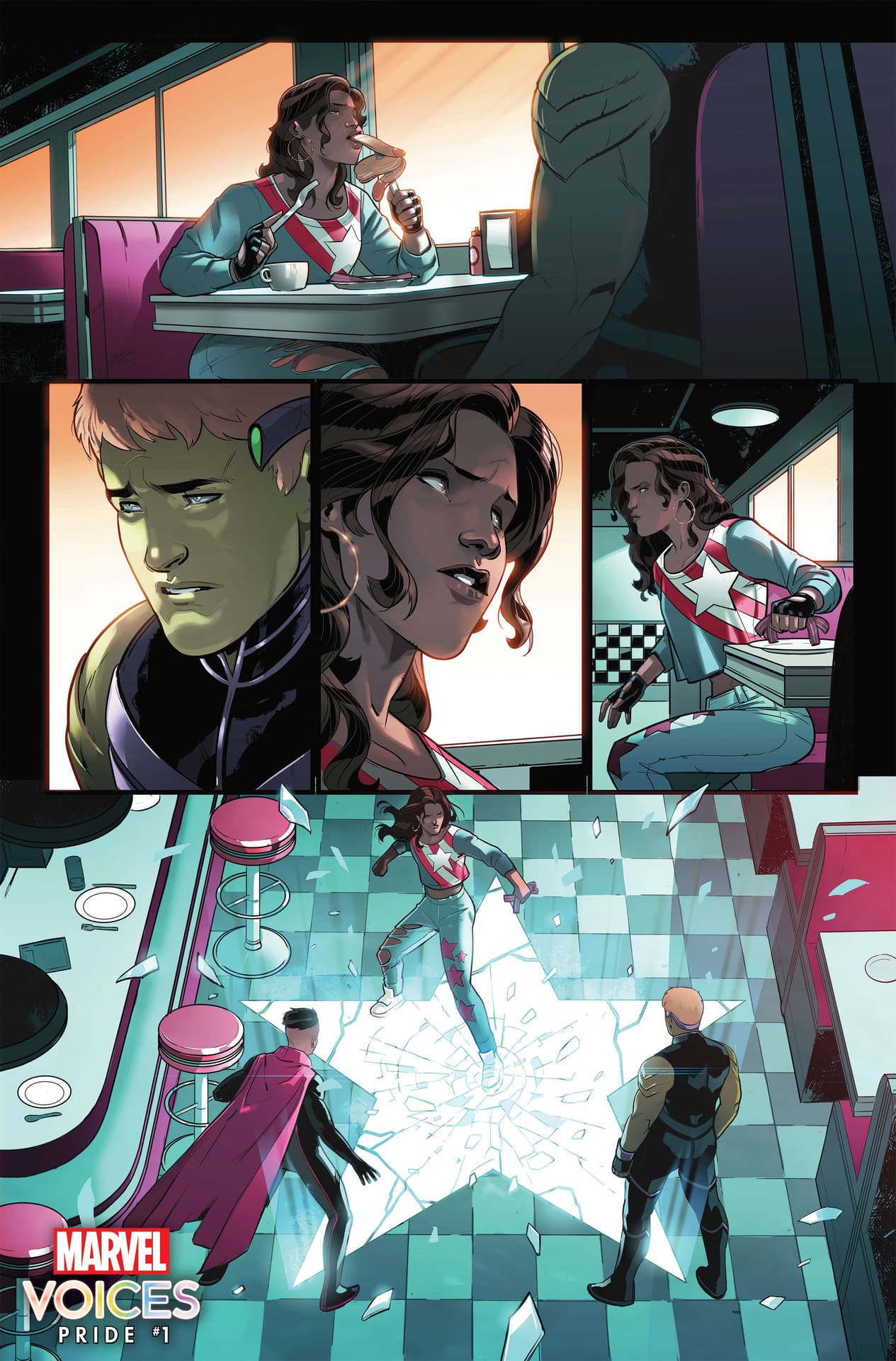 D-Man in "LGBT-D"
Written by GRACE FREUD
Art by SCOTT B. HENDERSON
Inks by LEE TOWNSEND
Colors by BRITTANY PEER
Comedy writer Grace Freud (Rick and Morty, The Eric Andre Show) brings her talents to Marvel with a story about the power of responsibility featuring the Marvel Universe's favorite gay ginger, D-Man! She's joined by Eisner-nominated artist Scott B. Henderson in his first work for Marvel.
"I worked at a comic shop all of high school and college, so writing for Marvel was already a dream come true, but the fact that I was able to create four new trans teen heroes with Scott is totally surreal," Freud shared. "I wanted D-Man, one of Marvel's gayest and goofiest characters, to find a new purpose working at an LGBT youth center and mentoring this ragtag group of fruity knuckleheads. Hope you like it, LGBTrue Believers!"
"It was a thrill to be asked to contribute to MARVEL'S VOICES: PRIDE," Henderson said. "Like D-Man, I want to help the LGBTQIA+ community, and it was such an honor to work with Grace Freud in the creation of four new transgender super heroes. I can't wait to see how their stories unfold in the future."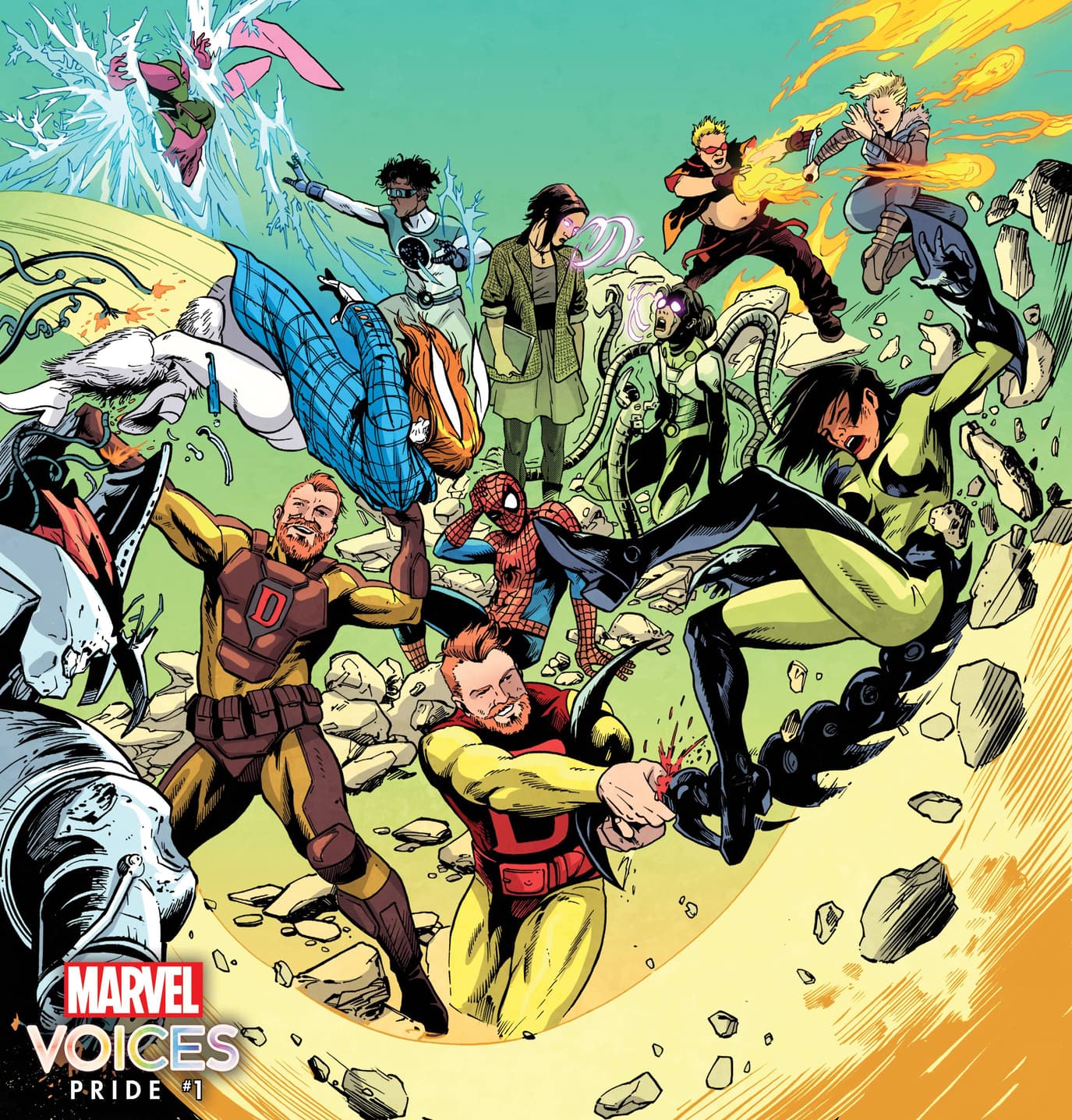 Taku and Venomm in "Perfectly Scene"
Written by DANNY LORE 
Art by LUCAS WERNECK 
Colors by MICHAEL WIGGAM 
Writer Danny Lore and artist Lucas Werneck revisit the legacy of Taku and Venomm, two Black Panther characters long left in the closet, in a tale of love and redemption.
"I'm honored to contribute once again to MARVEL'S VOICES," Lore shared. "It's exciting to tell stories where I get to highlight and celebrate the many aspects of our identities, especially when so many parts of today's world want us to fall silent. It's even cooler when I get to make the love story of Taku and Venomm explicit on the page – a powerful reminder that queer characters always exist, that creators that want queer characters have always been writing them."
"First of all, I'd like to express how glad I am to be invited to be part of such an important and innovative project like this one. In my teenage years, I felt excluded because I did not see myself represented in any comic character," Werneck recalled. "As a result, I never imagined to be part of something where LGBTQIA+ relationships are explored like this. It's even more special when we think about this amazing couple, Taku and Venomm, that I have the one a have a pleasure to give life to. I hope this story touches the next generation in a way I wish I had experienced when in my younger days."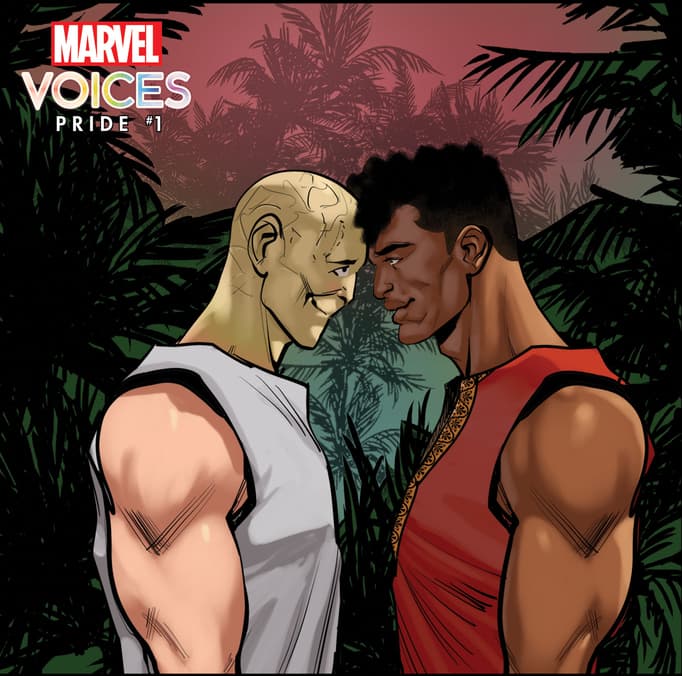 Check out all five stunning MARVEL'S VOICES: PRIDE #1 covers, as well as interior artwork from each story, below and celebrate Pride with Marvel Comics on June 22. Retailers, don't forget to order your copies of MARVEL'S VOICES: PRIDE #1 by Monday, May 16.
Pre-order MARVEL'S VOICES: PRIDE #1 today, then read on June 22.
You can grab these comics and more digitally or at your favorite local comic book shop. Be sure to ask your local shop about their current business policies to observe social distancing or other services they may offer, including holding or creating pull lists, curbside pick-ups, special deliveries, and other options to accommodate. Find and support your local comic book shop at ComicShopLocator.com or by visiting Marvel.com/LoveComicShops.
For digital comics, all purchases in the Marvel Comics app can be read on iPhone®, iPad® and select Android™ devices! Our smart-paneling feature provides an intuitive reader experience, ideal for all types of mobile device and tablet users! Download the app on iOS and Android now!
The Hype Box
Can't-miss news and updates from across the Marvel Universe!