Comics
Published January 12, 2023
Your Complete Guide to 'Marvel's Voices: Wakanda Forever' #1
Get your first look at the covers and interior art for 'Marvel's Voices: Wakanda Forever' #1, the special Black History Month one-shot arriving on February 15.
The next edition of MARVEL'S VOICES acclaimed anthology series, MARVEL's VOICES: WAKANDA FOREVER, hits stands next month!
Honoring Black History Month, MARVEL'S VOICES: WAKANDA FOREVER #1 will feature five all-new stories spotlighting the iconic heroes of Wakanda as they are brought to life by an incredible lineup of Black creators, including fresh talent making their exciting Marvel Comics debuts! Today, fans can get a sneak peek at the stories that await and check out all four MARVEL'S VOICES: WAKANDA FOREVER #1 variant covers.
"Ever since we first started bringing Marvel's Voices into our comics back in 2020, it's been so inspiring to see our stories grow and evolve, bringing up a fantastic lineup of new characters and creators," said Marvel Comics Editor-in-Chief C.B. Cebulski. "Looking ahead to 2023, we're excited to expand the anthology series to broaden our focus on characters and families, giving our writers, editors, and readers more stories and more characters in the grand tradition of MARVEL'S VOICES." 
Here are the tales of myth, adventure, strife, and more that readers can look forward to, each one expanding the inimitable world of Wakanda in fascinating new ways!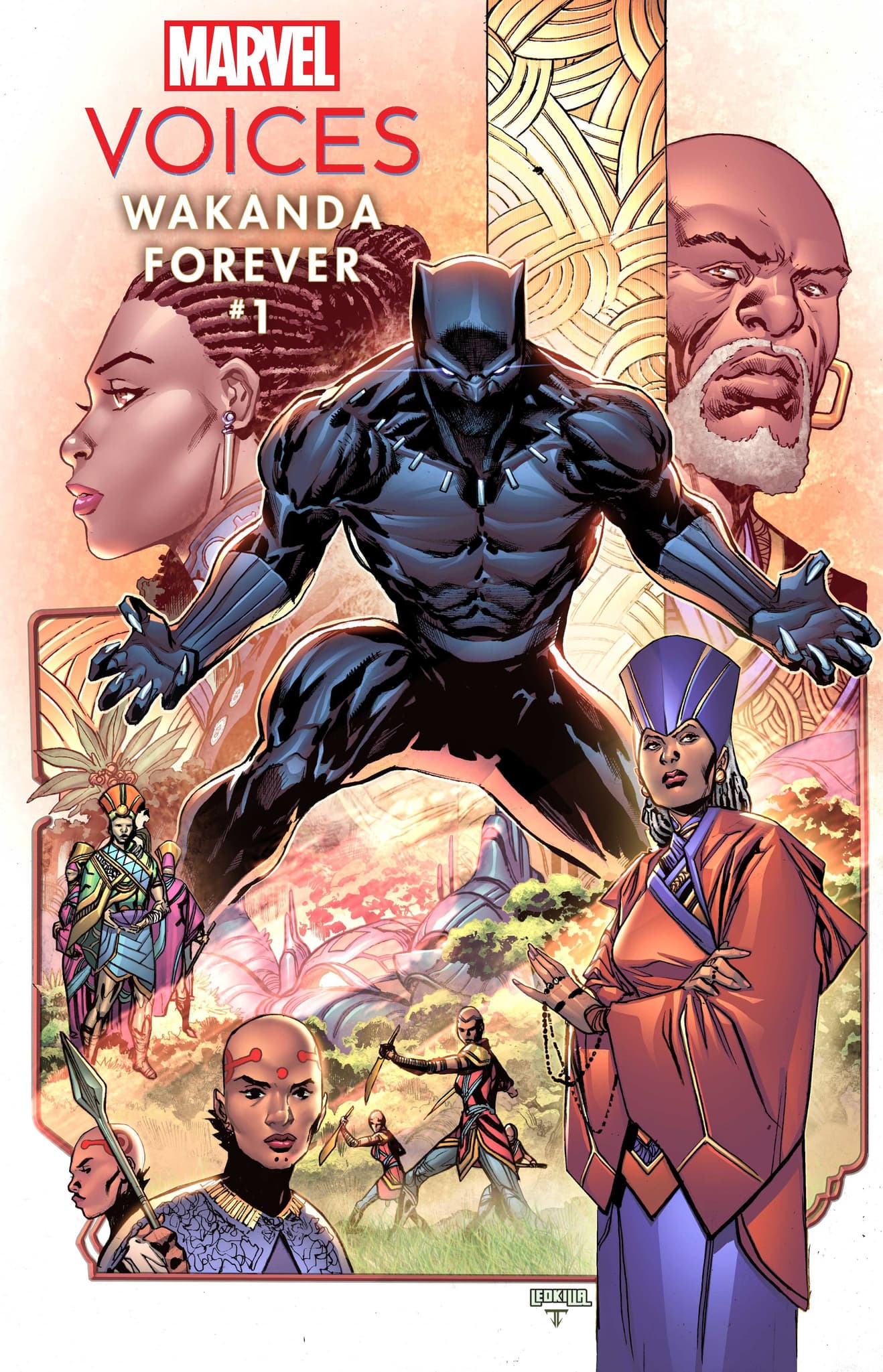 MARVEL'S VOICES - WAKANDA FOREVER #1
Written by JUNI BA, MUREWA AYODELE, ADAM SERWE, SHEENA HOWARD & KARAMA HORNE
Art by JUNI BA, DOTUN AKANDE, TODD HARRIS, MARCUS WILLIAMS & ALITHA E. MARTINEZ
Cover by KEN LASHLEY
Variant Cover by EJIWA "EDGE" EBENEBE
Variant Cover by KAREN S. DARBOE
Variant Cover by AFUA RICHARDSON
On Sale 2/15
"REMEMBER THE NAME"
Written by MUREWA AYODELE
Art by DOTUN AKANDE
Colors by DEE CUNNIFFE
Learn what length Shuri will go to in order to protect Wakanda from a devastating attack from a dangerous new foe in an action-packed story by Murewa Ayodele and Dotun Akande, the team behind the recently announced I AM IRON MAN limited series.
"It is such an honor to be asked to contribute to a project like MARVEL'S VOICES: WAKANDA FOREVER alongside creators I completely adore, like Juni Ba and my best bud, Dotun Akande," Ayodele shared. "The anthology being one that celebrates Black History Month is incredibly humbling, and scary, but very exciting to work on. I love my people. I love the warmth and fun that's found in our communities all over the world. We're positive our (Dotun Akande and I) story, set in beautiful Wakanda, will bring you some of that fun."
"It's such a privilege––and also quite humbling––to be part of this amazing, star-studded team of inspiring creators," Akande said. "Getting to work on such a fascinating character, Shuri, in the beautiful world of Wakanda makes the experience an even richer one. MARVEL'S VOICES has been instrumental in spotlighting unique perspectives of diverse story-tellers and their exceptional journeys... and now we celebrate Black History Month! Such an honor to represent! 'The labor of our heroes past shall never be in vain.' In this anthology, we (Murewa and I) have an epic tale for Shuri, where we also introduce a new, inescapable threat to the stability of her home and her people. We hope you have a great read. Wakanda Forever!"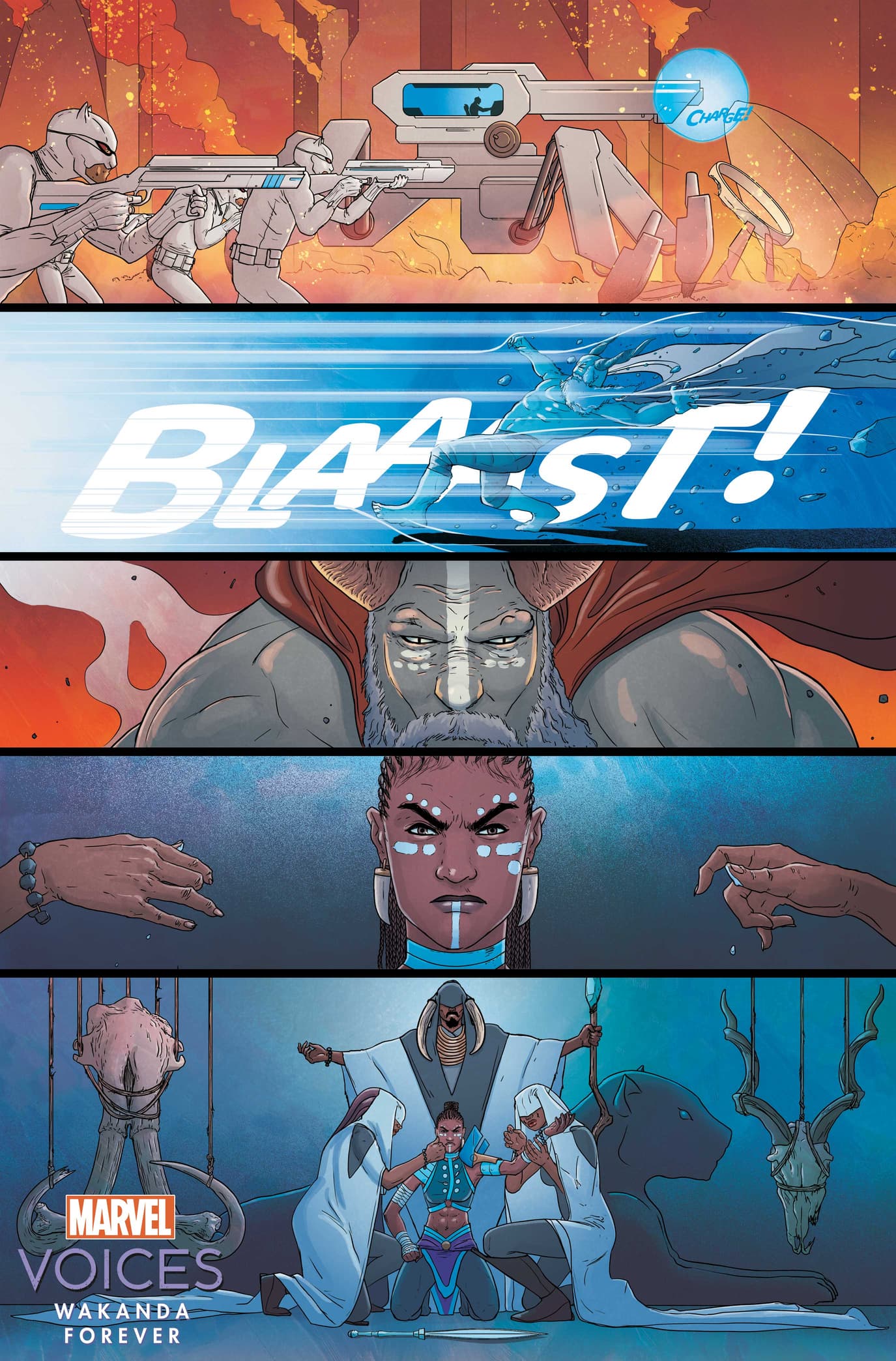 "THE ILLUSION OF FAIRNESS"
Written by DR. SHEENA C. HOWARD 
Art by MARCUS WILLIAMS
A new Dora Milaje trainee must accomplish one last thing to earn her place: defeat Okoye in combat! Witness this breathtaking battle in this story by Eisner Award-winning writer Sheena Howard and artist Marcus Williams.
"If anyone has followed my artwork over the years, it's no secret that I've been an avid fan of Marvel's characters and fantastic worlds since my youthful days," Williams said. "After decades of creating fan art, character redesigns, and fan fiction stories of my own surrounding choice Marvel characters (Black Panther and Storm specifically), this chance to finally craft pages for the world of Wakanda has been a wonderful realization of a long-standing personal dream."
"While the process of working with these editors and talented writer has been a joy, I definitely look forward to the possible future opportunities to render even more of my favorite Marvel characters," he added. "I had a blast. Thank you."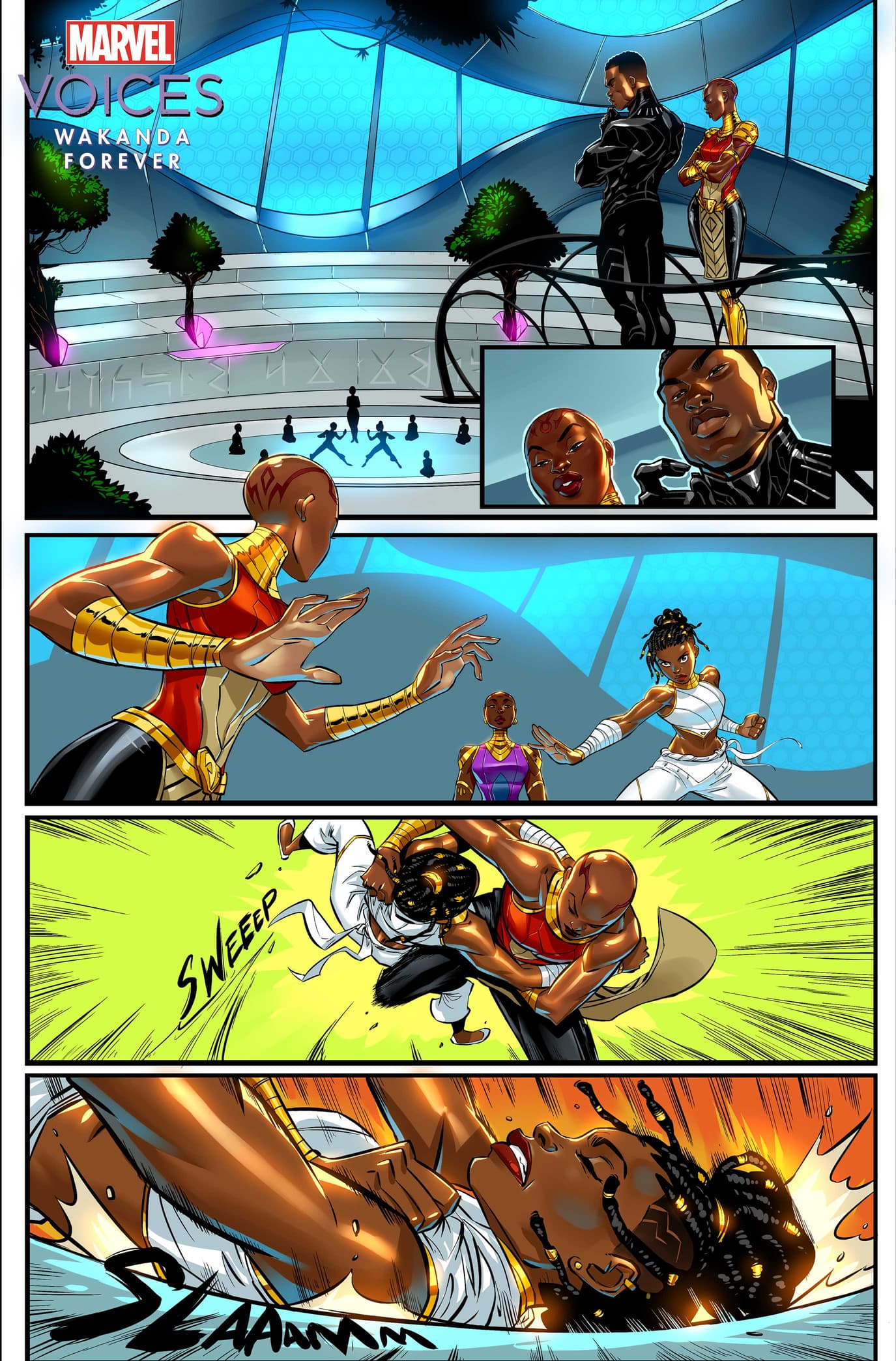 "THE OLD WAYS"
Written by KARAMA HORNE 
Art by ALITHA E. MARTINEZ 
Colors by RACHELLE ROSENBERG
T'Challa must grapple with a crisis of faith and goes through surprising lengths to get through it in a thrilling tale by writer Karama Horne, author of the recent Black Panther: Protectors of Wakanda book, and artist Alitha E. Martinez, known for her work on BLACK PANTHER and MILES MORALES: SPIDER-MAN.
"I've returned to Black Panther several times over the course of my career, and each time, Wakanda is more rich in culture and tech," Martinez shared. "Truly, it occupies a unique space in science fiction, not just in comics, showcasing a whole new world build of our collective vision of the future."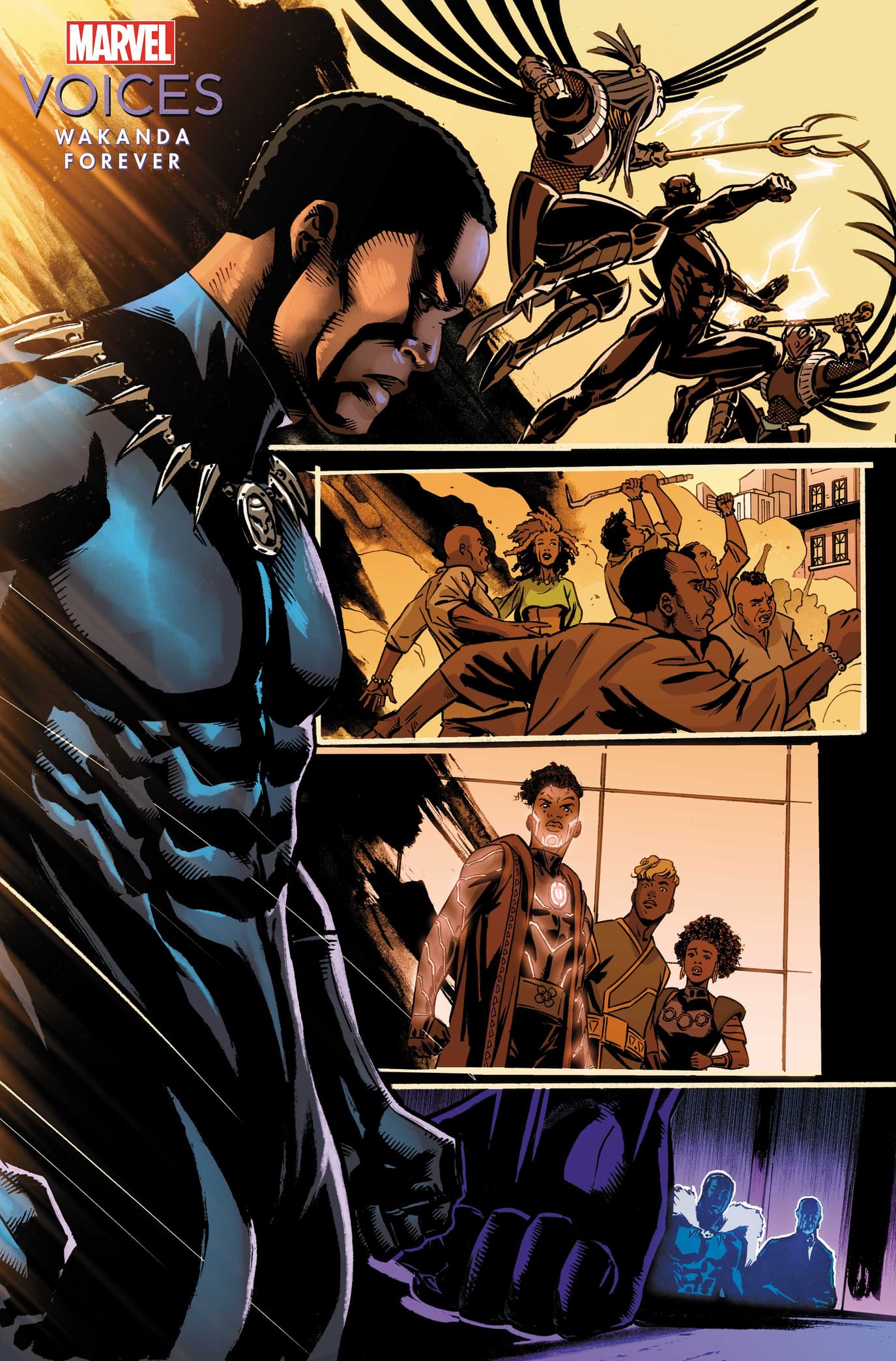 "THE EDUCATION OF CHANGAMIRE"
Written by ADAM SERWER
Art by TODD HARRIS
Colors by JORDIE BELLAIRE
T'Challa's grandfather, Azzuri, learns a lesson as a teenager that will have a dramatic impact on Wakanda's present in a moving story by writer Adam Serwer (WAKANDA) and Marvel Studios storyboard artist Todd Harris.
"It's an honor and a pleasure to contribute to this volume along with these amazing writers," Serwer said. "'Flags of Our Fathers' and 'A Nation Under Our Feet' are two of my favorite BLACK PANTHER storylines, so I wanted to write a story that might connect the two, through a moment in Azzuri and Changamire's past that helped lead them to the decisions they later end up making. And because it's a Black History Month volume, it seemed appropriate to draw on the history of colonialism, which the Black Panther films of the MCU have done such a tremendous job of exploring."
"The icon of the Black Panther has always been inspirational," Harris added. "The world of Wakanda that produced this Icon is where the real fuel for the imagination rest. To think of humanity freed from the drive to expand but only progress. The opportunity to create that world is amazing to me."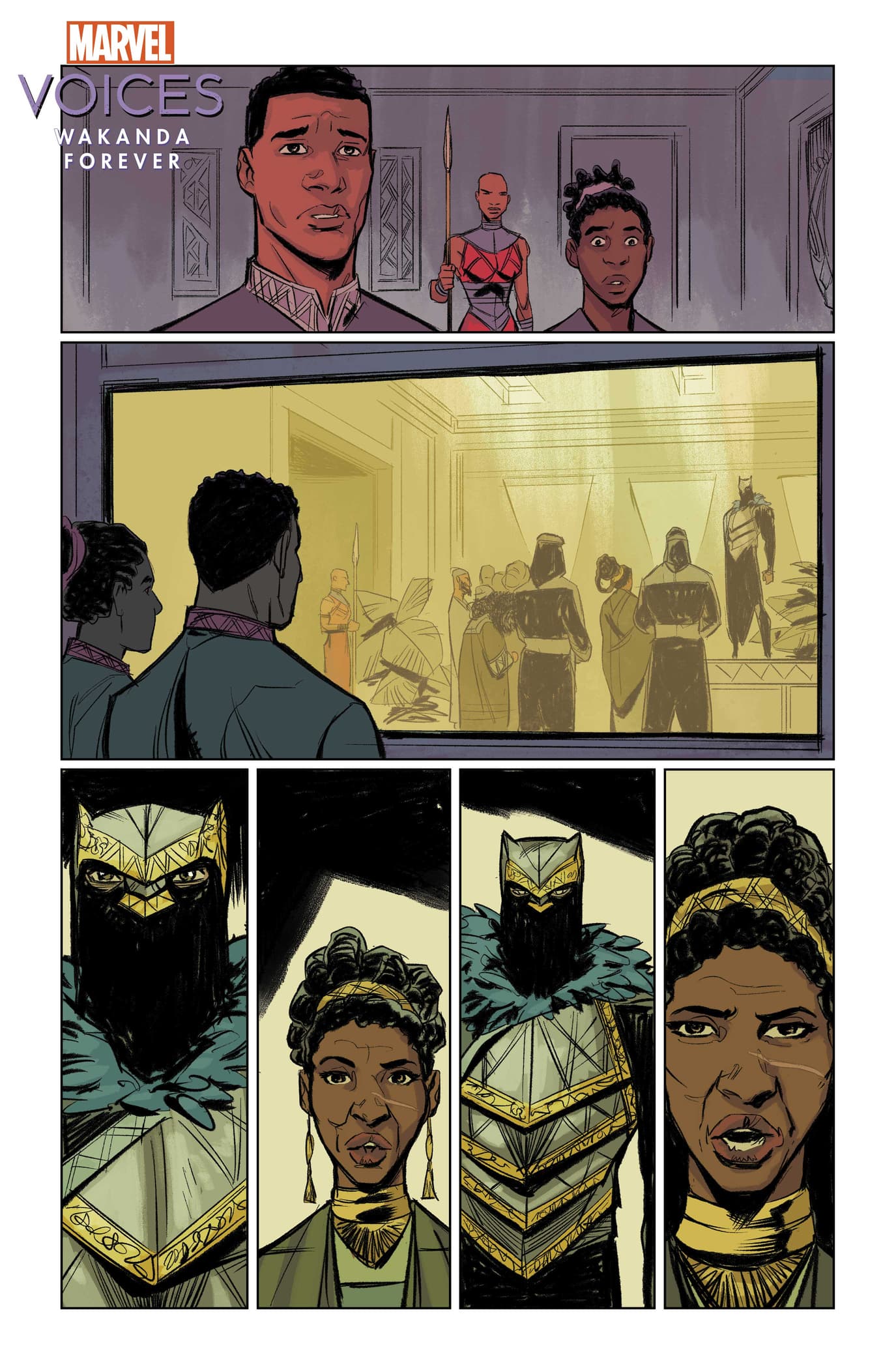 "THE LAST BLACK PANTHER"
Story and Art by JUNI BA
Colors by CHRIS O'HALLORAN
It's the debut of the LAST Black Panther in the far future of Wakanda in a revelatory tale written and drawn by Juni Ba (BLACK PANTHER).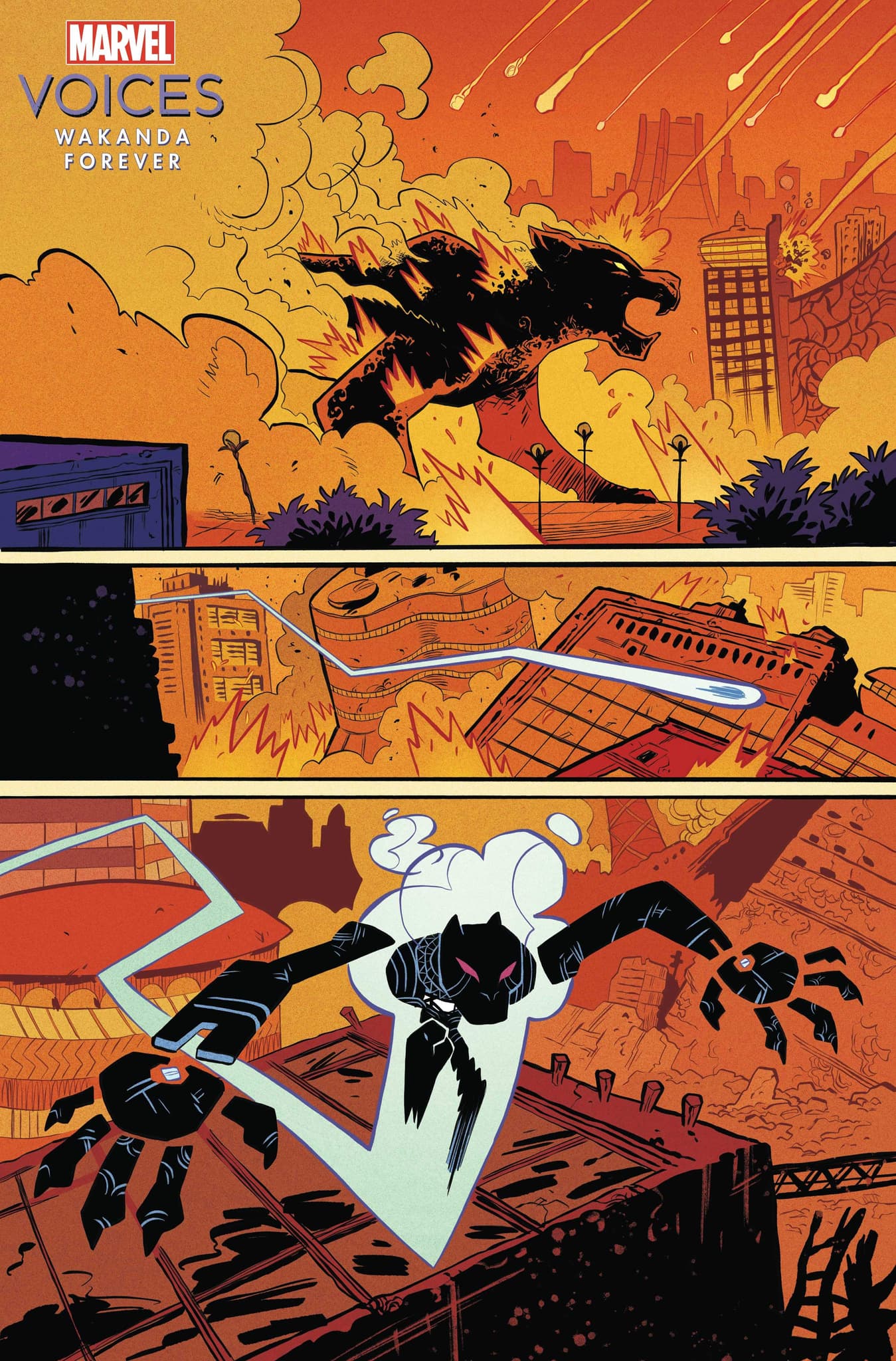 Check out a few variant covers below and join Marvel Comics' Black History Month celebration by picking up MARVEL'S VOICES: WAKANDA FOREVER #1 on February 15!
You can grab these comics and more digitally or at your favorite local comic book shop. Be sure to ask your local shop about their current business policies to observe social distancing or other services they may offer, including holding or creating pull lists, curbside pick-ups, special deliveries, and other options to accommodate. Find and support your local comic book shop at ComicShopLocator.com or by visiting Marvel.com/LoveComicShops.
For digital comics, all purchases in the Marvel Comics app can be read on iPhone®, iPad® and select Android™ devices! Our smart-paneling feature provides an intuitive reader experience, ideal for all types of mobile device and tablet users! Download the app on iOS and Android now!
The Hype Box
Can't-miss news and updates from across the Marvel Universe!