Comics
Published June 14, 2022
9 Times Ms. Marvel Was a Total Fan
Super-fan. Super Hero. SlothBaby.
Ms. Marvel: Kamala Khan may be a Super Hero, (and Jersey City's #1 defender), but she is something else too. She is mega-fan of the Marvel Universe and its heroes. From an extensive merch collection to her online presence as the fanfic-writing SlothBaby, Ms. Marvel has never been shy about sharing her fandom with the world. In fact, in her debut issue MS. MARVEL (2014) #1, she is wearing a jacket with Captain Marvel's old symbol and is teased for being an "Avengers nerd." But some dreams really do come true, and for Kamala meeting—and working alongside—her greatest idols is better than any Wolverine story she could write from the comfort of her bedroom.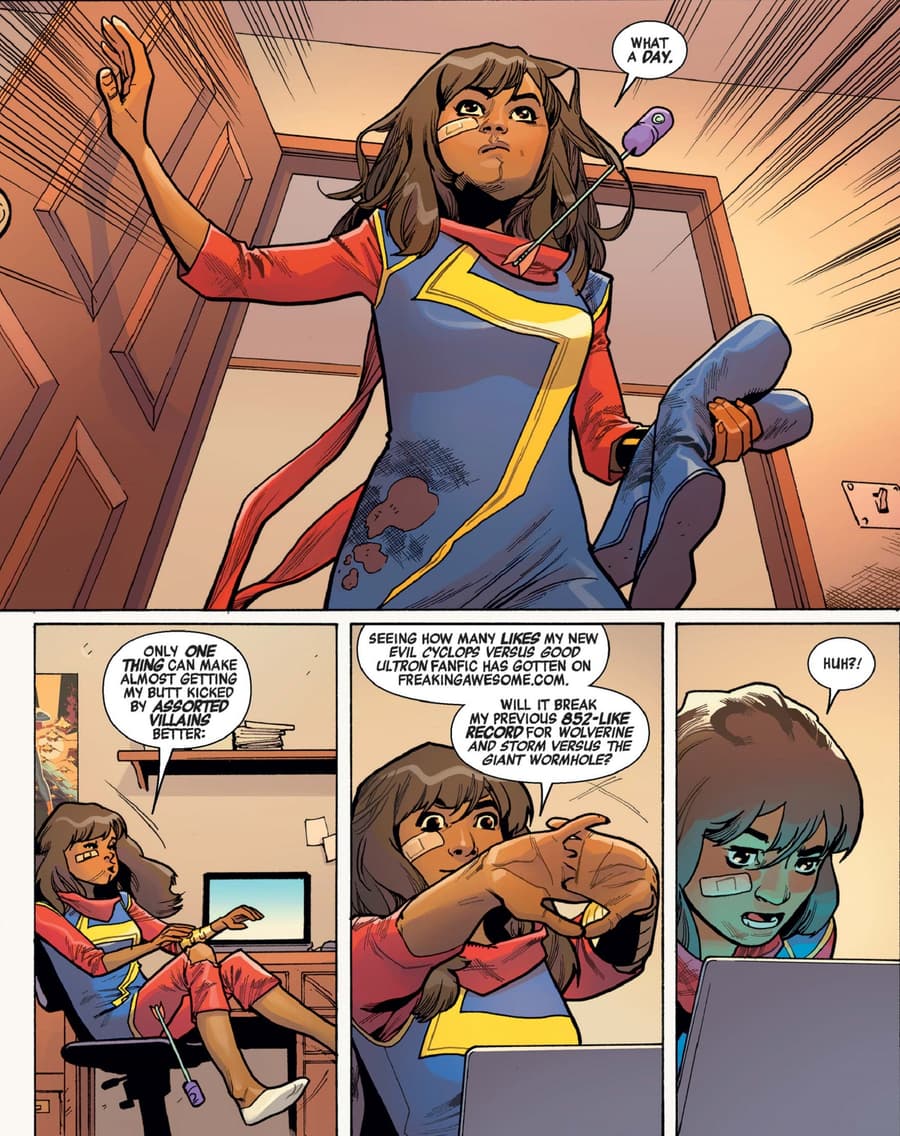 Here are some moments when Ms. Marvel was not only a Super Hero, but a fangirl too.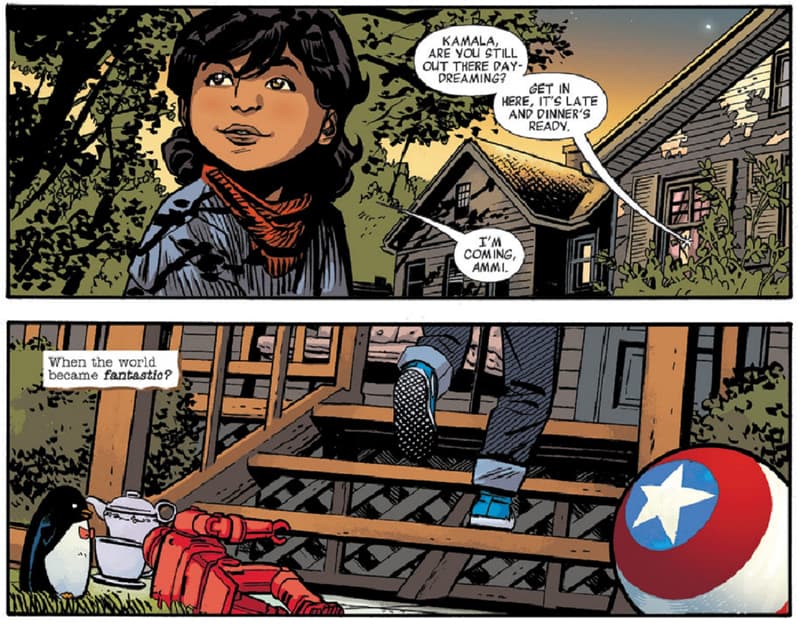 In "Anniversary," a young(er) Kamala is playing in the backyard with some of her toys. Her mom calls in for dinner, but in the lower right-hand corner, you can see a very familiar symbol. It shows that Kamala has been a fan of Super Heroes for a long time.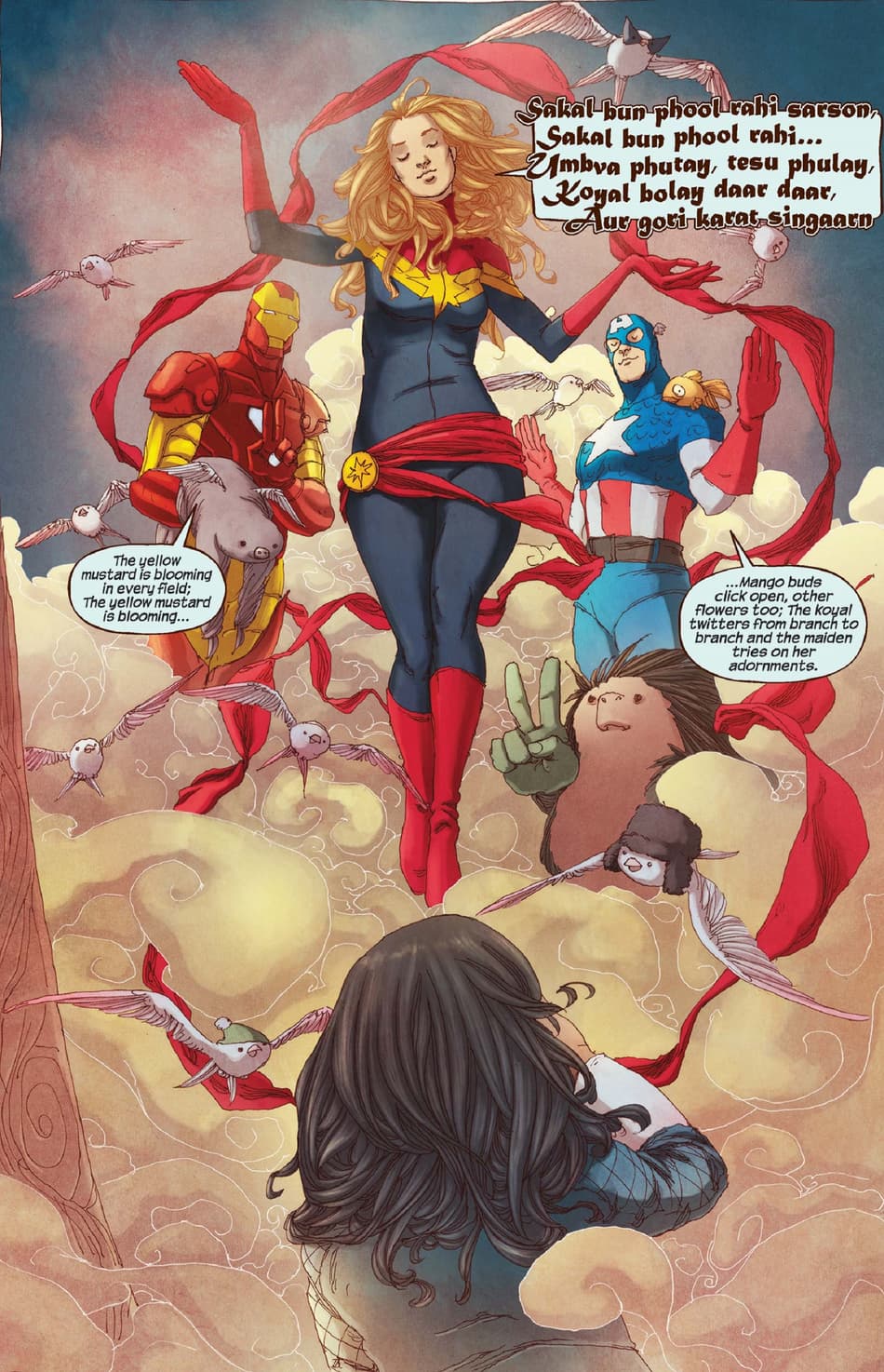 It's a well-known fact that Kamala loves the Avengers, but from the super-group, she absolutely adores Captain America, Captain Marvel, and Iron Man (although Captain Marvel is her top pick). She writes fanfiction about them fighting a monster on Planet Unicorn, which has "almost 1,000 upvotes on freakingcool.com." Kamala even hallucinated her favorite heroes when she was struck by the Terrigen Mist that led to her super-powers. And, they spoke Urdu!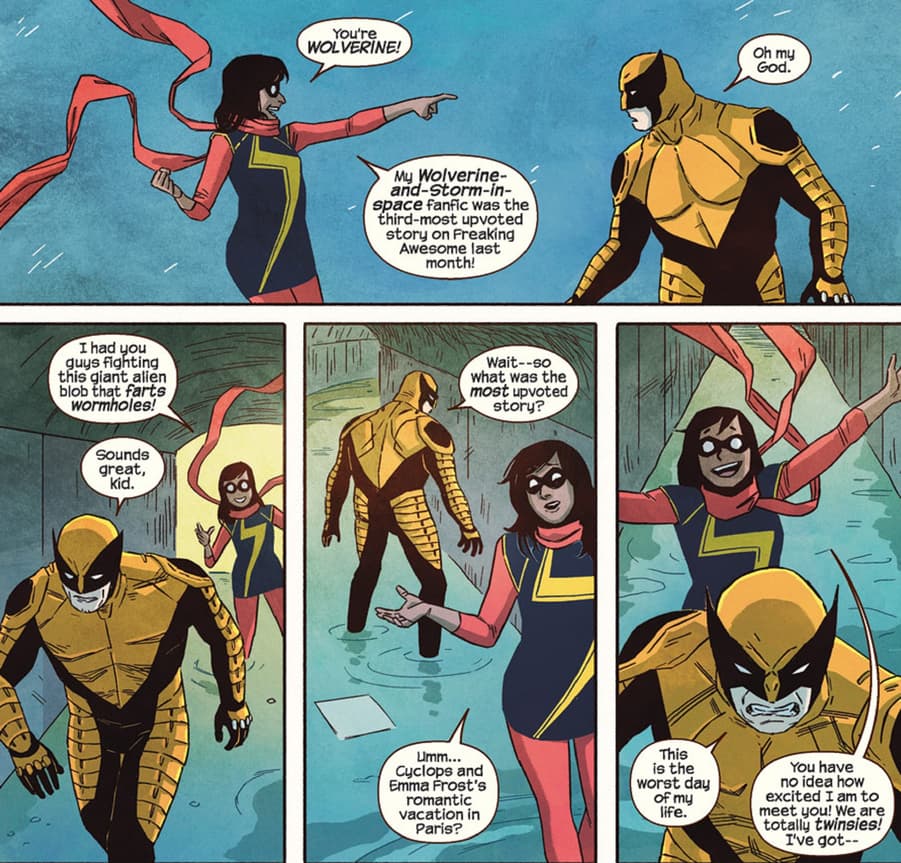 Oh, you thought Kamala was just a fan of the Avengers? Not quite. She's a fan of all heroes, and that includes the X-Men. In issue #6 of her first series, Kamala is shown wearing an X-Men patch on her jacket, and she gets the surprise of a lifetime when she meets one of their most iconic members: Wolverine! She goes on to explain to him that she has a very popular space fanfic of him and Storm. Curious, he asks her what her most upvoted story is…and immediately regrets it.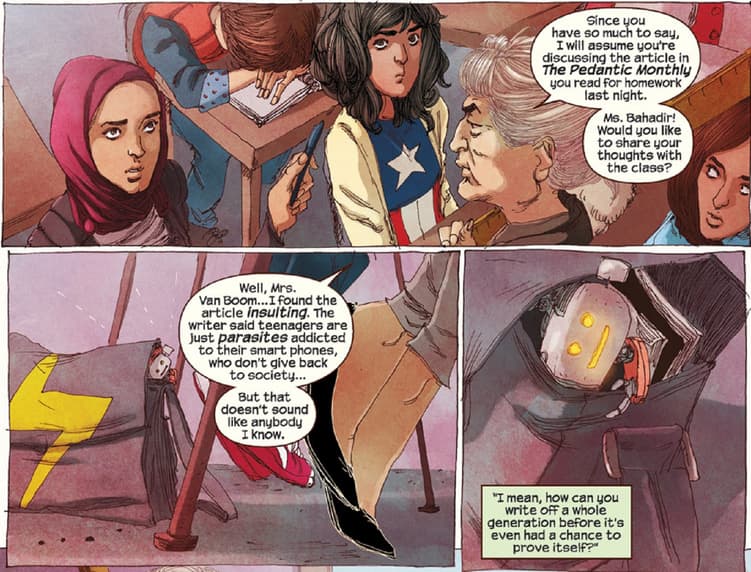 Kamala can be seen not only with her Captain Marvel shoulder bag but also wearing a Captain America t-shirt! Heroes repping heroes.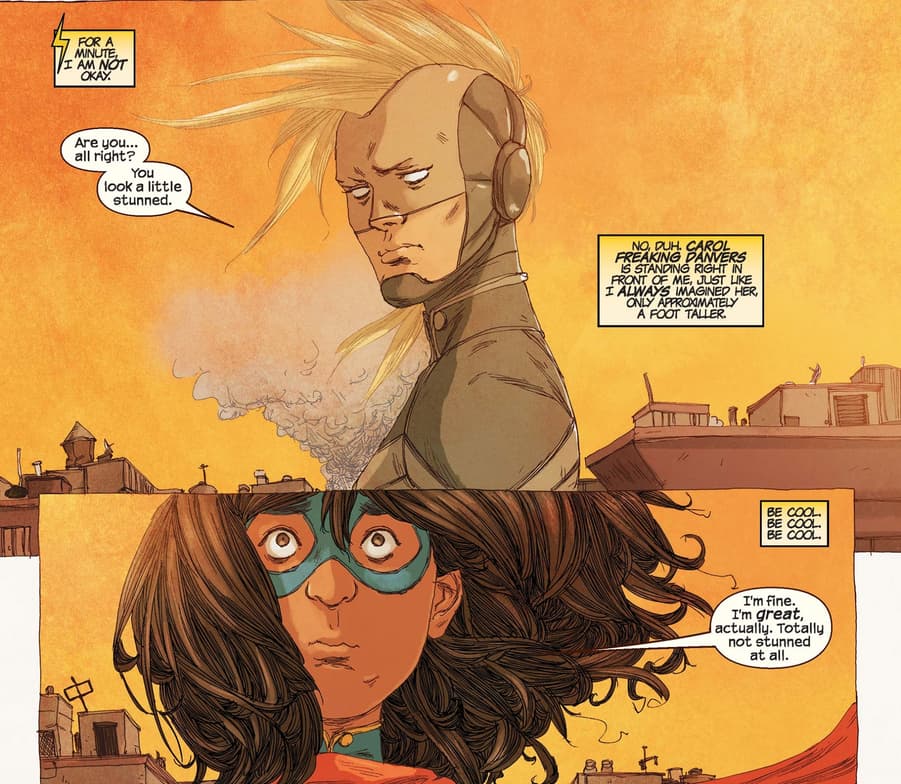 Kamala is shown to have a Captain Marvel poster in her bedroom in MS. MARVEL (2014) #2, which further inspires her to pick up the good fight of a hero. Nothing, however, compares to when Kamala met Carol Danvers in real life. She tried her best to "be cool," but soon entered fangirl mode. In the following issue, Captain Marvel gave Kamala a locator pendant that has both their lightning bolt and star on it. One touch can signal help to Captain Marvel in an emergency. It's "gorgeous, yet functional."
WELCOME TO THE AVENGERS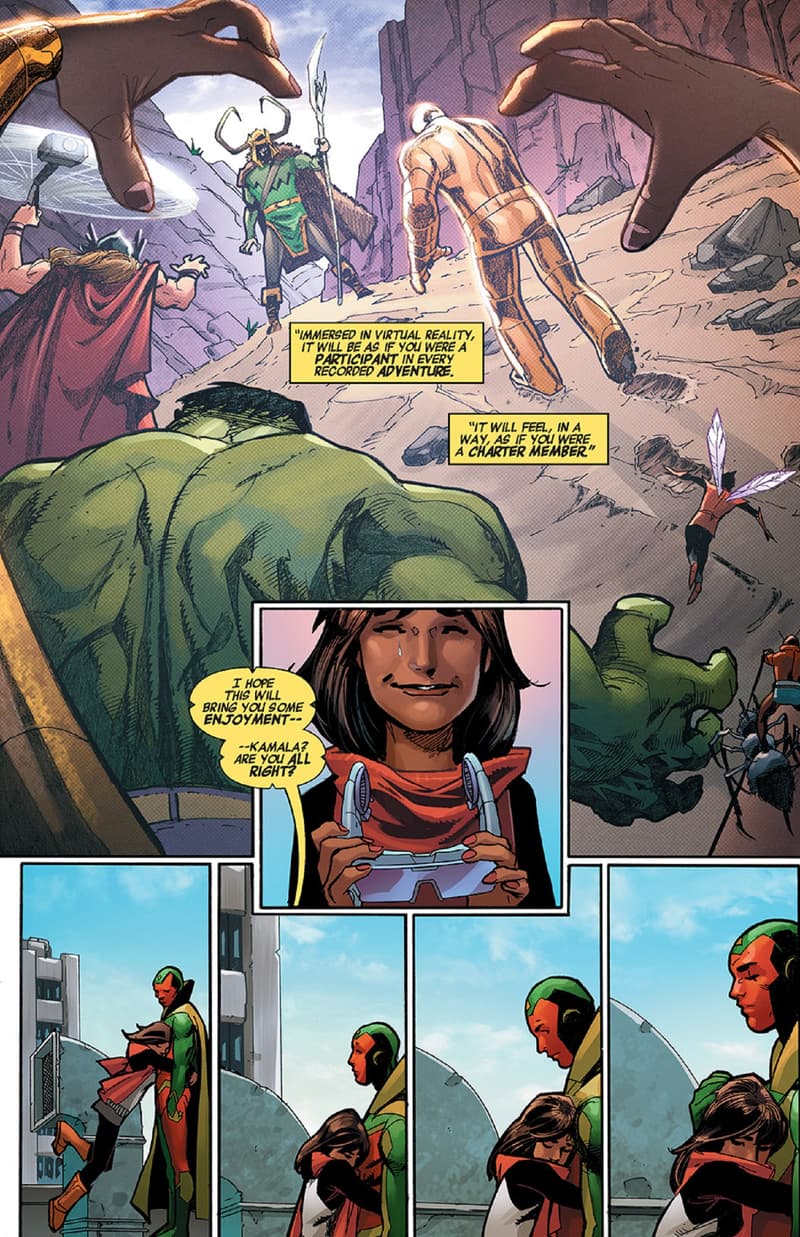 There are various fandom moments that occur during Kamala's time as an Avenger. Selecting just one would be a crime! In ALL-NEW, ALL-DIFFERENT AVENGERS (2015) #2, Kamala is picked up and carried into the air by Captain America: Sam Wilson, and she is in absolute awe to be in the presence of Earth's mightiest. She's more than happy to officially join the legendary group in the following issue. Of course, being an Avenger doesn't stop her from writing fanfics about them! In issue #5, Kamala is interrupted by Bruno and Aamir from writing her love-triangle romance of Captain America, Captain Marvel, and…Juggernaut? Stranger things have happened. Lastly, and the most heartwarming, Vision gave Kamala virtual reality specs that allowed her to experience firsthand the history of the Avengers in issue #7. It's an apology gift for his past behavior (see issue #5), and boy, does Vision make up for it.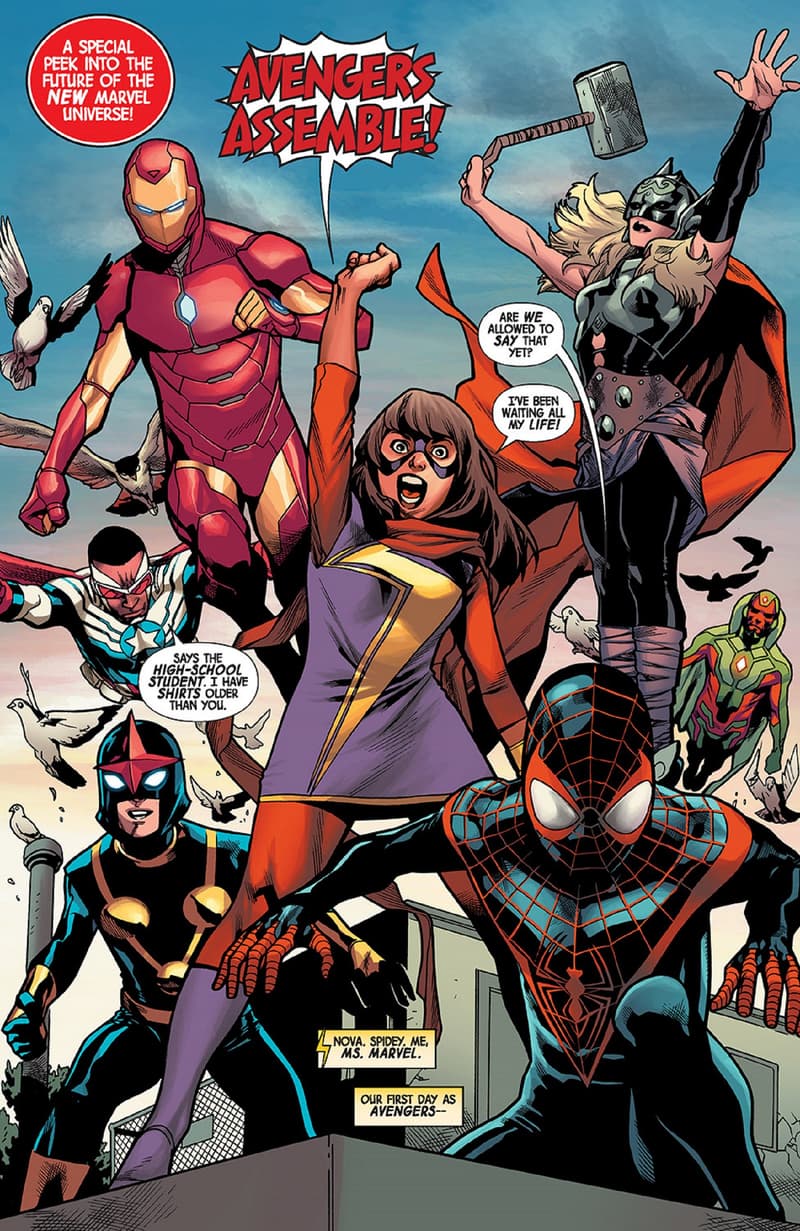 On her first day as an Avenger, Kamala actually got to say, "Avengers Assemble!" And they do!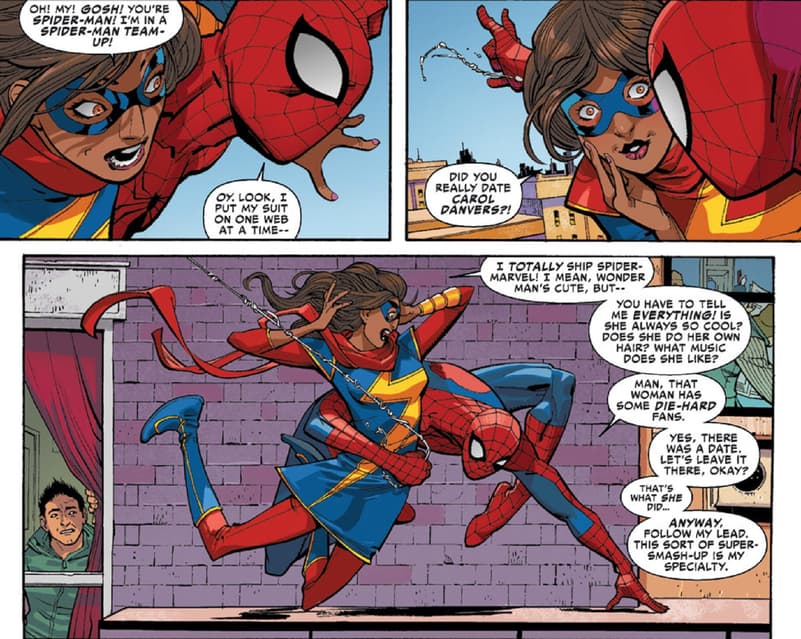 Kamala was fighting a Kree warrior who was wearing one of Captain Marvel's old outfits, when she was punched high into the air. Luckily, she's caught by the Friendly Neighborhood Spider-Man, and she exclaims that she's now "in a Spider-Man team-up!" Deadpool would be proud. Without missing a beat, Kamala asks if Spider-Man really dated Carol Danvers and lets him know that she totally ships Spider-Marvel. Hearing that doesn't lift his spirits.
Kamala and the Wasp (Nadia Pym) are fighting alongside Mockingbird against Dr. Monica Rappaccini of A.I.M., who is terrorizing Manhattan in a giant robot. In the midst of the battle, Mockingbird is shocked that Ms. Marvel and the Wasp are teenage girls, commenting that "Soon we'll have babies out here fighting Thanos." This prompts Kamala to share that she actually has a fanfic like that, which the Wasp then notes is good. Mockingbird is slightly annoyed by the current conversation likely because they're in the middle of facing a robot as tall as a building!
One thing that can definitely be said about Kamala: she has no shame in representing her fandoms, no matter where she is. All comics mentioned can be read on the Marvel Unlimited app!
Download the Marvel Unlimited app for iOS or Android devices now for more stories starring Ms. Marvel. You'll also gain instant access to 29,000+ digital comics with new titles available as early as three months after they're in stores.
Follow Marvel Unlimited on Twitter and Facebook to stay tuned in to weekly announcements, articles, and more, all at @MarvelUnlimited. Follow us today to join the conversation with thousands of fellow fans, and let us know what you're reading!
The Hype Box
Can't-miss news and updates from across the Marvel Universe!