Comics
Published September 6, 2019
Pepe Larraz Shares What He Learned from Anime, Classical Art, and Other Marvel Greats
One of Marvel's up-and-coming artists can boast that he learned from "the best."
For the last few years, Pepe Larraz has been making a name for himself at Marvel with stellar runs on UNCANNY AVENGERS, AVENGERS: NO SURRENDER, EXTINCTION, and now HOUSE OF X. Larraz has earned his place as one of Marvel's top artists, and his star will continue to shine brightly in the future.
But everyone has to start somewhere, and even Larraz was once an aspiring artist who needed to find his way in the industry. Marvel.com recently had a chance to speak with Larraz about his artistic influences, and according to Larraz, there were a handful of Spanish artists who made a big impression on him at an early age.
"There were a couple of Spanish comic artists [including] Francisco Ibáñez Talavera, who was the author of Mortadelo y Filemón, and Jan [Juan López Fernández], who was the creator of Superlopez. But also René Goscinny and Albert Uderzo, who made the glorious French series Asterix. Their work was always around when I grew up."
At first, Larraz found it easier to emulate the style of Talavera. However, that led to an odd juxtaposition of styles when he discovered American comics. 
"I started drawing my own stories of Mortadelo y Filemón, I guess because it was the simplest to copy," noted Larraz. "But I jumped very soon to develop my own characters, which had the same head as Mortadelo, but different bodies. When I started reading American comic books, the bodies changed to be more superheroic, with detailed anatomy, but the heads were still Mortadelo's. It was very weird."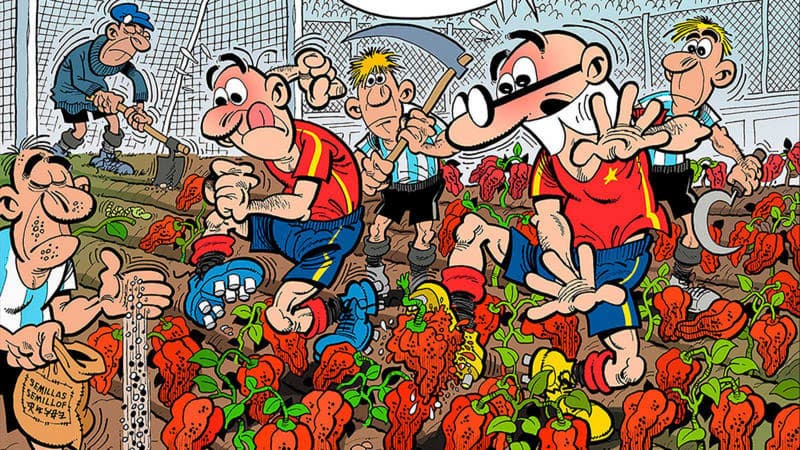 Outside of comics, Larraz has a very eclectic group of influences.
"I follow a great number of illustrators and concept artists for films, like Even Mehl Amundsen, Ian McQue, Alberto Mielgo, Marcos Mateu, James Gurney, Pakoto, Mol, David de las Heras, and Igor-Albán Chevalier," said Larraz. "I also love the work of the Russian painters of the 19th century, Ilya Repin, Vladimir Kuinjy, Ivan Bilibin... as well as painters Ramon Casas, Joaquin Sorolla, Alphonse Mucha, and Hiroshi Yoshida, [and] the 20th century American illustrators Norman Rockwell, J.C. Leyendecker, Gil Elvgren, N.C. Whyet, and Howard Pyle.
"I also like to study the work of cinematographers, to learn about image composition and narrative uses of  light, including Roger Deakins, Emmanuel Lubezky, Janusz Kaminsky, Allen Daviau, Darius Khondji, Adam Arkapaw, to name a few."
Naturally, Larraz's influences also include one of the most famous anime shows ever created.
"I have a huge debt with Akira Toriyama's Dragon Ball," said Larraz. "That anime was a cornerstone for our generation of comic book artists. With it we had our first shot of true epicness. I learned a lot about how to draw a fight and how to pace the tempo. Everything was drawn with a lot of personality, every character had a unique silhouette.  It was fabulous. Of course, I also love the anime work of Hayao Miyazaki, Katsuhiro Otomo, and Masamune Shirow's, like every other human being."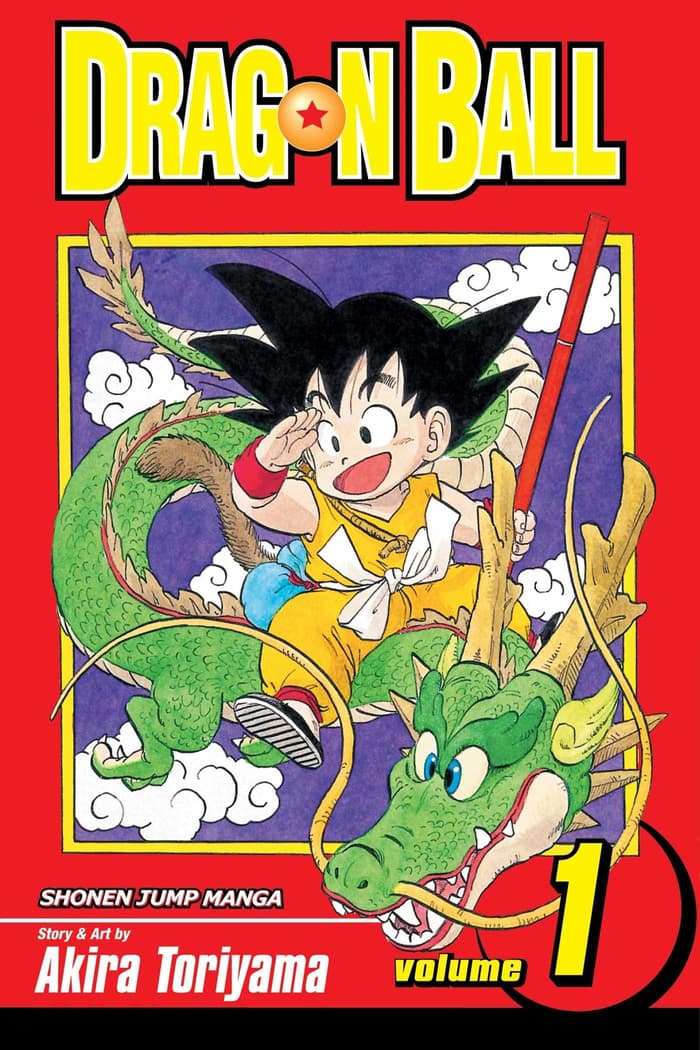 Within the world of comics, Larraz cited the influence of Olivier Coipel, Pasqual Ferry, David Lopez, Katsuhiro Otomo, Akihiro Yamada, and David Lafuente on his own work. And he gushed about the unique qualities that each artist brings to their pages.
"Stuart Immonen and Coipel are probably on top, and I acknowledge that both of them had a lot of impact on the way I do comics now," noted Larraz. "Stuart is the perfect comic artist, a great draftsman with exceptional storytelling skills, a fabulous use of light and shade and clever page layouts. I think of him as the natural evolution of Alex Toth.
"Olivier is virtuous, extravagant, exuberant, and his drawings are pure elegance. His work is always a reminder that I should 'let it go' more often, I should play and enjoy and shouldn't overcomplicate things too much. He is an inspiration.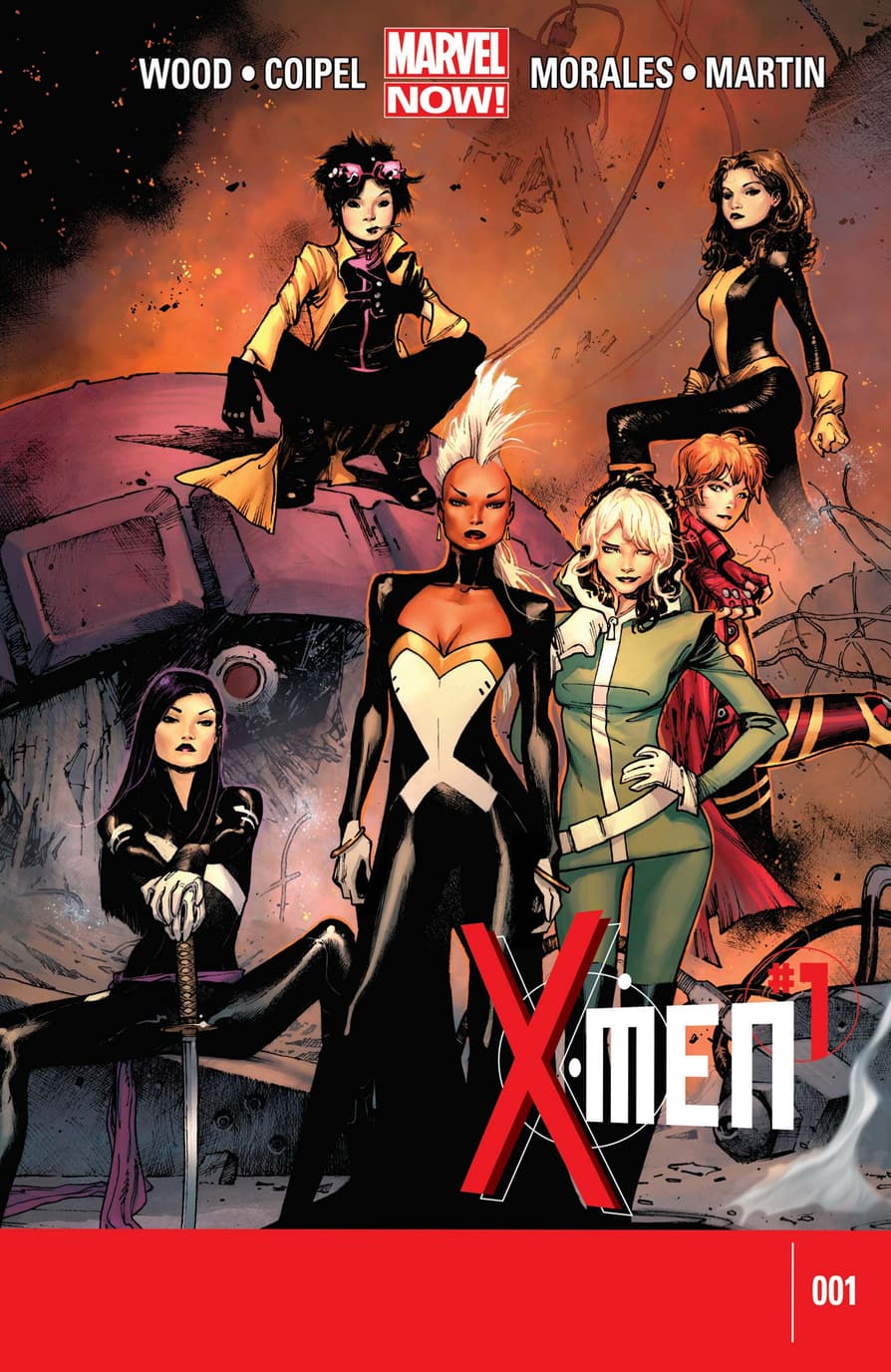 "About Otomo, when I was a teacher of comics, I recommended that my students read Otomo's Akira once a month. It is undoubtedly one of the cathedrals of manga and all styles of sequential art. It has it all: perfect choreography of movement, never-boring framing on long conversations, lighting, fabulous designs, and bigger-than-life action. All of Moebius' work had a lot of influence too. The framing, the ambience, the odd and strangely familiar feeling of all those worlds. Milo Manara's black and white work is also a source of inspiration to me.
"Akihiro Yamada's Record of Lodoss War is having a lot of influence on my inking lately, especially for HOUSE OF X, making is a bit looser than it was. That book is a fountain of graphic solutions. Due to the amount of detail in HOUSE OF X, and the fact that I [decided not] to use photos or vector images for the forest areas, I needed to find a way to portray vast organic areas in black and white and quite fast. Yamada's work on Lodoss gave me a lot of interesting ideas to do that, using the digital equivalent of parallel pens or doing more organic crosshatches
"Pasqual Ferry was one of my biggest influences, and he pushed my career early on when I had the chance to help him out in THE MIGHTY THOR. To work as closely with one of the most talented artists in Marvel was absolutely delightful. Also they wanted me to imitate his style to make the transition between pages smoothly. So basically they paid me to learn from one of the best.
"David Lafuente and David Lopez are close friends now, and despite the fact that we live in opposite corners of Spain, we talk long hours during work on endless phone talks, along with Álvaro Martínez too. But I was a fan of both Davids before getting to know them as friends. David Lopez's independent work Espiral was foundational on my experience as a storyteller and as a human being. I think I moved to Barcelona because of that book. David Lafuente's SPIDER-MAN was one of the books I studied closely when I was trying to get hired by Marvel. The way he pays attention to every detail, from the Super Hero costume to a computer keyboard, all was done with absolute love for the comic medium.
"Chatting with them is a class of making comics to me, and we give each other a lot of support when the bad days come. Without them my work wouldn't be the same right now, and I'm very fortunate to have them on the other side of the line."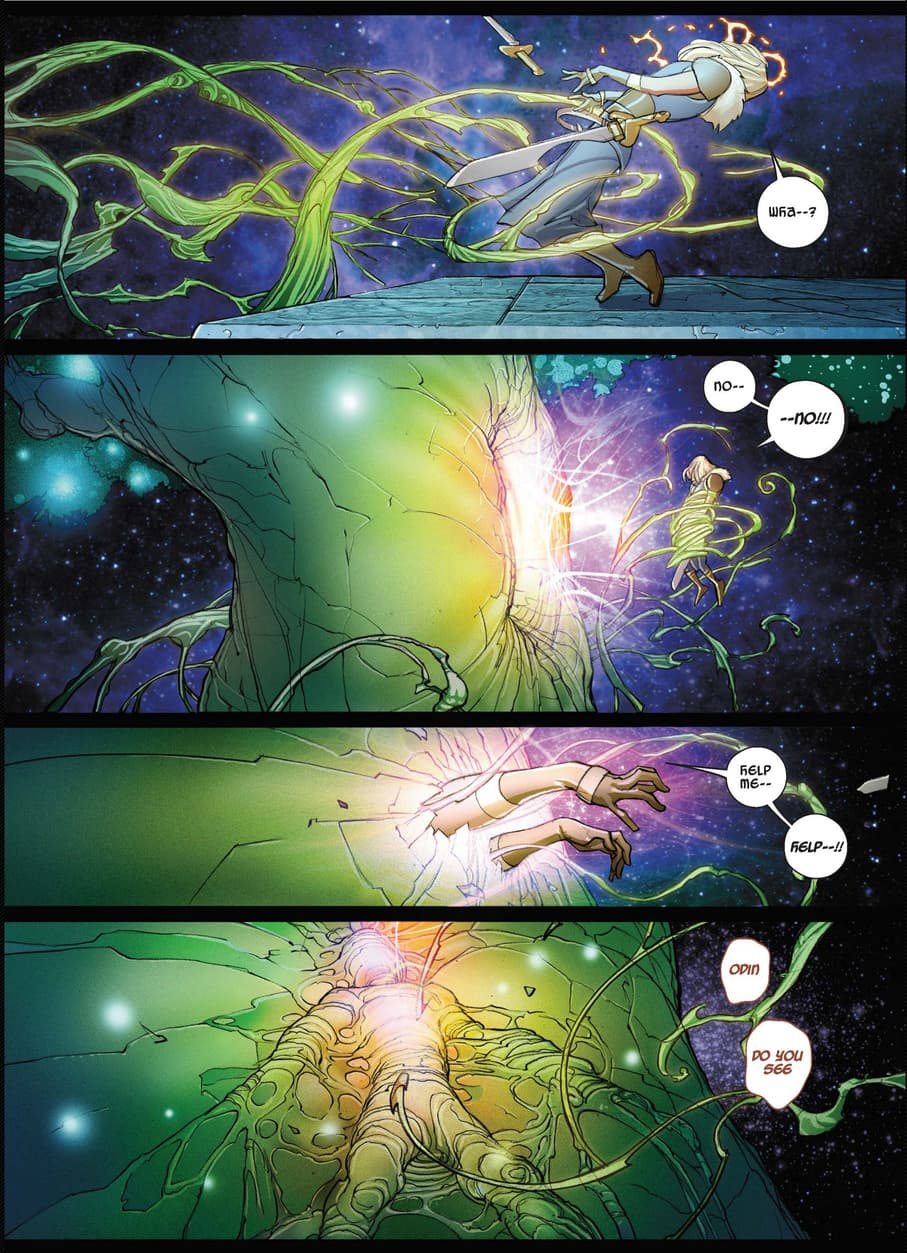 Larraz has also found that one of the joys of the comic book industry is the opportunity to meet his fellow creators at conventions around the world.
"The great thing about comics is that the people that you learned from are still active when you get there," said Larraz. "I have been fortunate enough to meet and chat with Alan Davis, R.M. Guera, Mark Farmer, Bill Sienkewicz , Simon Bisley, Carlos Pacheco , Salvador Larroca, Humberto Ramos. [I shared] an elevator with Kevin Eastman and even talked for a brief moment with Frank Miller!
"And to meet the artists of my generation too, Paul Renaud, Mahmud Asrar, Valerio Schiti, Sara Pichelli, Yildiray Cinar, Jorge Jimenez, Javier Fernández, Natacha Bustos, Daniel Acuña, Jorge Fornés, and of course my fellow artists in the Young Guns. One very special moment for me was when I met and talked to Jan, the creator of SUPERLOPEZ. I really treasure these moments, as a fan of course. But also I immensely value the chance to get to know these guys as people. I like to know how they struggle with the bad side of this job, the endless working hours, the solitude, [and] how they keep themselves focused."
Currently, Larraz is influencing a brand new generation of artists with his work in HOUSE OF X, the flagship book of Jonathan Hickman's X-Men run.
"As a professional, it is always challenging to make your own designs for classic characters or to create new ones. But it is also really nice to make your own version of other artists' character design and add something new on it," noted Larraz. "I'm really enjoying giving my own vision of Magneto and Xavier in HOUSE OF X, [because they are] so fundamental to X-Men history."
To follow Larraz's latest work, check out HOUSE OF X #4, on sale now online and at your local comic shop!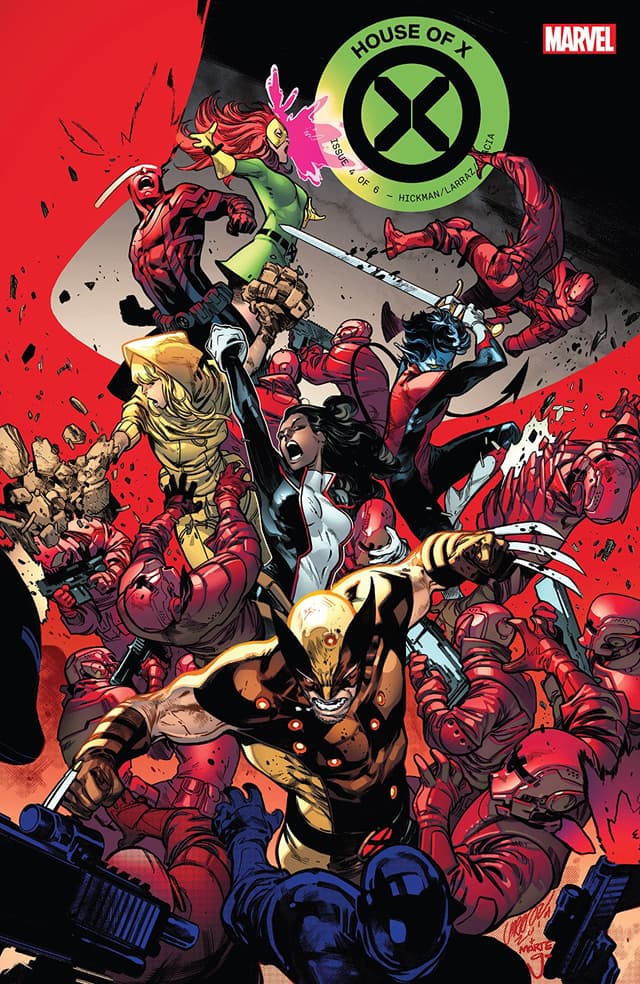 The Hype Box
Can't-miss news and updates from across the Marvel Universe!