Comics
Published December 22, 2021
Holidays with the Hawkeyes
The most wonderful time of the year, Hawkeye style.
Have you tried Marvel Unlimited yet? It's your all-access pass to over 29,000 Marvel comics, available at your fingertips. Download our new, supercharged app on the App Store or Google Play today and enjoy a first year for $55!
You better watch out, you better not cry, Hawkeye: Clint Barton's gonna go catch some bad guys. In HAWKEYE (2012) #6, also dubbed "Six Nights in the Life of Hawkeye," Clint tries to take a little break from being a hero, and boy, does he try!
The story opens on Tuesday, December 18, a week before Christmas. Tony Stark is helping Clint untangle cords of various electronics: a DVD, a DVR, and a VCR. Stark offers to buy new ones, but in a very roundabout way, Clint explains that he has money (which he "inherited" in HAWKEYE #2). Clint doesn't want new versions and would prefer to figure out the stuff he has than erase his problem with an easy solution, foreshadowing how the rest of the story plays out.
The six-day story is available to read at your leisure on the Marvel Unlimited app. Timeline of events hop around and are a bit chaotic, just like Clint Barton's life.
THURSDAY, DECEMBER 13: 12 DAYS UNTIL CHRISTMAS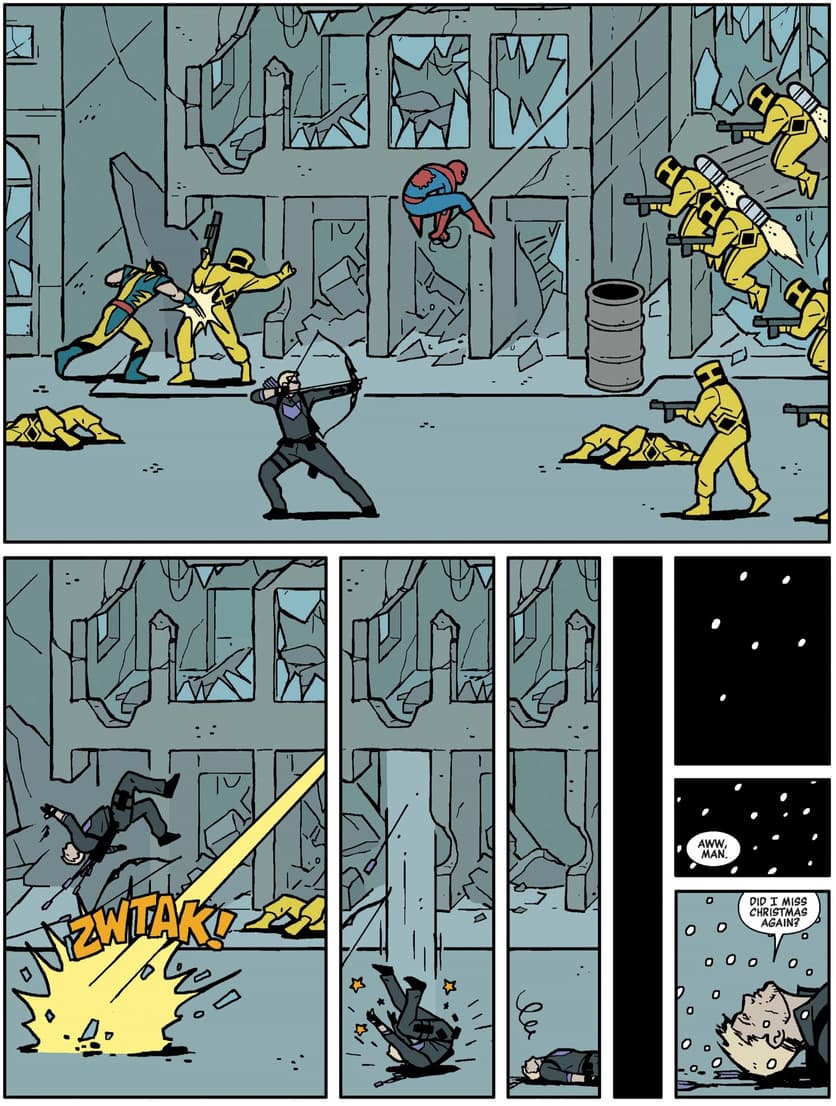 Clint is fighting some A.I.M. agents with fellow Avengers Wolverine and Spider-Man. In the midst of the fight, Clint falls and hits his head. He gets a concussion so terrible that he thinks he has missed Christmas again. (Again?!) Clint compares crimefighting to playing football all year. Spidey suggests to Clint that he should take some time off, which is a great idea. With Christmas around the corner, Clint will do just that and spend it watching a whole season of "Dog Cops"… before Wolverine and Spider-Man almost spoil the ending for him.
MONDAY, DECEMBER 17: 8 DAYS UNTIL CHRISTMAS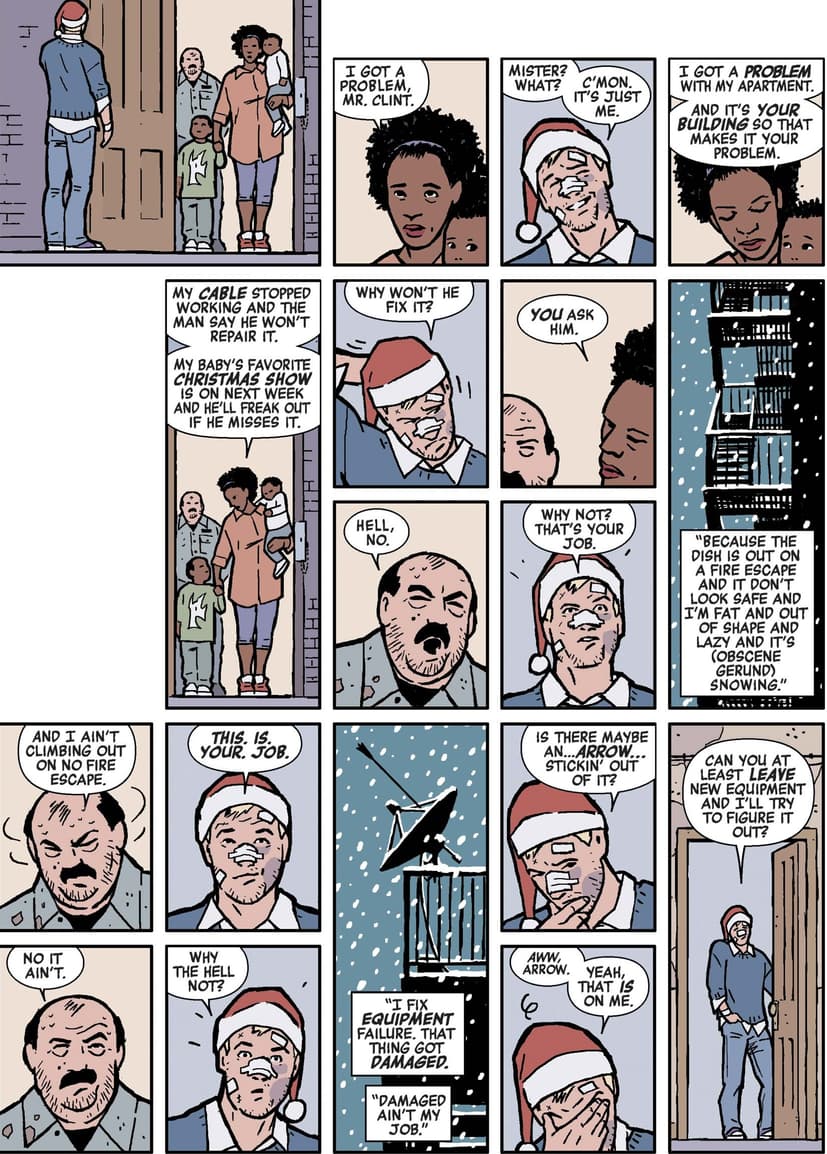 Clint is in the process of moving back into his apartment when he receives a visit from his neighbor Simone. Her cable isn't working, and the repair man won't, well, repair it. His excuse is the cable dish is on the fire escape, and he doesn't want to fix it in the snow. It dawns on Clint that he's the reason why her cable isn't working—one of his arrows is in her dish. How did it end up there? Keep reading to find out!
FRIDAY, DECEMBER 14: 11 DAYS UNTIL CHRISTMAS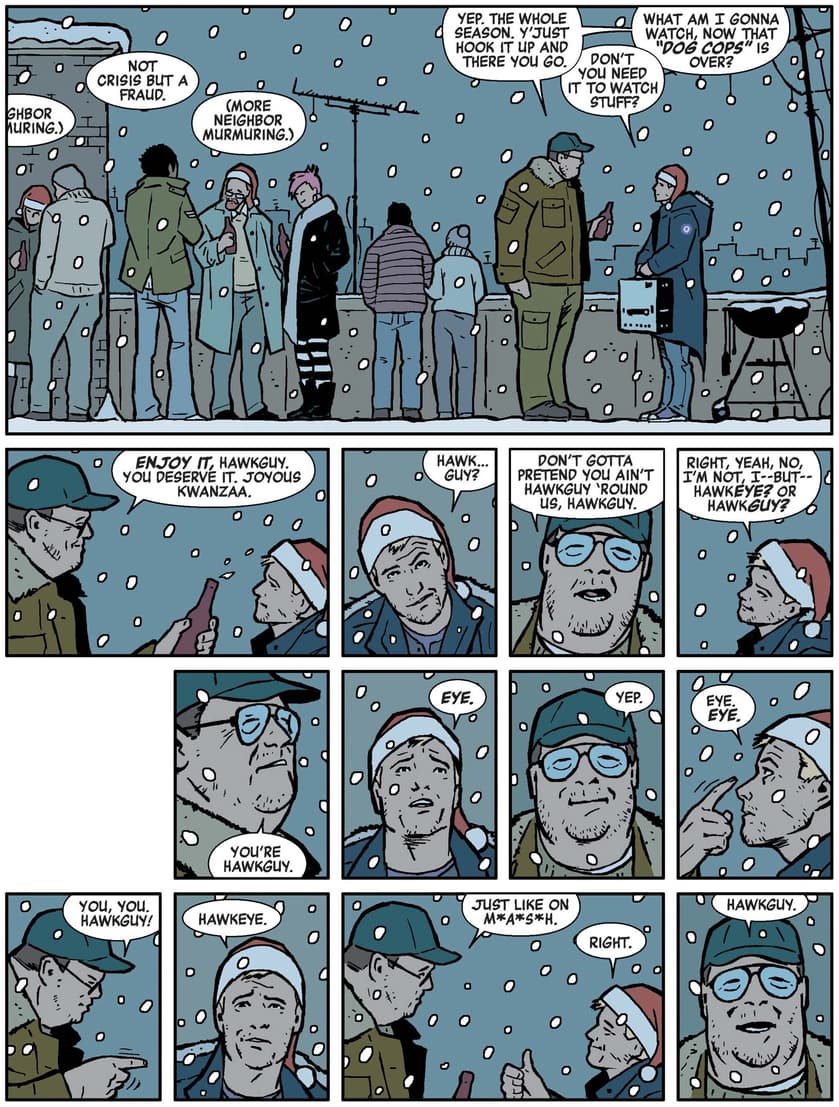 Clint and his neighbors are celebrating the holidays on the roof. One of Clint's neighbors, Grills, gives him a DVR, which includes the most recent season of "Dog Cops." They get into a small but hilarious disagreement about whether Clint's codename is "Hawkeye" or "Hawkguy." It's totally Hawkeye, dude. Another tenant, Aimee, nonchalantly alerts Clint that the Tracksuit Draculas (or Tracksuit Mafia, if you're fancy) are waiting at the front of the apartment building. Clint is ready to defend the building, but he's immediately ambushed. Clint tries to hold his own, a stray arrow flies from his bow (sorry, Simone!), and he is promptly kidnapped. Definitely not expecting good cheer from the Tracksuits.
SATURDAY, DECEMBER 15: 10 DAYS UNTIL CHRISTMAS, BRO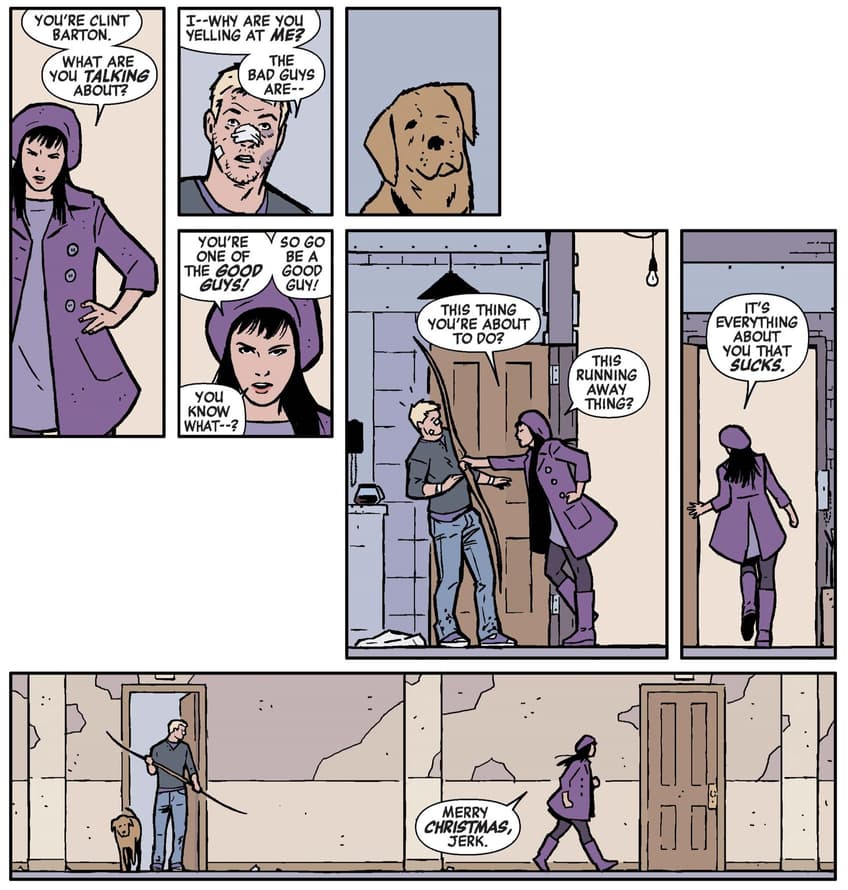 Face-to-face with a leader of the Tracksuits, Clint is handed an ultimatum: stop ruining their business, or "face war." Everyone he knows will be gone. Brutal. Clint is later and unceremoniously dropped back at the apartment building and proceeds to start packing, as he assumes no one will miss him, and sends Kate Bishop his bow. Huge mistake. Kate confronts Clint, and he explains his predicament. She hates that he's being a coward and prefer he "go be a good guy." Same, Kate, same.
SUNDAY, DECEMBER 16: 9 DAYS UNTIL CHRISTMAS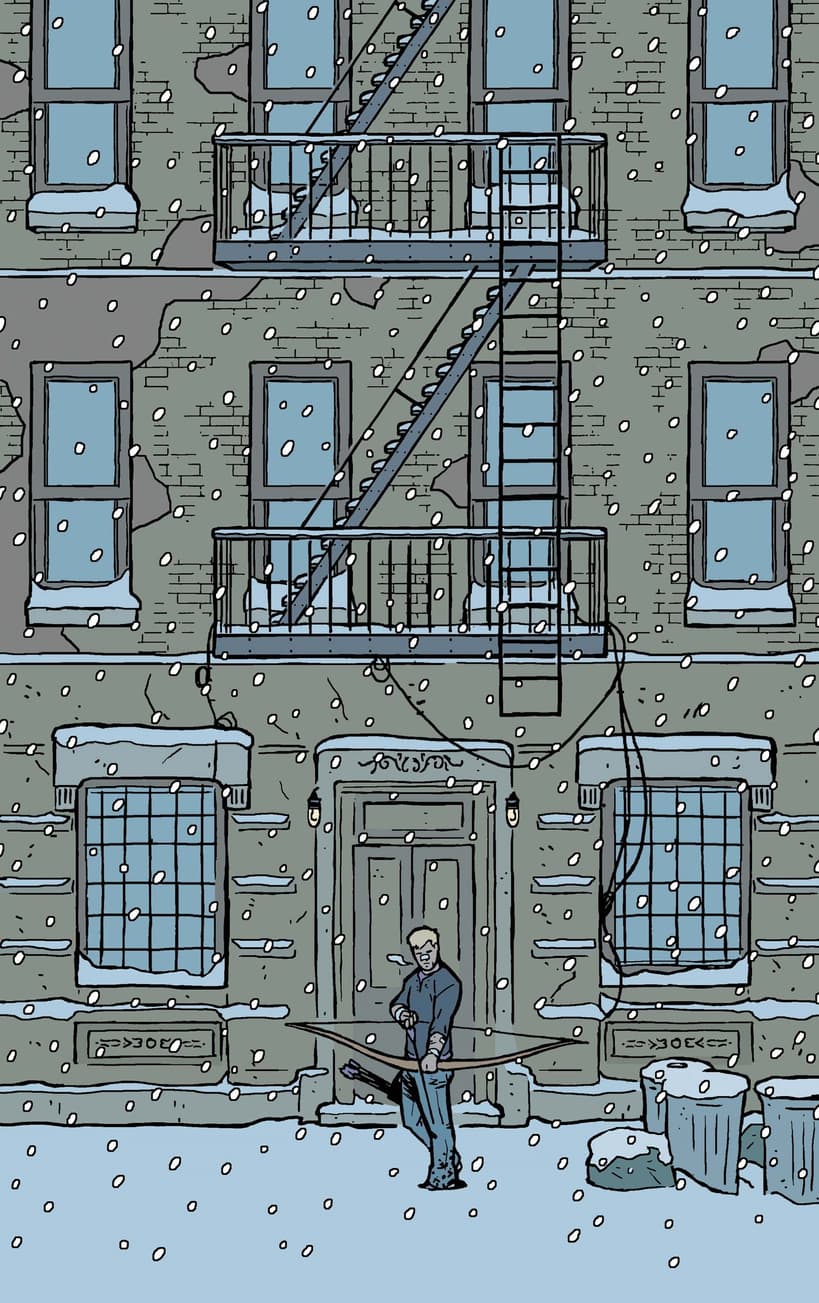 Clint takes Kate's words to heart because the next day he is standing in front of his apartment building with his trusty bow and arrows, poised to strike back. Hawkeye versus the Tracksuits. Shame that the fight isn't shown, but you can guess who won.
WEDNESDAY, DECEMBER 19: 6 DAYS UNTIL CHRISTMAS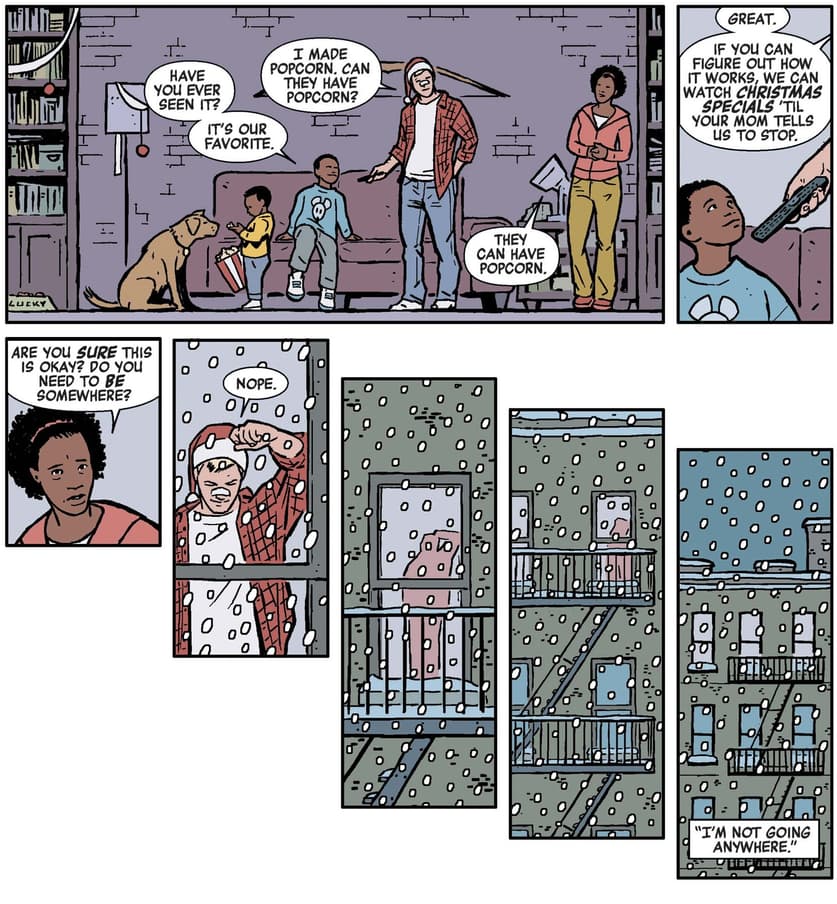 After cleaning up his apartment, Clint finally gets to sit in front of his television to relax. He tries to start his "Dog Cops" marathon—he doesn't know how to use the remote—when he gets a knock at the door. Simone arrives with her kids. He offers them the use of his TV since, you know, there's still an arrow in her dish. When asked if he has somewhere to be, Clint answers that he's "not going anywhere." A very merry Christmas indeed.
HAWKEYE (2012) #6 is available on Marvel Unlimited. You can also read the complete run by Matt Fraction, David Aja, Matt Hollingsworth, and other top creators in its entirety on the app. Don't be naughty like the Tracksuit Mafia. Happy Holidays!
Follow Marvel Unlimited on Twitter and Facebook to stay tuned in to weekly announcements, articles, and more, all at @MarvelUnlimited. Follow us today to join the conversation with thousands of fellow fans, and let us know what you're reading!
The Hype Box
Can't-miss news and updates from across the Marvel Universe!