Comics
Published June 7, 2017
Schooling Spider-Man: College Commencement
The Parker Luck wreaks havoc on Spidey's graduation day!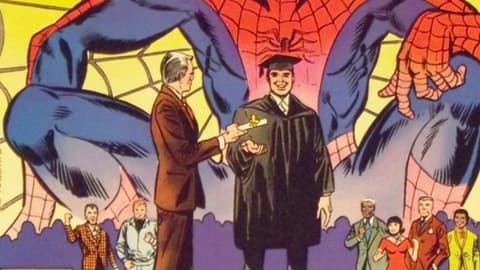 Celebrate the Wall Crawler's return to the big screen in "Spider-Man: Homecoming" by heading back to school with these adventures available on Marvel Unlimited!
Though it may have taken him over 150 issues, Peter Parker finally graduated from college in the pages of 1978's AMAZING SPIDER-MAN #185 by Marv Wolfman and Ross Andru. One major question seemed to hang over the event and it even made its way onto the cover: "Will the specter of Spider-Man ruin this joyous day?" Let's find out!
Most of the issue wrapped up Spidey's ongoing battle with White Dragon, the Dragon Lord who intended to bring all of the gangs in New York City together under his control. After the Wall Crawler survived a vat of burning acid, our hero faced the villain in the streets and took him out with a mix of brains and brawn.
That segued nicely into a second story, which cordially invited us to the graduation of Mr. Peter Parker from Empire State University. In true Parker fashion, he ducked into an alley to change out of his hero togs. Shortly after, he ran into Harry Osborn and Flash Thompson who showed up to cheer their friend on.
The Parker Luck kept playing with our hero as the man passing out caps and gowns couldn't find Peter's name on his list. Still, he handed over a too-large extra for him to wear. Worse yet, they didn't have a seat for Pete and failed to put him in the program! Meanwhile, Robbie Robertson sat with Aunt May as they turned on the television to see the commencement in progress. Peter borrowed the Daily Bugle's video equipment to set up a live feed for his beloved mother figure to watch the proceedings from her sick bed.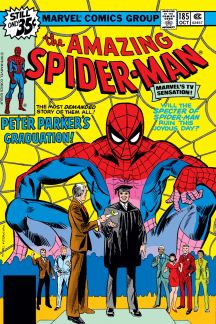 A lengthy—and boring—speech from J. Jonah Jameson didn't seem to dampen anyone's spirits too much, but Peter felt a downpour when they skipped over his name during diploma deployment. Afterwards, he asked the dean what had happened and he explained that Parker lacked one gym class credit to graduate. His secretary tried contacting Peter, but he had been so busy fighting villains that he missed the calls!
As Parker walked away, steaming, he answered the question posed on the cover: "Once again, the specter of Spider-Man has ruined my life!" Then, he stepped outside and his perspective changed. Peter understood that he'd knock out one more class, officially graduate in a few months and then be fully out in the real world!
A Tangled Web
Spider-Man might be Empire State University's most amazing graduate, but plenty of other well-known characters have walked those hallowed halls. For example, Johnny Storm—aka The Human Torch—attended the academic institution. In FANTASTIC FOUR #371, Johnny contemplated leaving the team behind while walking to his next class. Not long after, Paibok, Devos and Storm's ex-wife Lyja all attacked him, leading to an all-out battle that left the campus in ruins, especially after the Torch decided to go nova to stop the Skrulls. In the following issue, Johnny turned himself in to the cops for nearly destroying the university and also learned that he'd been expelled. Storm's longtime pal Spider-Man showed up to help as the story progressed and things got worse for The Human Torch before they got better.
Next time we fast forward to 1995 wherein Kurt Busiek turned back the clock to tell UNTOLD TALES OF SPIDER-MAN!
The Hype Box
Can't-miss news and updates from across the Marvel Universe!