Comics
Published May 11, 2017
Secret Empire Exposed: Quake
Daisy Johnson leads her reluctant Secret Warriors against evil!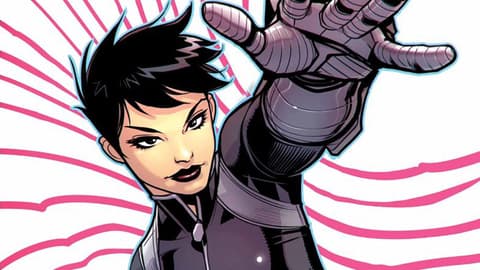 Each week, we use our super sleuth skills to dig into the histories of the characters fighting on both sides of Secret Empire!
The world has gone crazy. Captain America took over the world for Hydra and now Daisy Johnson leads her own team of Inhuman heroes against him in SECRET WARRIORS by Matthew Rosenberg and Javier Garron.
Also known as Quake, this hero has been working the darker side of the Marvel Universe since she first appeared in SECRET WAR #2 back in 2004. That story, by Brian Michael Bendis and Gabriele Dell'Otto, featured Nick Fury sending Captain America, Spider-Man, Luke Cage, Wolverine, Black Widow, and Daredevil to illegally take over Latveria under Johnson's command. Since the mission led to a major super villain attack on New York City and he used brainwashing to entice his operatives, Fury went underground which eventually paved the way for Daisy to become Director of S.H.I.E.L.D. for a time.
When Fury put together his original Secret Warriors team, Daisy not only helped recruit the offspring of existing super humans for the "Caterpillar" squad, but also went up against Hydra a number of times while working with the group. Those encounters seemed to carry over into her other appearances. In the pages of AGENTS OF S.H.I.E.L.D., she worked with her team as well as the Avengers to stop Gorgon from unleashing an army of Iron Man armors programmed with Agent Coulson's plans on how to take down just about every hero in the Marvel Universe.
Now she's leading her own squad in SECRET WARRIORS, including Ms. Marvel, Karnak, Moon Girl, Devil Dinosaur, and Lockjaw. Not bad for the daughter of Mr. Hyde!
The Empire Strikes Back
Thanks to Daisy's ongoing presence on "Marvel's Agents of S.H.I.E.L.D." as played by Chloe Bennet, a whole new audience has gotten to know the erstwhile Inhuman. As viewers of the series will remember, she began life on the series as super-hacker Skye who got recruited by Agent Coulson. In the second season, she gained her familiar powers and learned that Daisy Johnson is her true name.
The Hype Box
Can't-miss news and updates from across the Marvel Universe!