Comics
Published June 7, 2022
Get to Know: Ms. Marvel
The complete comics history of Jersey City's #1 Super Hero and the leader of the Champions!
Have you tried Marvel Unlimited yet? It's your all-access pass to over 29,000 Marvel comics at your fingertips.
Kamala Khan is your average teenage girl living in Jersey City, New Jersey. She loves video games, fanfiction, and frequenting her local convenience store Circle Q. She's also a big fan of Super Heroes, especially Captain Marvel: Carol Danvers.
But that's not all she is.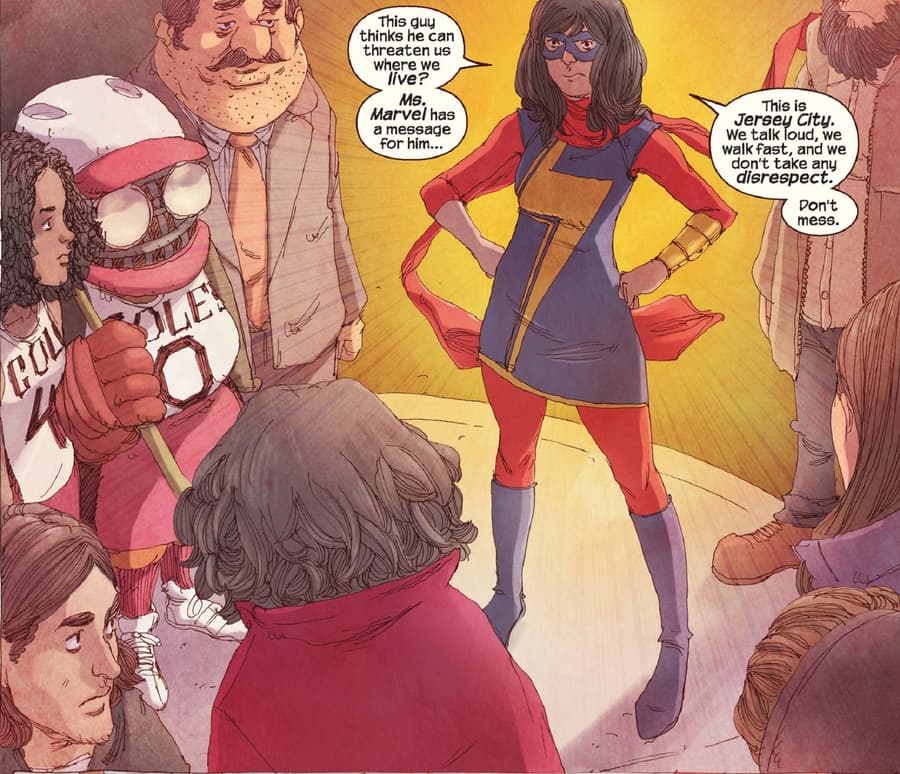 Kamala is also the polymorphic Ms. Marvel! She broke ground in 2014 by becoming the first Muslim Marvel hero (and Pakistani American) to headline a series. With almost ten years in the game, she knows a thing or two about being a hero. Of course, there's always room to grow. Let's take a look at the history of the magnificent Ms. Marvel from her origins to greatest turns. Best of all, you can read these comics now on Marvel Unlimited!
JERSEY GIRL TURNED SUPER HERO
Although Kamala's first official appearance is in CAPTAIN MARVEL (2012) #14, we learn more about her in her very own series—MS. MARVEL (2014)! She is the youngest of two and on top of high school, she has to deal with very strict parents. One night, she sneaks out of her room to attend a party. It's at this party that Kamala is engulfed in Terrigen Mist (from the Terrigen Bomb released in 2013's INFINITY #6 by Inhuman king Black Bolt), unlocking latent supernatural abilities. From that moment onward, Kamala becomes set on being a hero like her idol Captain Marvel and takes on the mantle of Ms. Marvel!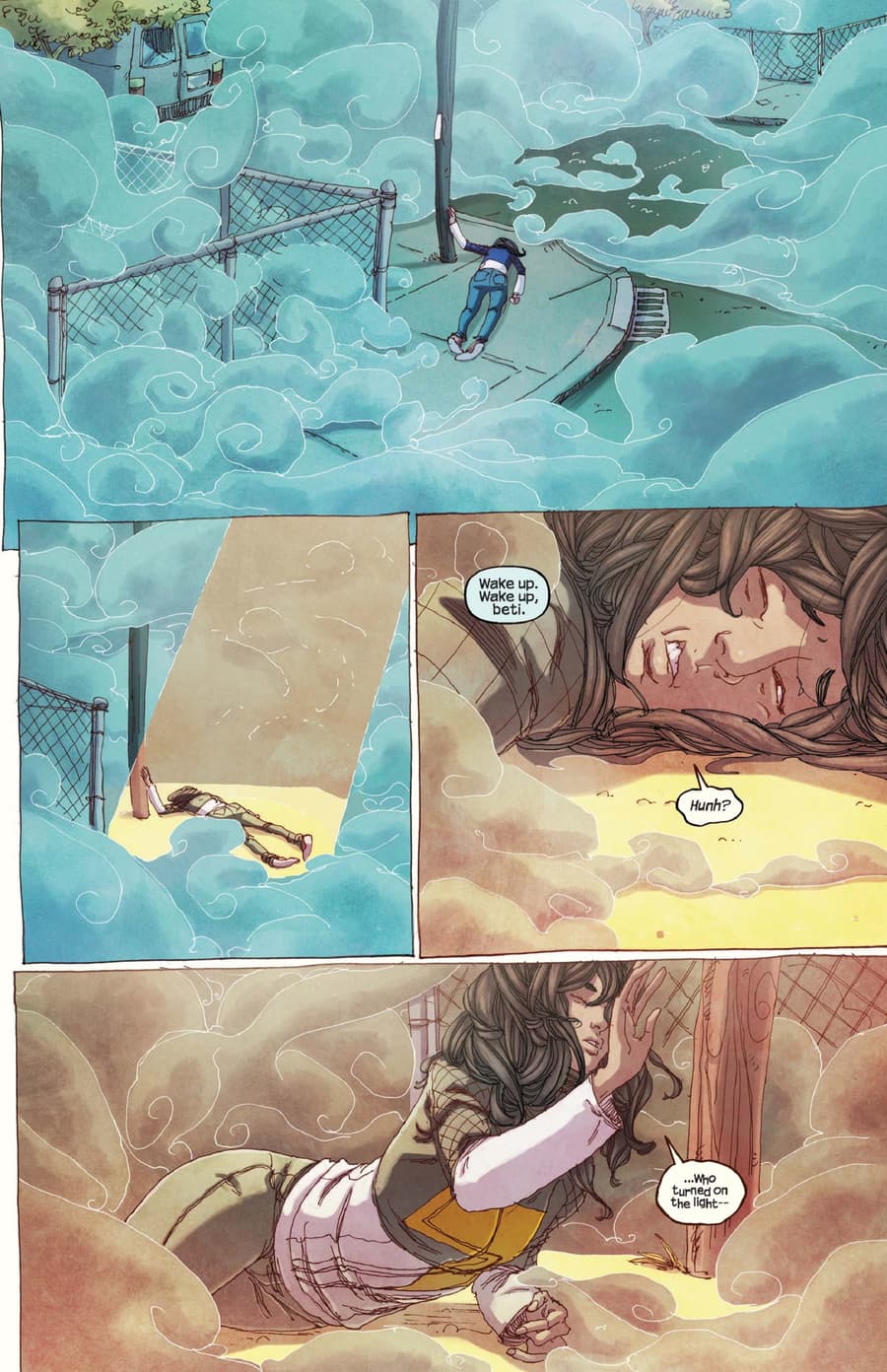 EMBIGGEN!
What is Kamala to do with these newfound powers? Well, she can alter her size and appearance, which includes not just transforming into a perfect copy of other people, but into inanimate objects as well. Kamala has the ability to elongate any part of her body, and her morphogenetic makeup allows her to time travel on a molecular level when she utilizes her powers. Additionally, Kamala possesses bioluminescence and a regenerative healing factor. Although, overuse of the latter ability can weaken her elasticity.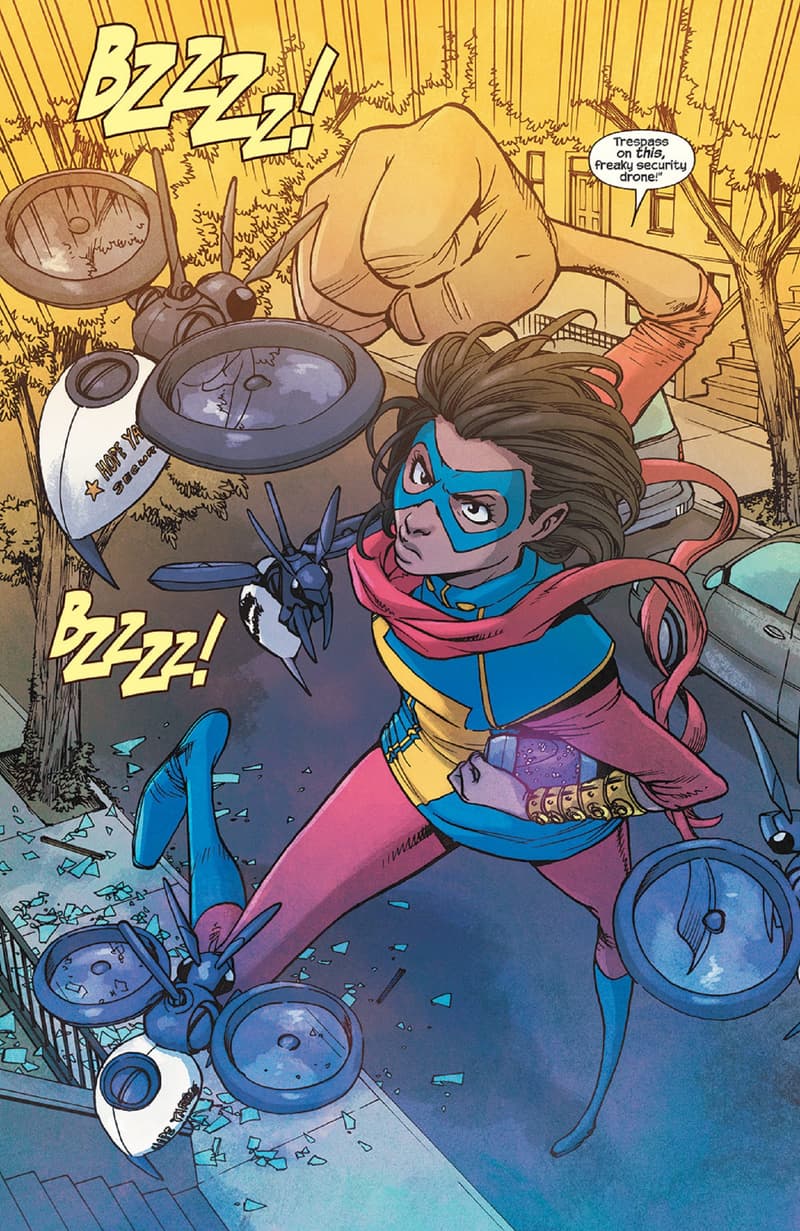 FRIENDS ON BOTH SIDES
Kamala's not the most popular kid at Coles Academic High School, but she does have a close group of friends. Nakia Bahadir and Bruno Carrelli have her back. Kamala has known Nakia since kindergarten, and they've been best friends ever since. Then there's Bruno, who Kamala has known since the second grade and bonds with over their favorite show, Tween Mutant Samurai Turtles. There are also some romantic feelings between the two, which eventually resulted in a kiss in MAGNIFICENT MS. MARVEL (2019) #9. It doesn't go much further than that as Bruno and Kamala both decide in issue #15 of the same run to stay friends.
[RELATED: 6 Key Moments in Kamala and Bruno's Relationship]
As a hero, Kamala has formed partnerships with other heroes such as Nova: Sam Alexander, Spider-Man: Miles Morales, Quake, and Spider-Man: Peter Parker. She was close with Captain Marvel too, but then CIVIL WAR II happened. In her second volume, MS. MARVEL (2015), Kamala goes from being Captain Marvel's number one fan to falling out with her over the subject of predictive justice. They briefly reunite under strange circumstances in GENERATIONS: MS. MARVEL & MS. MARVEL #1, which gives Kamala new insight about her mentor. The Marvels eventually reconciled in MS. MARVEL (2015) #28.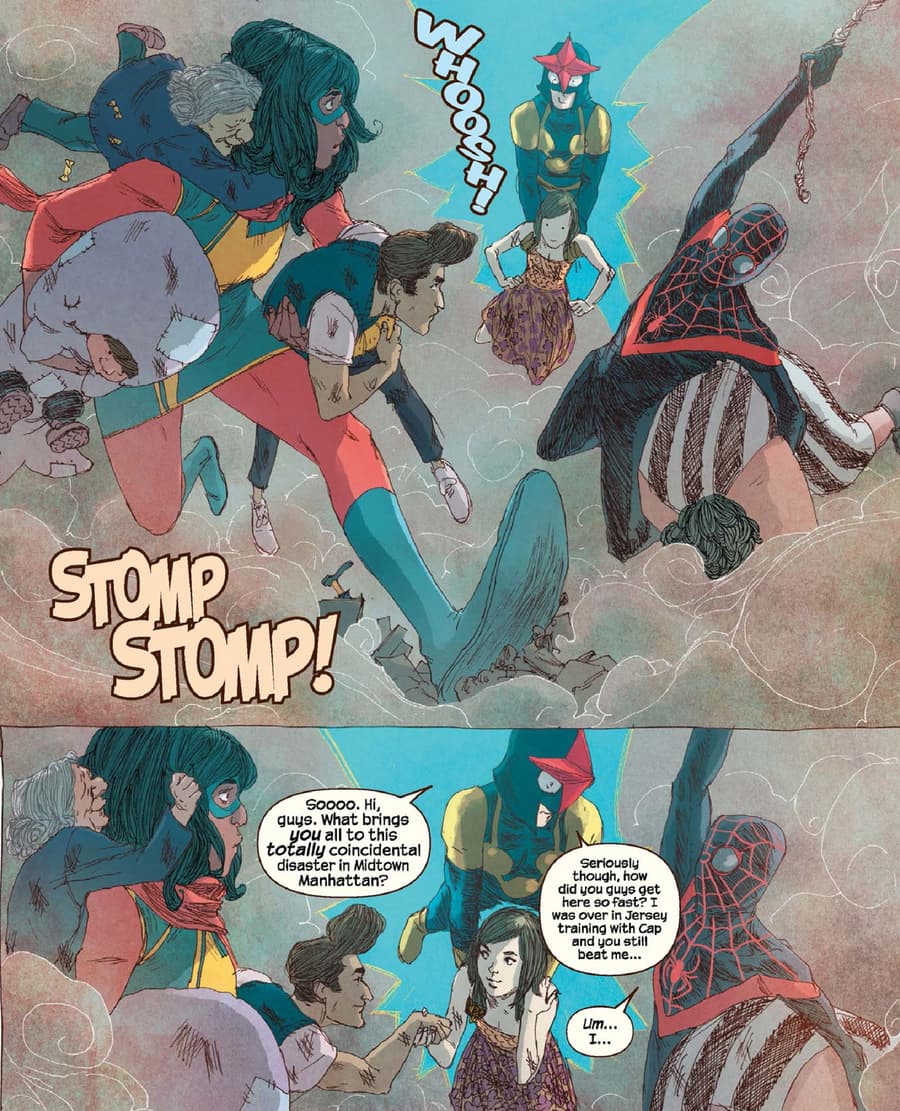 KAMALA CORPS
Kamala temporarily abandoned her Super Hero alter ego in MS. MARVEL (2015) #25-27, leaving Jersey City without its hero. But have no fear, the Kamala Corps is here! Comprised of Nakia, Zoe, Michaela (Mike), and Gabe, the Corps was inspired to step in for Ms. Marvel, doing the best they could as teenagers without powers. They collaborated with Pakistani hero Red Dagger—and with Captain Marvel—to protect their city from the Inventor and his giant cybernetic animals. Even though Kamala eventually returned and kicked reptilian (and amphibian) butt in issue #28, the Kamala Corps put up a good fight.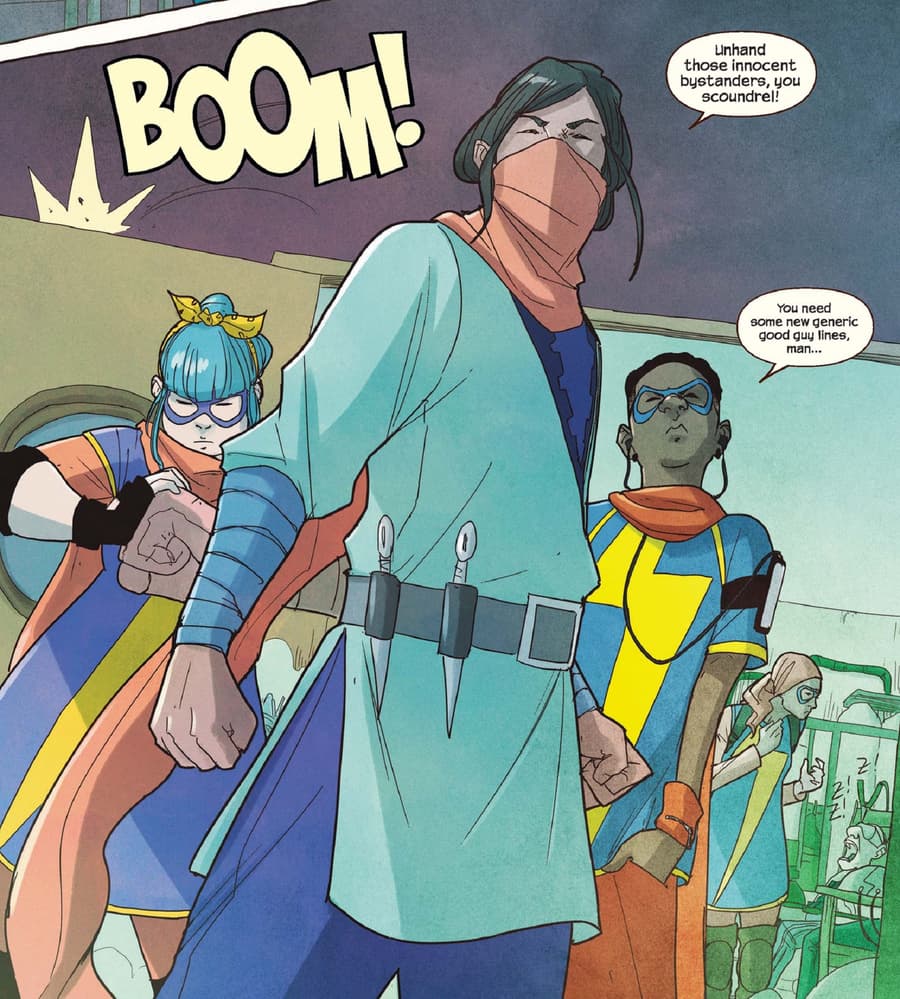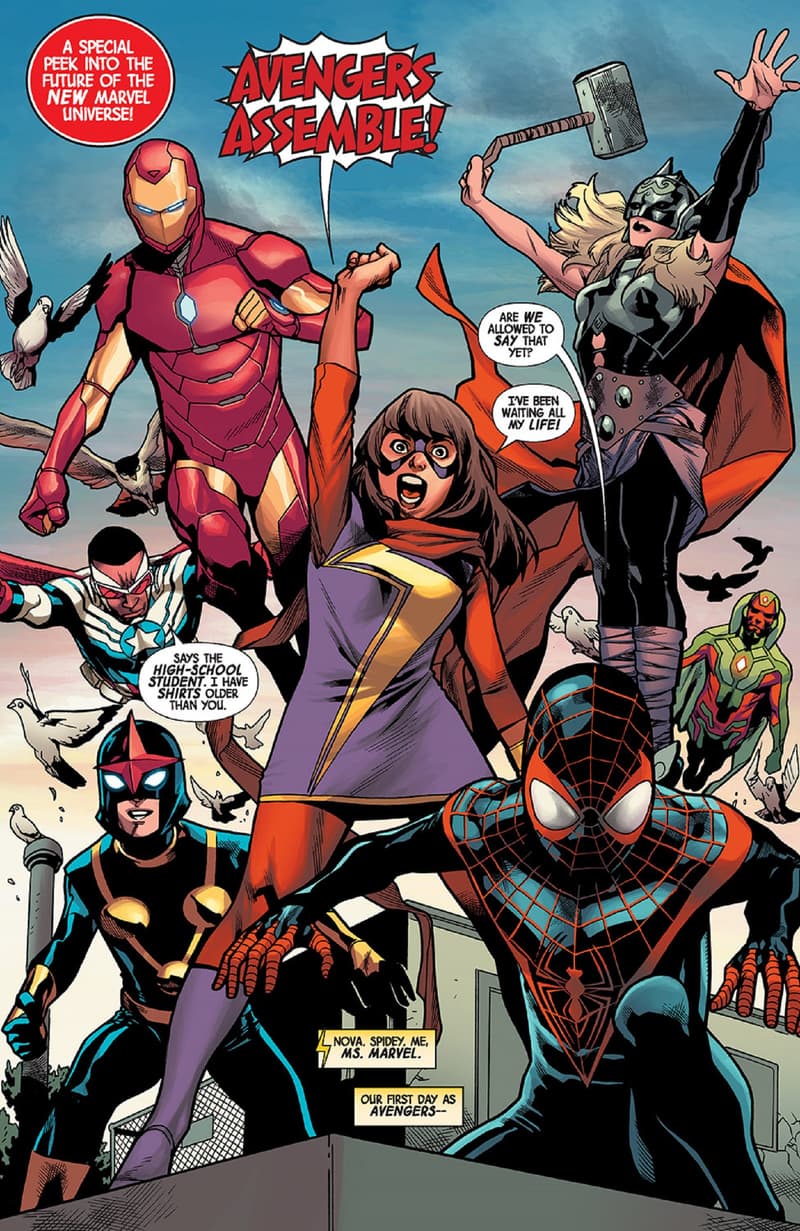 OUTLAWED
Super Hero life isn't always cool costumes and fighting antagonistic forces—sometimes it crosses over into personal life. In OUTLAWED (2020) #1, a battle broke out at Kamala's high school, and it led to her being majorly injured. From this disaster arose the creation of the "Underage Superhuman Welfare Act," or in short, Kamala's Law—no one under 21 years of age can operate as a Super Hero. Which, frankly, sucked. To make things worse, an organization named C.R.A.D.L.E. was hunting down all the young heroes. However, Kamala, as Ms. Marvel, chose in CHAMPIONS (2020) #1 to continue her hero work, regardless of her outlaw label and without consulting her teammates.
At the end of the series, Kamala and the Champions expose C.R.A.D.L.E. and the "reeducation camps" funded by corrupt corporate entity Roxxon. By CHAMPIONS (2020) #9, Roxxon lost their contract with the government, and Kamala's Law was repealed!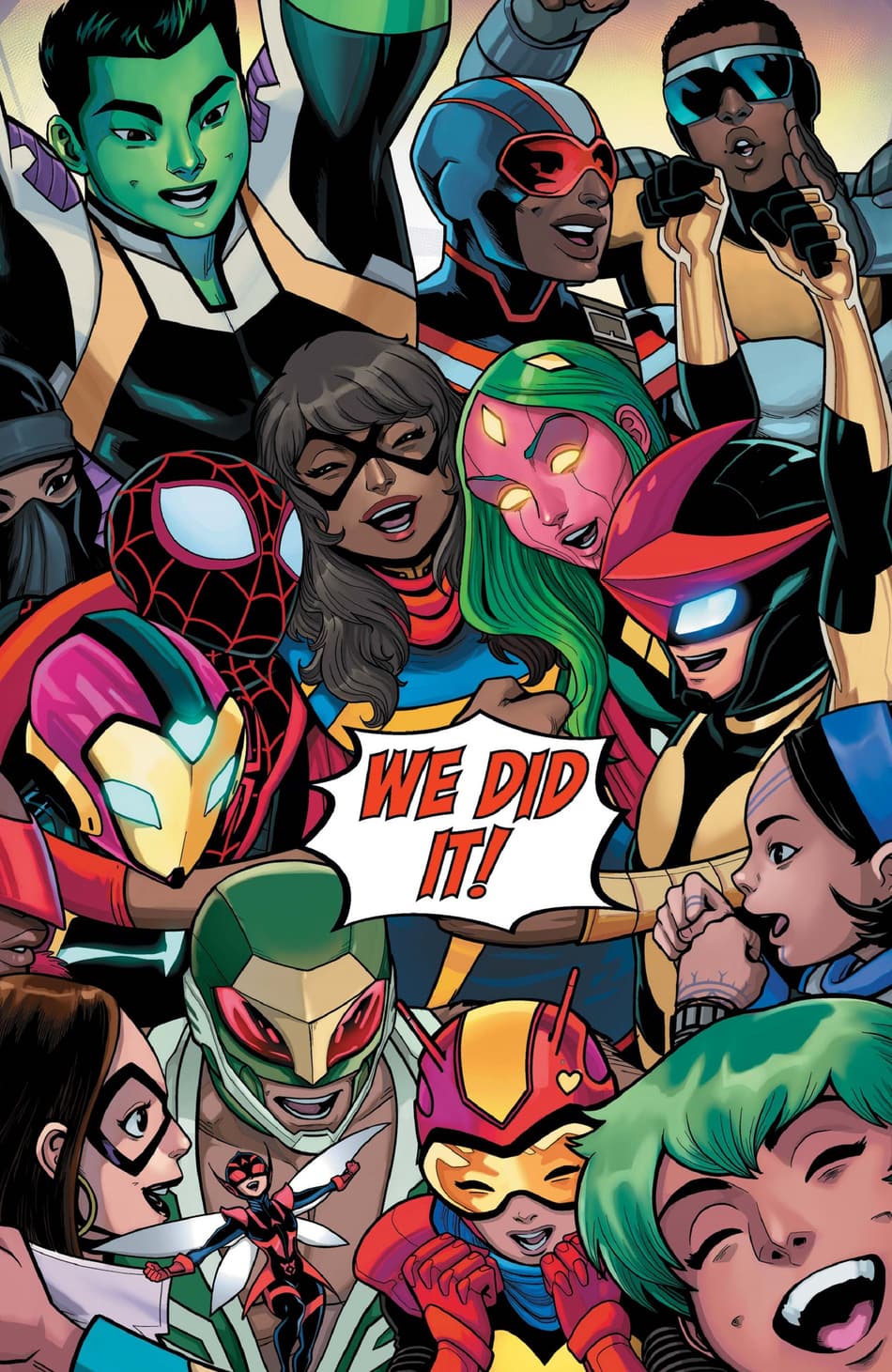 FUN FACTS
Kamala has teamed up with Spider-Man and Wolverine, the latter of who she'll team-up with again in MS. MARVEL AND WOLVERINE (2022) #1! She also absolutely adores the Inhumans' teleporting pooch, Lockjaw. She almost joined the all-new Agents of Atlas, but she left before accepting the offer to rejoin the Champions. Kamala's signature compartment bracelet are bangles that originally belonged to her great-grandmother, Aisha, who used them to smuggle money out of Bombay during Partition. And lastly, and certainly the funniest, Kamala's pen name is…SlothBaby. She just really likes sloths, ok?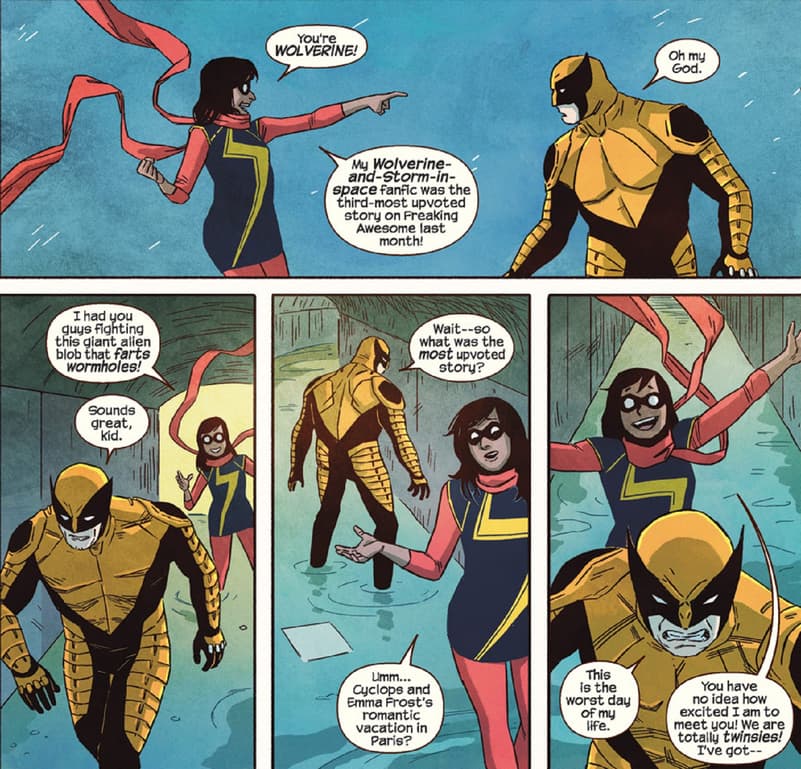 And now you know Kamala Khan! She's more than shown that she's a worthy successor to Carol Danvers as Ms. Marvel. And the best part? She's not done yet. With the exception of MS. MARVEL AND WOLVERINE (hitting comic shops this August), all comics mentioned here can be read on digital comics super-service Marvel Unlimited!
Download the Marvel Unlimited app for iOS or Android devices now for more stories starring Ms. Marvel. You'll also gain instant access to 29,000+ digital comics with new titles available as early as three months after they're in stores.
Follow Marvel Unlimited on Twitter and Facebook to stay tuned in to weekly announcements, articles, and more, all at @MarvelUnlimited. Follow us today to join the conversation with thousands of fellow fans, and let us know what you're reading!
The Hype Box
Can't-miss news and updates from across the Marvel Universe!