Comics
Published August 29, 2017
Secret Warriors: Best Served Cold
Writer Matthew Rosenberg sends Quake on a quest for Deadpool's head!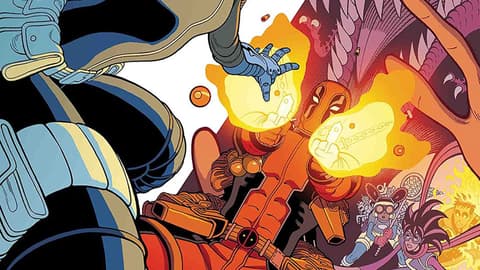 The events of Secret Empire have shot ripple effects across the Marvel Universe.
In one of the most heartbreaking casualties of the ordeal, Deadpool killed Phil Coulson on orders from an evil Captain America. The global situation may have been resolved, but Quake won't let the loss of her mentor go without getting vengeance.
On September 13, writer Matthew Rosenberg and artist Juanan Ramirez dish out a tale of retribution with SECRET WARRIORS #6!
We caught up with Matthew to hear what we can expect from the upcoming showdown.
Marvel.com: Quake saw Coulson as her mentor—and Deadpool killed him. How does the pain of this experience impact her choices?
Matthew Rosenberg: Quake isn't making decisions anymore. She runs on pure hatred and anger right now. Which, if you've ever been on a suicidal vendetta to kill your mentor's killer before, you'll know it's not the best headspace to be in. But that's the thing about Quake—she grew up with a deep destructive energy lurking inside of her. But since a young age, she's had people who have looked out for her and helped her deal—Fury, Cap, Coulson. They're all gone from her life now and she's on her own. It's not going to be pretty.
Marvel.com: The rest of the Secret Warriors don't agree with Quake's decision to kill Wade Wilson. How will she be able to complete her task with the whole team working against her?
Matthew Rosenberg: Quake is a spy, trained by the greatest spies the world has ever known. The Warriors are a great team—one of the bravest heroes in the world, one of the greatest strategists, one of the smartest thinkers…and Inferno. But even with all of them against Daisy Johnson, when she doesn't want to be found, it's still only a 50/50 chance that they'll stop her.
Marvel.com: Deadpool's healing factor, of course, makes him pretty tough to kill. How does Quake plan to do it?
Matthew Rosenberg: She will use anything and everything to dispose of him. Luckily for her, she has earthquakes—which can be pretty brutal.
Marvel.com: Wade doesn't shy away from violence, and probably wouldn't hesitate to kill Quake to defend himself. Is Quake prepared to risk her life for her vendetta?
Matthew Rosenberg: Risking her life doesn't even come into the equation. Quake loved Coulson as a mentor and father figure. He and S.H.I.E.L.D. were the last things holding her together. And with both of those taken from her, self-preservation isn't her concern. Quake can only see red—and she won't stop until either she or Deadpool is in the ground.
Marvel.com: Would you like to mention anything else?
Matthew Rosenberg: Issue #6 of SECRET WARRIORS presents a brand new start for the book and the team. We're out of Secret Empire. The team starts basically collapsing. And Quake is on the warpath. I'd urge readers, if they were at all curious about SECRET WARRIORS, to give the book a shot with this issue. It's about to become a really crazy ride.
On September 13, writer Matthew Rosenberg and artist Juanan Ramirez launch SECRET WARRIORS #6!
The Hype Box
Can't-miss news and updates from across the Marvel Universe!