Comics
Published September 20, 2017
Secret Warriors: Divergence
Matthew Rosenberg leads Quake and the Warriors down a dangerous path!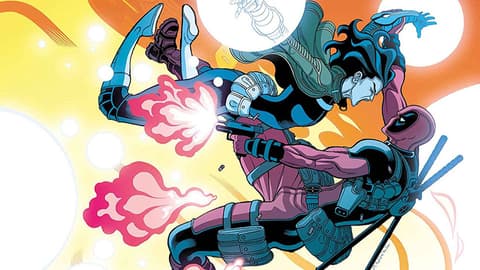 Quake has committed to going too far. And the Secret Warriors know it.
They don't approve of her plan…but what can they do to stop it? On October 18, writer Matthew Rosenberg and artist Juanan Ramirez bring Quake face to face with her mentor's killer as her scheme comes to a head in SECRET WARRIORS #7!
We spoke with Matthew to hear more about where Quake has been, where she may be going, and why the Warriors might just have to come along for the ride.
Marvel.com: Quake has changed in the wake of Phil Coulson's death—describe her state of mind at the beginning of issue #7.
Matthew Rosenberg: A lot of her life has been about finding people and things she can trust—and then losing them. Coulson, Nick Fury, S.H.I.E.L.D., Captain America, various teammates…all of it adds up. Now she feels really alone.
In addition to that, she's never quite come to terms with her powers the way other heroes have. Fury used her as a weapon before she found out about her family and her Inhuman genes without any support network.
She has this thing inside her—this incredibly destructive force that she can only barely control. And she has always had a purpose and a support network to help her focus and aim her powers, but they are all gone now. So Quake has become a weapon with no target. Just rage and fear and loneliness all simmering below the surface. She can be very dangerous and maybe even a little self-destructive at this point.
Marvel.com: How do you maintain Quake's essential characteristics as she goes through these major changes?
Matthew Rosenberg: I feel like that's the real challenge. We need to give readers the Quake they all love: strong, independent, smart, snarky, dangerous, cool, and a little vulnerable, while still changing that stuff.
Luckily, we've had a few issues to establish her and watch things go from bad to worse, but now we are really accelerating toward a brick wall. The key has been making sure the real Quake shines through in the darker moments. I try to make sure she has the funny line or doesn't get frustrated with something dumb—just those little touches where Quake pulls people back in and doesn't let them lose sight of the fact that Daisy still exists under all the rage and pain.
Marvel.com: How does Juanan Ramirez capture Quake's internal and external struggles? How have you crafted those moments together?
Matthew Rosenberg: Juanan has been great. He draws Quake in such a terrifyingly badass way. I love it. She really feels like she grew up under Nick Fury. But he gives her these little moments, her acting, that are the perfect chance to see her be frustrated or upset. I think she feels really human—she has these little aspects of herself that peek out when she doesn't want them to. And Juanan captures those remarkably well. Also, he draws a badass fight scene.
Marvel.com: Does Quake even know what she wants to do with Deadpool when she catches up to him?
Matthew Rosenberg: She has a plan, for sure. When your powers allow you to level a city, killing one dude feels like an easy task. Sure, Deadpool would be pretty hard to kill, but if you bring enough stuff down on top of him or liquefy all of his organs, he'll hopefully get the message and die.
Marvel.com: What are the rest of the Warriors feeling about Quake and her quest?
Matthew Rosenberg: The Warriors are done with Quake. She was a loose cannon at best—and a torturer and (wannabe) assassin at her worst. But this team has never been about wanting to be together, it's always been about needing to be together. And right now, they need Quake. And that only makes it worse. It's one thing to have to rely on someone you don't like. It's quite another when they'd rather be murdering someone than helping you.
Marvel.com: Does Deadpool have an awareness of the enemy he's made?
Matthew Rosenberg: No, he has no idea. Deadpool has a lot of enemies though and he can take a lot of damage. And he's also real crazy. So planning for stuff isn't as important for him as it might be for other people. But yeah, he has a whole world of pain coming his way.
Marvel.com: Regardless of whether or not Quake realizes her goals, what kind of ramifications does this journey have for the team?
Matthew Rosenberg: In a lot of ways, Quake felt like the head of the team. It's arguable that the team had three heads at time, but she stood at the forefront. And her mission now runs counter to the rest of the team's needs.
She is on such a personal path—such a possibly self-destructive one—that it almost feels like the only real choice either standing in her way or not. If they won't join her or get her to quit, then the team may lose another member. And at that point, can they be called a team at all?
SECRET WARRIORS #7, by Matthew Rosenberg and artist Juanan Ramirez, drops on October 18!
The Hype Box
Can't-miss news and updates from across the Marvel Universe!