Comics
Published July 8, 2017
Secret Warriors: Not a Flaw
Karnak proves his worth in SECRET WARRIORS #5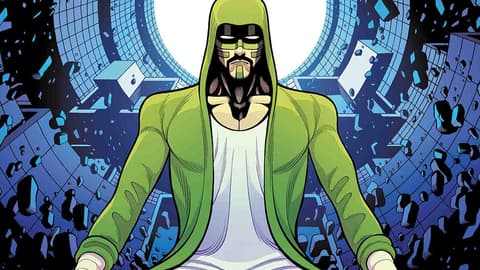 With most of the Inhumans Royal Family off-planet and the Secret Warriors made up of predominantly young heroes, Karnak is an Inhuman out of place—not with his natural peer group, standing amongst the next generation of his people.
However, just because he might not fit in, does not mean he does not have a place with the Warriors. This August in SECRET WARRIORS #5 with the forces of Hydra bearing down on the team, the time has come for the Warriors to come together or perish. Writer Matthew Rosenberg took a break from the bunker to explore with us what qualities Karnak brings to the table that might recommend him.
AN EXPERIENCED TEAMMATE: "Karnak hasn't been so much a teammate in the past as a member of the Royal family," Rosenberg disagrees slightly. "He was a valued counsel to the king and queen, he also served at their behest and took orders. Now his role is different and some of those dynamics that he is used to with the royal family don't quite work so well on a team."
PRAGMATIC: "What seems pragmatic to Karnak may not be for you or I," points out the writer. "He sees the world in a different way. He understands the flaw in all things and can see things no one else ever will. Expecting him to act sensibly by our definition is limiting. It's like we're playing a game of checkers and he is playing every game of chess ever played, all at once."
DETECTING THE FLAWS IN TEAMMATES CAN LEAD TO IMPROVEMENT: "He can definitely see the flaws in all his teammates, but Karnak isn't a life coach," states Rosenberg. "He helps people when it is part of his plan and helps the situation. There may also be times when they're flaws can be of use to him and he will exploit that just as much."
DETECTING THE FLAWS IN ENEMIES CAN GIVE HIM AN ADVANTAGE: "He isn't most powerful on the team at all, but he is probably the scariest to go up against," the writer concurs. "Karnak's ability to see the flaws in his enemies makes him a worthy adversary of almost anyone. And the smart villains know that and steer clear."
TACTICIAN AND STRATEGIST: "Karnak is a brilliant tactician and planner," agrees Rosenberng. "Often times he's going to be following more of his own plans than anyone else's, especially with the royal family gone. He is a bit of a missile without a target right now, a great weapon getting him to go exactly where anyone else wants might be impossible. Mostly one has to just hope your goals and Karnak's goals align."
A MARTIAL ARTS MASTER: "He is a person who has spent years attuning his mind and body to be the most efficient weapon against weakness," recalls the writer. "Even if he couldn't see every weakness of his opponents, he would be a fierce martial artist. But his physical and mental training, coupled with his ability to find and destroy other's flaws, makes him as deadly with his hands as almost anyone on the planet."
AN EXPERIENCED MENTOR: "He is brilliant, bold, driven, brutal, unforgiving, callous to the point of cruelty, and maybe a little psychotic," Rosenberg explains. "To the right person he might be a good mentor. But I wouldn't want him as mine."
The Hype Box
Can't-miss news and updates from across the Marvel Universe!