Comics
Published December 19, 2022
Stan Lee's Famous Firsts
Celebrate the creator's visionary legacy with some of his major milestones!
Join Marvel.com all month long to celebrate Stan Lee's 100th birthday! Share your own favorite Stan Lee memories and creations on Twitter, Facebook, Instagram and more with #StanLee100.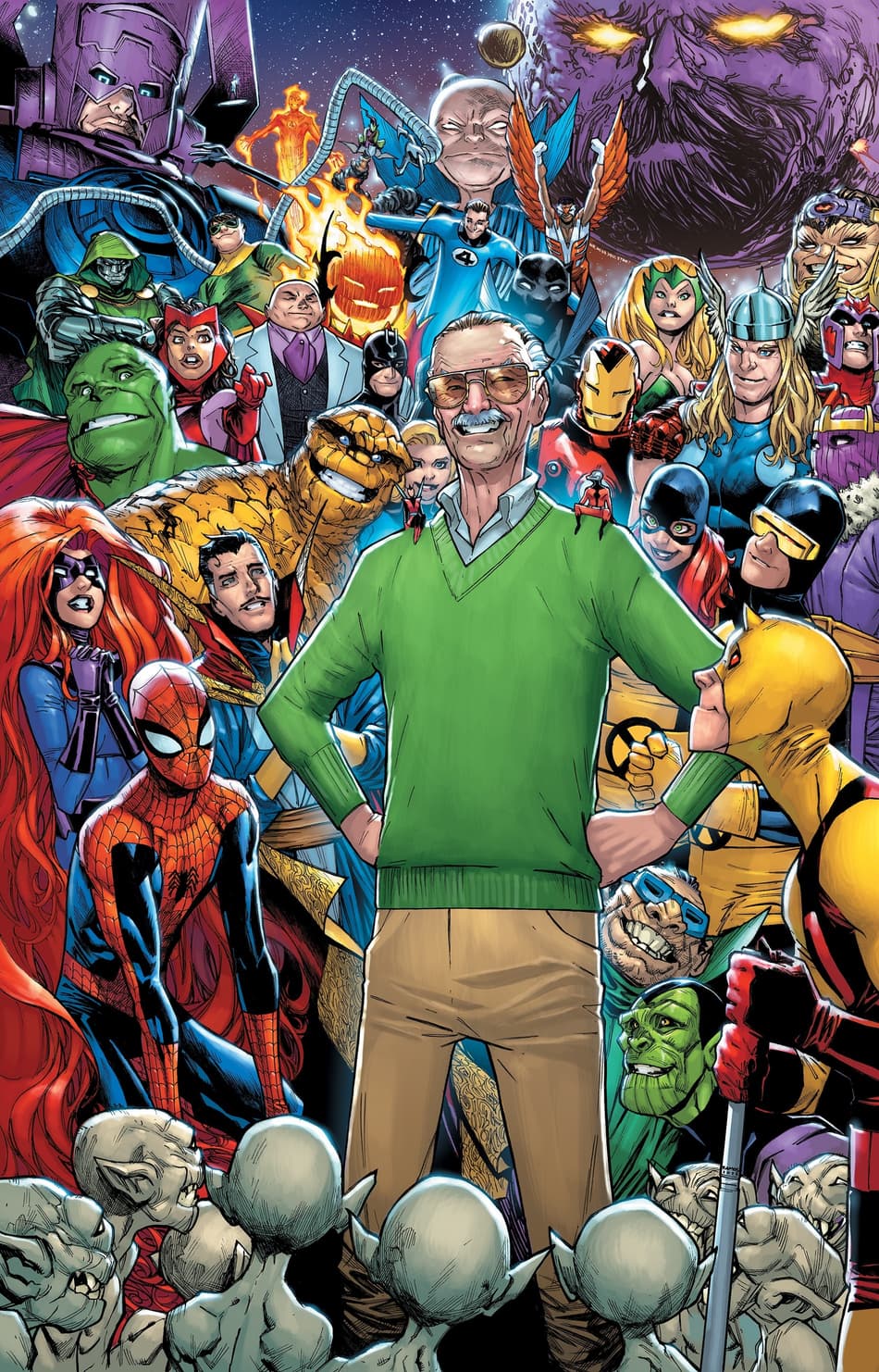 Stan Lee did not build the House of Ideas by himself, but he was a driving force behind some of its most memorable characters, moments, and ideas. We look back some of those milestones—centered on Lee's major firsts—starting with his Timely Comics beginnings!
COMICS DEBUT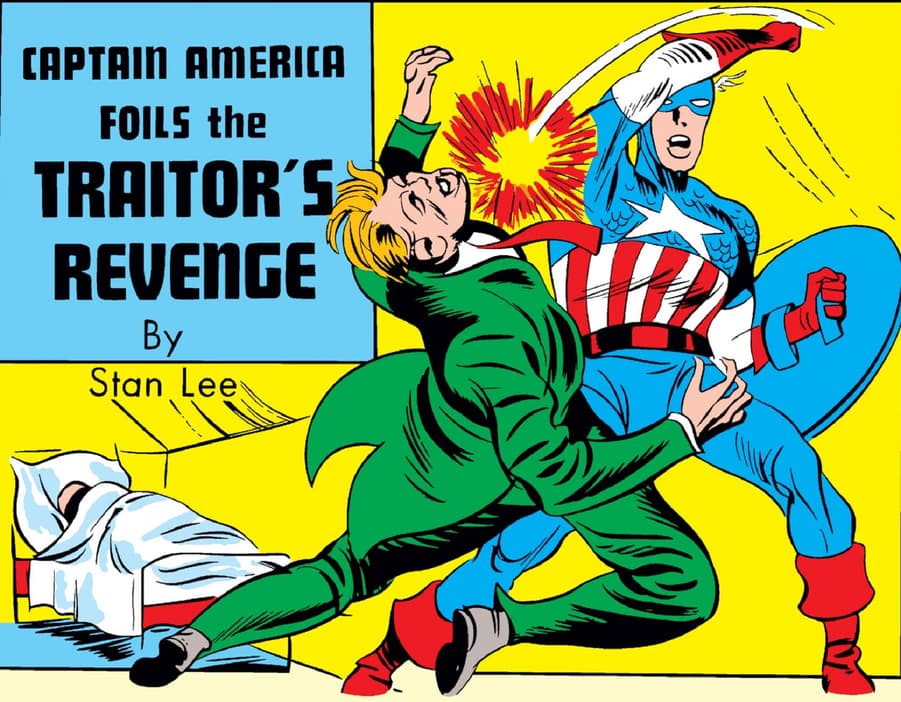 In 1941, comics legends Jack Kirby and Joe Simon teamed up for the first issue of CAPTAIN AMERICA COMICS, published by Timely Comics. Impressed by his work on the issue, Timely publisher Martin Goodman hired Simon as the first editor for his expanding company. And, not long after, Simon and Kirby were assigned a young Stan Lee as an editorial assistant.
Back then, comic issues usually contained a bit of prose to qualify for cheaper mailing rates. With 1941's CAPTAIN AMERICA COMICS #3, Lee got his chance to write one of those backup stories, titled "Captain America Foils the Traitor's Revenge." As you can probably glean from the title, it's about the Sentinel of Liberty and his sidekick Bucky Barnes saving Colonel Stevens from murderous soldier Lou Haines. It may not have the alliterative audacity that the writer would become known for, but the story did feature a subject he would become all the more familiar with: good overcoming evil.
FIRST COMIC STORY AND ORIGINAL CHARACTER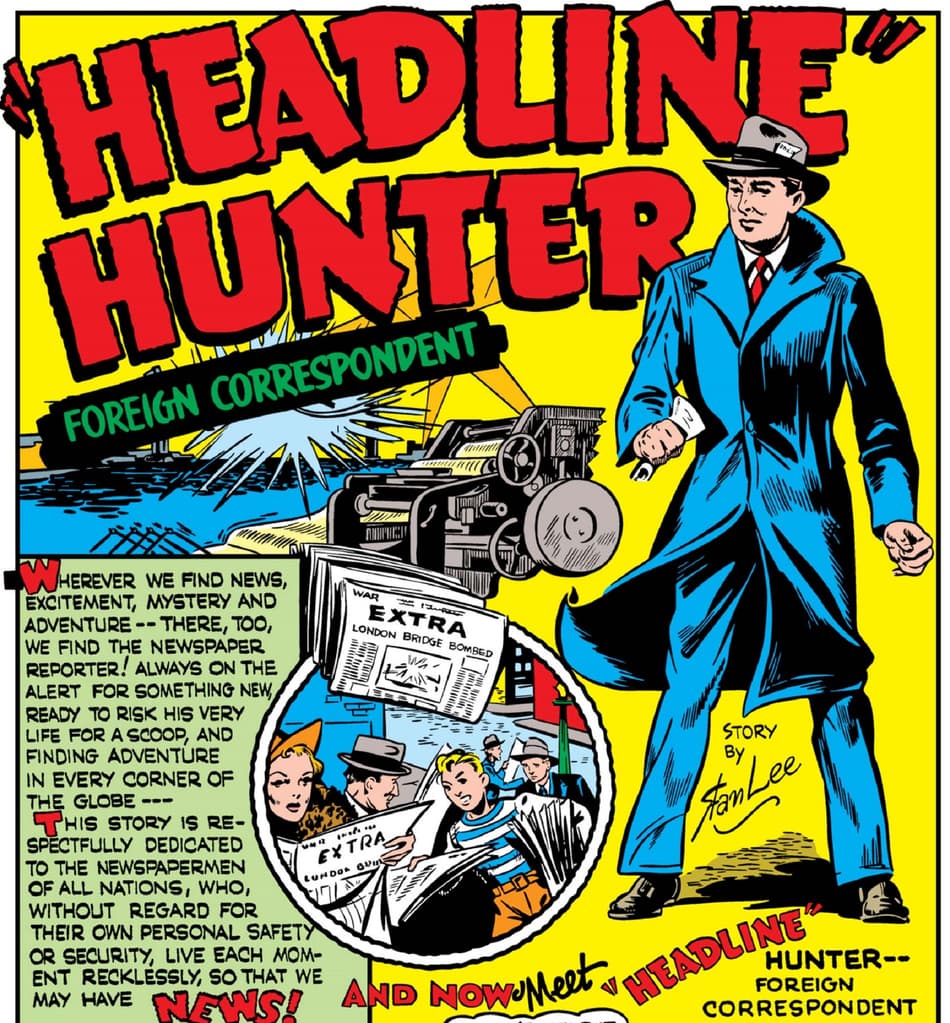 Later in 1941, Lee added another first to his growing resume when he wrote a full-on sequential story called "Headline Hunter: Foreign Correspondent." Clocking in at five pages, the Charles Nicholas-drawn tale introduced the world to the title character, a globe-trotting reporter named Jerry "Headline" Hunter. While in World War II-era London, Hunter learned of government documents missing from the American embassy and put his sleuthing skills to work in order to get them back...and get one heckuva scoop!
Hunter appeared in CAPTAIN AMERICA COMICS #5-10, and issues #12-13. This marks the very first character co-created by Stan Lee for Timely Comics, the predecessor to Marvel Comics.
FIRST COSTUMED HERO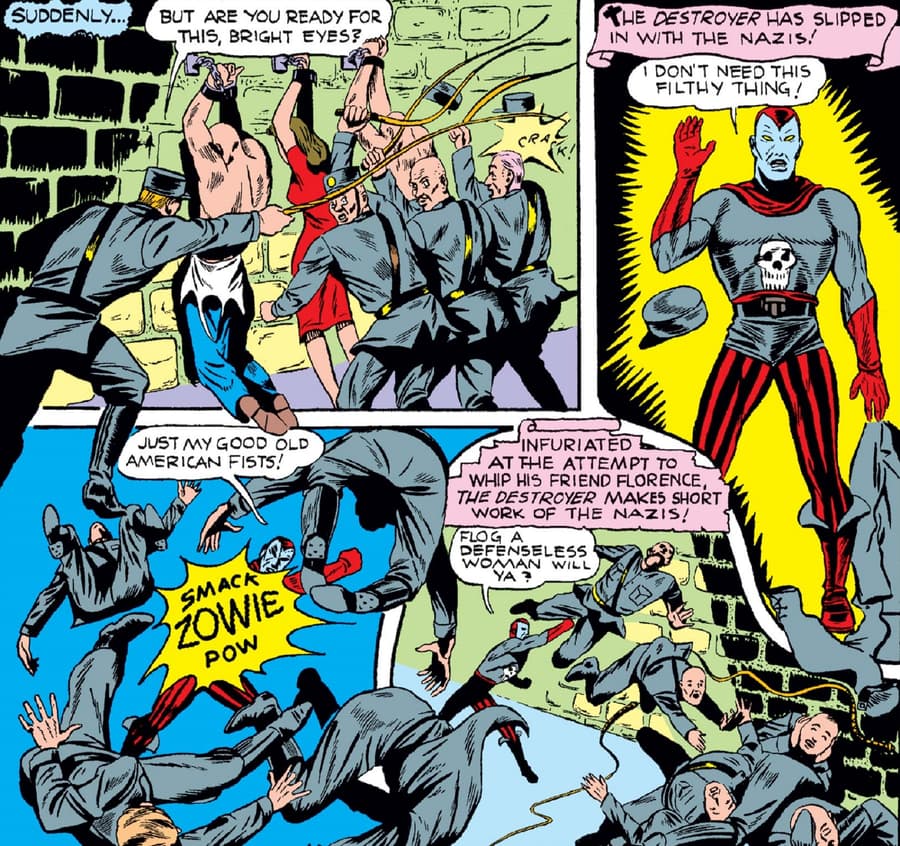 Lee and creator Jack Binder would team up again in 1941 to add another accomplishment to the board: Lee's first Super Hero co-creation, the Destroyer! That story in MYSTIC COMICS (1940) #6 follows another newspaper reporter, this one named Keen (or "Keene") Marlow, who intended to investigate a German prison. He wound up getting tossed in the jail himself where he met Eric Schmitt, a German scientist whose secrets the Nazis wanted. As he died, Schmitt gave Marlow his life's project: a serum to increase one's physical prowess.
The newspaperman used his newfound abilities to smash his way out of the stronghold. He then took on a costume with a skull emblem and became a far more physical threat to the Axis powers.
FIRST "N

O-PRIZE"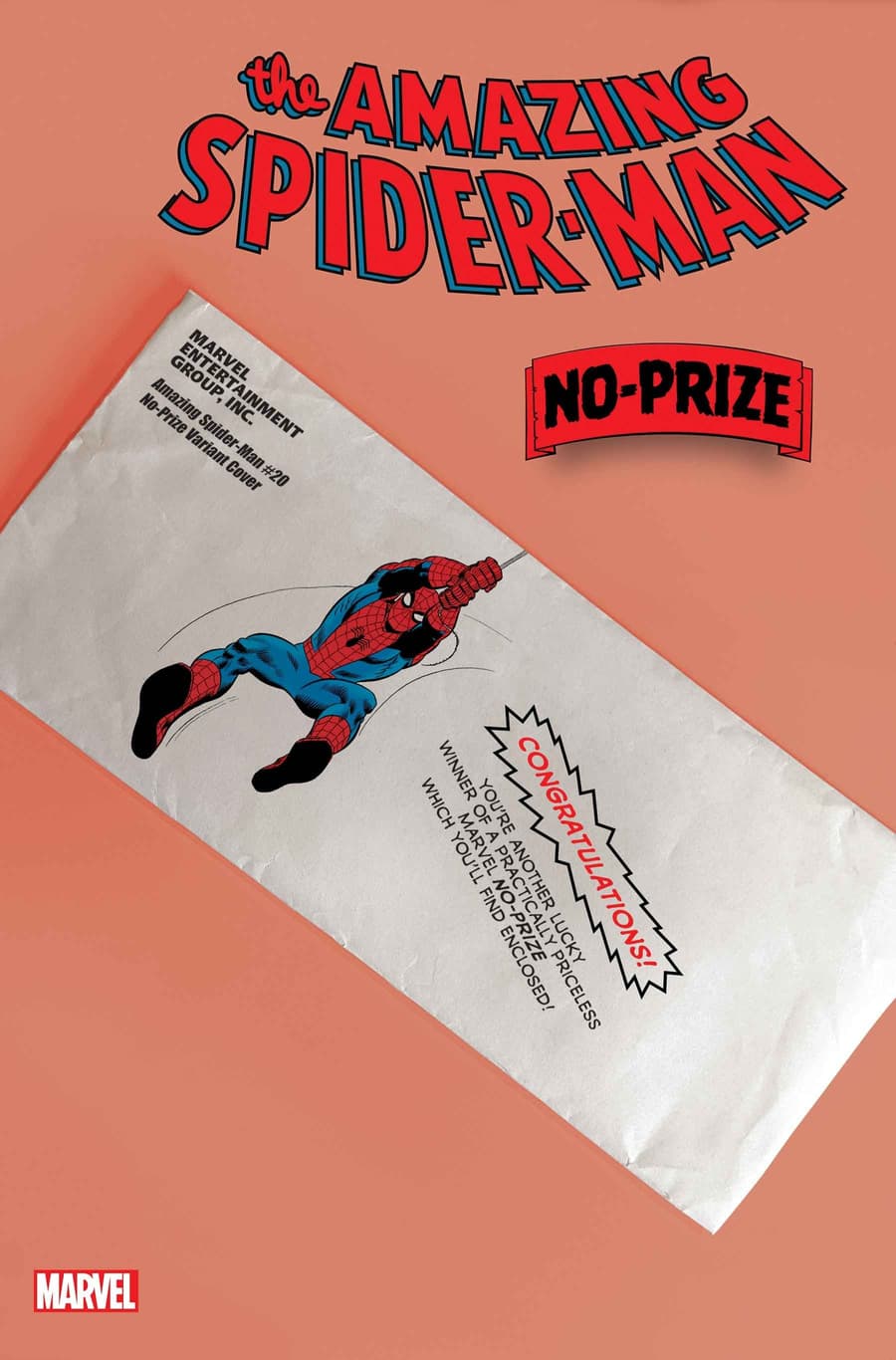 Entire books have been written about the tumultuous time that the comics industry went through between the mid '40s and the early '60s. Super Heroes fell out of favor, horror took the industry by storm, and the government got involved in censoring the medium. So, in 1961, Lee and Kirby joined forces to take a gamble making the kind of Super Hero comic they wanted to read: the FANTASTIC FOUR. With that, the company that had been publishing a variety of westerns and sci-fi anthologies began building an entire universe of interconnected Super Heroes now known as the Marvel Universe.
By way of a letters column, Lee and company also began to build a community with their readers. Fans began to notice all of the nicknames Stan "The Man" added to the writers and artists he worked with, and the Marvel Bullpen became the kind of place everyone wanted to work. Equally coveted became the mysterious "No-Prize." The very first one was granted to Bill Dubay of San Francisco in FANTASTIC FOUR (1961) #25 who proved he had the largest comics collection based on a contest announced in issue #22. The "no-prize" evolved to become a reward given to readers who noticed continuity errors. As you can see from this homage variant cover lineup, "No-Prizes" were actually mailed out in specific envelopes to recipients, but when they were opened...? Nothing was inside! What else would you expect from a No-Prize?!
FIRST STAN'S SOAPBOX
While only a select group enjoyed the personal glory of receiving a No-Prize, all readers could revel in a direct message from Stan Lee in every Marvel comic published from 1967-1980. While this "letter from the editor" feature began in titles cover-dated December 1965, it wasn't until two years later that the first ever "Stan's Soapbox" launched as Lee's regular editorial column.
More than just a platform for informing readers about upcoming titles, "Stan's Soapbox" allowed the editor to convey how he saw the world, and how he wanted the world to see Marvel. Even when Lee's editorial responsibilities shifted, he still regularly wrote the column. Along the way, he tossed around hip slang appealing to the kids, while tackling larger topics like international conflict and racism.
[RELATED: Stan's Soapbox: Elevating Excelsior]
FIRST "EXCELSIOR!"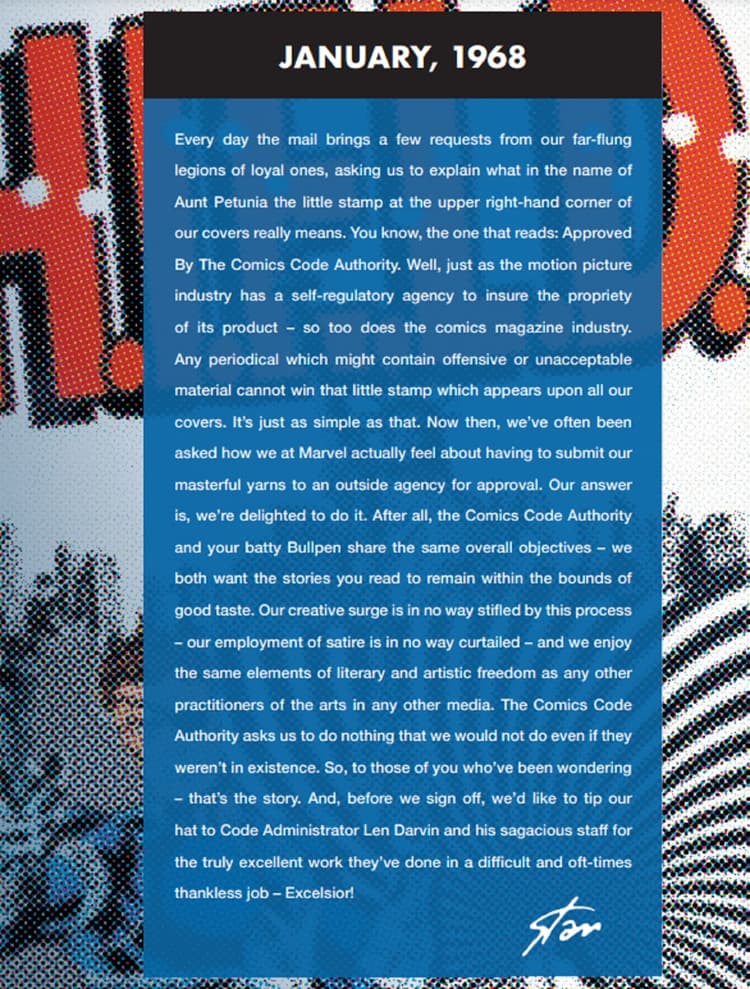 Aside from "comics," the word most commonly associated with Stan Lee has to be "excelsior," which he first used in 1968 when wrapping up a "Stan's Soapbox."
Like many of the characters and stories that fill the House of Ideas, the history of the word excelsior is a long one. But to comic fans around the world, we know it as Stan's superlative signoff!
Join us to celebrate Stan Lee's 100th birthday! Every week this month and into January, we'll offer a deep dive on Lee's remarkable history, creations, and contributions. Follow along at https://www.marvel.com/stanlee100.
The Hype Box
Can't-miss news and updates from across the Marvel Universe!