Comics
Published March 31, 2023
Stephanie Phillips on the Love Story of Rogue and Gambit
We spoke to the 'Rogue & Gambit' writer about the "it factor" behind this fan-favorite couple.
The mutant island of Krakoa is on a precipice at the beginning of ROGUE & GAMBIT (2023) #1. The future-seeing mutant Destiny can see what's coming—but the precognitive cannot act. For that, she'll need her adoptive daughter, the X-Woman Rogue. Husbands need not apply… but with mutant duties stealing Rogue away so much these days, Gambit is determined to make the most of the mission and put some Cajun spice back into their increasingly complicated love affair. He just has to make it out of the bar first!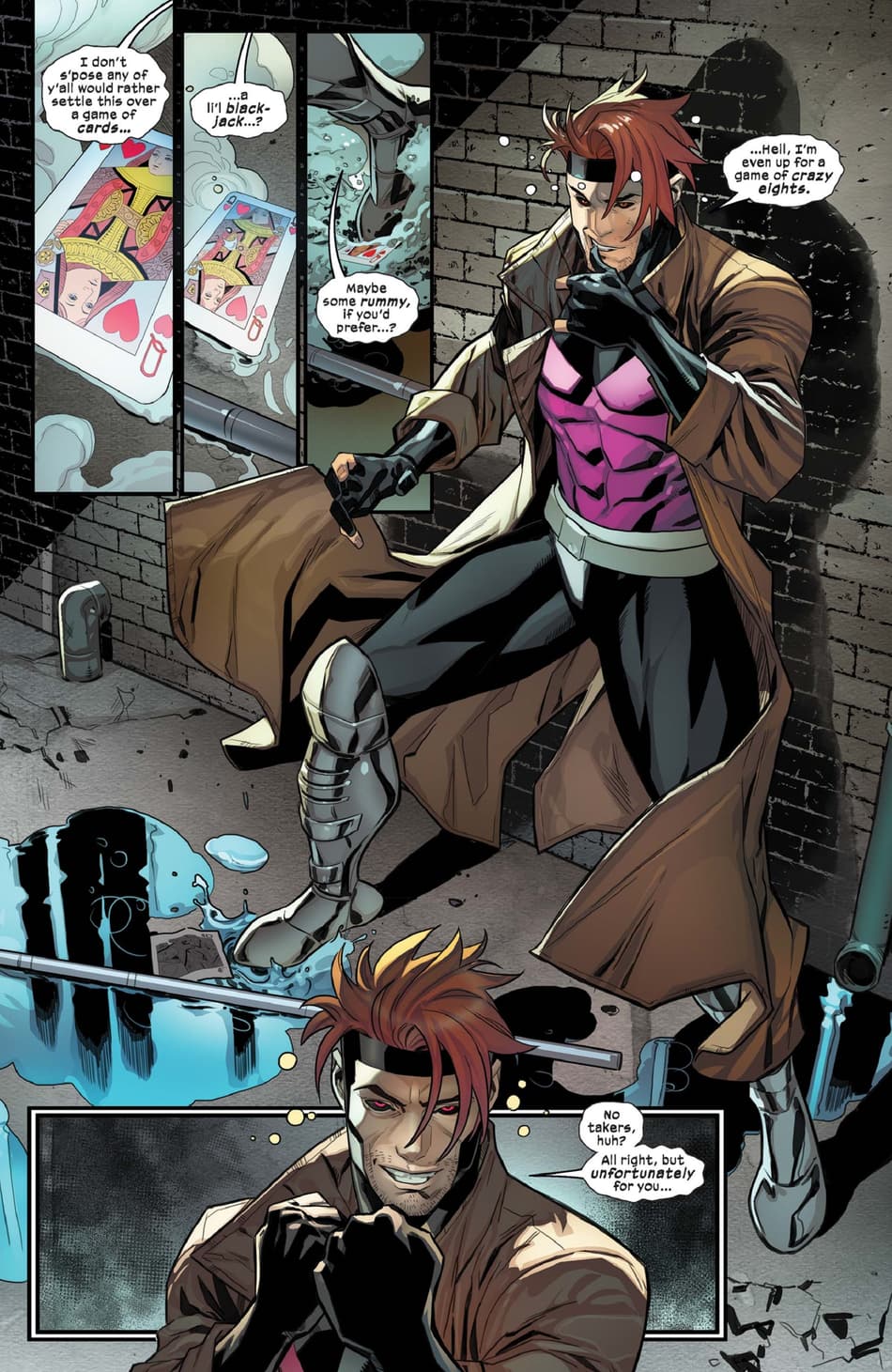 Limited series ROGUE & GAMBIT by Stephanie Phillips (COSMIC GHOST RIDER), Carlos Gómez (X-TERMINATORS), and David Curiel (AVENGERS) is the latest volume to shine the spotlight on the fan-favorite X-Men duo—and issue #1 alone promises plenty of romance, messy in-law drama, and even apocalyptic stakes that challenge the future of mutantkind.
[RELATED: Top 12 Rogue and Gambit Moments]
Ahead of issue #2, on sale April 5, we spoke to writer Stephanie Phillips about her favorite Rogue and Gambit stories, the origin of the series, plus what readers can expect from later in the run.
What do you think it is about Rogue and Gambit? Why are they so fun to follow and root for?
STEPHANIE PHILLIPS: They feel so REAL to me. They aren't perfect but the imperfections are what make them an honest and relatable couple. Perfect is boring and Rogue and Gambit are anything but perfect and boring. They're a super hero couple that have been through so much—they've been heroes, villains, and something in-between. They will save the world together and then go out for gumbo on date night. On more than one occasion, one of them has literally died and come back to life... and also, they have pet cats. The juxtaposition between the completely normal elements of their life as a couple and then the fantastical elements of their "work" lives makes them fun to write and easy to love.
What has your collaboration with Carlos Gómez been like?
STEPHANIE PHILLIPS: It's been a joy to work with Carlos. He's an incredible storyteller and his acting is phenomenal. He sells so many great story moments, whether it's romance, arguing, action, or just quiet moments of frustration from a character. Add in some great colors from David Curiel and every page feels so dynamic and interesting.
Any favorite comic moments from Rogue and Gambit history? Or, anything you reread for research while scripting?
STEPHANIE PHILLIPS: One of my favorite storylines of all time is when Rogue first joins the X-Men after being in the Brotherhood of Mutants. As Rogue has to prove herself in these issues, she has some amazing interactions with Wolverine and that has been one of my favorite dynamics in comics. Also, the [1991 X-MEN] run has some pivotal moments in the Rogue and Gambit relationship that we reference and pay homage to in our series, particularly the first moment that Rogue says "I love you" to Gambit, as well as moments where Rogue has struggled with her abilities.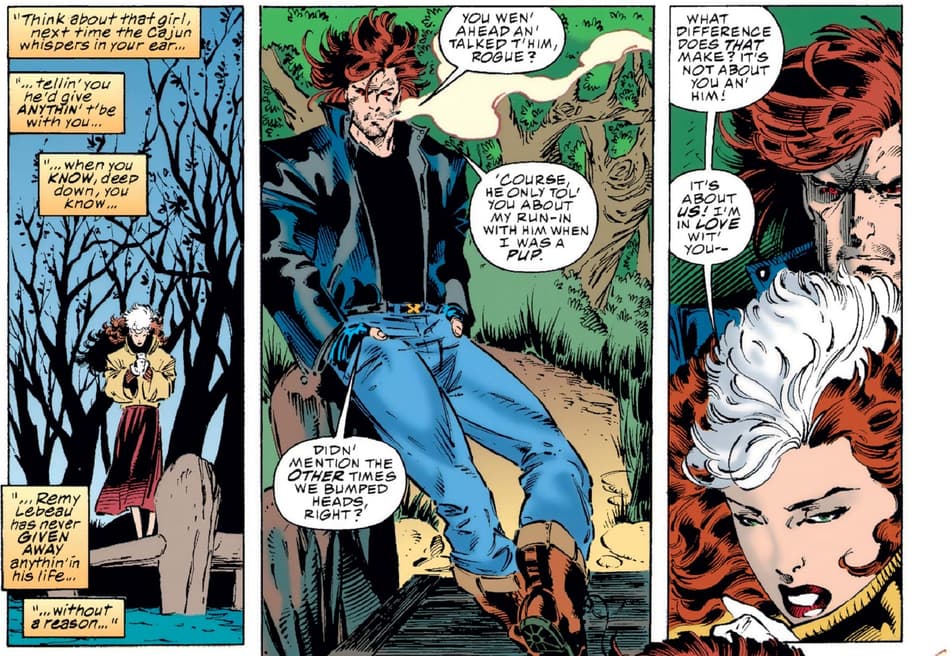 Who pitched this series initially?
STEPHANIE PHILLIPS: The [editors of the] X-office approached me with taking on a story that would tie into some of the larger plots happening in X-MEN (2021) while allowing Rogue and Gambit to take center stage. I loved the idea of picking up these characters when they've been going through kind of a rough patch in their relationship and allowing romance to be the centerpiece of the book.
Both Remy and Rogue bring some complicated in-laws into the mix. Can we expect any more involvement from their extended families, including the Thieves Guild or Mystique?
STEPHANIE PHILLIPS: Ha! The in-law relationships are such an interesting part of their relationship. In our series, Destiny will really be the central figure representing that form of frustration. In X-MEN (2021) #9 by Gerry Duggan and C.F. Villa, there's this amazing moment where Destiny and Gambit clash. Gambit exits the room and Destiny just makes a motion pretending to strangle him and says "hate you." The art sells their antagonistic relationship so well and it genuinely made me laugh out loud. What Destiny thinks about Gambit and his relationship with her kinda-sorta-adopted daughter is integral to how our story will resolve. Destiny is also the driving force of the series as she sends Rogue and Gambit on a mission based solely on Rogue's trust in her… something that Gambit lacks entirely. It's a really interesting dynamic to play with.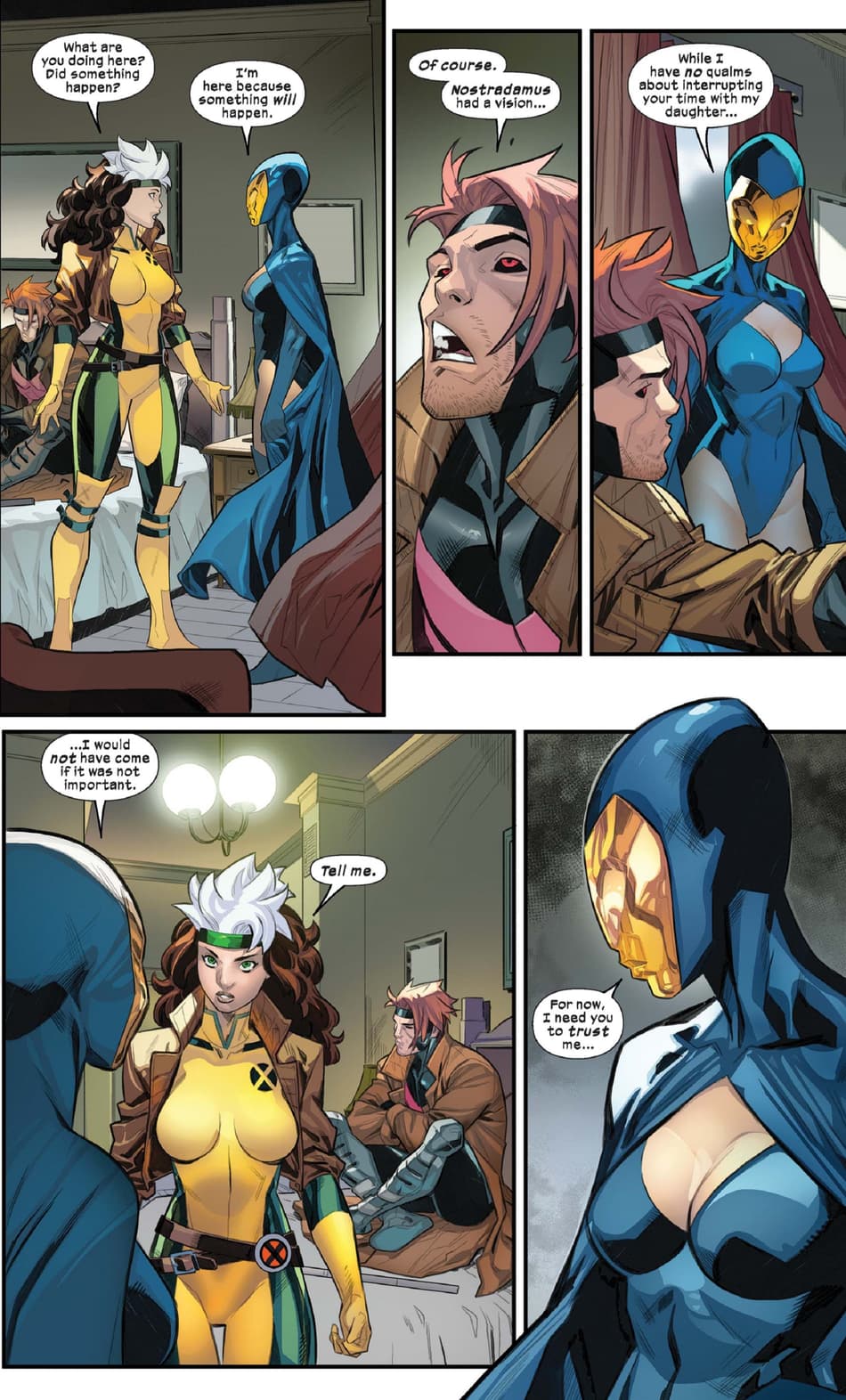 Playing couples counselor to the super-powered for a minute: What would be your advice to Rogue and Gambit as they encounter growing pains in their marriage?
STEPHANIE PHILLIPS: I had a writing professor once tell me that we spend our lives writing the most about the things we understand the least. I write a lot about relationships… so do with that information what you will.
Pick up ROGUE & GAMBIT (2023) #1 in print and digital comic shops now, and grab issue #2 on shelves April 5!
The Hype Box
Can't-miss news and updates from across the Marvel Universe!