Comics
Published October 27, 2022
Stephanie Williams on Shuri, the Best Black Panther Stories, and Building in the World of Wakanda
The 'Wakanda' writer shares new details from her latest comic issue in stores now, plus offers must-read Black Panther stories!

The following article is sponsored by StockX.
Princess Shuri of Wakanda was once the Black Panther, and creator Stephanie Williams reminds us why.
The comic book historian, pop culture critic, and writer (NUBIA & THE AMAZONS, MARVEL'S VOICES: LEGACY), has now added the world of Wakanda to her resume. WAKANDA (2022), an all-new limited series that spotlights a different fan-favorite Wakandan each issue, explores a proud nation without its king. But Shuri proves that being without the Black Panther doesn't mean Wakanda is without heroes—and that there is a reason she too once wielded the power.
"When readers catch up with Shuri in WAKANDA #1, she is in the middle of dealing with all the drama that has unfolded and is yet to come due to her brother's actions [in the current BLACK PANTHER series]," teases the writer. "In true Shuri fashion, she throws herself into her work, but Queen Ramonda knows better and is there to coax her daughter into confronting her genuine concerns."
We spoke to Williams about her personal journey into comics, Black Panther history, and the unwritten future of Wakanda.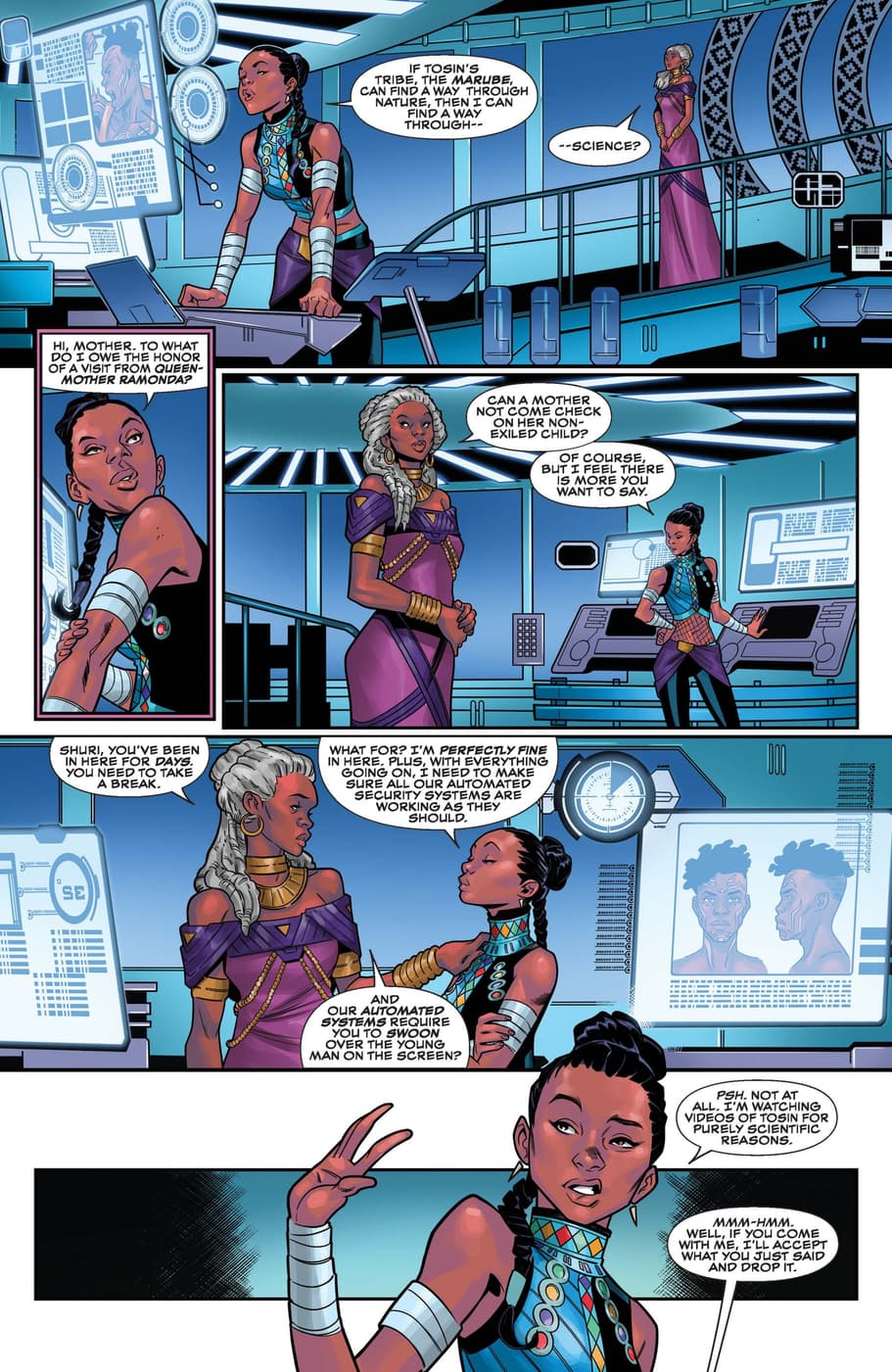 Do you remember your first Marvel comic or the story that kick started your fandom?
STEPHANIE WILLIAMS: The first Marvel comic I sat down to read was AVENGERS (1963) #361, which I misremembered as a West Coast Avengers issue for the longest time. And why, I have no idea, probably because it gave me WCA vibes. In truth, it was because I thought it read like one of the soap operas my mother and grandmother loved to watch. I found the issue at a thrift store when I was out with my grandmother, back when you could discover comics at a thrift store. In the story, the drama between Sersi, Black Knight, and Crystal is starting to ramp up, and then you have Vision trying to process his own feelings of love and loss. It's a lot. And it was more complex than my mind could understand at the time, but it became the foundation for my love of cape comics.
Turning towards WAKANDA, what stands out to you about Shuri's evolution as a character? I feel like she's seen a ton of growth over a relatively short time!
STEPHANIE WILLIAMS: She absolutely has seen a ton of growth in a short time, and it's been quite amazing to witness. She's grown in ways that take some characters decades to achieve, and even though it's been rapid, she's still recognizable. Shuri has always had an affinity for technology, never held her tongue, had supreme confidence, was a skilled fighter, keenly observant, and fiercely protective of her home. All these aspects of what makes Shuri someone fun to read or write have only elevated. If anything, Shuri's evolution has done her character service by showing that she can carry her own stories independent of who her brother is and without having the Black Panther mantle.
What is your favorite part of writing in Shuri's voice?
STEPHANIE WILLIAMS: I love how sharp Shuri's tongue can be. It's her most potent power. She's someone who wholeheartedly believes what she says matters, and you can either get with it or don't, but you will hear what she has to say. For a young Black woman, that is an incredible power to have when you are often expected to shrink yourself or suffer the consequences of making others feel uncomfortable. But even with all that, she's still open to listening. I think that's why I wanted to lean into the time she spends with her mother because Shuri can be vulnerable in her unfiltered thoughts, and that vulnerability is embraced instead of being used against her. Also, she's fun because of her quick wit. So, pitting her against a classic overconfident villain like Rhino, who can throw a verbal barb or two, makes for a fun back and forth during a fight.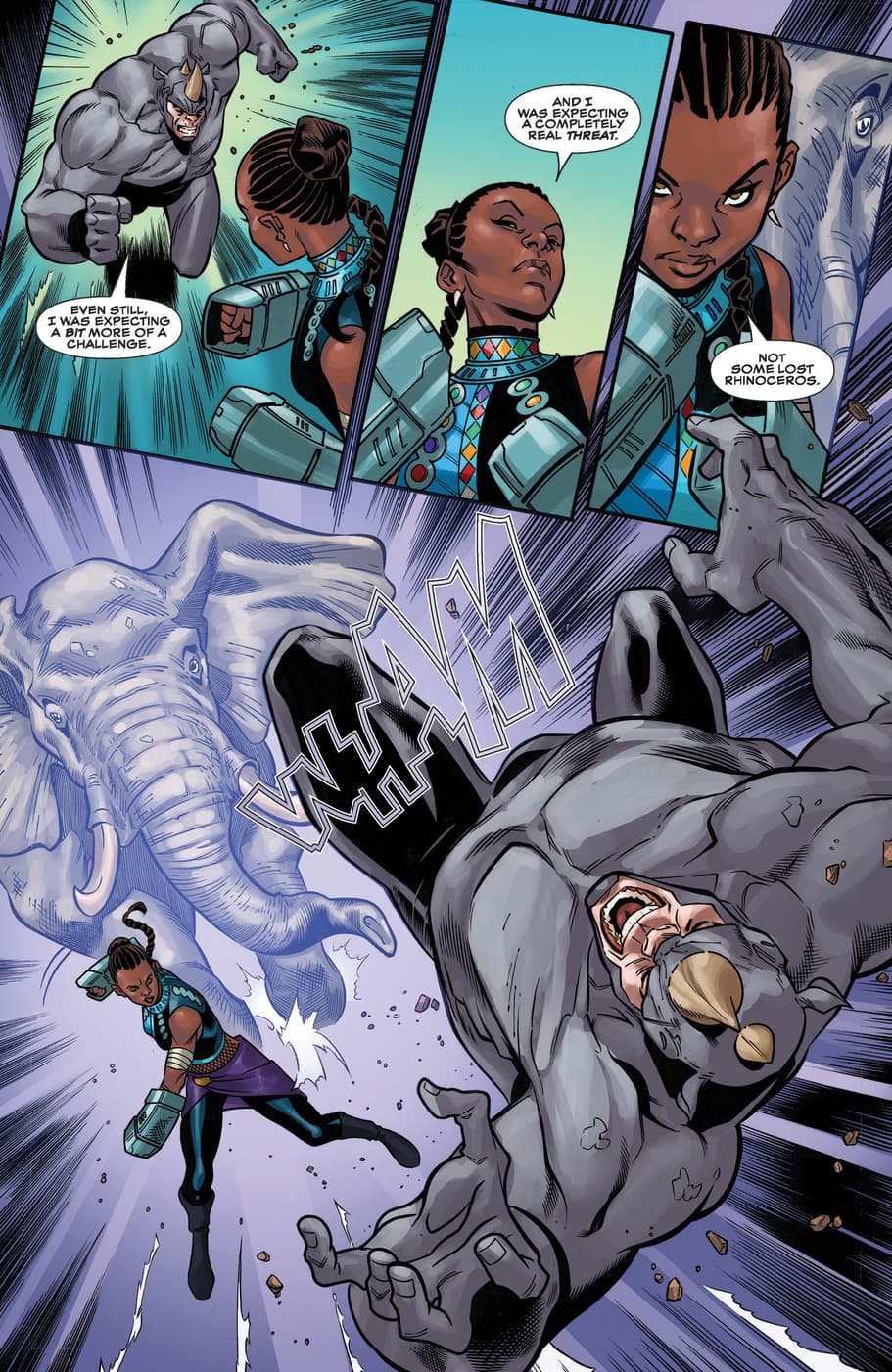 How does it feel to now contribute to the world building of Wakanda?
STEPHANIE WILLIAMS: To be honest, I think I'm still processing those feelings. I'm a relatively new comic writer, and before this, I spent a great deal of time reading, researching, digesting, talking, and writing about comics, including Wakanda, in detail. So, maybe it still feels surreal right now to know that I've added to this enormous melting pot of stories that will continue to carry on and take the fictional world of Wakanda to new heights.
What is your top Black Panther or Shuri comic run that you recommend for new readers?
STEPHANIE WILLIAMS: YES! I can't recommend DOOMWAR (2010) enough. It's the summer blockbuster of limited series. It's an all-star cast of Shuri, Storm, the Midnight Angels, Doctor Doom, the X-Men, the Fantastic Four, Deadpool, etc. You even see [Panther God] Bast function in an interesting way, and it better informs how the Marvel Universe's version of the goddess works. Not to give anything away, but her interaction with Doom is entertaining.
Then you have Doctor Doom and T'Challa playing this bigger-than-life game of chess that feels more rapid-fire than methodical, even though you know damn well all the moves are calculated despite seeming impromptu at times.
Then you have these standout small character moments that bring richness and depth to such a bombastic story. I randomly think about Sue Storm telling Reed Richards something like, "Oh, I know Storm can handle those bad guys on her own. I'm running after her to make sure I get a front row seat to her greatness."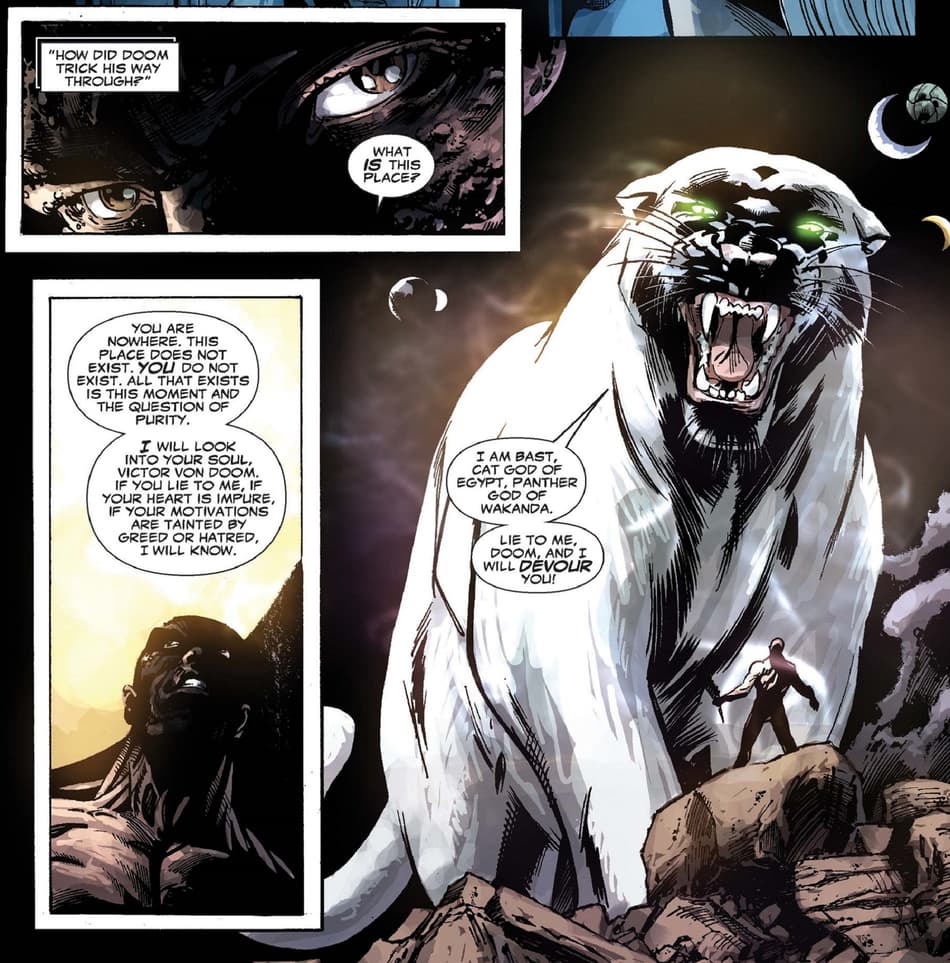 When you were a commentator on podcast series The History of Marvel Comics: Black Panther, something that stuck out to me was just how centric women are in the modern mythos of Black Panther. What do you think this kind of shift means for the future of Wakanda?
STEPHANIE WILLIAMS: I think it means the future is Phoenix-level bright. The wealth of storytelling has opened simply because we aren't only getting stories that focus on one sole person or group of people. The Wakandan experience will be different for each character, especially for characters who can find themselves in the margins because of how they are perceived in the world. Exploring Wakanda through the lens of women on—and behind the page—has dramatically expanded the realm of possibilities. More importantly, it's given a voice to those who maybe once felt left out. So, I say let's keep going. I'm sure other groups of people exist in Wakanda and they deserve a voice too.
Pick up WAKANDA (2022) #1 in print and digital comic shops now, and stay tuned for issue #2 on shelves November 16!
The Hype Box
Can't-miss news and updates from across the Marvel Universe!