Comics
Published April 7, 2022
The Many Faces of Khonshu
Your body belongs to him.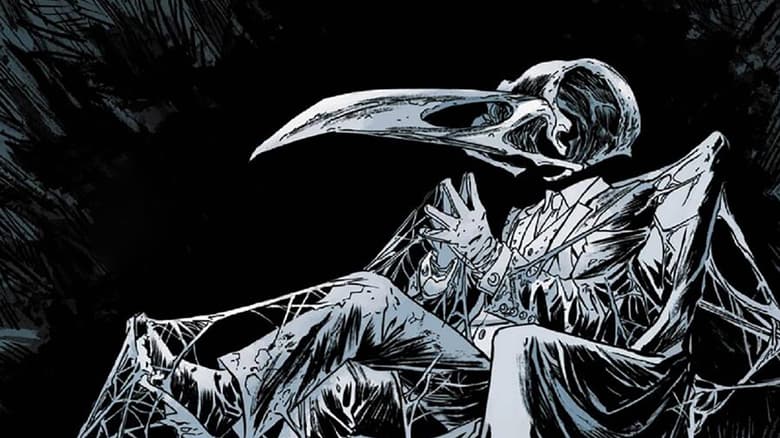 If you're a fan of Marc Spector, you're probably clamoring for more stories about the 'Fist of Vengeance.' And we don't blame you one bit. Of course, everyone's favorite lunar-themed hero wouldn't be who he is without a little help from Khonshu. But just who is this powerful god of the moon, and what role does he play in Moon Knight's history? 
Khonshu has had a lot of faces over the years, in a couple of ways. As an ancient god, he has been an important player in a number of the most significant periods of Earth's history. In addition, he literally has had different faces, as he's taken different forms over the years, and his Moon Knights, who are essentially his avatars on Earth, have often reflected the historical context of the day.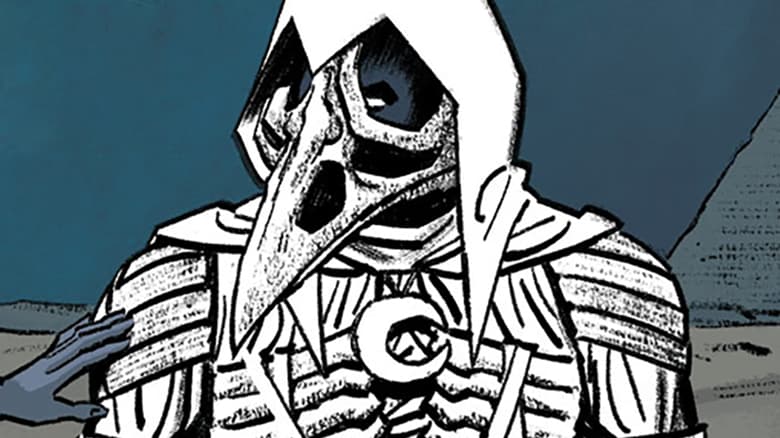 Different Physical Forms
As a god, Khonshu can take different physical forms. He often appears as a figure dressed in white, with a large bird skull for a head (it's just as terrifying as it sounds).
But in Ancient Egypt, he posed as a human pharaoh in the city of Thebes, as seen in THOR & HERCULES: ENCYCLOPAEDIA MYTHOLOGICA #1. During the same period, the god Osiris was also posing as a human and ruling the city of Heliopolis. When Osiris was overthrown by the god Seth, it created turbulence for the gods, lead to new roles for some of them. Osiris became the new God of the Dead and Khonshu became the God of the Moon.

In addition, after seemingly killing the mercenary Raoul Bushman in MOON KNIGHT (2006) #2, Marc Spector believed he was repeatedly visited by Khonshu in Bushman's form, something that understandably caused him a lot of emotional distress.
In History
In MOON KNIGHT #188, Khonshu was described as the "Greatest God of the Great Gods." It's a pretty lofty claim! But it gets better. In KING IN BLACK: BLACK KNIGHT #1, it was suggested he is an ancient Elder God whose existence predates the Earth and he worked his way into human mythologies after settling on the planet at least a million years ago.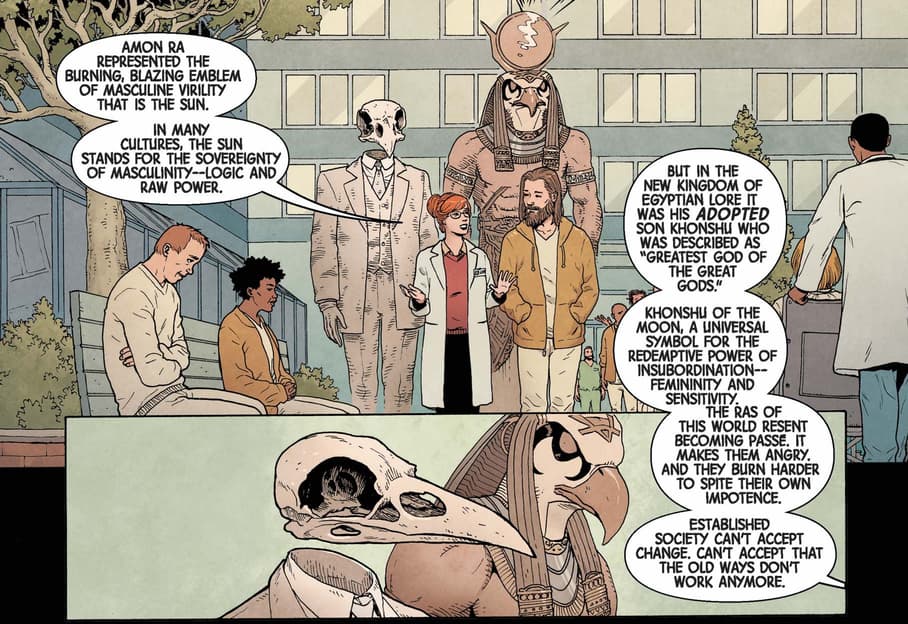 Khonshu is one of the Gods of Celestial Heliopolis and was part of the Ancient Egyptian pantheon (he's based on a real-world deity of the same name, who's sometimes referred to using variations of the name, like Khonsu and Khons, among others.) 
While in Thebes, he had a run-in there with Kang the Conqueror, when Kang showed up trying to gain dominion over time (as one does). In fact, due to some time travel shenanigans, Khonshu has rubbed shoulders with both Kang and Marc Spector at various points throughout history.
But his history with Earth's Mightiest Heroes goes even farther back. Offended after not being offered membership in the Stone Age Avengers, he chose the first known Moon Knight to act as his avatar, enforce his will on Earth, and serve as an antagonist to the heroes. This was necessary due to the fact that the ancient gods could only partially manifest themselves in an Earthly form. The creation of the first Moon Knight led to the formation of the Cult of Khonshu and the long line of succeeding Moon Knights who would follow. 
Khonshu also participated in the history of the Roman Empire, the Vikings, and the American Revolution. His Moon Knights during those times included a gladiator, a Viking, and a patriot, respectively.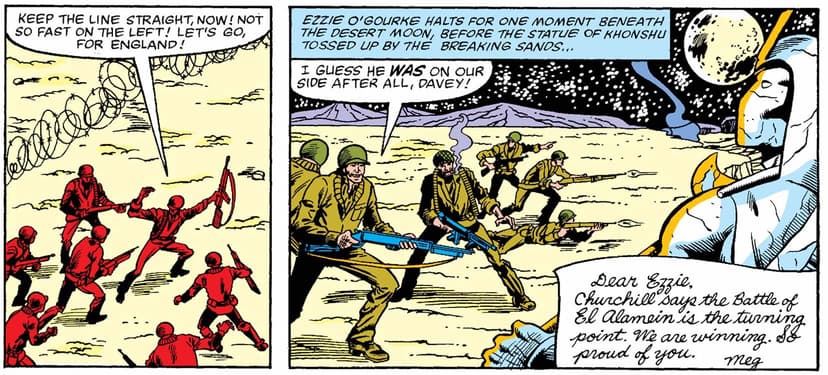 [RELATED: A Guide to Moon Knight]
In the more recent past, he intervened in World War II to help a group of British soldiers in MOON KNIGHT (1980) #22. And he fought a Sun King who was working with the Nazis in MOON KNIGHT ANNUAL (2019) #1.
But of course, Khonshu isn't always so benevolent. He's a complex character who sometimes heals people and fights Nazis, but at other times, he is way more destructive. With that, he has many faces when it comes to his moral and ethical alignment, too. At the end of the day, what he's most concerned about is his own power. And this has implications for anyone serving as Moon Knight, as they're expected to fulfill Khonshu's wishes – whether they like it or not. Moon Knights are given significant power, but it definitely comes with some strings attached.
Across various periods in time, Khonshu has crossed paths with the West Coast Avengers, Hank Pym, Fantastic Four, and plenty of other favorites. This is one god who knows how to get around. But how did his relationship with Marc Spector begin?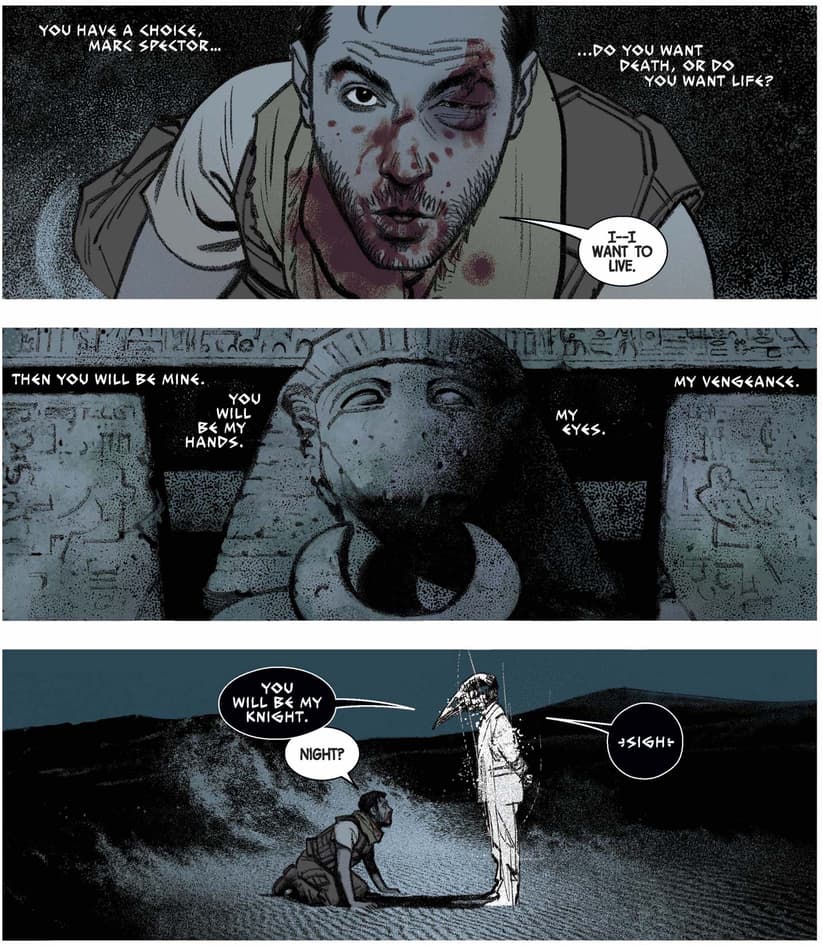 [RELATED: Who Is Moon Knight?]
Connecting with Marc Spector
Archaeologists Peter Alraune, Sr. and his daughter Marlene uncovered a statue of Khonshu inside the tomb of Pharaoh Seti's tomb. But a mercenary named Raoul Bushman raided the dig and killed Peter. Then Marc Spector, who had been Raoul's ally, turned on him. There was all kinds of drama and Raoul left Marc in the desert to die. Marlene and the others involved in the dig believed he actually was dead and laid out his body in front of the tomb. Marc then rose from the dead, claiming Khonshu had resurrected him and tasked him with the mission of serving the cause of vengeance as Moon Knight. This gave him enhanced reflexes, durability, and strength, all tied to the lunar cycle (though he leveled up his powers for a while recently — read more about that and all things Marc Spector here).
Marc returned to New York and ultimately became a hero. But his complicated relationship with Khonshu, who often had his own priorities, made things difficult for him. 
If you're looking forward to seeing more of the enigmatic Khonshu, check out MOON KNIGHT #11 (on-sale May 11) and MOON KNIGHT: BLACK, WHITE & BLOOD #1 (on-sale May 18). In case you missed it, get a special preview of MOON KNIGHT #11, as revealed earlier today! 
Want to read more of Moon Knight's phases? Read his complete history on Marvel Unlimited, or start with intro series MOON KNIGHT (2016) by Jeff Lemire, Greg Smallwood, Wilfredo Torres, Max Bemis, and Jacen Burrows to revisit his origin.
You can grab these comics and more digitally or at your favorite local comic book shop. Be sure to ask your local shop about their current business policies to observe social distancing or other services they may offer, including holding or creating pull lists, curbside pick-ups, special deliveries, and other options to accommodate. Find and support your local comic book shop at ComicShopLocator.com or by visiting Marvel.com/LoveComicShops.
For digital comics, all purchases in the Marvel Comics app can be read on iPhone®, iPad® and select Android™ devices! Our smart-paneling feature provides an intuitive reader experience, ideal for all types of mobile device and tablet users! Download the app on iOS and Android now!
Want to stay on top of everything in the Marvel Universe? Follow Marvel on social media—Twitter, Facebook, and Instagram—and keep watching Marvel.com for more news! 
The Hype Box
Can't-miss news and updates from across the Marvel Universe!