Comics
Published June 22, 2020
What You Need to Know Before Reading 'Thor'
Get ready to read the first four issues of 'Thor' (2020), a special bonus release now available on Marvel Unlimited!
READ THOR: THE BLACK WINTER HERE!
Today on Marvel Unlimited! THOR (2020) #1-4 has dropped in the library as a special bonus release! Donny Cates and artist Nic Klein's run has already rejuvenated the God of Thunder and given Thor an epic transformation that readies him to square off against one of his most dangerous enemies to date: The Black Winter.
To fully appreciate the changes that the Son of Odin has undergone, it's a good idea to look back to his recent past! Cates and Klein have built upon the foundation of Jason Aaron's fantastic run on THOR. Plus, you may want to check out a handful of other prelude issues, all ready to read on Marvel Unlimited.
Back in 2012, Aaron and artist Esad Ribic kicked off a new era of greatness by throwing not one, but three Thors against Gorr the God Butcher! Young Thor, present day Thor, and King Thor from the far future were all pushed to their limits by Gorr's drive to wipe out divinity in all of its forms.
THOR: GOD OF THUNDER (2012) #13-17 also brought back Malekith the Accursed, an adversary that Thor had hoped was gone forever. The leader of the Dark Elves quickly elevated himself as a threat across every realm, remaining a constant thorn in Thor's side.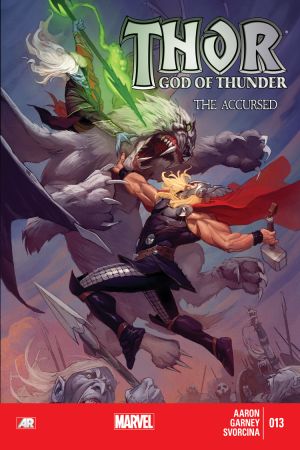 Read the event in full!
Aaron and artist Mike Deodato teamed up for the ORIGINAL SIN (2014) crossover event that featured a major turning point for Thor. After Uatu the Watcher was murdered by one of Earth's heroes, Thor lost his beloved hammer, Mjolnir, when the guilty party whispered something into his ear. Fans had to wait a long time to learn what was said, and why it made Thor no longer worthy to wield his own hammer!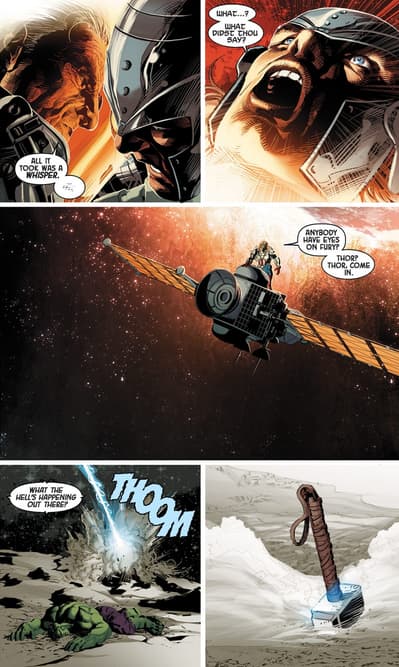 That same whisper forced Thor to leave Mjolnir behind on the moon, where it was eventually discovered by someone who actually proved worthy…
The original Thor began going by his last name, Odinson, in the wake of losing his hammer. But a woman from Thor's past took up the mantle in Aaron and artist Russell Dauterman's next iteration of the title. The Odinson was greatly disturbed by this turn of events, as was All-Father Odin himself. But this new Thor proved to be more than worthy of the title, especially when her identity was revealed by the end of the eight issue-run.
Read the event in full!
During the reality-shattering events of SECRET WARS (2015), God Emperor Doom chose the various incarnations of Thor to serve as his enforcers. In THORS (2015), Aaron and artist Chris Sprouse brought the new Thor and the Odinson together with Beta Ray Bill, Storm, a Groot Thor, and other Thunder Gods from across the Multiverse. Even Ultimate Thor was involved, and his hammer later proved to be very important...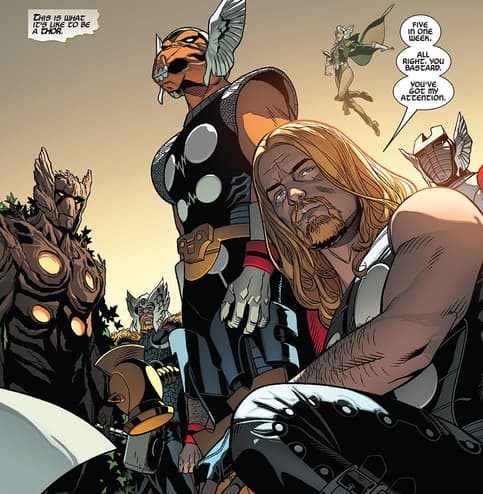 These are the key issues for Jane Foster: Thor! Although she was branded as a thief by Odin while trying to live up to her role as the Thunder Goddess, she still took down Loki, Roxxon, and even the misguided War Thor. This was also the time when Thor joined the Avengers and proved that she belonged alongside Earth's Mightiest Heroes!
When Mangog made his attempt to destroy Asgard in "Death of the Mighty Thor," the new Thor didn't hesitate to make the ultimate sacrifice. That's why Odin relented and ultimately recognized that she truly was a daughter of the Realm Eternal, even if she was a Midgard-born Earthling.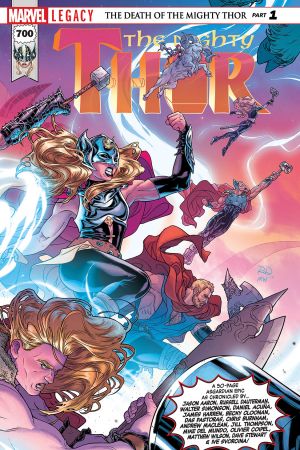 Remember Ultimate Thor's hammer? This is where it became important again. Concurrently running with MIGHTY THOR (2015), Aaron teamed up with artist Olivier Coipel for a new adventure as the Odinson sought to become worthy again alongside his brother-in-arms, Beta Ray Bill. The hammer of Ultimate Thor was an enticing opportunity for the Odinson to reclaim his powers. Unfortunately for him, Thanos' followers in the Black Order wanted to claim the hammer for their master.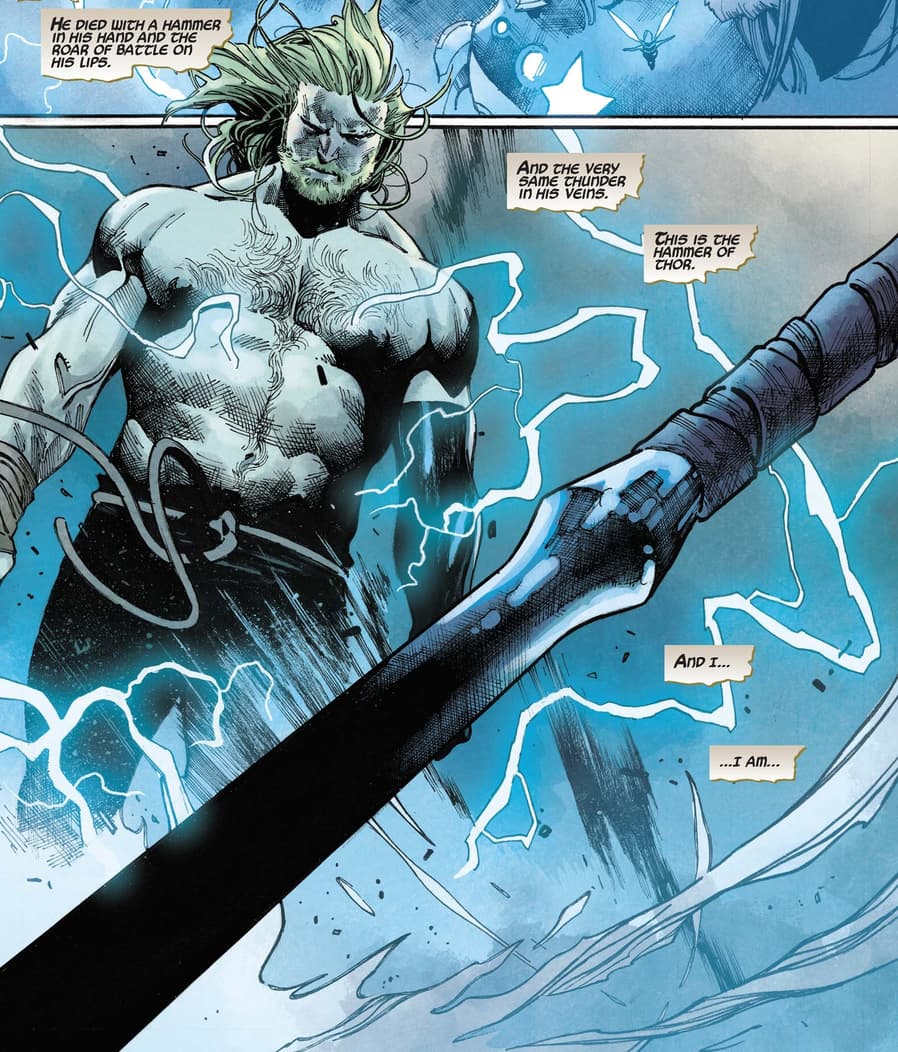 After four years of being "unworthy," the original Thor was back in action in THOR (2018), as artist Mike Del Mundo joined Aaron's run. Despite his restored powers, Thor wasn't able to stop the machinations of Malekith. The Dark Elf had laid the foundations for a conflict that nearly bubbled over years before, and finally, it all came to a head in the WAR OF THE REALMS.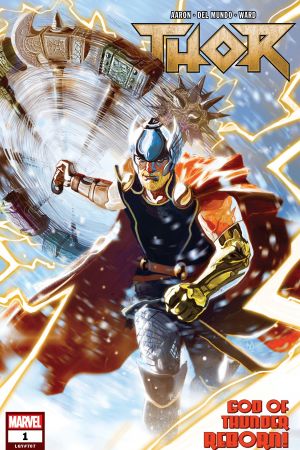 Thor (2018) #1
published

added to marvel unlimited

painter

painter (cover)

penciler (cover)

writer

editor

colorist

inker

penciler

letterer
What is Marvel Unlimited?
Read the event in full!
Aaron and Dauterman reunited for the WAR OF THE REALMS event, as Malekith finally began his conquest of Earth. That drew almost every Marvel hero into the conflict! But Thor once again rose to the occasion, and he saved the Ten Realms in impressive fashion. So much so, that Odin realized that the time had come for Thor to realize his ultimate destiny as the king of Asgard!
[RELATED: Top 10 'War of the Realms' Moments]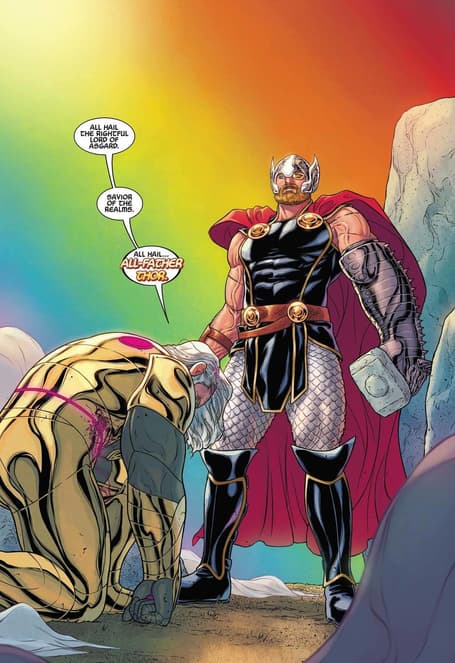 To close out his epic run, Aaron reunited with Ribic for a tale set in the far future, as King Thor and his granddaughters—Atli, Ellisiv, and Frigg—faced the might of Loki near the end of time. But it was the return of Gorr the God Butcher that put King Thor on notice. This was the battle to end all battles, and it was also a truly worthy conclusion before Donny Cates and Nic Klein's new chapter in THOR (2020)!
Looking for more classic arcs and Marvel must-reads you can read for FREE? Read online here, or download or update the Marvel Unlimited app for iOS or Android at the Apple or Google Play app stores today.
For more of Marvel's greatest comic books in print, please reach out to your local comic book shop to ask about services they may offer, including holding or creating pull lists, curbside pick-ups, special deliveries and other options to accommodate. Find and support your local comic book shop at http://comicshoplocator.com.
The Hype Box
Can't-miss news and updates from across the Marvel Universe!