Comics
Published June 11, 2019
Who is Taskmaster?
As he hits the spotlight in the world premiere trailer for 'Marvel's Avengers', get to know the mimetic Super Villain called Taskmaster!
Did you know that one of the most dangerous people in the Marvel Universe remains almost a complete mystery to this day?
That's the best place to begin with Taskmaster, the Super Villain seen in today's world premiere trailer for Marvel's Avengers at E3 2019 in Los Angeles!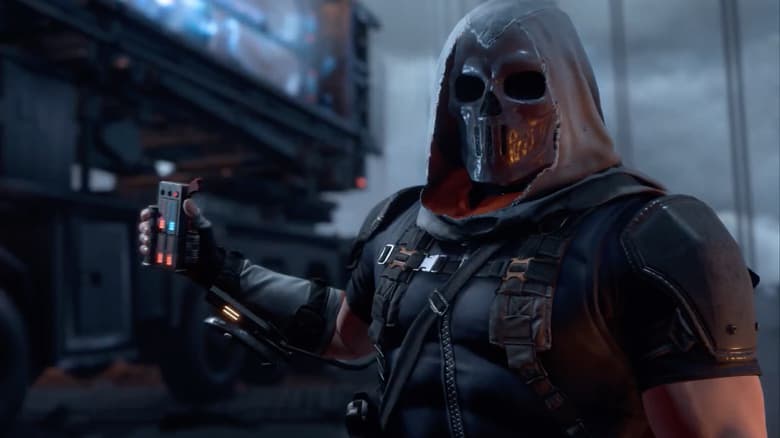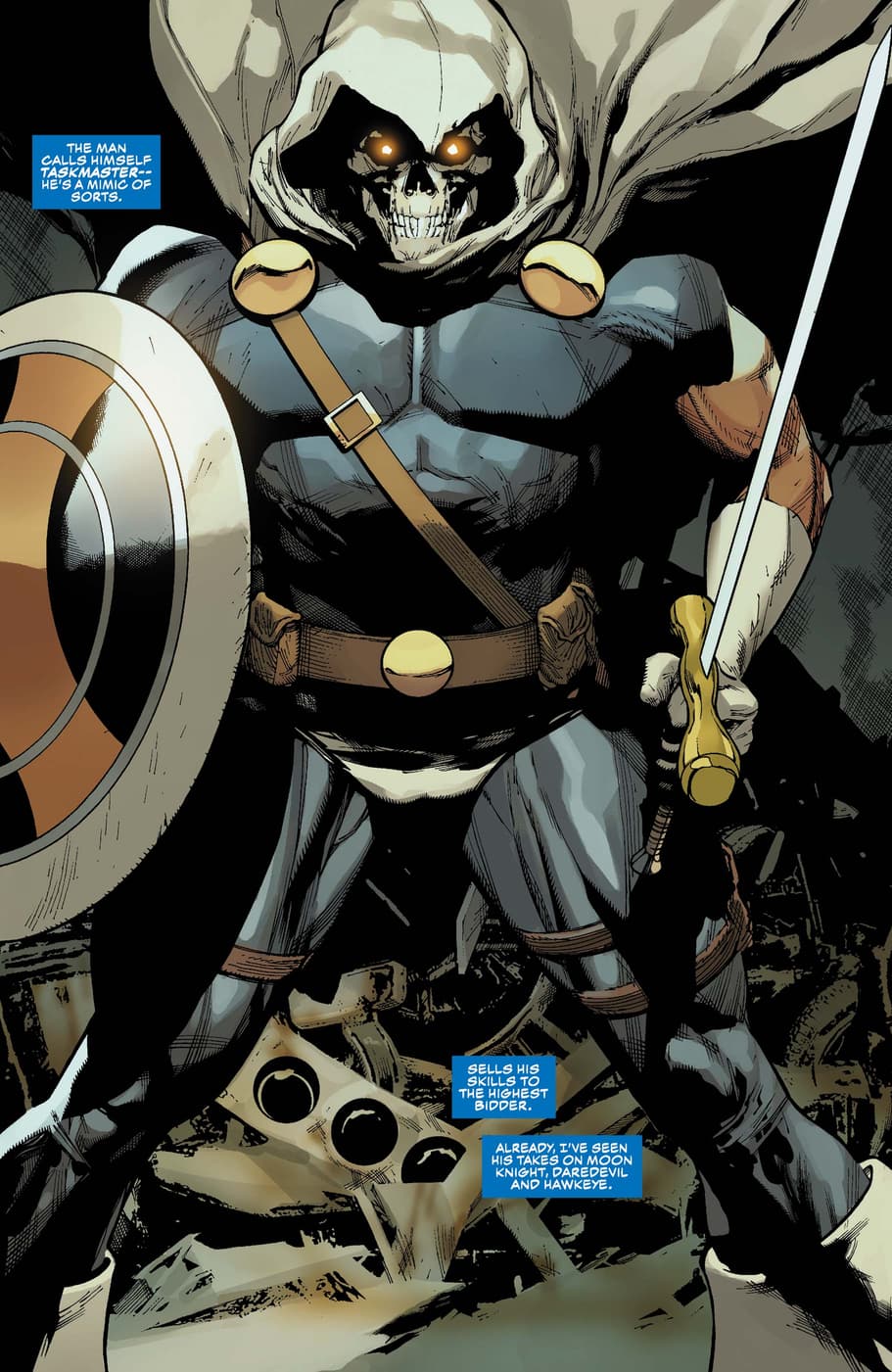 Though his past remains an enigma, we have learned a few things about him in the comics since his debut in 1980. Brought to life by David Michelinie and George Perez, he appeared at the very end of AVENGERS #195, but officially took center stage in the next issue.
After quickly dispatching Scott Lang, Janet Van Dyne, and Hank Pym with his ability to mimic any opponent's physical movements, the villain recounted his own origins, explaining that he's had photographic reflexes since childhood. As a kid in the Bronx, he used these abilities to imitate everything from cowboys to football superstars before realizing he could make some money observing the new Super Hero set.
He observed everything he could about the heroes, planning on becoming a Super Villain. Instead, given his unique abilities, Taskmaster focused his efforts on setting up academies around the country that would allow him to pass his training on to wannabe hoods...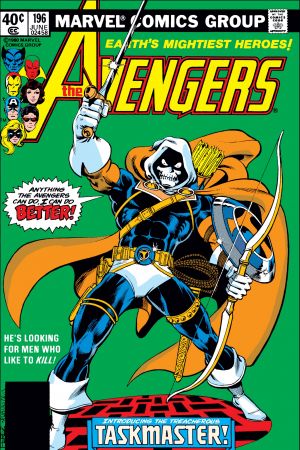 His history lesson, however, came to an end when the Avengers burst in. They almost apprehended him, but he used a flash-bang to escape! With the heroes onto his previous operation, he switched it up and began traveling with a circus, as revealed in AVENGERS #223 when he fought Hawkeye and Scott Lang again.
Not everyone he's trained has been a villain, though. After getting nabbed by the feds in THING #32, he helped train the then-new Captain America, John Walker, beginning with CAPTAIN AMERICA #334. Red Skull later pulled some strings to help Taskmaster escape and then hired him to train-up the villain's crew.
He would return to his teaching role many times over the next several years, even working with Deadpool during the time when he lost his healing factor. He also appeared regularly in the pages of AGENT X, but took on a whole different level of job during CIVIL WAR when he became a member of the government-run Thunderbolts. During the final battle of that event, he attempted to kill Sue Storm, but her estranged husband took the bullet. And for those efforts, Taskmaster got smashed by the Invisible Woman's powers.
He popped in and out of prison soon afterwards, but wound up working for the government once again, this time as the trainer at Camp Hammond in AVENGERS: THE INITIATIVE. At the end of that series, he joined Norman Osborn's attack on Asgard as seen in SIEGE, though he initially refused. During the Heroic Age, TASKMASTER found its star on the run as every bad guy group around thought he'd been giving Steve Rogers information on their activities.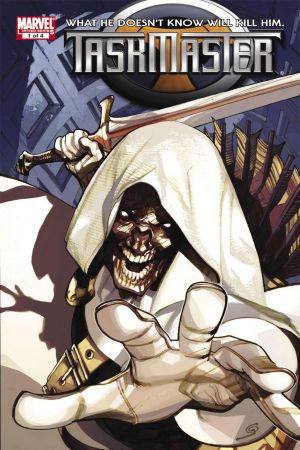 In AVENGERS ACADEMY #9, young hero Finesse approached him to find out if he was her dad. They sparred well, but he soon revealed that keeping all of that fighting information in his head pushed out a lot of other memories, like whether she could be his kid or not. He also refused to hand over DNA for her to test, not wanting the Avengers to have that information.
Later, after fighting against the Secret Avengers, he became a member of the team in the next volume when the heroes stole him from his Bagalian captors. In CAPTAIN AMERICA: STEVE ROGERS, he became the sheriff of Bagalia and actually tried to flip sides along with Black Ant, but they both wound up serving in HydraCap's Avengers during SECRET EMPIRE. But after seeing the writing on the wall that the Hydra impostor was due for his comeuppance, Taskmaster and Black Ant succeeded in switching sides and freed the Champions.
Most recently, the villain has made a few deadly appearances in the pages of Ta-Nehisi Coates's CAPTAIN AMERICA. He's also rejoined Black Ant to help Kraven the Hunter track down animal-themed villains leading up to the "Hunted" storyline of AMAZING SPIDER-MAN, which just ended last week!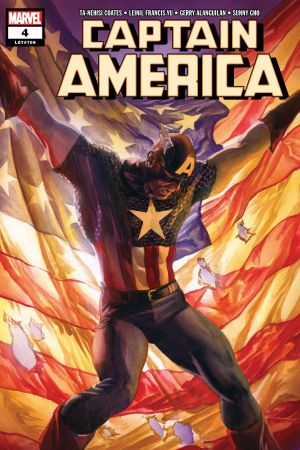 Captain America (2018) #4
published

added to marvel unlimited

painter (cover)

penciler

editor

letterer

inker

colorist

writer
What is Marvel Unlimited?
The Hype Box
Can't-miss news and updates from across the Marvel Universe!