Comics
Published May 29, 2020
Why John Byrne's 'Fantastic Four' Is a Comic Classic
Read Byrne's remarkable first arc on Marvel's First Family, now FREE on Marvel Unlimited.
START JOHN BYRNE'S FANTASTIC FOUR ARC HERE!
The Fantastic Four, originally created by Stan Lee and Jack Kirby, are the cosmic-powered Super Heroes who protect the planet… and the universe! Taking up the mantle at issue #232 of their 1961 volume, Marvel bullpen member John Byrne had the daunting task of not only drawing the Fantastic Four, but writing them as well.
Byrne's work on the series in the 1980s became an instant comic classic. Part of that is thanks to his innovative designs and the characterizations of the FF, as seen in his first arc on the series, FANTASTIC FOUR (1961) #232-240, which is available to read for free on Marvel Unlimited!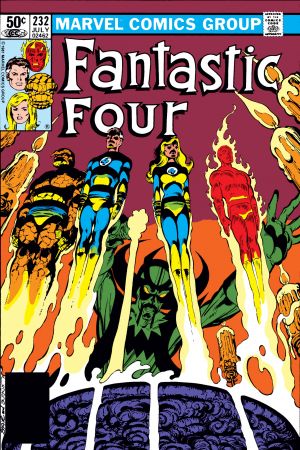 Let's take a look below at why this run was such a classic!
COSMIC-SIZED SUPER VILLAINS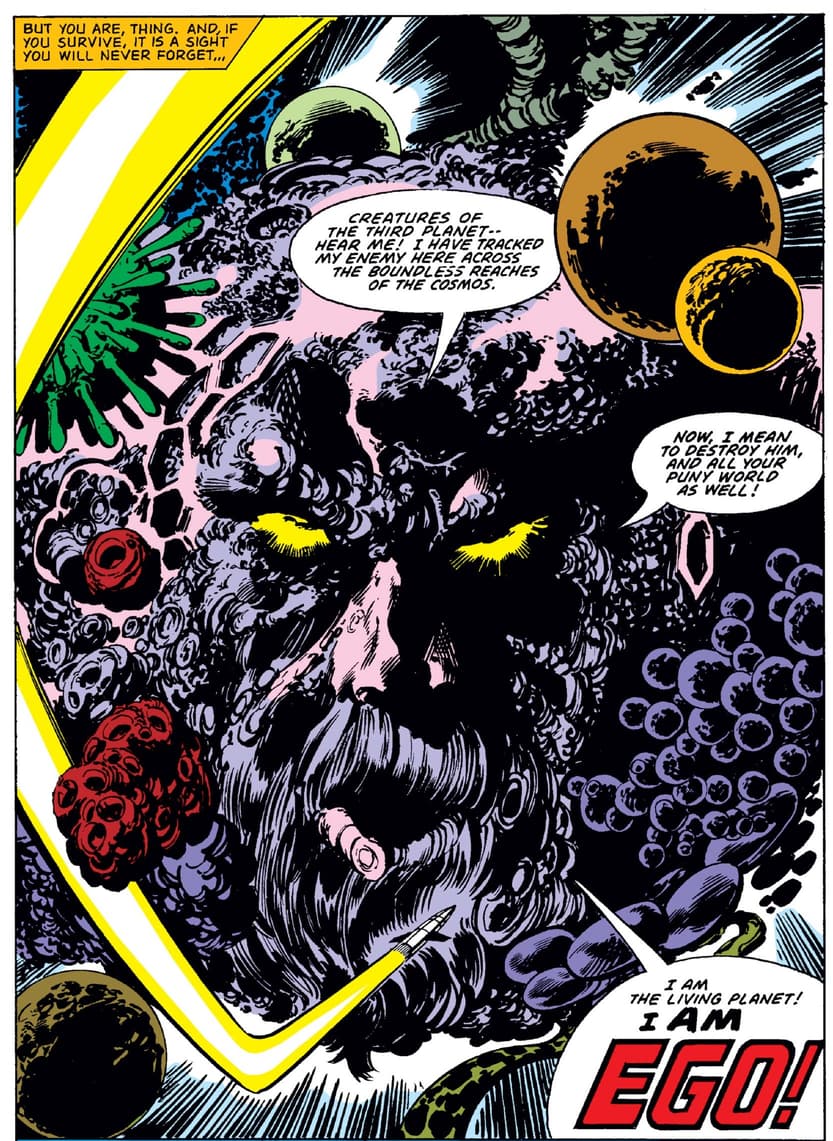 When the First Family comes up against the dying ecological system known as Ego the Living Planet, Byrne flexes his imagination and asks us to do the same with his design on the larger-than-life character. Byrne's Ego had a cosmic scope that was perfectly suited for the FF, given that their superhuman powers came from a wash of cosmic rays that forever changed their DNA.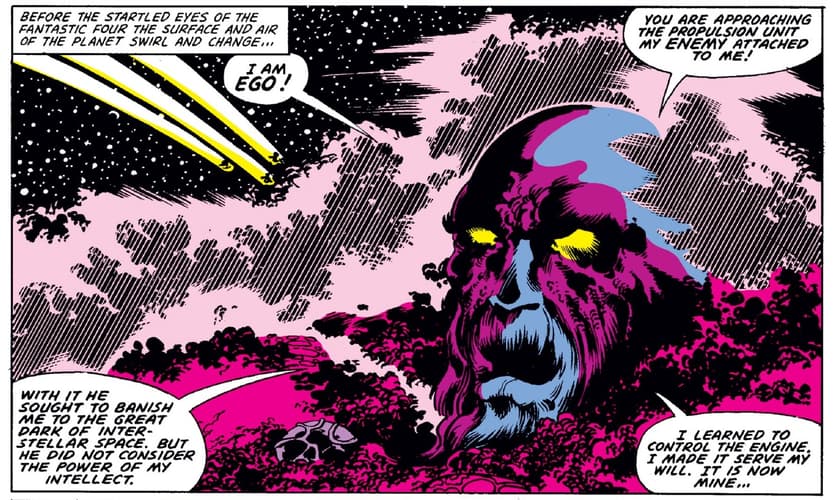 Byrne's depiction of Ego as a living biosphere is grandiose, but he grounds the character in what the planet creates, that is antibodies, and makes Ego fight the FF after they nearly crash-land on their surface in FANTASTIC FOUR #235. It's truly a wild idea reminiscent of the cosmic beings from Stan Lee and Jack Kirby's era, for example, the planet-devouring Galactus.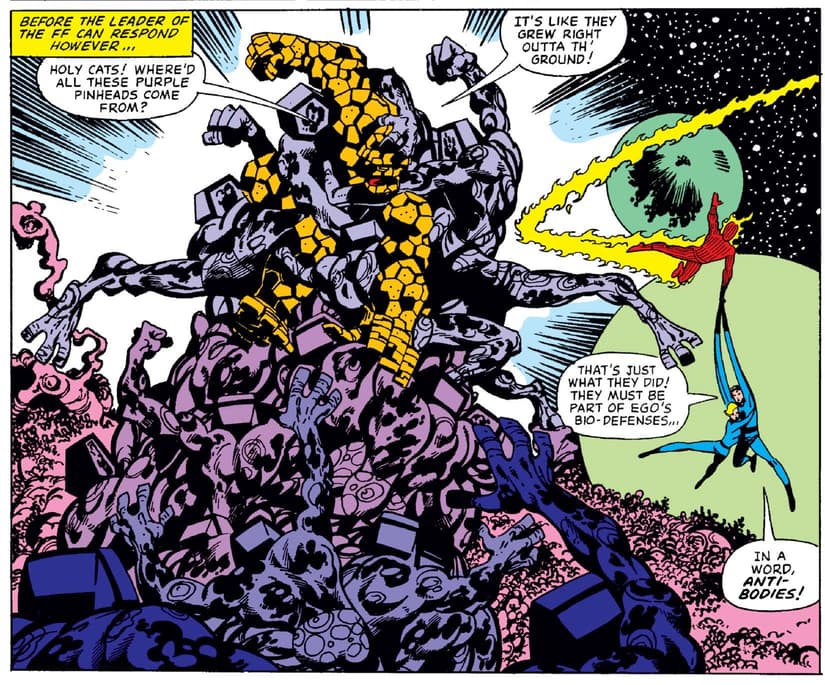 INVISIBLE WOMAN: FROM PRACTICING POWERS TO POWERHOUSE
In FANTASTIC FOUR #232, Susan Storm Richards, AKA Invisible Woman, taps into her invisibility powers and finds that she can do more than ever before by using them to change the state of air from gas to a liquid!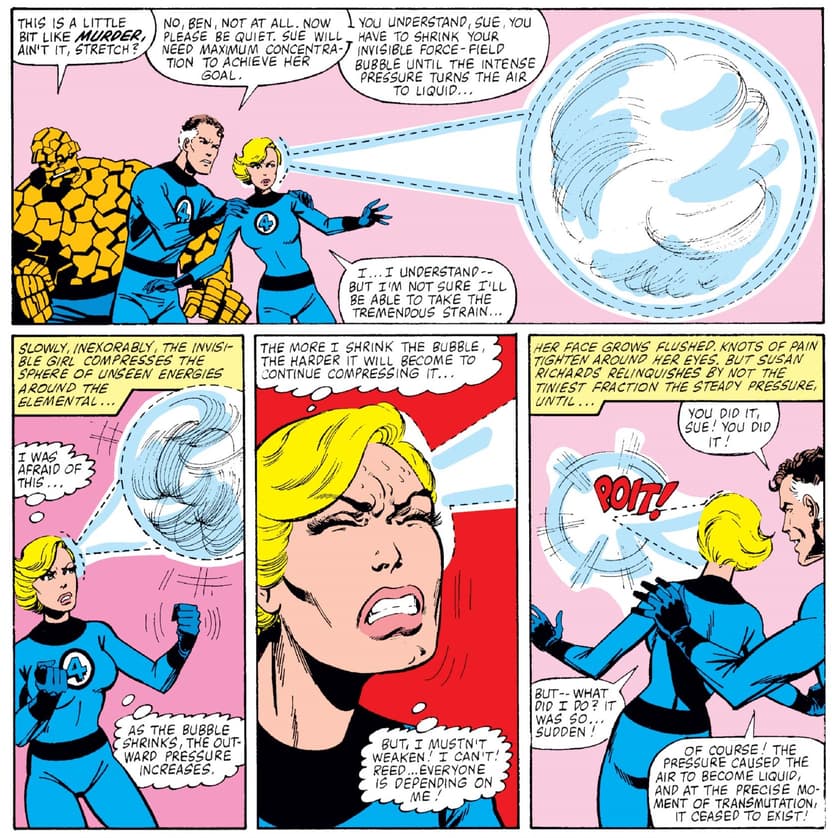 From then on, Byrne has Sue practicing her powers, often hiding her costume under her clothes, and by FANTASTIC FOUR #238, she becomes so comfortable with them that they become second nature.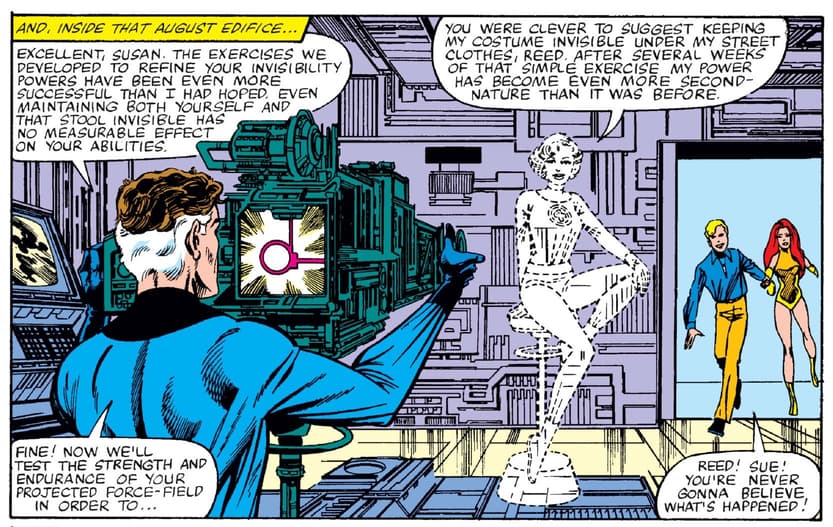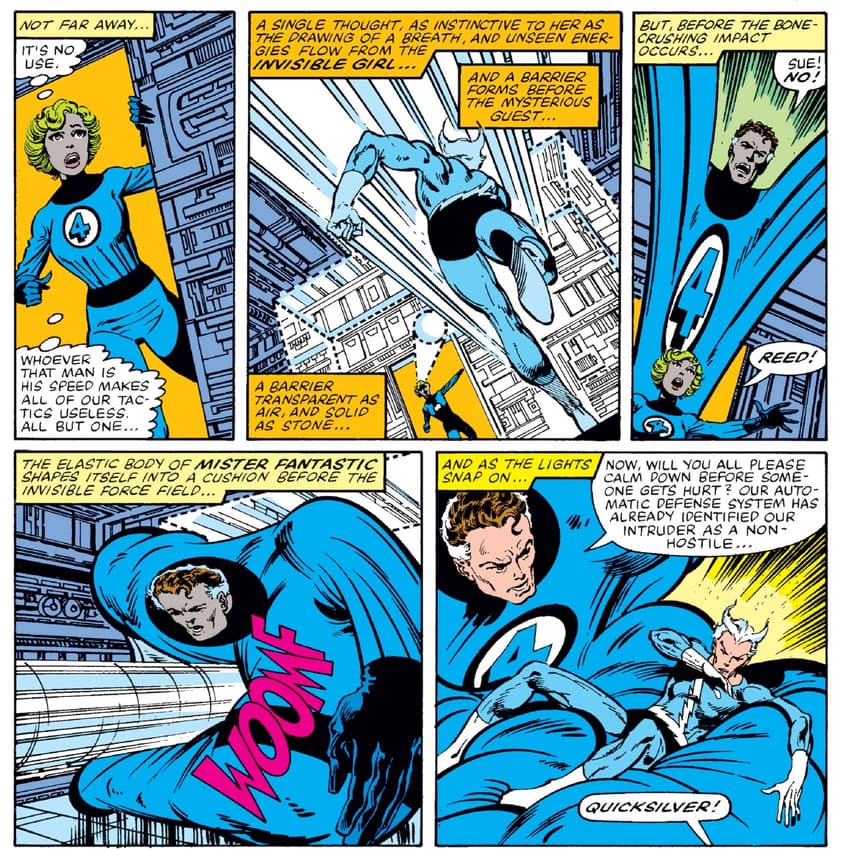 PEOPLE VERSUS POWERS
Byrne takes his time fleshing out each member of the team in this particular run. He showcases how these Super Heroes are just like us, doing everyday things, like when Sue Storm Richards gets a haircut in FANTASTIC FOUR #232.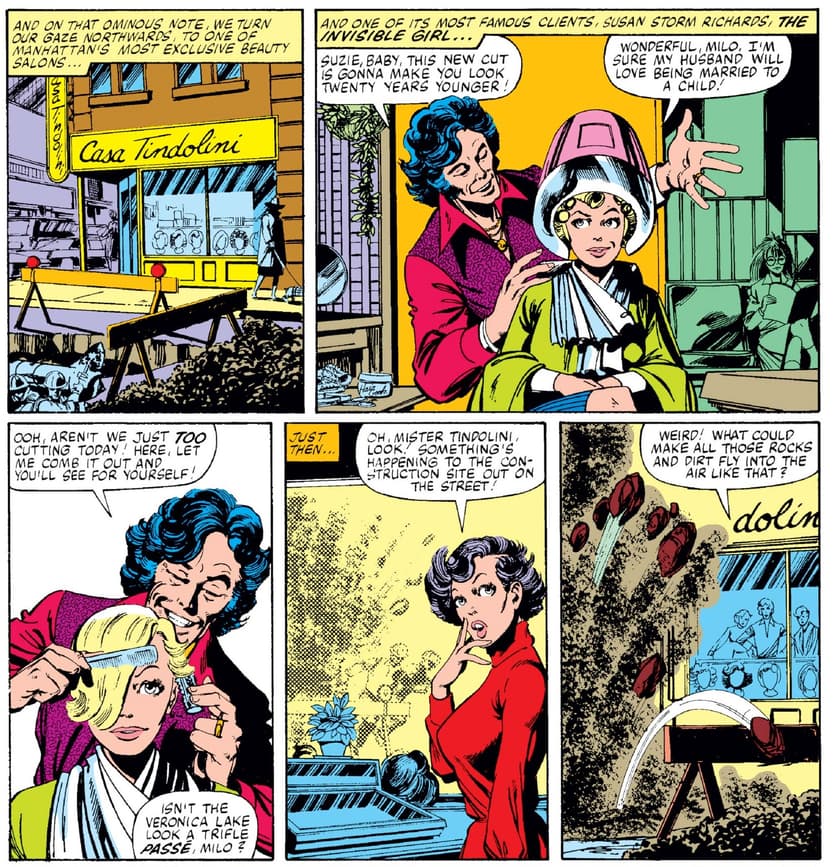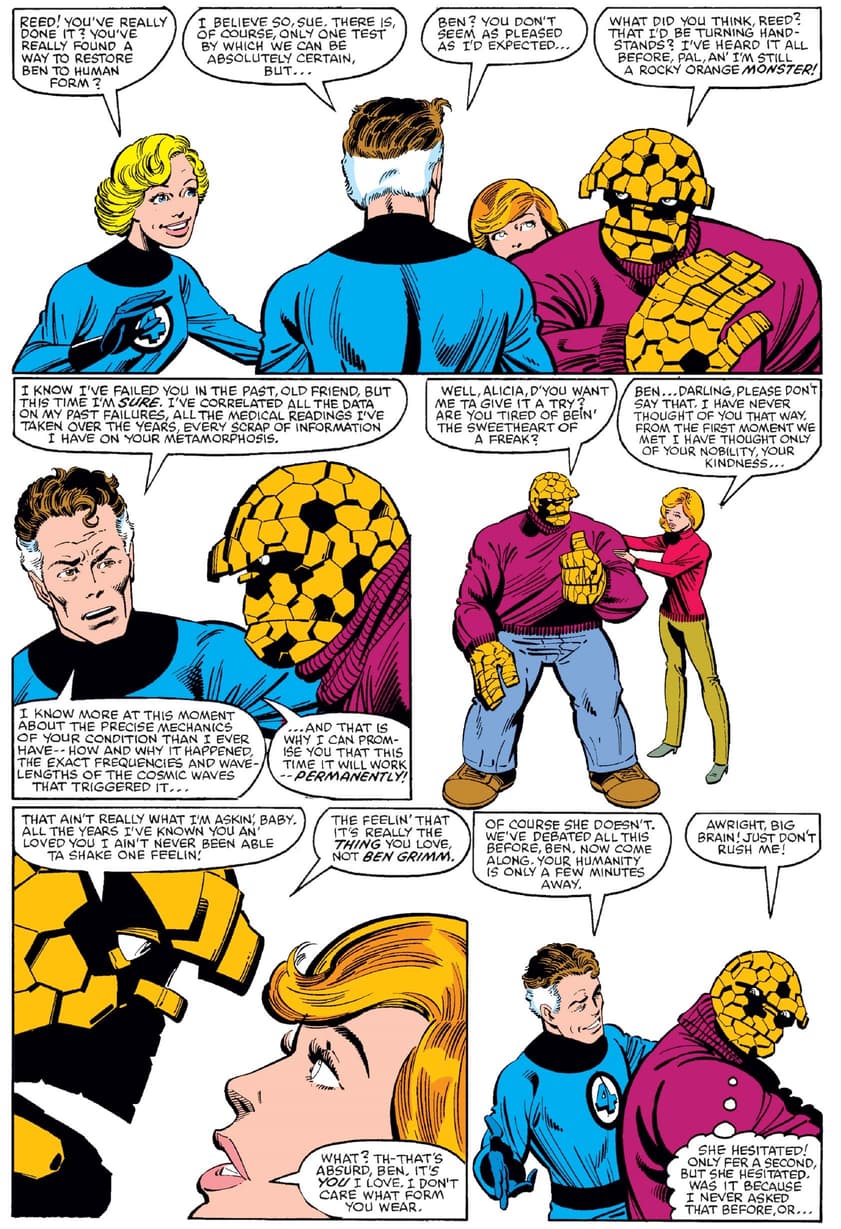 Byrne also captures the FF's most fearsome foe, Doctor Doom, and his insecurity in his need for power in FANTASTIC FOUR #236. When Doom works with Phillip Masters, AKA Puppet Master, to place the heroic team in a tiny town, he wipes their memories in order to control them. He then inserts himself as a Department Head managing Professor Reed Richards, who in the real world is Mister Fantastic. He demeans Richards for his incompetence, when actually, Richards is likely the smartest man alive.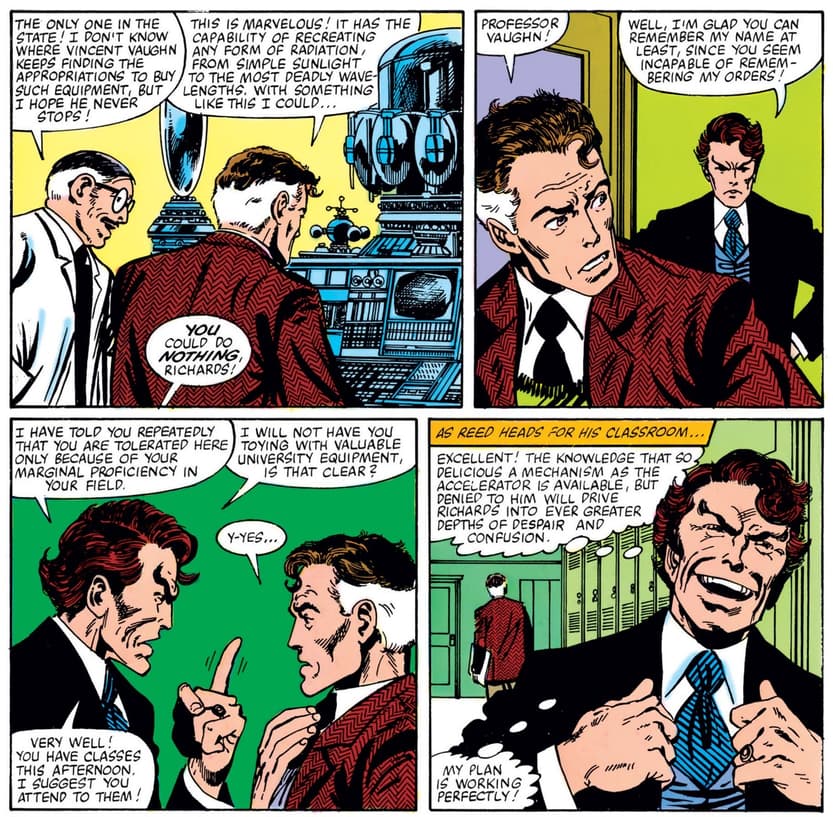 SHOWCASING MARVEL'S HISTORY
FANTASTIC FOUR #236 marked the FF's 20th Anniversary issue, and Byrne honors its history with several Easter egg throwbacks. To start, Doctor Doom places the first family in a miniaturized town set in 1961, which is the same year that the first issue, FANTASTIC FOUR #1, debuted.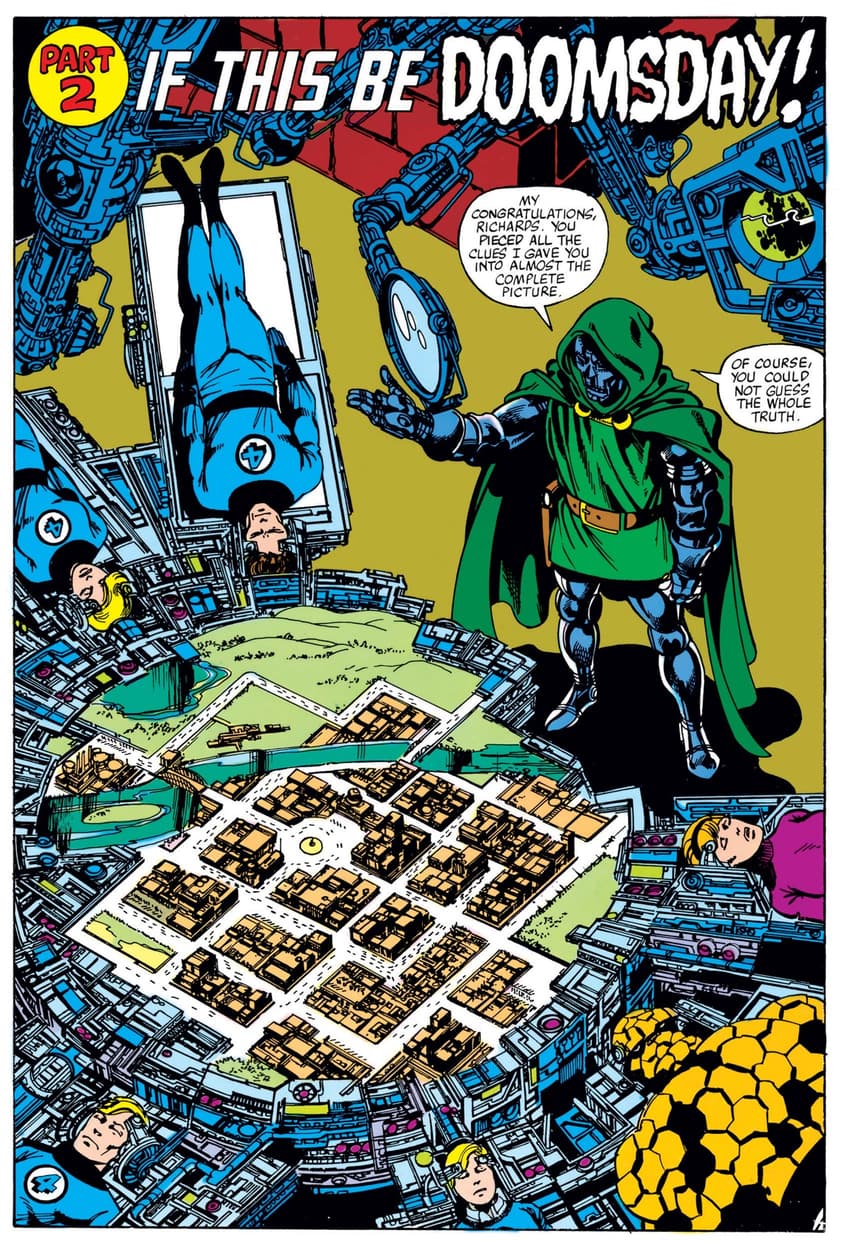 The issue also hearkens back to the Lee/Kirby run with its unrestrained storytelling that incorporates more prose in the narration as well as multiple story arcs. Plus, the costume aesthetics and scientific equipment are also reminiscent of Kirby and Lee's work.
PLOTTING LONG-TERM SUBPLOTS
Something Byrne does so elegantly is plot out long-term subplots for other characters in the Marvel Universe. In FANTASTIC FOUR #239, he drops readers into the Inhuman war, and lays the foundation for the Inhumans' move to the Moon. In the same issue, he brings us into the heart of Quicksilver and Crystal's difficult birth of their daughter, Luna, who is the first mutant and Inhuman.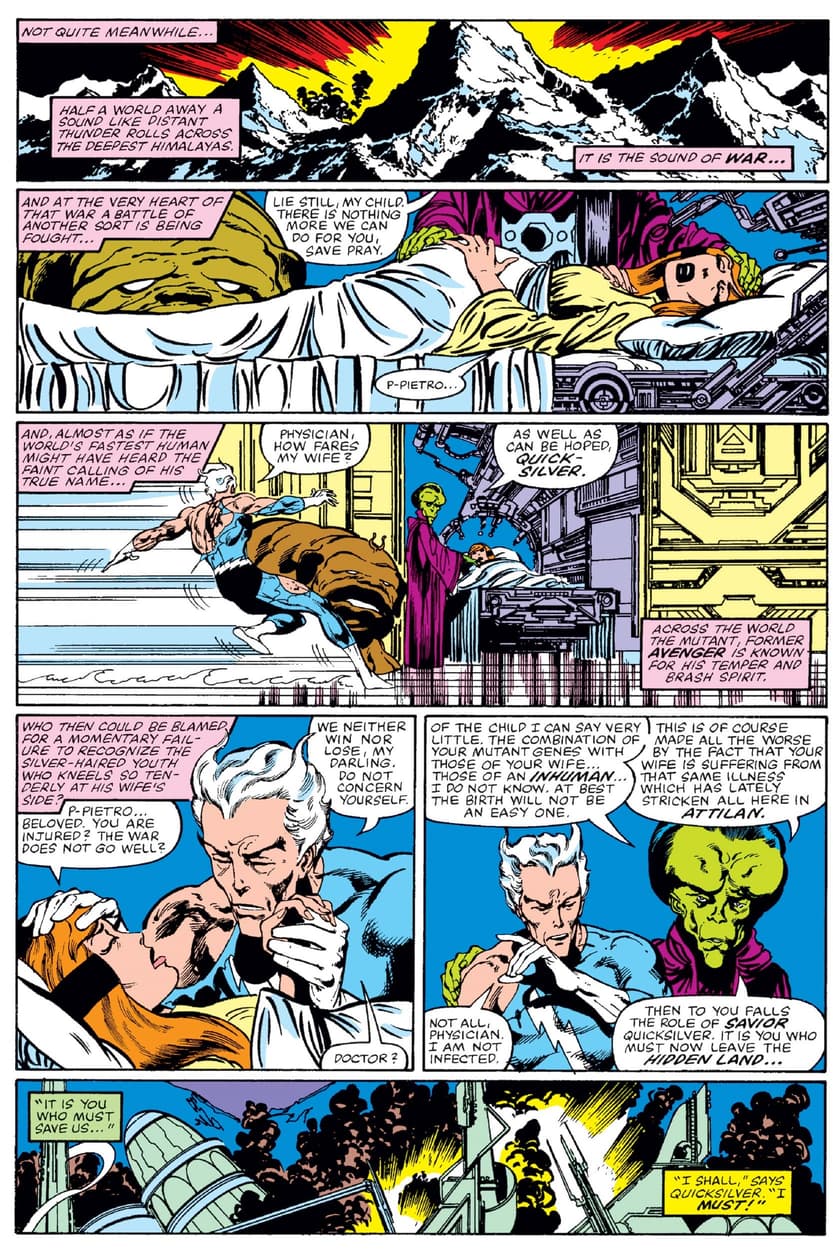 Byrne also introduces the world-devourer Galactus' new Herald, Frankie Raye, who was initially appalled by her boyfriend Johnny Storm's alter ego. In a twist of ironic fate, Raye found herself with powers similar to his. She later takes the moniker Nova and saves Earth by offering herself as Galactus' new Herald.
That's really the tip of the ol' iceberg when it comes to the remarkable features from Byrne's first run. Be sure to check it out and then tell us what you think at @MarvelUnlimited's Twitter and Facebook channels.
Looking for more iconic arcs, complete events, and Marvel must-reads you can read for free? Read online here, or download or update the Marvel Unlimited app for iOS or Android at the Apple or Google Play app stores today.
For more of Marvel's greatest comic books in print, please reach out to your local comic book shop to ask about services they may offer, including holding or creating pull lists, curbside pick-ups, special deliveries and other options to accommodate. Find and support your local comic book shop at http://comicshoplocator.com.
The Hype Box
Can't-miss news and updates from across the Marvel Universe!