Comics
Published June 22, 2021
The X-Men's Most Fashionable Moments
The Hellfire Gala isn't the first time mutantkind has pulled off their Black-tie best.
Have you tried Marvel Unlimited yet? It's your all-access pass to over 28,000 Marvel comics, all available at your fingertips. Sign up now to enjoy your favorite stories just three months after they're in stores.
The mutant residents of Krakoa have always given what needed to be gave long before they started living on a sentient island that provided ample leverage over all of humankind. The X-Men's Hellfire Gala serves as a reminder to the rest of the Marvel Universe that the mutants are not only some of the most powerful beings on the world stage, but also the most fashionable. If you don't believe us, take a look back at some of these some eye-catching moments from the Marvel Unlimited archives.
[RELATED: Russell Dauterman Defines Mutant Fashion at the X-Men's Hellfire Gala]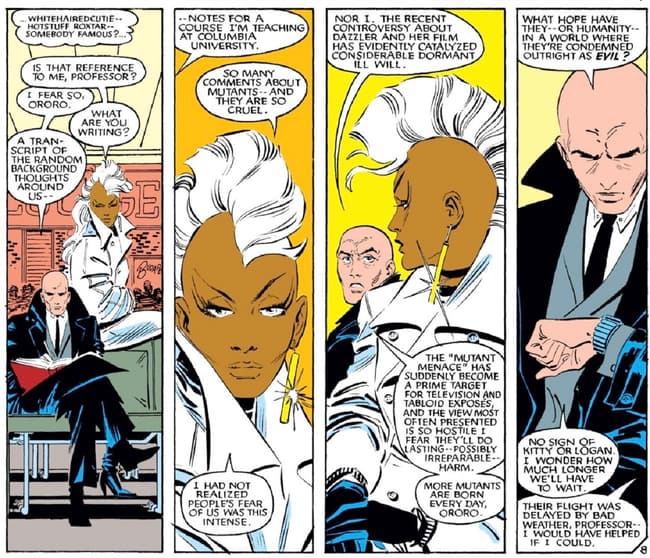 Professor Charles Xavier and Ororo Munroe, AKA Storm, casually sit on a bench at John F. Kennedy International Airport while still looking like they both stepped off someone's runway and right into a high fashion photo shoot. Their high-collared coats add an omega-level mutant quality to the overall looks. Although, Storm's gold drop earrings take her ensemble to goddess levels, along with her captivating face. Professor Xavier's bespoke gray suit paired with a silver high-end watch subtly says, "Yes, I have a mansion and a personal jet, what about it?"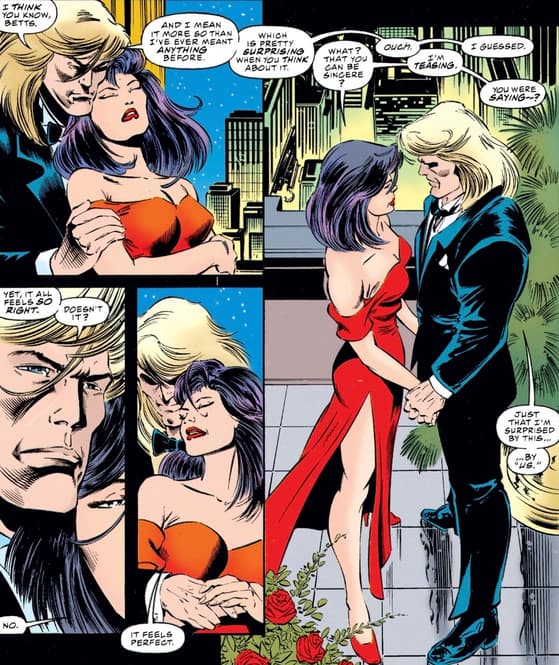 Elizabeth Braddock (then Psylocke) and Warren Worthington III (original X-Man Angel) were ready for a night out on the town or a romantic evening in the sky in the issue that saw them go official. Psylocke's red dress with a thigh-high split is exactly what a night of floating above the city while getting kissed senselessly needs. Archangel's midnight black tux goes perfectly with flowing hair, blue skin, and metallic-colored wings.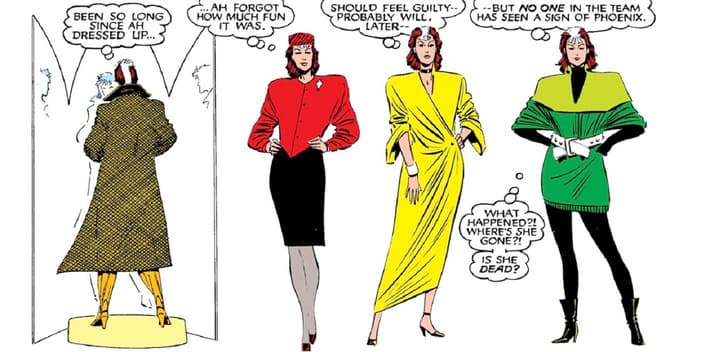 Anna Marie might go by the codename Rogue but her fashion sense has always been right on track. She turns a Bloomingdale's dressing room into a fashion show giving us enough looks to make us wonder if she absorbed someone's bank account instead of their actual life source. The looks range from "9-5 chic" to "dinner party excellence" to "luxury ski resort-ready," all with enough shoulder pads for her to carry her burdens in style.
What's a fashion moment without the telepathic Emma Frost? The answer is simple. There is no such thing because the White Queen is forever a moment. While playing mind games with a new beau in Monte Carlo, Emma slipped into a curve-hugging white gown courtesy of a man who can treat her to the lifestyle she's grown accustomed to having.
[RELATED: Emma Frost's Best Looks]
Remy LeBeau, AKA the scoundrelly X-Man Gambit, is everyone's favorite bad boy. And in his solo run from 2012, he epitomizes who Cyclops could be minus a Type A personality. New Orleans' own Gambit can make a brown leather duster look good so there is no surprise that he makes this tailored suit look like a 007 Cajun original. The dark shades and black gloves keep Gambit's rascal reputation intact.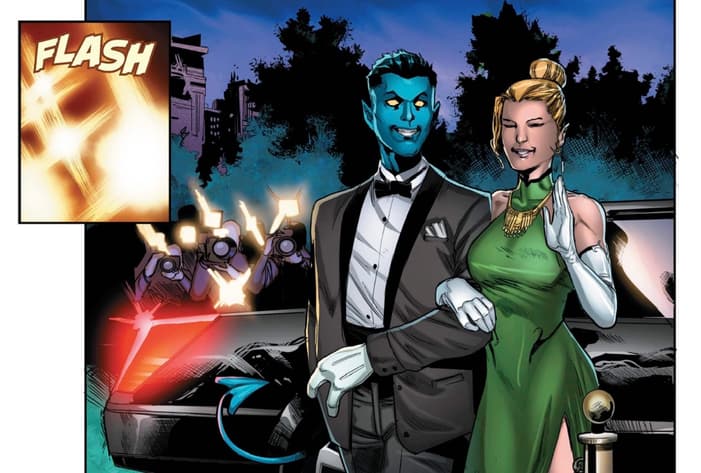 You may be familiar with the idea of a devil in a blue dress but what about a devil in a great tux? Kurt Wagner, AKA Nightcrawler, was red carpet ready in the cross-reality timeline from the AGE OF X-MAN event. Dressed in a charcoal-colored suit, black bow tie, and white gloves, movie star Wagner was a walking, talking, BAMFing dream, well on his way to being your reason for visiting your nearest confessional.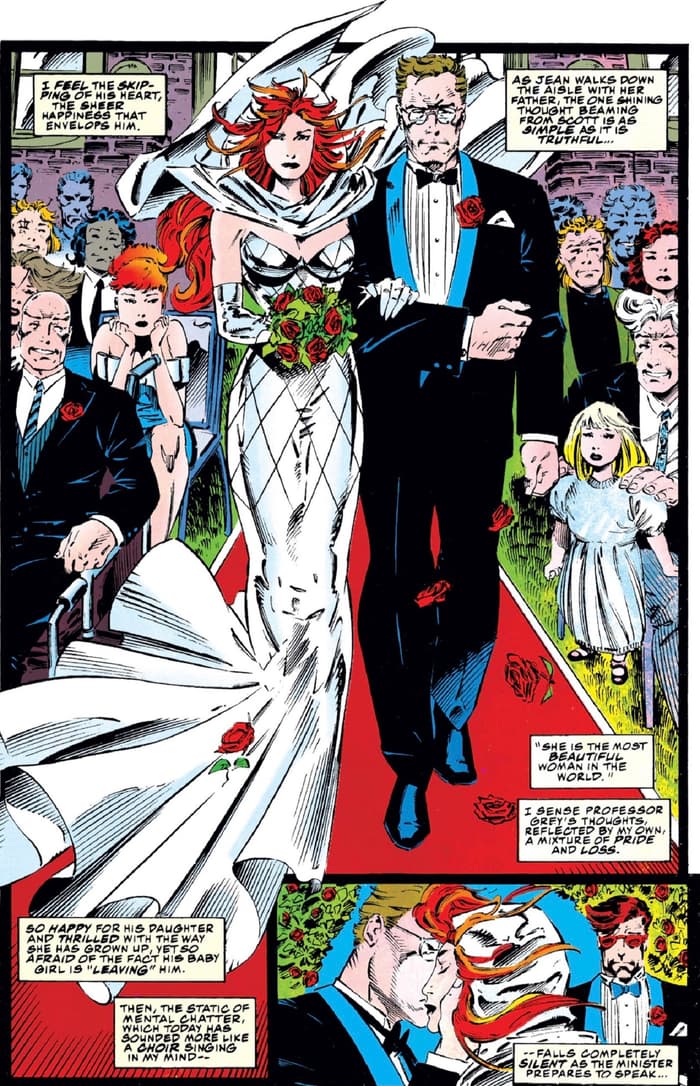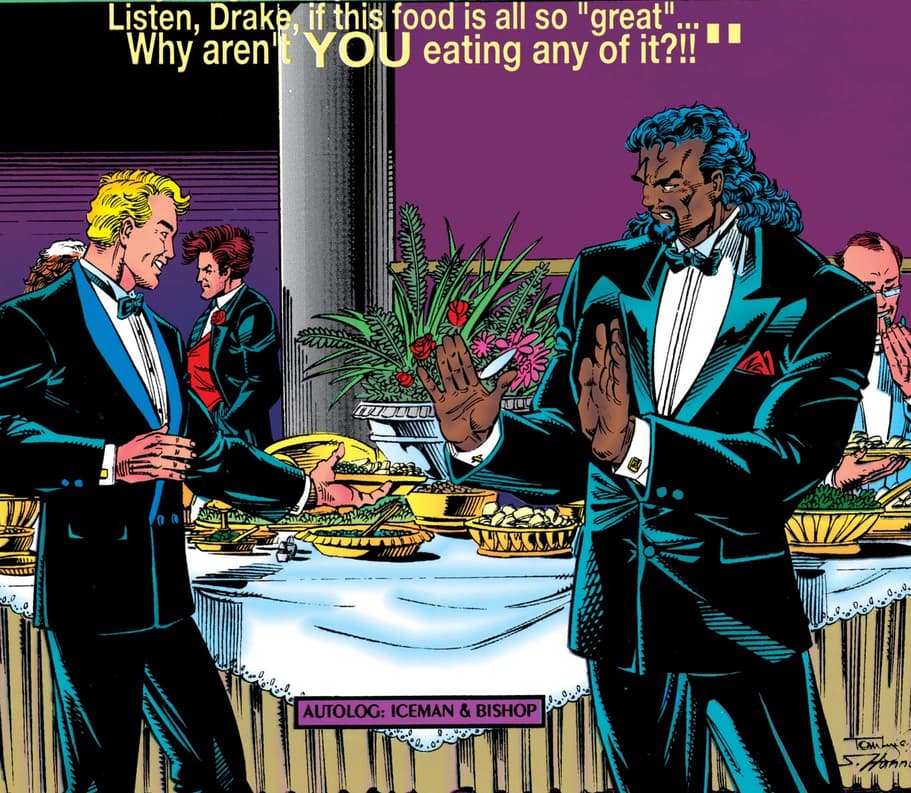 Bishop is known for time-traveling, which usually means he is dressed as though he came from the future or the past depending on where he ends up. In this particular moment, he just looks downright debonair. His broad shoulders are on full display in a timeless tux at Jean and Cyclops' wedding reception, but what really sets this look off is his glossy silk press and a perfectly groomed goatee.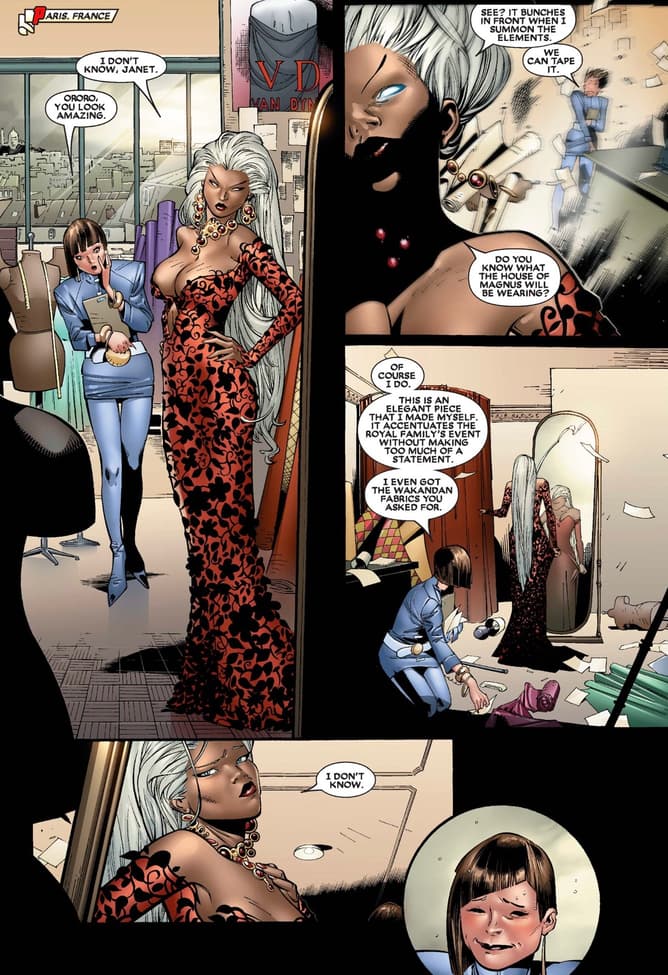 Storm is always a mood, that's why she's in this list twice. Even in an alternate reality created by a scorned woman in desperate need of help, Ms. Munroe gives goddess-level body, turning this Janet Van Dyne creation into a reality-bending masterpiece. This red and black dress with a low cut neckline is by far one of Storm's best looks in this timeline and the next.
Want to read more show-stopping mutant fashion moments? Start the 12-issue Hellfire Gala arc today, now on sale in digital or print at your local comic shop! Follow along with the complete event!
Follow Marvel Unlimited on Twitter and Facebook to stay tuned in to weekly announcements, articles, and more, all at @MarvelUnlimited. Follow us today to join the conversation with thousands of fellow fans, and let us know what you're reading!
The Hype Box
Can't-miss news and updates from across the Marvel Universe!