Culture & Lifestyle
Published April 8, 2021
Avengers Campus Opens June 4, 2021
The all-new land will soon welcome Super Hero recruits!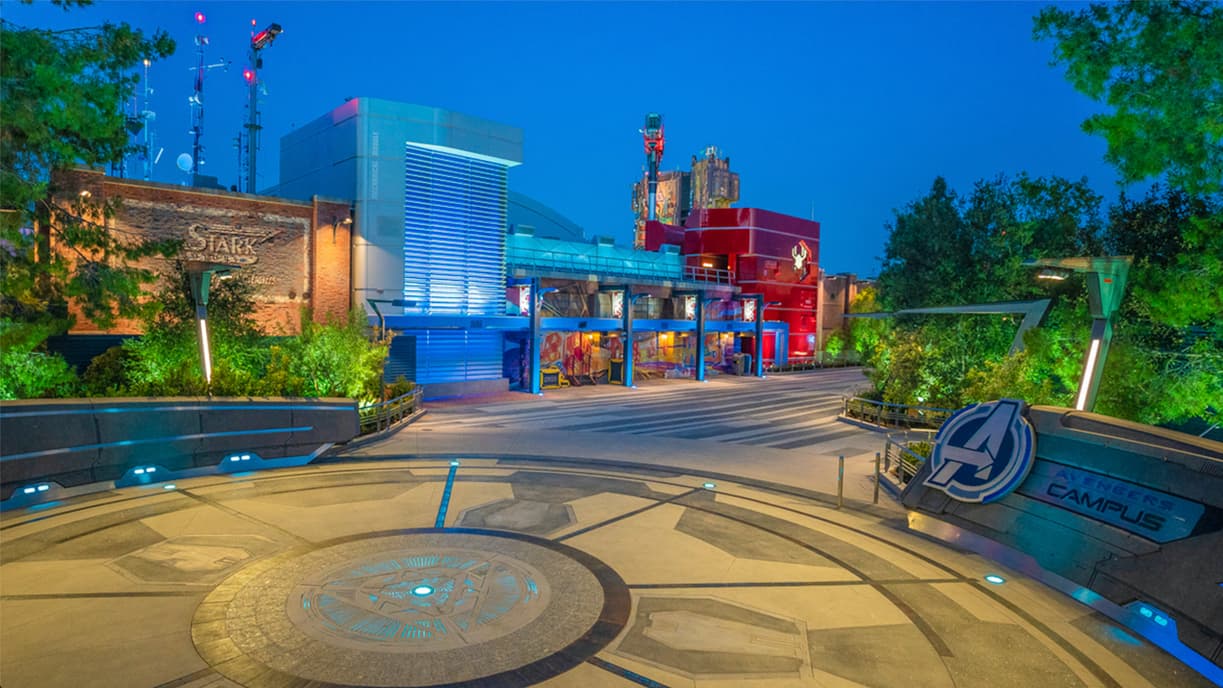 The time has finally come! Suit up, grab whatever you need for the next mission, and get ready because Avengers Campus, an entirely new land focused around discovering, recruiting and training the next generation heroes, will open June 4, 2021 at Disneyland Resort, inside Disney California Adventure Park. (Ticket and Park reservation required. California only residents, per state guidance.)
"We are so excited to soon welcome our guests to Avengers Campus, the first land dedicated to Super Heroes at Disney California Adventure Park," said Ken Potrock, president of the Disneyland Resort. "Guests of all ages can find their powers and our cast members will unite to create these special moments and memories."
At Avengers Campus, guests of all ages can find their powers as they take an active role alongside some of their favorite Super Heroes, with a chance to live out their own heroic story. Whether that be slinging webs with Spider-Man, trying out inventive new foods, experiencing heroic encounters, and even teaming up with the Avengers and their allies, all recruits are invited to join in on the action. 
"Avengers Campus will be a place where fans and guests can finally step into the universe they love, and stand alongside some of their favorite heroes," said Dave Bushore, vice president of Franchise Creative & Marketing for Marvel Studios. "The optimism inherent in Avengers Campus captures the diversity, power and teamwork these extraordinary characters possess, and now they come together to unite people from all over the world under one guiding principle: We are stronger together."
Wondering what you'll find inside when the land opens in June 2021?
Attractions, adventures, and more!
New recruits arrive just in the nick of time, as Spider-Man needs some assistance! Tom Holland reprises his role as Peter Parker in the land's new attraction, WEB SLINGERS: A Spider-Man Adventure. This new, action-packed adventure invites guests to put their web-slinging skills to the test with innovative technology adapted specifically for this attraction. And the mission? Team up with Spidey and help capture the out-of-control Spider-Bots before they wreak havoc on the Campus!
During an open house at WEB, Peter Parker and the aspiring inventors ask guests to wear 3D glasses and test drive their latest invention, the WEB Slinger vehicle, which allows them to sling webs like Spider-Man and experience what it's like to have super powers. This family-friendly attraction blends physical sets and virtual environments to take new recruits on an interactive escapade. There is no height requirement for this attraction, allowing aspiring young heroes to join the fun.
WEB SLINGERS: A Spider-Man Adventure, joins Guardians of the Galaxy: Mission – BREAKOUT!, a thrilling free-fall drop adventure where guests help rescue a cosmic gang of misfits — aka, the Guardians of the Galaxy.
If you're looking to take a piece of the adventure home with you, right next door to WEB SLINGERS sits WEB Suppliers and The Campus Supply Pod. Grab anything you might need for your next heroic encounter, whether it be official Avengers Campus gear including performance fleece hoodies and tees, headwear, drinkware and other Super Hero supplies, or even a friendly sidekick, one of those pesky interactive Spider-Bots!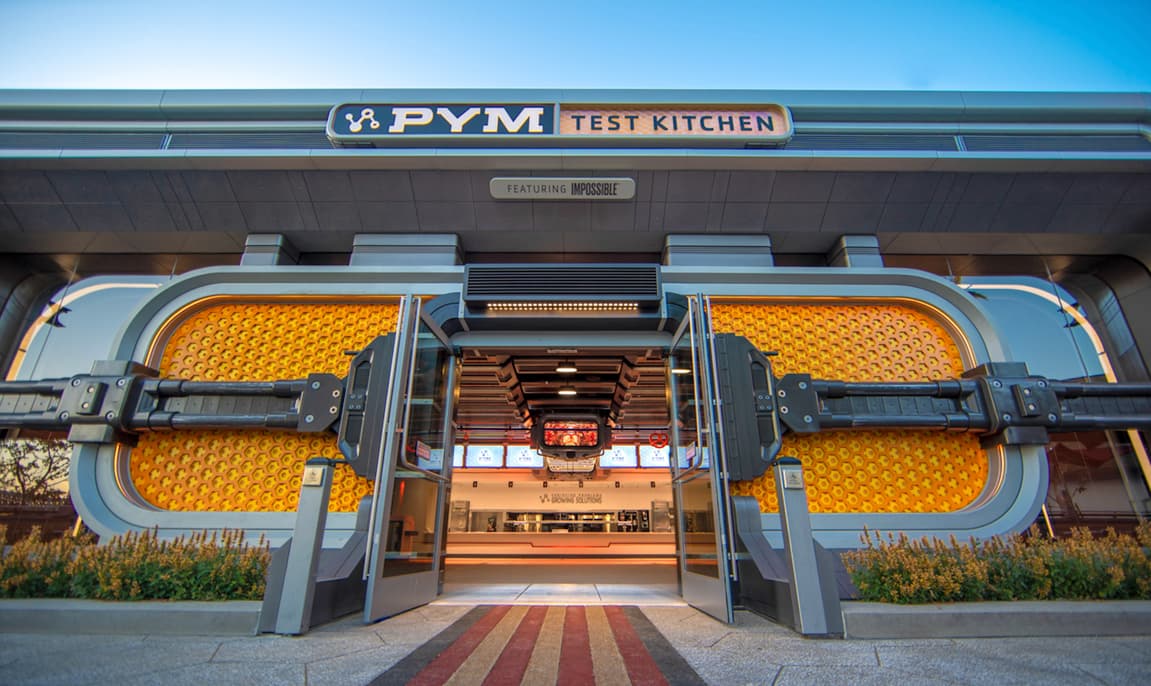 Tasty Snacks and Treats From Across the World - and Galaxy!
More than likely, any heroic deed will work up an appetite and there are plenty of places to grab a bite in Avengers Campus — whether you're looking for something big or small to sink your teeth into.
Pym Test Kitchen is the place to go for new, inventive food offerings. Ant-Man and Wasp have started using Pym Test Particles to grow and shrink just about everything and anything, applying the science to food creation. This allows Pym Test Kitchen to showcase normal foods at unusual scales, including shareable bites, inventive-sized entrees and tiny treats. As guests watch the Pym food scientists at work in the kitchen lab, they will see the transformation of a regular-sized pretzel after going through a Quantum Tunnel – and it comes out either big or small!
For something to drink, right next door sits Pym Tasting Lab where older heroes can order the likes of craft beer, ranging from a blood orange hefeweizen to an amber lager, in addition to Pingo Doce, the distinctly green beverage from Avenger lore that will be available at Avengers Campus.
Speaking of Avengers lore, fans will remember that after the Battle of New York, the heroes discovered their new favorite food: shawarma. That's also made its way to Avengers Campus in the form of Shawarma Palace, where heroes on the go can enjoy their favorite shawarma-inspired wraps at this food cart, which just so happens to be decked out with memorabilia for Avenger fans.
On the hunt for something sweet? Taneleer Tivan not only has a liking for intergalactic misfits, but also churro spirals with unique flavors, cosmic orbs with an outer shell revealing a decadent creamy filling, and more which he has conceived to lure guests to his Fortress.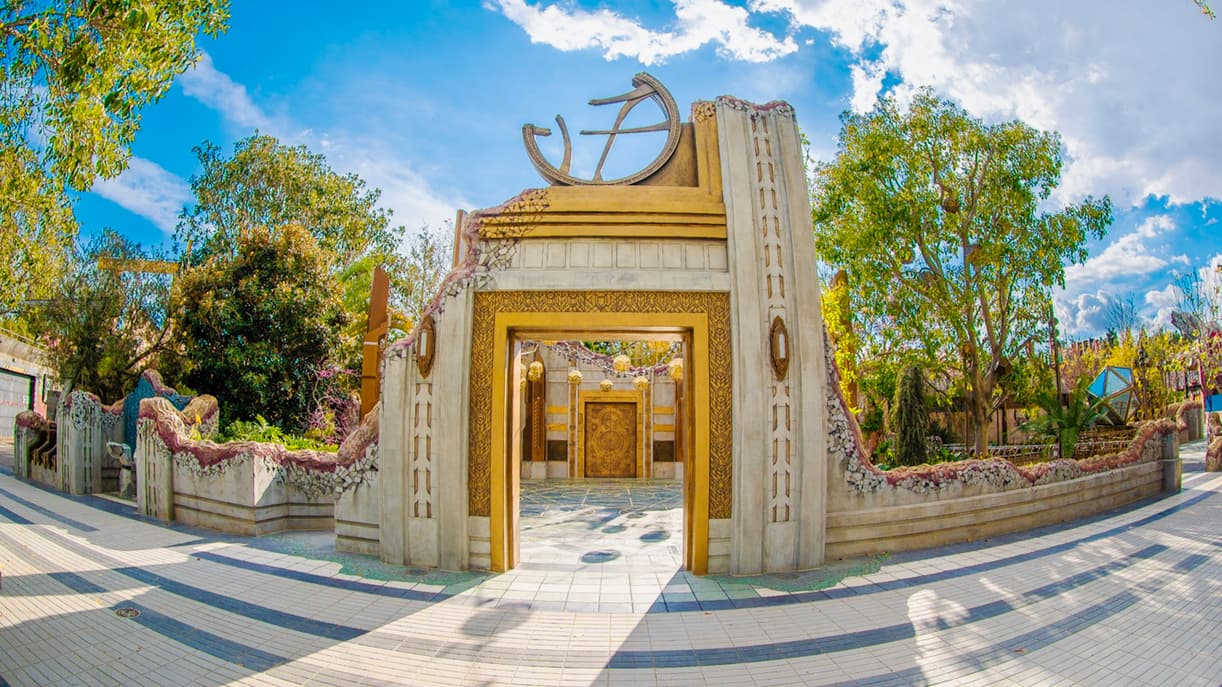 Heroic Encounters with the Avengers
It wouldn't be Avengers Campus without the Avengers hanging around! Over at Avengers Headquarters, guests may have the chance to see some of their favorite heroes such as Captain America, Black Panther or Black Widow assemble to survey the campus, ready to spring into action at a moment's notice and save the day. Not only that, but perched high atop the building is a shining Quinjet! Anyone looking to pick up some new heroic moves themselves can train with Okoye and the rest of the Dora Milaje to learn what it's like to be a member of this elite royal guard.
Down on the ground, guests can visit the Ancient Sanctum and learn mysterious secrets from Doctor Strange, where he'll train recruits in the ways of the mystic arts by bringing this Ancient Sanctum to life with powerful spells. At night, the Ancient Sanctum glows even more vividly with majestic colors and lights, pulsating with mystic energy.
Additionally, Iron Man has a new suit — the Mark 80 — and find the likes of Ant-Man and The Wasp, Thor, the Guardians of the Galaxy, and Captain Marvel, and more among those joining the action in Avengers Campus.
The Hype Box
Can't-miss news and updates from across the Marvel Universe!