Culture & Lifestyle
Published April 17, 2023
Marvel Day at Sea — Encounter the Largest Collection of Marvel Super Heroes
Wondering who you might meet sailing the high seas on the next Marvel Day at Sea?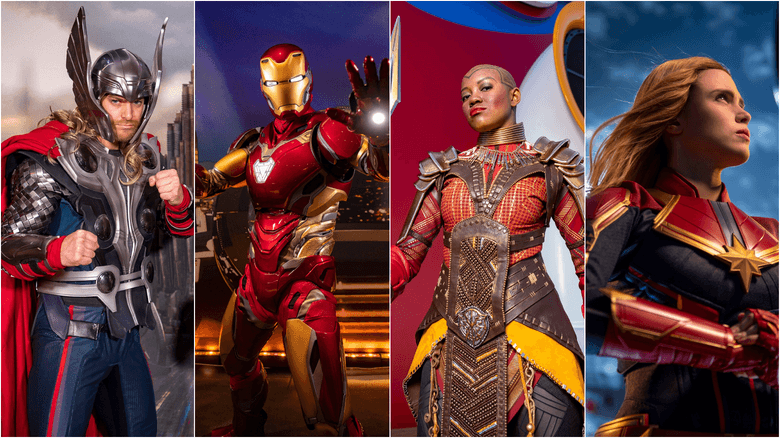 Looking for the largest collection of Marvel Super Heroes (and Super Villains) ever assembled? When it's time, you're going to want to charter a course for the nearest Disney Cruise Line port, because you'll find the most heroes sailing aboard the Disney Dream with Marvel Day at Sea!
Marvel Day at Sea combines the thrill of Marvel comics, film, and animation with the excitement you'll find onboard a Disney Cruise. The event features all-day entertainment, including meet and greets, stage shows, special screenings, merchandise, food and beverage, and activities for the whole family — both big and little Super Heroes.
And you can't fully immerse yourself in the Marvel Universe without rubbing elbows with some Super Heroes who you'll find meandering around the ship throughout the day, ready to stop, chat, and pose for pictures with excited voyagers. It's an experience and interaction you can only find with Disney Cruise Line, and it creates a truly unique opportunity because you never know where someone might pop up (like Captain Marvel just wandering around Deck 4 for an hour! The Tracksuit Mafia trying to pawn off free onboard items around the pool deck! Star-Lord yelling from one deck to another to get Thor's attention!).
While many characters are roaming about, guests on the sailing can actually schedule specific Heroic Encounters with some fan-favorite characters like Spider-Man, Iron Man, Thor, Loki, and the Guardians (be sure to check the Navigator App to learn out how to schedule these!). This gives guests a chance to meet characters during a 1-on-1 setting against a backdrop — be sure to smile for the photographer stationed there ready to snap all sorts of pics!
And that's still not all! For the 2023 season, there were almost 30 different characters onboard the ship. Plus, Mickey and his friends were all decked out in their Avengers best, too. Wondering who you might come across sailing the high seas on the next Marvel Day at Cruise? Here's every hero you might catch a glimpse of onboard:
America Chavez
Agatha
Ant-Man
Black Widow
Captain America
Captain Marvel
Doctor Strange
Gamora
Groot
Hawkeye
Iron Man
Kate Bishop
Loki
Mighty Thor
Ms. Marvel
Nebula
Okoye
Ravagers
Sam Wilson
Scarlet Witch
Shang-Chi
Shuri
Spider-Man
Star-Lord
Taskmaster
Thor
T'Challa Black Panther
Tracksuit Mafia
The Wasp
Wong
Mickey — Captain America
Minnie — Spider-Man
Goofy — Iron Man
Donald — Hulk
Daisy — Black Widow
Pluto — Avengers
Chip — Loki
Dale — Thor
Ready to set sail with the Avengers? Marvel Day at Sea returns on the Disney Dream in 2024 out of Port Everglades, and we can't wait to see what new, exciting opportunities await!
Marvel Day at Sea will be offered on 10 five-night Caribbean and Bahamian cruises sailing from Fort Lauderdale, Florida. 
Departing Jan. 7, Jan. 21, Feb. 4, Feb. 18, and March 3, 2024, the western Caribbean itinerary includes George Town, Grand Cayman, and Castaway Cay.
Departing Jan. 12, Jan. 26, Feb. 9, Feb. 23, and March 8, 2024, the western Caribbean itinerary includes Cozumel, Mexico, and Castaway Cay.
To learn more about Disney Cruise Line or to book a vacation, guests can visit disneycruise.com, call Disney Cruise Line at 888-325-2500, or contact their travel agent.
The Hype Box
Can't-miss news and updates from across the Marvel Universe!