Culture & Lifestyle
Published May 14, 2020
Marvel Battle Royale 2020 Kicks Off Quarterfinals with Venom vs. Ms. Marvel
Cast your ballot in the Marvel Battle Royale 2020!
The Marvel Battle Royale 2020 is sponsored by State Farm.
Face front, True Believers! The Marvel Battle Royale 2020 features 16 of your favorite characters going mano a mano! Every 24 hours, you'll be able to vote on who moves on to the next round—all the way until there's only one supreme Super Hero left standing! And it's continuing apace right now!
But first, what happened yesterday when Storm and Thor battled it out in a spectacular final match of Round 1?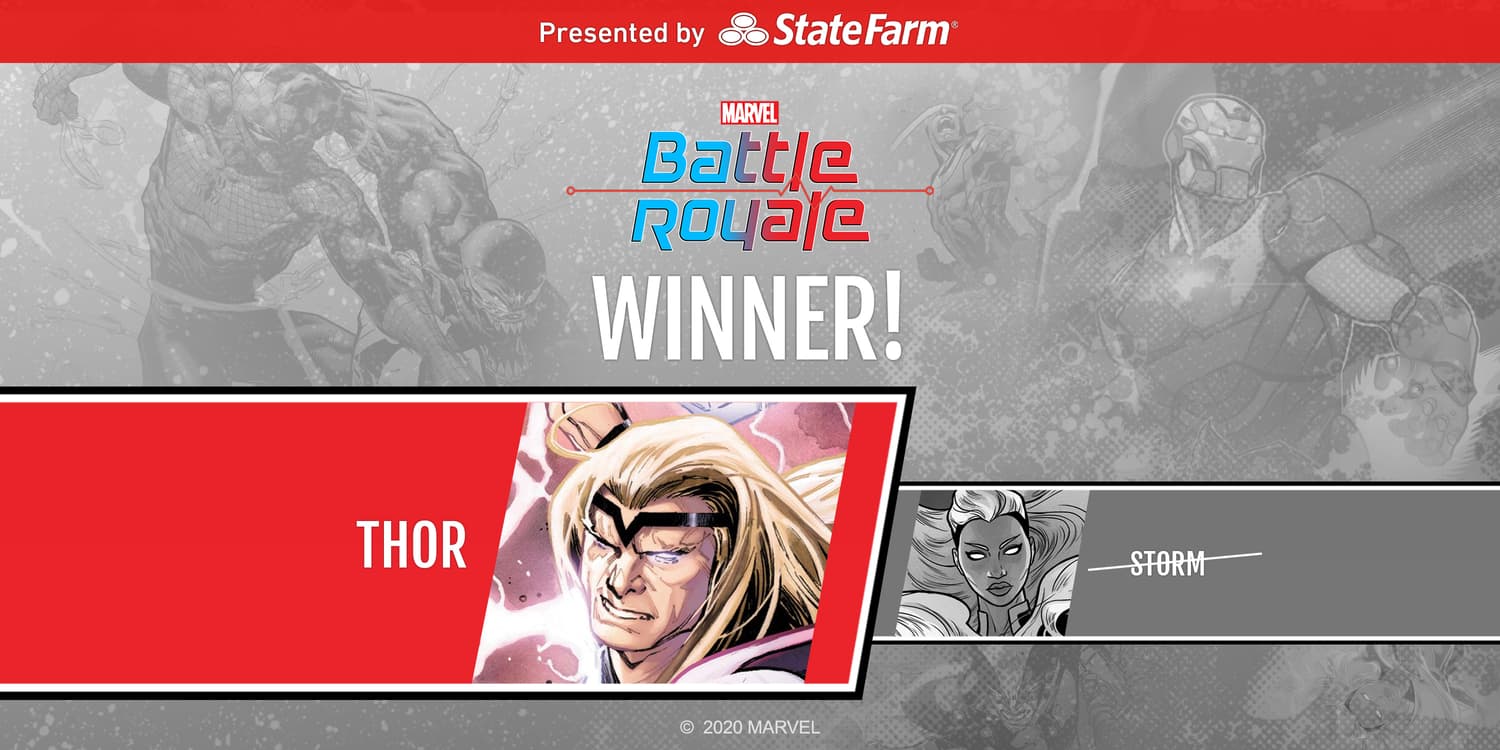 Not just anyone can take on Storm, but Thor proved he is Worthy! Now that the skies have cleared up a bit, take a look at the current standings: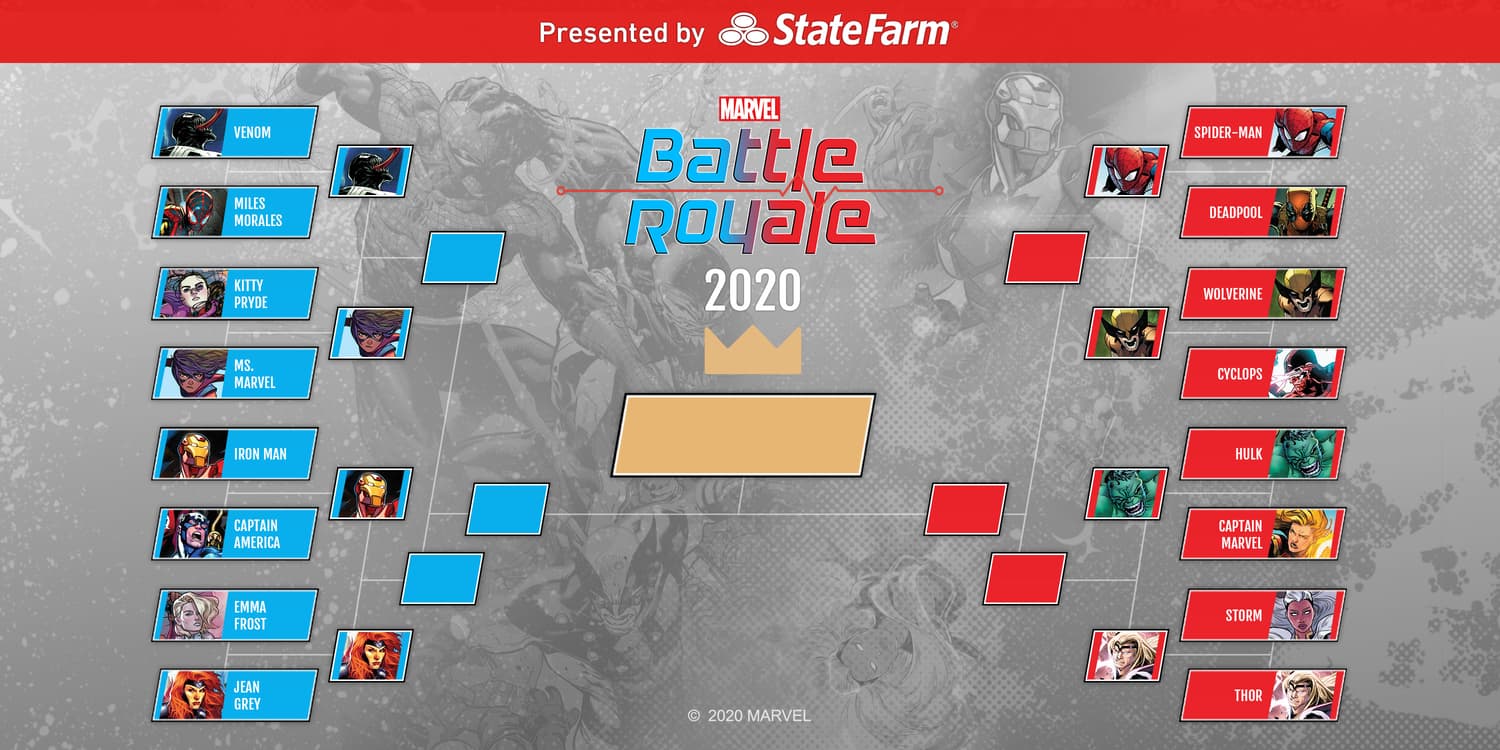 With that settled, it's time to kick it up a notch, True Believers! We're entering Quarterfinals with two heavy-hitters: Venom and Ms. Marvel!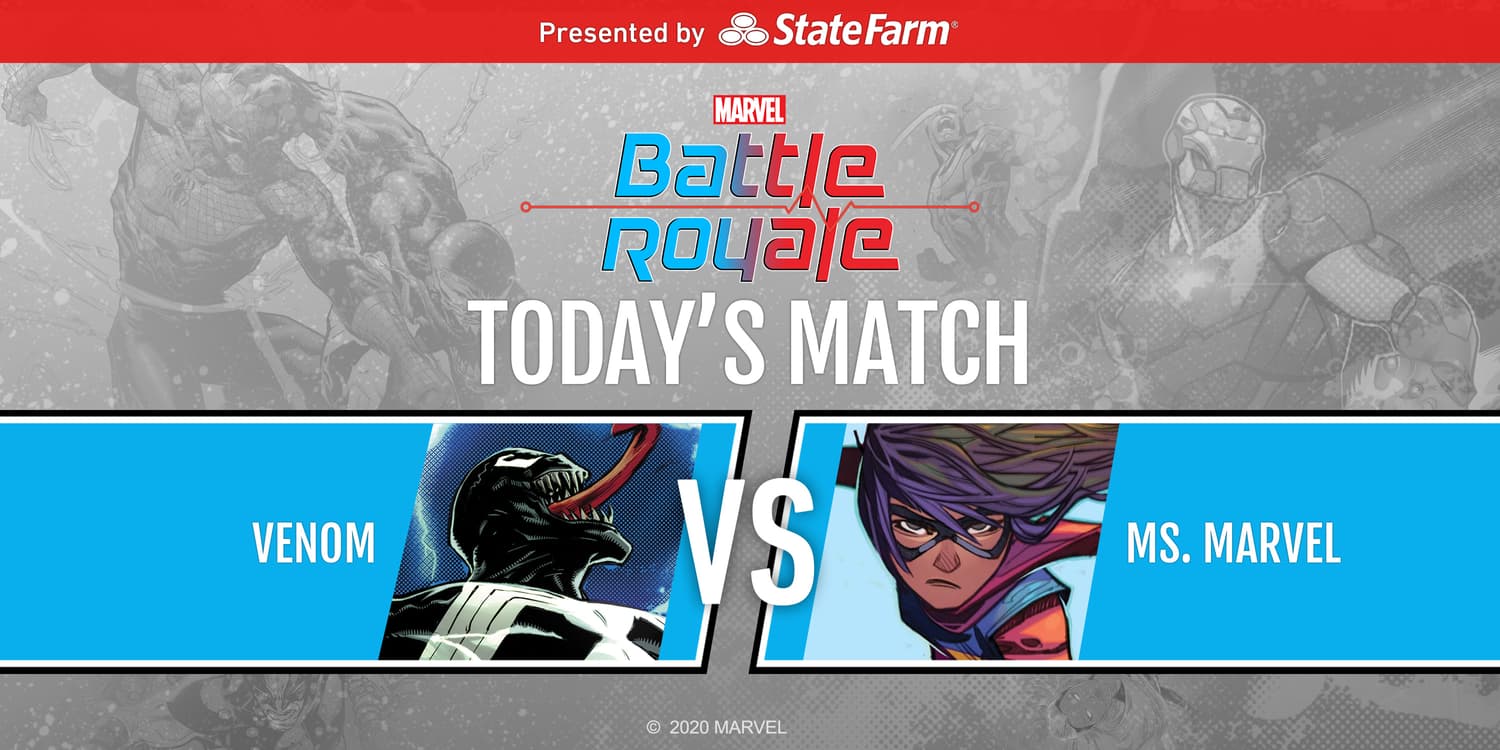 You can't sneak anything by a symbiote, but a shape-shifter like Kamala just might know how to do it! Both Eddie Brock and Kamala Khan gained amazing polymorphic powers from mysterious cosmic origins—Eddie from a Klyntar alien, Kamala from an ancient alien mist called Terrigen. But it's one thing to get new super-powers, and another to gain a super-fandom that carries you to Battle Royale victory! 
Don't forget that Venom has survived Battleworld (just the collapse of reality as we know it, no big deal) and fused with some pretty high-profile hosts in the Marvel Universe. And we're talking about the magnificent multi-tasker Ms. Marvel—she embiggens, she empowers, and she earns extra credit as the coolest Super Hero to write fanfic and also, you know, figure out the science behind her super-powers.
It's a battle of the fandoms! Winner claims new bragging rights on Earth-616 and probably a few extraterrestrial fans too.
Members of the Merry Marvel Marching Society, it's time for you to decide who emerges victorious. Head over to Marvel's Twitter, Facebook, or Instagram to cast your ballot in this thumpin' throwdown...right now!
Stay tuned to Marvel.com for more on the Marvel Battle Royale 2020! Onward!
The Hype Box
Can't-miss news and updates from across the Marvel Universe!