Culture & Lifestyle
Published April 19, 2023
Marvel Day at Sea — Spectacular Onboard Entertainment and Shows
Here's just a taste of what you can find onboard throughout the day!
Want to watch Doctor Strange conjure up some spells? Want to see General Okoye command an army of little heroes? Want to help defeat HYDRA? You can see and do all of this — and so much more — during Marvel Day at Sea sailings with Disney Cruise Line.
Marvel Day at Sea combines the thrill of Marvel comics, film, and animation with the excitement you'll find onboard a Disney Cruise. The event features all-day entertainment, including meet and greets, stage shows, special screenings, merchandise, food and beverage, and activities for the whole family — both big and little Super Heroes.
The whole day is themed around everything Marvel you can do (and eat), including a handful of different shows and spectacles you can see throughout the ship. If you just want to catch up on some movies and shows from the Marvel Cinematic Universe while at sea, you can, as they are constantly playing in the theaters on board and on the top deck with the world-famous Funnel Vision (Ant-Man and The Wasp: Quantumania was playing throughout the day in The Walt Disney Theater, while multiple episodes of WandaVision and Ms. Marvel were screened on the pool deck). But if you want to dive further into the Marvel Universe, here's just a taste of what else you can find during Marvel Day at Sea: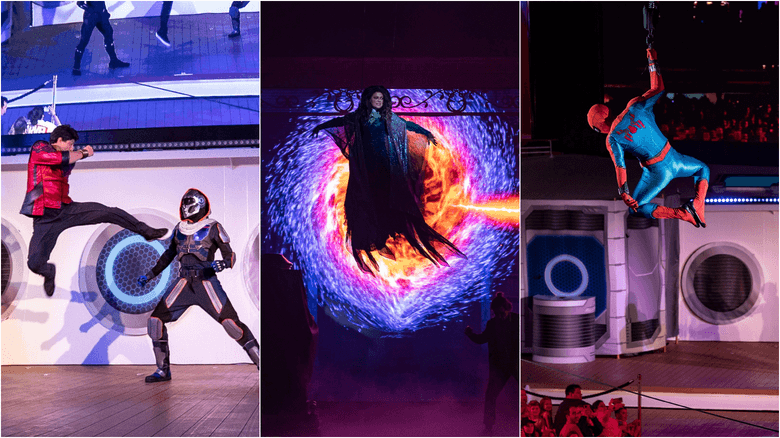 Warriors of Wakanda
General Okoye of the Dora Milaje makes her way to the atrium on the ship to invite guests of all ages to train like the mighty warriors. Do you have the inner courage and strength to fight alongside them? (Immediately following the first Warriors of Wakanda show of the day was something called "Little Hero Dash" which was a bunch of babies racing across the floor to be crowned the fastest baby on board, not something you should miss).
Strange Academy: A Spellbinding Spectacular
It's graduation day for the students of Strange Academy but things quickly go horribly wrong. Without spoiling anything about the show, join Doctor Strange and Wong as they battle forces in this dimension and the next while teaching everyone a very important lesson. Be prepared for a Broadway-style show as Strange Academy: A Spellbinding Spectacular takes place in The Walt Disney Theater!
Marvel Costume Celebration
If you've brought a Marvel-themed costume with you on the cruise throw it on for the costume celebration taking place in the atrium. Join dozens, if not hundreds, of fans showing off their best looks for everyone to see — and maybe see some other costumed characters show up too (hint hint, Mickey Mouse and Minnie Mouse).
Avengers Training Initiative
If you happen to send little heroes off to Disney's Oceaneer Club during the cruise they might get a front-row seat to the Avengers Training Initiative taking place there. But if bigger Super Heroes want to see it too, the show also takes place on the pool deck stage, inviting everyone to get in on the excitement. Can you help stop HYDRA? Little hero recruits are given shields and bows and arrows (completely safe, don't worry), to try and stop the organization from hacking into the mainframe.
Star-Spangled USO Show
Remember in Captain America: The First Avenger when Steve Rogers goes off on a USO tour to support the troops? Well, now that's happening in real life during Marvel Day at Sea. Join some of the USO singers as they put on a show in one of the lounges…and maybe a special guest might show up, too (ok, the special guest is Captain America, obviously).
Marvel Heroes Unite
After dinner, the one thing you don't want to miss is Marvel Heroes Unite. Taking place on the top decks of the ship, watch every single Marvel Hero onboard come together to try and stop every single Marvel Villain onboard. It's unlike any show you've ever seen before, combining Super Heroes, stunts, fireworks (!!), and the excitement you've come to know and love from the Marvel Universe. Don't miss it.
Ravagers Club
This one is for adults only, and it's because the Ravagers can get kind of rowdy. After the little heroes are sound asleep, head down to Evolution, one of the adult lounges to hang out in the Ravagers Club, which is full of — you guessed it — Ravagers. And they do not want to dance. But you can grab a drink, dance, and mingle with the space pirates.
Ready to set sail with the Avengers? Marvel Day at Sea returns on the Disney Dream in 2024 out of Port Everglades, and we can't wait to see what new, exciting opportunities await!
Marvel Day at Sea will be offered on 10 five-night Caribbean and Bahamian cruises sailing from Fort Lauderdale, Florida. 
Departing Jan. 7, Jan. 21, Feb. 4, Feb. 18, and March 3, 2024, the western Caribbean itinerary includes George Town, Grand Cayman, and Castaway Cay.
Departing Jan. 12, Jan. 26, Feb. 9, Feb. 23, and March 8, 2024, the western Caribbean itinerary includes Cozumel, Mexico, and Castaway Cay.
To learn more about Disney Cruise Line or to book a vacation, guests can visit disneycruise.com, call Disney Cruise Line at 888-325-2500, or contact their travel agent.
The Hype Box
Can't-miss news and updates from across the Marvel Universe!