Culture & Lifestyle
Published October 4, 2019
NYCC 2019: New Details About Disney's Hotel New York and Avengers Campus
Recruitment begins soon!
Earlier this year at the D23 Expo, we learned some brand new information about Avengers Campus at Disneyland Park in California and Disneyland Paris, along with other exciting heroic elements coming soon around the world. Before these locations and attractions open up to new recruits, we learned a handful of more details out of New York Comic Con 2019.
Disney's Hotel New York – The Art of Marvel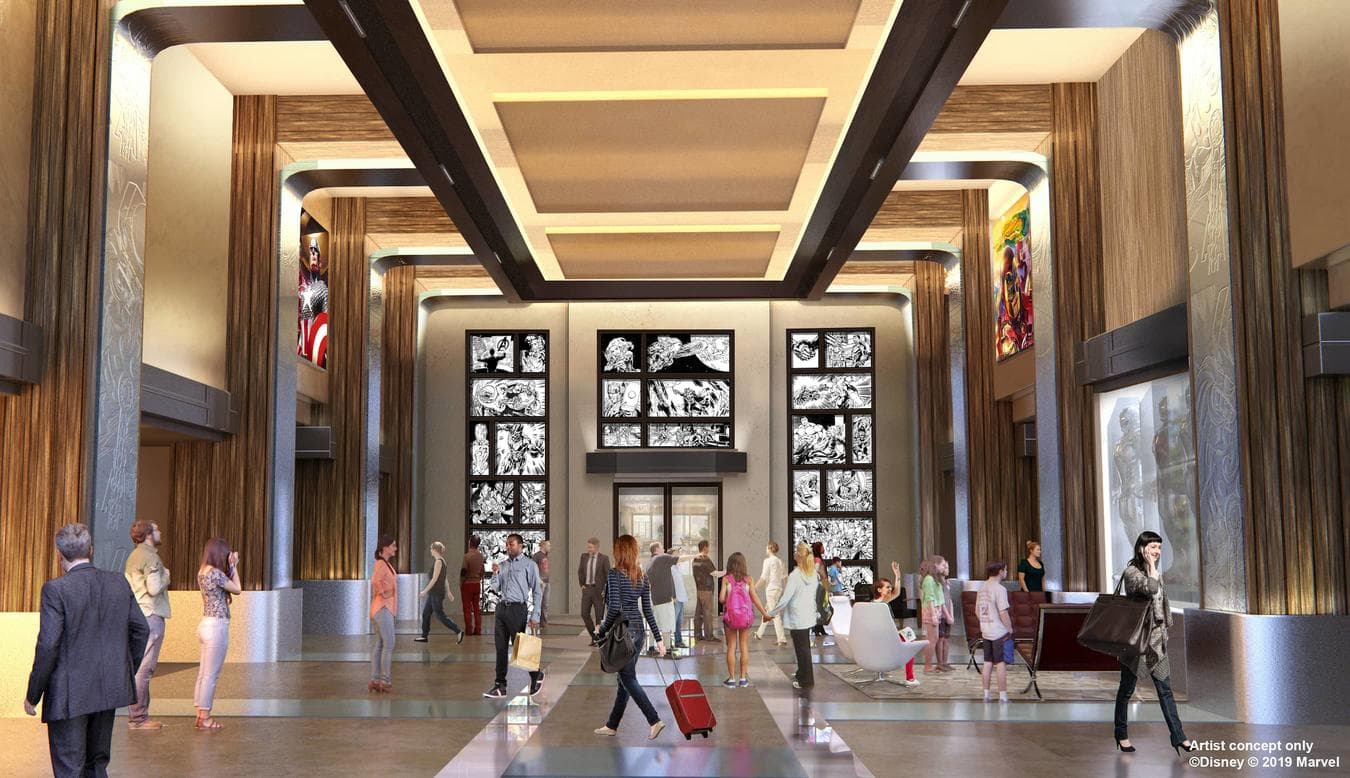 The former New York-themed hotel at Disneyland Paris is getting a brand-new makeover and that includes over 300 pieces of exclusive Marvel artwork from dozens of different artists from all over the world, including Carlos Gomez (who created the artwork in the hotel's lobby) and Skottie Young whose artwork is featured in the Downtown Restaurant.
The hotel will also boast "heroic encounters" at the Super Hero Station where you can meet Avengers in real life, along with photo backdrops allowing you to step into the artwork for unique picture opportunities which are exclusive for hotel guests. And as you wander around the hotel, you never know what other characters you might run into.
Guardians of the Galaxy: Cosmic Rewind
When the family coaster opens in Epcot's first "otherworld showcase," visitors will find themselves in planetarium-like exhibition from the planet Xandar and then load onto the first attraction that launches backwards. Not only that, but the cars will rotate towards different story beats along the ride track to only heighten the cosmic adventure more. Plus, since this is Epcot, expect to find some real-world information about space and beyond in the preshow queue.
Avengers Campus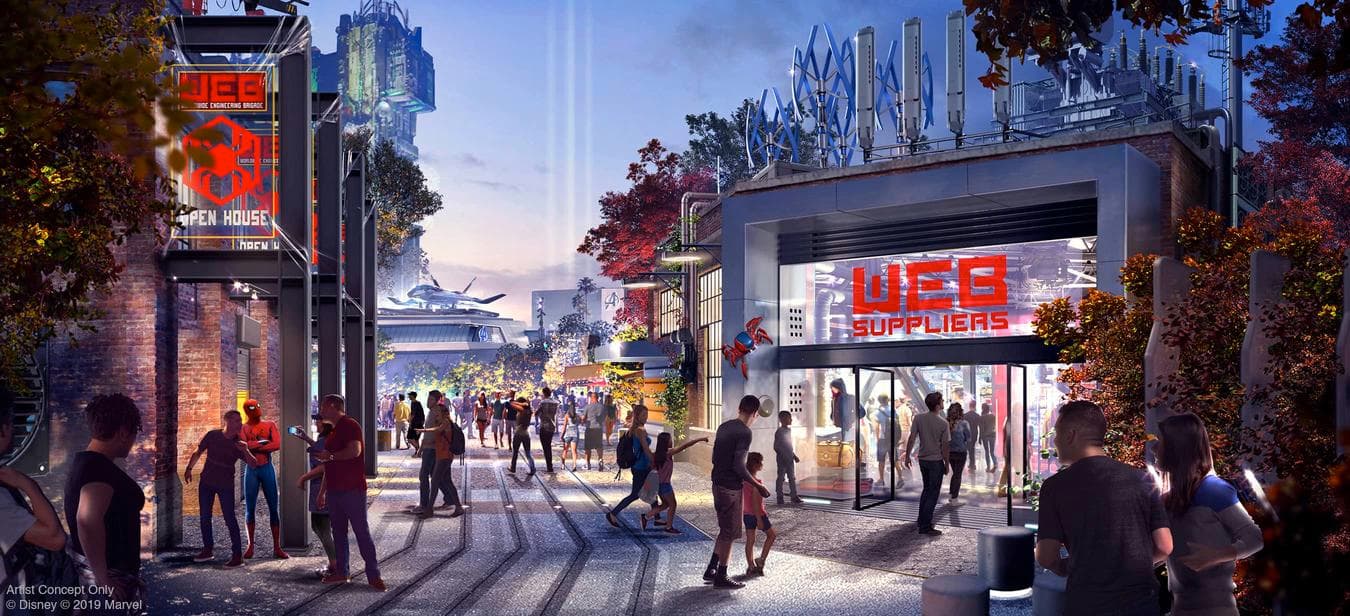 Starting in 2020 at Disneyland Resort and Disneyland Paris, guests will find themselves inside a brand-new land featuring some iconic super heroes and even get to join in the fight themselves, too. The Avengers Campus will feature attractions, merchandise locations, a new eatery, and also heroic encounters in the ruins of a former Sanctum Sanctorum and you never know who might show up.
Avengers Campus will be the home of the new Spider-Man experience, housed in the Worldwide Engineering Brigade — aka, WEB — and will be the first Disney ride-through attraction to feature the webslinger. Visitors to WEB will find themselves helping Spider-Man try and catch "spider-bots" that need to be web'ed-up. During the panel it was also explained that guests on the attraction will be able to shoot their own webs out of their wrists via immersive technology. Also, if you happen to spot Spider-Man walking around the Avengers Campus, he'll be wearing an exclusive Spidey-suit, which NYCC attendees got a look at over at the Marvel Booth.
If you're hungry, head over to the Pym Test Kitchen. The food there will feature items that have been "enhanced" with Pym Particles, which means they might have been shrunk down in size, or grown to larger proportions, just like Ant-Man and Wasp themselves. While no specific menu items have been released yet, it's been said that the food at the Pym Test Kitchen will be the most Instagrammable Disney Parks food you've ever seen!
Avengers Campus will also include the construction of a giant, life-size Quinjet. If it makes you want to fly in one yourself, you're in luck as the second all-new attraction will give guests the opportunity to fly in one.
In phase two, what starts off as a routine group adventure on the Quinjet with our heroes suddenly turns into an individual one as guests now have to fight alongside our heroes in Wakanda and beyond. To do this, Walt Disney Imagineering is creating a brand-new ride technology that will be unlike anything we've ever seen before.
For all the news coming out of New York Comic Con 2019, stay tuned to Marvel.com/nycc2019!
The Hype Box
Can't-miss news and updates from across the Marvel Universe!