Culture & Lifestyle
Published March 8, 2019
The Cast of 'Marvel Rising' Recognize the Women Who've Shaped Them
On March 8 every year, International Women's Day to celebrate women's achievements and to bring awareness to what more can be done to bring gender parity. According to the International Women's Day website, this day is "all about unity, celebration, reflection, advocacy and action."
Marvel.com had the opportunity to talk to some of the stars of the upcoming "Marvel Rising: Heart of Iron" about the women who've shaped them.
Ming-Na Wen (voice of Hala):
"This is an easy answer; my mother has definitely been the woman who has shaped my life and given me great advice and an example of what a strong woman can be," shared Wen. "She's tough but she's also heart and I think what she's taught me is that even if you feel like there's limitations put upon you by society, you just have to believe in yourself and prove them wrong."
Sofia Wylie (voice of Ironheart):
"The strongest women in my life are definitely my mom and my older sister, Isabella," revealed Wylie. "They teach me so much about knowing how you are at such a young age to. My sister is only two years older than me but she's just the strongest teenager I know. They really just empower me to be the best that I can be and to do anything."
Tyler Posey (voice of Inferno):
"I would not be here without women and that is true in more ways than one," said Posey. "My mother, not only did she birth me but she helped make me who I am today. She had the greatest personality and loved life and was realistic and was really happy and knew how to have fun. I feel like I got a lot of that and the drive is always there. She taught me that, and to keep pushing and be passionate and have goals and have fun along the way. I thank my mom so much for making me the way that I am, a happy go lucky kind of person. And my girlfriend Sophia. She has helped me a lot with just growing to be the person that I want to be. She's shown me some really cool insight on stuff. I would not be the same without her. So thank you, honey. And my future daughter. Watch out for those boys, sweetheart."
Kamil McFadden (voice of Patriot):
"Two women who have shaped me into the man I am and pushed me to be better are my mother and grandma," shared McFadden. "My mother has sacrificed tons to get me where I am today and my grandmother did as well. Without them, I wouldn't be where I am so thank you both."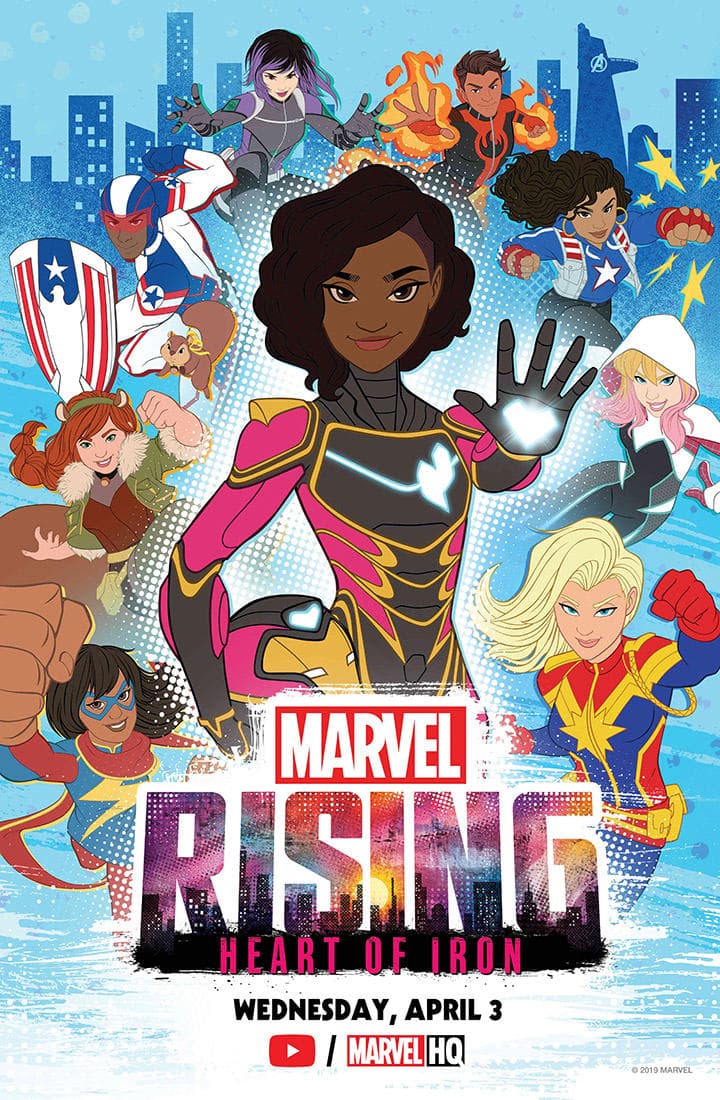 "Marvel Rising: Heart of Iron" will premiere on Wednesday, April 3rd on Marvel HQ.
In need of more Marvel women? Several Marvel team members share the joys of mentorship.
For more information, check out "Marvel Rising" on Facebook, Twitter, and Instagram. Subscribe to Marvel HQ on YouTube for full episodes and more!
The Hype Box
Can't-miss news and updates from across the Marvel Universe!