Games
Published March 29, 2017
A.I.M. Institute, Hydra School and Attuma's Undersea University Join Forces Against 'Marvel Avengers Academy'
For the first time, use the Helicarrier for away mission field trips!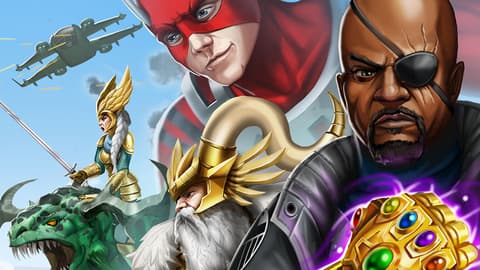 After being defeated multiple times by the kids at "Marvel Avengers Academy," A.I.M. and Hydra decide to join forces, and reach out to Attuma and his villainous underwater school to form a coalition of evil. The trio of villainous schools take a new approach to their attack by imprisoning the Academy's faculty first, leaving the school in disarray. The students have to overcome their personal rivalries and the villainous invaders to free their mentors, imprison the evil leaders, and restore order.
We tapped Allen Warner, Lead Narrative Designer at TinyCo, to get the full rundown on this new 4-week faculty event that kicks off tomorrow.
Marvel.com: The stakes are different in the latest threat facing Avengers Academy. How do the students find themselves without their teachers and mentors?
Allen Warner: While the Academy was distracted with Ultron's revolution and rampaging monsters, their rivals have been plotting a way to finally defeat the Avengers once and for all. The A.I.M. Institute was crushed with the help of M.O.D.O.K., Phil Coulson, and Squirrel Girl, and Hydra School was dismantled when their star pupil Red Skull was captured and Madame Hydra defected to join Avengers Academy. Arnim Zola has since taken control of Hydra, and Scientist Supreme has started to rebuild A.I.M., but they realize that their only chance to ever beat the Avengers is to join forces with another villainous school and launch a three-pronged attack. They convince the aquatic conqueror Attuma and his Undersea University to launch the assault, hitting the Academy with giant tidal waves, docking massive battleships at the gates, and capturing the faculty in an attempt to throw the campus into disarray.
Marvel.com: A three-school team-up is easily the biggest enemy our heroes have faced. What will they have to do to defend the campus and free the faculty? What new ways can players prepare and battle their foes?
Allen Warner: Each week, the heroes will face a new faction's boss, battleship, and minions. Attuma's Lemurian minions are different from any henchmen group we've ever made, and the coolest yet in my opinion. Besides the rotating factions, the other thing that's completely new to this event is allowing the player to battle using the Helicarrier. Each villainous faction has a battleship, and players will attempt to destroy their ships with the Helicarrier.
Marvel.com: How will the combo of Attuma, Zola, and Scientist Supreme shape the event district?
Allen Warner: The event district looks awesome. The entire area is submerged in water due to Attuma's tidal waves, and each villainous group arrives with an aquatic headquarters and battleship befitting their theme. Attuma and his forces arrive with a gigantic armored sea creature, Hydra has a flying fortress, and A.I.M. has some crazy floating future-tech.
The event building is really cool too. Tony Stark builds an aquatic center to help everyone train for underwater combat, but since it's Tony it's equal parts practical, creative, flashy, and fun.
Marvel.com: What characters will be recruitable this time around?
Allen Warner: Some legends of Avengers Academy and overall Marvel lore. Odin, Nick Fury, Leader, J.A.R.V.I.S., Frigga, and Hank Pym. It's awesome to finally make some of our established faculty available, and great to introduce these other iconic characters. It's a lot of fun to see how these (generally) more mature mentors interact with the crazy kids of Avengers Academy.
Marvel.com: Several members of the Avengers Academy staff can be recruited here. Has this been the plan from the beginning? Or did the team decide sometime after launch to make these characters playable?
Allen Warner: We always knew we'd make the faculty playable at some point. It just wouldn't seem right to have these iconic characters walking around campus without making them recruitable. We wanted to wait to make the moment they stepped into action feel really special, and it's really exciting to me because some players have been interacting with these characters for over a year, and now they can make them their own, and dig into their personal stories instead of having them appear in some other hero's story. Anyone following the overall story knows that Odin, Hank Pym, and Nick Fury know the secrets behind the origins of Avengers Academy, the timefog, and these younger heroes and villains. We also know that they're hiding multiple objects of immense power underneath the campus. Some big pieces of both of those mysteries will be revealed during this event.
Marvel.com: What outfits will the heroes wear to counter this coalition of evil?
Allen Warner: There will be some really cool aquatic themed outfits for Enchantress, Falcon, and Iron Man, combat-oriented outfits for Peggy Carter, Odin, Frigga, Leader, and J.A.R.V.I.S., and one of our most requested outfits: Bruce Banner Hulk. I know I've said this before, but these are some of the coolest outfits we've made, and our incredible art team outdid themselves yet again. The combat outfits in particular are really varied, and unexpected, and unlike anything that's been in the game to this point.
Marvel.com: Beyond that, can you give us any other hints about what's to come?
Allen Warner: Nick Fury will do something during this event that draws the attention of the entire cosmos, and the Avengers will need the help of some old friends and new recruits to guard their corner of the galaxy.
The Hype Box
Can't-miss news and updates from across the Marvel Universe!