Games
Published July 27, 2017
An Armored Trio Wages War on Avengers Academy
The Academy and Avengers can't escape Vulture's tech!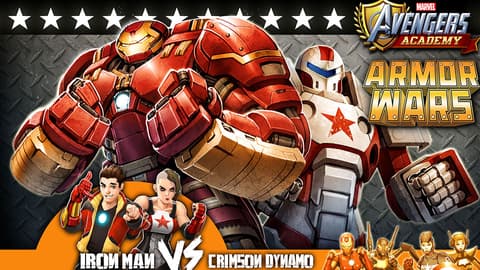 With Vulture defeated and the Midtown Sci-Tech Homecoming dance saved, Spidey and the rest of the students at the Academy might have thought they'd have some time to relax. Unfortunately, a few new foes with a shared grudge against Tony Stark have gotten their hands on Vulture's tech and started building their own suits of power armor. Their new factory can be seen from the Academy and the Avengers need to band together (along with some new friends) to tackle this new threat.
Marvel.com: Vulture's been dispatched, but everyone at Avengers Academy is still feeling the effects of his tech. What do these familiar villains have in store for our heroes?
Allen Warner: At the end of the 'Spider-Man: Homecoming' event, we found out that Vulture had been selling some of his scavenged tech and weapons to clients across the globe.  A few of these buyers are known enemies of Tony Stark who are using these materials to create new armor and weapons based on his designs.  Crimson Dynamo and Whiplash have personal vendettas against Iron Man while Yellowjacket orchestrates everything in an attempt to finally get Cross Technologies out of the shadow of Stark Industries.  They each have powerful armors of their own, but Crimson Dynamo is also attempting to build the most powerful armor that's ever existed based on a stolen Hulkbuster prototype.
Marvel.com: Where are they going to hole up to launch their attacks on the campus?
Allen Warner: The armored trio have built a massive factory turned fortress where they each have their own work areas, and Crimson Dynamo is constructing her armored behemoth.  It's really cool-looking structure where everyone has a section that fits their personality and skillset.
Marvel.com: With their foes decked out in new armor, surely some of the students will don new armor of their own?
Allen Warner: Yes!  There are new outfits for Wasp, Captain America, Enchantress, and Iron Man, including the debut of Tony's iconic Hulkbuster armor.  I'm really excited about getting armored outfits for Wasp and Cap as Tony's best friend and best frenemy.  It made too much sense that he would want to design custom armors for each of them, and the art team knocked it out of the park with their designs.  Enchantress has her own very Enchantress take on Iron Man armor, and we'll also be bringing back one of Loki's coolest armored outfits.  As anyone who plays the game knows, Tony is always eager to outfit his fellow heroes in customized armor, so we'll also be bringing back some of our awesome armored outfits and characters from previous events.
Marvel.com: And who can players expect to join the fight (and the Academy) in the effort to stop Whiplash, Yellowjacket, and Crimson Dynamo?
Allen Warner: Iron Lad and Ironheart will be coming to the Academy to join the fight.  Iron Lad is a really interesting character who continues to build our roster of 'Young Avengers,' and of course couldn't be more closely tied to one of our previous villains, Kang the Conqueror.  We'll learn that Kang is more involved in these Armor Wars than you might expect.  Everyone is really excited about bringing Riri Williams to Avengers Academy.  She's such a cool new character, and while her dynamic with Tony in the current comics is really interesting, her relationship with this younger version of Tony is something different altogether.  Both of these characters look great, and have some really fun animations, and I think people will be really pleased to make them a part of their campus.  As the Armor Wars are waged, Iron Man's enemies will begin to see the error of their ways, and players will also be able to recruit Yellowjacket, Whiplash, and Crimson Dynamo.  They all turned out awesome.  Crimson Dynamo will be an early access character who will later be available as part of the main game, and I honestly believe she's one of our coolest reimagined creations in this world.  I love her personality, and all three of her visual levels are some of the best we've ever made.  She's no doubt one of my favorite characters in the game.
Marvel.com: The Armor Wars will end a little more swiftly than the last few events, so players are certainly eager to know what's coming next. What can you tell us about the myriad threats on the horizon for Avengers Academy?
Allen Warner: We'll be returning to Hell's Kitchen to meet some new recruits, make some new enemies, and bring some iconic outfits to some old friends.
The Hype Box
Can't-miss news and updates from across the Marvel Universe!