Games
Published February 3, 2017
Avengers Academy: From Concept to Hero
Learn how the good guys get going in the hit mobile game from TinyGo!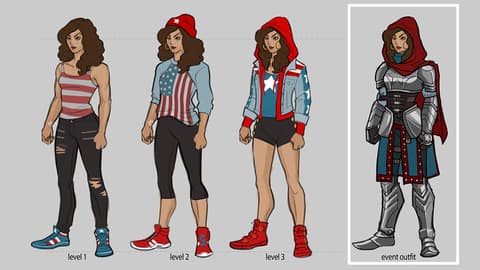 Not too long ago, we showed you how the team at TinyCo creates the various animations for the heroes and reformed villains that make up the student body in "Marvel Avengers Academy." But how do the characters in this game get that special something that makes their world feel unique and cohesive? We wanted to know, and figured you did too!
So we borrowed Melissa Hester, Lead Concept Artist at TinyCo, to get a look at the process behind the creation of all our favorite students and faculty at "Marvel Avengers Academy."
Marvel.com: Where does character design for "Avengers Academy" begin? Are the heroes and villains who appear in the game picked first, and then given their unique style from there, or do you sketch out what they will be like in-game a little bit as part of the selection process?
Melissa Hester: For each event Allen [Warner], our main writer, comes up with a set of Marvel characters for us to work on. Before I get started sketching out a concept, me and Allen chat for a bit about the character and what their personality is like. We have a lot of fun thinking of what kind of school archetype they would be and how they might fit in at the Avengers Academy.
Marvel.com: Once you've settled on a character who will definitely be in the game, how do you go about fine-tuning them for final release?
Melissa Hester: When we have a good direction for a character to go in, I start gathering references off the internet. I'll first collect a bunch of references of the character and how he or she has evolved in Marvel history. Taking note of important symbols or any important designs within the existing character. I also get tons of reference art from Tim [Hernandez] and Isabel [Hsu] over at Marvel Games. From there I basically go online shopping for them! [Laughs] It's my favorite part. I'll look for an outfit that is modern and stylish but also something I feel they would choose. Once I've settled on a few different outfits I start sketching them out.
Marvel.com: The process must be very collaborative. What do the different groups contribute to the process, and when?
Melissa Hester: It is very collaborative! When I have sketched out several different looks for the character, we gather around and start narrowing in on the final look. First I meet with my art lead and Allen, but there are times we like to get the 3D and animation leads involved too.  I love getting the team's reactions and finding out who is digging what. Sometimes I'll have a lot of feedback and do more concepts and other times I'll hit a homerun from the get-go. Either way, it's a fun process to discuss who each character is and sort of nerd out about them with the team here. Eventually we settle on a design internally and we then send them off to our Marvel team to get their input and a final character approval.
Marvel.com: How has the procedure changed from designing the initial cast to the new characters we see today?
Melissa Hester: In the early stages of our game we tried a few different approaches to doing character concepts. At the time David was our only lead artist and had set the art style for the game, but we were still trying to figure out how they fit into a modern fashionable world. We made a large sheet of paper doll style thumbnails for each character, that way we could run through a bunch of ideas really quickly. We did a lot of experimenting with trying to balance modern fashions with iconic super hero styles. Once we figured that all out the character design process became much simpler.
Marvel.com: Does the method vary from event to event?
Melissa Hester: Sometimes. If we are doing an event that coincides with a movie, like our Doctor Strange event, then we have a pretty clear direction for how we want the characters to evolve. But when we do an event with characters that haven't been in the spotlight for awhile, Jocasta for example, we usually take more time trying to modernize them. It's more challenging for me to work on those characters but also much more exciting!
Marvel.com: Have any of the Avengers Academy students or faculty changed drastically from their initial concept?
Melissa Hester: We usually have a good idea for each character's personality based off who they are in the comic books, so we never go in a direction that's too off course with who they are. But with that said some characters had several make-overs. Hawkeye, Black Widow, and Captain America all went through a long process of design. Black Widow went from being goth, to a heavy metal rocker, and then to her current bad-ass self!
Marvel.com: Who have you most enjoyed designing?
Melissa Hester: All of them! [Laughs] It's really hard to choose, they are all so much fun. I think Enchantress stands out from the rest because she was the first character I designed for our game. I love a sassy mean girl, so I was excited when she was handed to me. I spent a long time trying to figure out how to combine her classic style with something modern. I tried several different approaches with sketching her out and there is an interesting evolution that takes place in her design that the other characters I've worked on don't have. I also had a blast working on our A-Force event; I'm a sucker for strong female super heroes, like America Chavez!  Her design is one of my favorites from the Marvel Universe. I feel lucky to have been able to work on her for "Avengers Academy. "
Any new characters coming up that you think fans will be excited to see in the world of "Marvel Avengers Academy?"

Melissa Hester: Yes, Wiccan is coming soon! He will be part of our Young Avengers event which is coming soon.  I absolutely adore him and his whole romance with Hulkling! I had hearts in my eyes when I worked on those two. [Laughs] I'm really looking forward to getting them in my game!
Keep up with all the latest news on "Marvel Avengers Academy"!
The Hype Box
Can't-miss news and updates from across the Marvel Universe!