Games
Published March 14, 2018
Battle an Army of Hulks in 'Marvel Avengers Academy'
World War Hulk is coming to the mobile game!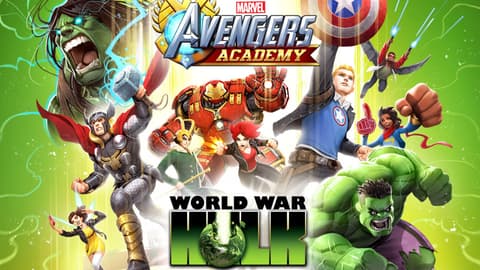 In the world of "Marvel Avengers Academy," Thanos continues to make his way toward Earth—and leaders across the world are preparing for the worst.
In the United States, the government decided to re-create the experiment that turned Bruce Banner into the Hulk, thinking that an army of Hulks could help fend off the might of the Mad Titan! But, of course, the original experiment was never intended to create the Hulk in the first place, and this one didn't go as planned either. Now with a legion of rampaging Hulks on their doorstep—led by a familiar foe—the heroes of "Marvel Avengers Academy" have an incredible problem to deal with if they want to be ready when Thanos arrives.
We grabbed a few minutes with Allen Warner, Lead Narrative Designer at TinyCo, to get every smashing detail of this new World War Hulk event.
Marvel.com: As the players and development team alike settle into the world of Avengers Academy 2.0, should we expect to see any tweaks or changes to this event in comparison to the Black Panther event?
Allen Warner: Absolutely. We're constantly listening to our players, and will be regularly making changes and additions to create the best experience possible in this event, and everything we do moving forward. One example in this World War Hulk event is that we doubled the amount of narrative content from our previous event because players wanted more story and character interactions. In the near future, we'll be adding exciting new features, new ways to recruit your favorite heroes, and a whole lot more.
Marvel.com: The government just loves their super soldier experiments. Why are they trying yet again to recreate Bruce Banner's Hulk experiment-gone-wrong?
Allen Warner: The imminent arrival of Thanos has the entire planet panicked. The government knows they aren't capable of defending against Thanos, and they don't want to be completely dependent on the Avengers, so they attempt to create their own army of super heroes by replicating the Hulk's transformation—because as we all know, he's the strongest there is. They use the Los Diablos Missile Base where Hulk's transformation took place to create a new army of gamma-powered superhumans. Unfortunately, they quickly lose control of the new Hulks, and they tear across the planet, led by the baddest of the bunch, Abomination. The government tries to make up for its mistake by attacking not only their new Hulks, but all of the original Hulks, with an army of knockoff Hulkbusters, based on Iron Man's original design. Things get even worse when Abomination decides to use the missile base for his own purposes, and takes the government's plan to the extreme by launching a series of "gamma bombs" that will turn everyone on the planet into a crazed Hulk.
We thought it would be really cool to do a Hulk-centric event around this time since Amadeus Cho's "World War Hulk II" story is set to launch and Bruce Banner is returning to comics in IMMORTAL HULK. Hulk and the extended Hulk family of characters have always been a huge part of our world, so it's always great to have stories centered around them and everything that makes each of them so unique and fun. We took this opportunity to include and celebrate every Hulk related character in our world, so you can expect to see Amadeus Cho, She-Hulk, Leader, Red She-Hulk, and many more.
Marvel.com: In order to defeat this army of new Hulks, which new heroes will the Academy recruit?
Allen Warner: The Avengers will be getting some help from longtime Hulk supporting characters, Skaar and Rick Jones. Skaar is Hulk's son from another planet in another universe, who has arrived to help his extended Hulk family battle Abomination and the Hulkbusters. He has some really fun interactions with all of the other Hulks running around campus, as well as heroes from the original World War Hulk storyline, and some awesome animations that showcase what makes him so different from the rest of the Hulks.
Rick Jones is Hulk's longtime sidekick, and has been a part of the Avengers Academy universe since our original Gamma Event in the form of A-Bomb, but this is Rick Jones from the Ultimate Universe who has some insane powers, and has taken on roles reminiscent of everyone from Nova to Captain Marvel at various times. He's very different from A-Bomb in terms of powers and personality, so it was a lot of fun to have him interact with his self from another universe, along with our Captain Marvel, our Hulk, and many more.
Marvel.com: For those players who missed out on previous Hulk-related events, will any previous heroes be available to recruit again?
Allen Warner: Yes, we'll be bringing back both Hulk and Red Hulk, and will be adding new combat animations and stories for both.
Marvel.com: Generally, it takes a Hulk to beat a Hulk. Can we expect the Hulks currently attending Avengers Academy to suit up in special gear for this fight? Any unexpected heroes joining them?
Allen Warner: Yes, there will be three amazing new outfits for Hulk, Skaar, and Vision. The Vision outfit is a direct callback to a classic from the comics, while the Hulk and Skaar outfits take inspiration from various looks and storylines to create something brand new. Our art team once again did an incredible job with these, and I think people are going to think they're really cool. Vision may seem like an odd fit, but it was a great opportunity to touch on what he's been up to, and tease a little bit of what's coming soon. Vision has been busy working on a secret project to help bring a very special hero to the campus, and with his work complete, he can turn his attention to helping the Hulks.
Marvel.com: Can you give us a taste of what's on the horizon beyond World War Hulk?
Allen Warner: While Abomination and his army of Hulks have been wrecking cities across the globe, and Thanos's arrival has everyone panicked, a criminal mastermind new to the world of Avengers Academy has seized the opportunity to start a war amongst New York's most powerful crime families. It's a battle of various villains that threatens to engulf the whole city, and the Avengers will need help from Jessica Jones, new antiheroes, and old friends to save the day.
For even more Hulk, check out "World War Hulk II," which kicks off in the pages of INCREDIBLE HULK #714, by Greg Pak and Carlo Barberi, on March 21! And for all the latest updates on "Marvel Avengers Academy," visit Marvel.com and follow us on Twitter @MarvelGames!
The Hype Box
Can't-miss news and updates from across the Marvel Universe!