Games
Published October 1, 2020
Celebrate Seven Years of 'Marvel Puzzle Quest'
The team behind 'Marvel Puzzle Quest' reflects on its accomplishments and reveals what to expect in the year to come!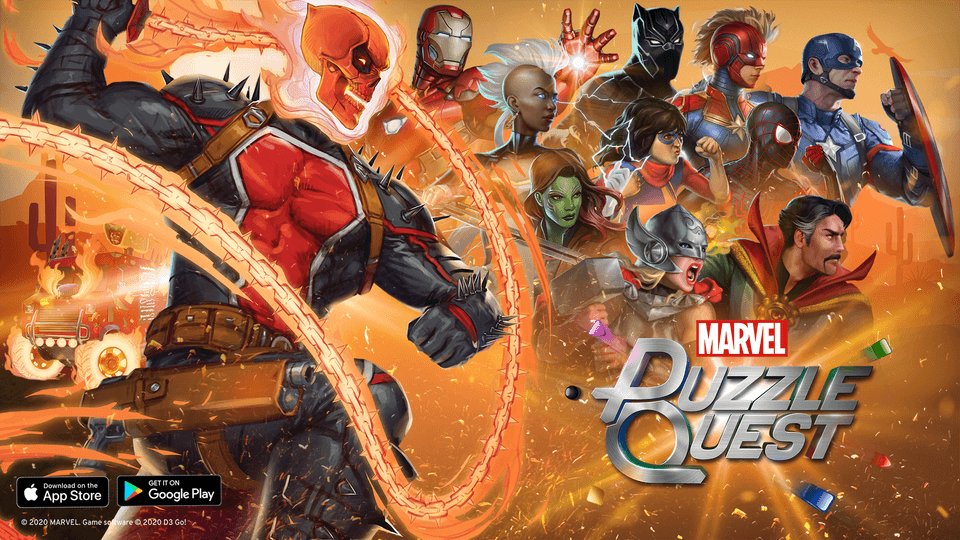 It's time to celebrate! Marvel Puzzle Quest is celebrating its seventh birthday!
Brand new birthday activations land in Marvel Puzzle Quest today, and ahead of that Marvel.com had the chance to chat with the talent behind the game's passions and successes at D3 Go! Producer Joseph Fletcher reflects back on some of the big moments, gives us some fun stats, and dishes how we all can get in on the party.
Celebrate SEVEN years with in-game Anniversary events starting today, October 1! Battle with your favorite Super Heroes in Marvel Puzzle Quest on the App Store, Google Play, Amazon Appstore, and Steam. Download Marvel Puzzle Quest for FREE here.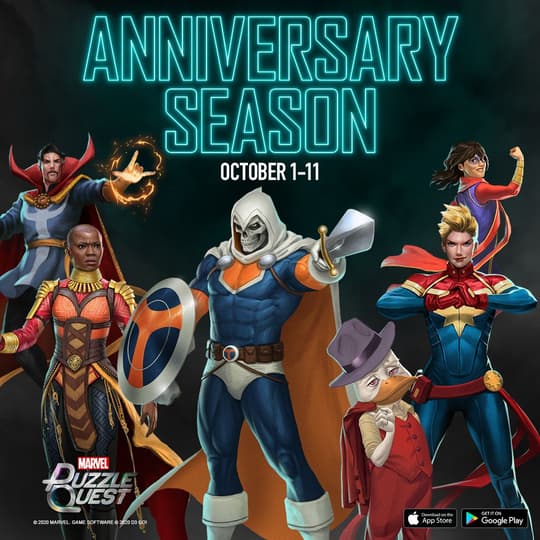 Marvel.com: Happy 7th Anniversary! How are we celebrating?
Joseph Fletcher: Thanks! For our 7th year, we're continuing the tradition of providing players with numerous ways to get player voted fan favorite characters, as well as some events that players can play to earn some of our time limited characters such as Devil Dinosaur and Taskmaster. As well though, we also are releasing a new daily unlock event: Deadpool's Nightly Games.
This multi day event will provide players with specialized challenges based around multiple different board and physical games such as Checkers, Freeze Tag, Four in a Row, and more. Each game will change around how the player approaches the battle with games like Checkers making Red and Black tiles super likely or Duck Duck Howard providing a gauntlet of fowl culminating in a battle against the master of Quack Fu.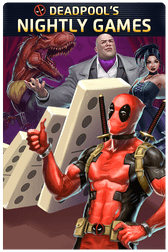 Marvel.com: What have been some of your most memorable MPQ milestones?
Joseph Fletcher: One of my favorite milestones in the past was the introduction of Champion levels. Building a character with 13 covers and making them as powerful as possible is cool, but largely players would only use each star rarity of characters within that band. A 166 3-Star isn't going to do that great against a level 270 4-Star. Champion levels let players boost their character's power even further, blurring that distinction and allowing players to beat up enemies outside their power level by adding bonus levels on top of the "normal" max level. This addition allowed players that felt stuck in a given area of the game to continue their play throughout rarity levels and greatly smoothed the curve of play. It also let players use a lot of their favorite characters for a lot longer, so it's win/win all the way around!
Marvel.com:  Personally, what are some of the characters, event's, etc. that you're most proud of?
Joseph Fletcher: Recently we're pretty excited to have introduced not one, but two new characters to the Marvel universe: Wolverine (Samurai Daken) and the very soon to come Deadpool (Spirit of Vengeance). These characters are new expansions of the ever growing Marvel continuity, allowing for new stories to be told within MPQ and elsewhere if a Marvel writer wants to. Just look at how Peggy Carter (Captain America) has grown outside the introduction in our game! Getting to work with the wider Marvel universe is amazing. It's even MORE amazing when we get to add our own stamp on parts of it.
Marvel.com:  What's been the most surprising thing to come out of the MPQ community over the last year?
Joseph Fletcher: I don't know if it's surprising, since our player base has been great in giving their feedback on every single aspect of the game; From characters to gameplay to placement of UI buttons, feedback is never something that we've been lacking. We were pleasantly surprised at a recent major UI change in one of our areas of the game, the Roster Screen. Any time we make a UI change, we always expect some blowback. After all, it's change! And change is always rough! However, the player base almost unanimously loved the update and the new filtering features we introduced with the UI update, and as a result it has informed some other changes to other screens that we're planning, like the pre-battle Team Select Screen. Sometimes change is good!
Marvel.com: Do you have some exciting stats to share?
Joseph Fletcher: Every year we share a little bit of the accomplishments and interesting bits of trivia about our player base, and this year is no different. For example, just in this past year alone, players matched up more than 36.2 billion AP worth of energy in matches to power up their heroes and deal damage to their opponents. Red and Blue lead the charge there with 6.5 and 6.2 billion AP respectively, showing that our player base really likes their direct damage and stuns. Lowest is Team-Up AP with 3.9 billion AP gained, which is still very respectable given that it's used mostly once or twice a battle at most.
Players also open a lot of comic packs looking for new heroes, whether those packs were opened through spending hard earned Hero Points and Command Points or using Tokens gained through rewards. It shouldn't be surprising that Standard Pack pulls top out the list at 93 million total pulls, but did you know that Elite Pack pulls actually eclipsed Heroic Pack pulls with 68.5 million to 34.2 million pulls respectively? Given that Elite Packs are only opened by reward tokens, that means our players really pushed hard to gain those rewards this last year!
Lastly, one of the things we get asked a lot is who the popular characters are in the game. While that ranking is mostly based in character lore with Captain America, Thor, Iron Man, and the like generally taking top honors, one of the things that is influenced in game mechanics is Champion Levels on characters. Players may like one character over another when reading comics and watching movies, but usability in the game is generally the secret to success in Marvel Puzzle Quest. So in the past year players added over 100 million Champion Levels to their characters in total, with the top rankings in each rarity going to 2-Star Thor (3.3m), 3-Star The Hulk (1.3m), 4-Star Captain Marvel (244k), and 5-Star Kitty Pryde (11k). Who would have thought that little old Shadowcat would be so popular?
Marvel.com: Can you talk to the top 5 characters of the past year?
Joseph Fletcher: This year we've had a record number of characters that have resonated pretty strongly with the player base. A lot of times, characters make big splashes when they release but over time just kind of melt into the overall competitive metagame. This year though, we have several that continue to make a strong impression on players' overall gameplay.
The strength of Apocalypse in his hard hitting abilities, his super high HP, and his massive match damage make for a very impressive more "passive" style of gameplay for players that don't want to strategize quite as much.
Polaris is only about a month old, but her manipulation of Special tiles such as Strike, Attack, and Protect tiles on the board rivals that of fan favorite Medusa. As a result, she's already proving to be very powerful on the field of puzzle battle.
The Hulk (Immortal) is an example of a character who doesn't necessarily have to play nice with his teammates to be powerful. At his best when he's tanking massive damage, even dying, he comes back ever more powerful and creating carnage across the entire battlefield, enemies and allies alike.
Karnak's mastery of Critical tiles puts him into a little more of a niche than some of the other characters in the game, but his ability to dish out MASSIVE amounts of damage to opponents with his 4.5x Critical Tile matching multiplier means that within his niche, he's unrivaled and sees a lot of play when players need to deal out damage with gems quickly.
In an example of a deeper dive character from Marvel lore, Legion is proving to be an in-game favorite. He's the only character in the game with 6 in battle abilities, so while he's very complex in how he plays, he provides a massive amount of tactical flexibility, and his consistent ranking of selection amongst our playerbase shows off his continued usage in the MPQ metagame.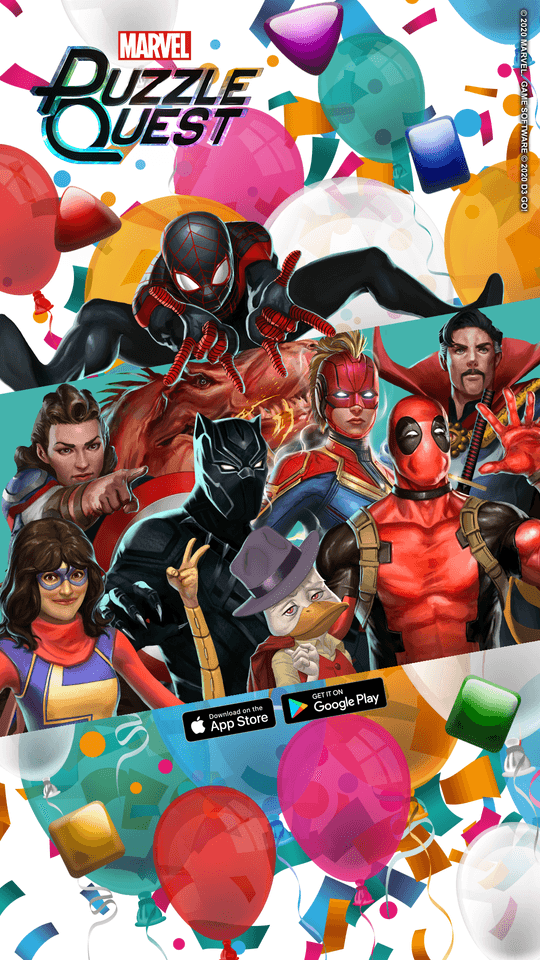 Marve.com: What's the most popular character used in the game?
Joseph Fletcher: This is actually a harder answer than it seems at the outset, since MPQ runs off a tier system, with characters sliding into tiers above them, but being most useful within where they rank in their star rating. So while I can say that without a doubt Iron Man (Model 35) is the most *selected* character in the game, he's not really the most popular, since it's mostly that everyone that plays uses Iron Man for a little while.
One of the great things that Marvel Puzzle Quest shows off is that movie or comic popularity doesn't always equate to equal popularity in game like I mentioned before. In 2-Star land, you'd think that Captain America and Thor would be by far the most picked. And they're up there! But it's actually Black Widow in her original 1970s fishnet catsuit that runs away with the popular crown. 3-Star brings in Doctor Strange as the most popular due to his ability to both attack his enemies and heal his teammates. As a result, he pushes past Doctor Doom, Cyclops, and Wolverine in usage. 4-Stars bring in lots of comics and movie mainstays like Nick Fury, Professor X, and Thanos. But it's actually America Chavez, Bishop, and a somewhat obscure incarnation of Juggernaut from the Fear Itself comic storyline that are among the high end choices in that tier. This holds true even in the top tier 5-Star game where movie faves like Loki, Captain America (Infinity War), and Spider-Man (Peter Parker) exist. But it's Okoye, Beta Ray Bill, and Kitty Pryde that take the top spots here. It's always fun to see how characters work in Marvel Puzzle Quest, because even if they're a deep dive in lore, they could be the newest powerhouses.
Marve.com: Which character is one that fans should stop sleeping on and pick up?
Joseph Fletcher: Difficult question, since our player base is a bunch of past masters at finding those diamonds in the rough. We've had sleeper characters before that were thought to be pretty weak but have since risen up to be really powerful within certain niches. One example is Vulture who was taken to be fairly low tier, but with some thought and team composition, players have figured out ways to keep him Airborne which makes him immune to most incoming attacks and able to deal out massive amounts of damage. Or Agent Coulson, who excels at being able to make micro adjustments in the board and allowing players to have supreme control over swaps, but requires a bit of support to really bring to the fore. So overall, I don't think there's anyone that people as a whole are sleeping on in particular, but there are quite a few characters that have their uses that some canny players are using to great effect that others can emulate!
Marve.com: Looking to next year, what are you hoping to accomplish?
Joseph Fletcher: With the success of the UI update to the Roster screen, we're definitely taking a look at revamping and updating some of the other screens to make them easier to use, more feature rich, and more up to date. Marvel Puzzle Quest has been around for 7 years, it could use a new coat of paint in some places! So fans can definitely look forward to more of these UI improvements throughout the coming year.
Past that, we've got several features that we're looking at introducing to keep the gameplay experience fresh and exciting for players of all skill levels, but most of those are still in the design stages and thus subject to changes. I'd say that things like the battlefield changes in Deadpool's Nightly Games and the more focused gameplay that it brings are good indicators of ways that we're looking at to make the game feel interesting outside of more story events and characters, which we're always doing as well! We've got big plans for MPQ, not only into year 7, but beyond!
Pick up Marvel Puzzle Quest here. Stay tuned to Marvel.com for Marvel Games news and interviews and follow Marvel Games on Twitter for more!
Marvel is on Twitch! Be sure to follow us for live streams, Q&A's, and more!
The Hype Box
Can't-miss news and updates from across the Marvel Universe!