Games
Published May 26, 2017
Entering Marvel Contest of Champions: Yondu
The galactic rogue joins the game, and we've got comments from Michael Rooker himself!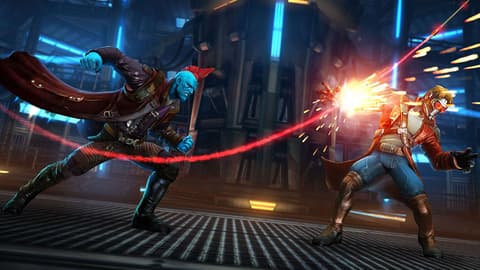 Do you hear whistling? Then it's already too late.
He might have blue skin, bad teeth, and a weird fin on his head, but Yondu's one of the most deadly Ravagers to take up arms, and an arrow, in "Marvel Contest of Champions." We talked to Michael Rooker, the man who brought Yondu to life in "Guardians of the Galaxy Vol. 2," and Kabam Character Designer Simon Cameron, all about the Zatoan and his savage charm and in-game abilities.
Marvel.com: Hey Michael, how does it feel to be digitized as your blue-skinned alter-ego in "Contest of Champions?"
Michael Rooker: It feels great to see that handsome devil make an appearance in such a popular game!
Marvel.com: And how does Yondu look in the game? Like looking in a mirror, or did the gang at Kabam put their own little spin on the Ravager?
Michael Rooker: The folks working on "Contest of Champions" did a great job capturing the essence of Yondu. It's almost like looking in the mirror, except I'm still more handsome.
Marvel.com: I gotta ask, what's ol' finhead capable of in the game? Does he use his arrow to take people down or would he rather get his hands dirty?
Michael Rooker: Yondu doesn't need to get his hands dirty to take down a whole army of enemies; just some well-pitched whistles and his arrow does the job! His punches and kicks are a good nod to his Ravager brawling skills. He also calls for an airstrike from his crew when he's tired of hand-to-hand combat.
Marvel.com: Can we get a breakdown of his abilities from the team?
Simon Cameron: Yondu's big into Debuffs; his Yaka Arrow, which he uses both in his Special Attacks and as part of his base combos, causes Bleed, even if you Block it. It also causes Armor Breaks if used against someone Immune to Bleed. Then not being above kicking someone while they're down, Yondu also reduces the amount of Power his opponent gains based on the number of Debuffs he's managed to put on them.
Marvel.com: Is there anyone currently competing in the Contest that Yondu might not want to tango with? And who do you think he would have no problem taking out?
Michael Rooker: I still need to teach Star-Lord a lesson for mucking around with my plans before! Yondu is the best; he'll have no problem taking anyone on!
Marvel.com: Who do you think he'd want watching his back in the Contest?
Michael Rooker: Although he may never admit it, the Guardians would be great to watch his back; they are all kind of family right?!
Marvel.com: And when do we get to recruit Mary Popp…I mean Yondu, for our crew?
Michael Rooker: Yondu will be whistling his way into the Battlerealm come May 25. I'll announce the start of the Arenas on my Facebook, Instagram and Twitter accounts!
Stay tuned to Marvel.com for more "Marvel Contest of Champions" news and interviews.
The Hype Box
Can't-miss news and updates from across the Marvel Universe!