Games
Published January 4, 2017
Familiar Foes Seek Revenge in 'Marvel Avengers Academy'
The hit mobile game comes under siege from a variety of old enemies!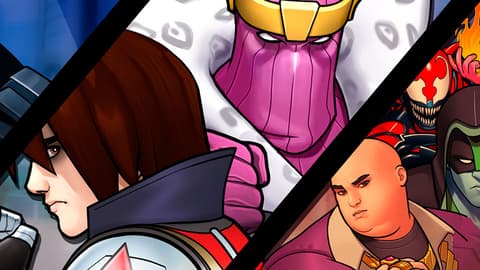 Throughout the various battles threatening "Marvel Avengers Academy" and the world last year, the students and faculty locked up their most troublesome enemies. Ronan the Accuser, Mephisto, Carnage, Kingpin—these number as just a few of the villains with a grudge against our heroes.
And now they've broken free.
The students must band together to redeem one of their own and fight back against the most powerful threat they've ever faced
We snagged Allen Warner, Lead Narrative Designer at TinyCo, to get the lowdown on how these former foes break free and what it all means for Avengers Academy.
Marvel.com: With these villains breaking free, what characters will be coming to the Academy to aid our heroes this time?
Allen Warner: We're bringing back a total of 15 recruitable characters from 2016, with some battling the bosses, and others needing to be rescued from the escaped villains. This includes Winter Soldier, Union Jack, Punisher, Electro, Blade, Green Goblin, and more. It's an opportunity for longtime players to get some of the characters they may have missed in previous events, and for newer players to get a bunch of characters who weren't available when they started playing.
Marvel.com: Will players who have unlocked all of the cages so far see something different than those who only have some of them?
Allen Warner: The team of escaped villains is comprised of Ronan, Kingpin, Carnage, and Mephisto, so anyone who has any or all of those imprisoned villains on their campus will notice that their cells are empty until the end of the event.
Marvel.com: Similarly, what will players who've unlocked all the returning characters have to work toward in this event?
Allen Warner: Players who already have all 15 returning characters will have another opportunity to get cells for every escaped villain.
Marvel.com: How will we tackle the villains leading this siege of the academy?
Allen Warner: Main game Avengers like Black Widow and Falcon will battle the escaped villains alongside some of the returning characters like Dracula and Captain Britain. They'll be fighting to progress the story, and return the escaped villains to their cells, and every victory gives them a greater opportunity of recruiting returning characters.
Marvel.com: What other new actions or content will we see?
Allen Warner: There's a brand-new storyline for the event. Marvel Games Creative Director Bill Rosemann had the great idea to have the event inspired by the classic "Under Siege" Avengers story where Baron Zemo brings some of the world's most powerful villains together to form the Masters of Evil, and get revenge against the Avengers. I wouldn't necessarily call our version of Baron Zemo kind and gentle, but he's definitely not the reprehensible force of evil he is in standard continuity, so this story is more about Mephisto exploiting Zemo's insecurities to manipulate him into setting the villains free. Zemo eventually realizes that he's being played, and does what he can to right his wrongs, and help the Avengers return the villains to their cells, and save their friends.
I had a lot of fun revisiting some of these returning characters, and watching them interact with each other I purposefully paired them off into weird combinations just to see what would come out of it. You'll see how Jack O' Lantern reacts to Winter Soldier's gloomy poetry, how Groot responds to Electro's relentless hyperactivity, how Blade and Captain Britain plan to deal with England's supposed vampire problem, and many more. It was a lot of fun, and creating unique scenarios and conversations like these is what I love the most about our game.
Players who get any of these characters for the first time will also get access to each character's personal storyline, and unique animations. If you've never seen some of these awesome animations, like Jack O' Lantern's dance or Punisher trying to make it through a metal detector, you're in for a treat.
Marvel.com: This event will be a brief one, so can you give us a preview of what's coming soon?
Allen Warner: There are two major things on the horizon. First, our next major event, revolving around Ultron leading a robot revolution, and Hawkeye arriving with some of his low-tech friends to save the day. I still don't want to give away too many details yet, but I'm really excited about some of the surprises we have in store, including a fun and unexpected aesthetic that makes for some great outfits and adventures.
We'll also soon be adding hangouts to the main game. We got a great response to the hangout feature during our Halloween event, which allowed players to send pairs of characters off to do cool dual actions. This expands upon that feature, allowing players to use any combination of characters from the main game or previous events to take part in original and brand-new dual actions. It's a really fun feature that gives players the freedom to create their favorite pairing while earning new decorations, and ultimately unlocking Ares as a playable character for the first time.
That's just a small sample of the exciting characters and features on the way, so stay tuned!
And stay tuned to Marvel.com for all the latest on "Marvel Avengers Academy"!
The Hype Box
Can't-miss news and updates from across the Marvel Universe!