Games
Published April 26, 2017
Guardians of the Galaxy Return to 'Marvel Avengers Academy'
Star-Lord and company pitch in against a cosmic threat!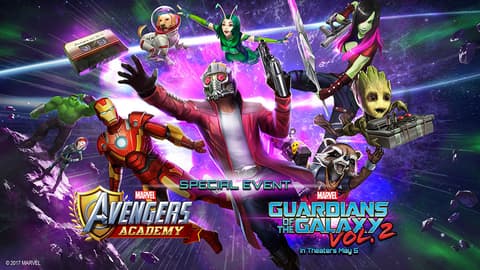 As Nick Fury donned the Infinity Gauntlet in the most recent "Marvel Avengers Academy" event, the major players throughout the galaxy felt its power. With the Gauntlet's location revealed, many will inevitably try to take it for themselves.
The first of those comes in Ayesha, bringing her Priestesses to the Academy to make a bid for the Gauntlet. The Guardians of the Galaxy being particularly familiar with cosmic threats like Ayesha will lead the charge against her while new faces from their previous galactic adventures will come to lend a hand.
We grabbed a few minutes from Lead Narrative Designer Allen Warner's busy schedule to get the lowdown on everything we'll see in this new event.
Marvel.com: Ayesha and her Priestesses are adding a new burst of intergalactic flair to Avengers Academy. What brings them to Earth?
Allen Warner: During our "Legends Assemble!" event, it was revealed that Nick Fury was in possession of an Infinity Gauntlet.  Using the Gauntlet drew the attention of beings from across the cosmos who've come into contact with it before, and they all rocket toward Avengers Academy to claim it for themselves. Ayesha and her Priestesses of the Sovereign arrive like a crew of golden, cold-blooded, intergalactic mean girls to cast judgment on the Avengers, remake Earth to fit their "perfect" standards, and get their hands on the Gauntlet.
Marvel.com: What threats aside from Ayesha and her crew will the Avengers Academy students face?
Allen Warner: Ayesha and the Priestesses have used their awesome powers and catty insults to bend powerful cosmic beings to their will, including Abelisk and Tiamut the Dreaming Celestial. These behemoths will protect the Priestesses and attack the campus while Ayesha searches for the Gauntlet. The Collector is also here to do battle, but he's more concerned with adding an Infinity Gauntlet to his collection than going along with Ayesha's plans.
We're also introducing a new battle map feature that adds an element of choice and strategy to combat, allowing players to travel to different destinations around the universe to do battle with cosmic characters like the Chitauri.
Marvel.com: This event ties in heavily with the previous Guardians event; will new players miss out if they don't have the previously released heroes?
Allen Warner: No, everyone will have a chance to get all of the Guardians characters from the first event, including Star-Lord, Gamora, Drax, Rocket Raccoon, Groot, Nebula, and Yondu.
Marvel.com: What will players who do already have the previous Guardians be able to do in that first week?
Allen Warner: Nova will be available for the first time in week one of the event. I'm really excited to get him into the game because I've always been a fan of the Nova Corps, he's one of the last remaining Champions members from the current comic team to enter our game, and he adds a lot of cool powers and personality to the cosmic mix.
Players will also be able to get an awesome Thor Groot outfit in week one. This is a riff off of the Thor Groot from [THORS during Secret Wars], but our amazing art team took the idea to the next level, and it's really fun to see how Loki and Thor and some of the other Asgardians react to him having Thor's outfit and powers.
We'll also be releasing all of the buildings and some decos from the original event, along with items to upgrade the Guardians from the first event, and to help in the coming weeks.
Marvel.com: Beyond the returning Guardians, what new faces will be joining the Academy throughout this event?
Allen Warner: Nova, Mantis, Collector, Cosmo the Spacedog, Adam Warlock, and Lil' Groot.  I think it's an awesome mix of Guardian-centric cosmic characters, and they all turned out looking incredible.
Cosmo is a personal favorite of mind, as anyone who plays the game probably knows, and while he's been around as a decoration before, he will now be a fully playable character with unique animations, his own storyline, voiceover lines, visual upgrade levels, and more. He's only the second animal recruit we've ever had in the game, and I wouldn't be surprised to see him cross paths with Lucky.
Mantis turned out amazing, and her visual levels are some of my favorite designs in the game. Adam Warlock's are great too, as we reimagined him as a sort of golden, cosmic rock-god. Lil' Groot is as adorable as you'd expect, and The Collector might be the best of them all. I really can't wait for everyone to see what our art and animation teams created for these characters.
That's not even mentioning the awesome outfits for Star-Lord, Gamora, Rocket, Drax, Falcon, Enchantress, Iron Man, and Captain America. They're all great, but the Captain America is my personal favorite. I don't want to spoil it yet, but I'll just say that you've never seen Cap like this before.
Marvel.com: How will Ayesha shape her event district? What new structures will players add to their campus?
Allen Warner: The event district is Ayesha's palace inspired by the film ["Guardians of the Galaxy Vol. 2″], flanked by the giant golden Celestial, and the Collector's hovering spaceship. The event building this time around will be the Collector's Museum filled with incredible creatures, characters, and objects from across the galaxy. It's one of the coolest and most intricate buildings we've ever made, filled with Easter eggs for future content, and events from the past.
Marvel.com: What's next on the horizon for Avengers Academy?
Allen Warner: Thanos is closer than anyone thought, so it's time for the Avengers to pursue every option possible to find their new recruits.
Start playing "Marvel Avengers Academy" today!
The Hype Box
Can't-miss news and updates from across the Marvel Universe!