Games
Published June 26, 2020
A Guide on Everything We Know About 'Marvel's Iron Man VR'
Suit up as the Armored Avenger next week on July 3!
We're officially one week out from the launch of Marvel's Iron Man VR, on July 3!
To get you ready to face off against one of Iron Man's greatest foes in this high stakes, action-packed game, we're detailing everything we know about the story, the environments, combat maneuvers, key players, and more. Read on!
MARVEL'S IRON MAN VR GAME DETAILS:
Basics
Story
Antagonist
Cast of Characters
Environments
The VR in Marvel's Iron Man VR
Combat Mechanics
Tony Stark's Garage and Customization
THE BASICS
Developed by Camouflaj, with Marvel Games and Sony Interactive Entertainment, exclusively for PlayStation VR, Marvel's Iron Man VR is an action-adventure game rated T for Teens will be releasing worldwide on July 3.
THE STORY
In Marvel's Iron Man VR, Tony Stark has retired from making weapons and instead creates technology used to battle evil as Iron Man. After several years as a world-famous Super Hero, Tony is attacked by the mysterious Ghost, a hacker and anti-corporate activist who repurposes old Stark Industries weapons. In her efforts to topple his empire, Ghost attacks Stark's corporate locations around the world, leading to ever-escalating stakes and a final showdown.
THE ANTAGONIST
During last year's NYCC 2019 panel, Brendan Murphy, lead writer on Marvel's Iron Man VR was adamant about approaching the game's big story moments with "humor, heart, and suspense" – all attributes that "map perfectly" with Tony Stark.
How did they arrive at Ghost as the main antagonist?
"In our game, Ghost is a great foil for Tony Stark—she not only holds a grudge against our hero, but holds a mirror up to him," revealed Murphy. "As a witness to the damage caused by Stark-made weapons years earlier, Ghost's fight against Iron Man is both ideological and personal. Because of Ghost, our complex and fascinating hero must reconcile his troubled past, both on and off the battlefield."
CAST OF CHARACTERS
Rounding out the Iron Man experience involves enlisting several key Marvel figures from Tony's circle.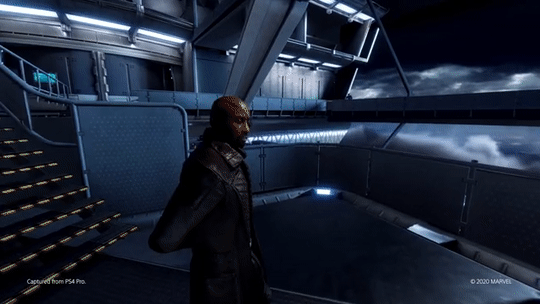 The PlayStation Blog revealed players can expect the presence of Pepper Potts, Nick Fury, and FRIDAY, in addition to not-yet-revealed characters, as they progress through the campaign.
Let's dive in to the incredible roster of voice talent bringing Marvel's Iron Man VR to life. We're pumped to share that joining Josh Keaton's Tony Stark/Iron Man and Chantelle Barry's Ghost are: Leila Birch as FRIDAY, Ike Amadi as Nick Fury, and Jennifer Hale as Pepper Potts.
Rounding out the main cast are Dwight Schultz, Matt Mercer, and Leonardo Nam. You'll have to wait to find out the characters they voice!
THE ENVIRONMENTS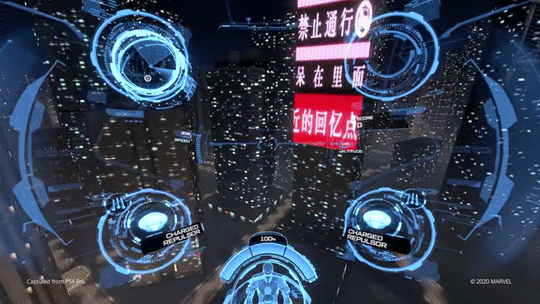 Over at the PlayStation Blog, get a glimpse of some of the texture-rich Marvel landscapes that contributes to a robust Iron Man experience, including but not limited to, S.H.I.E.L.D. Helicarrier, downtown Shanghai, Stark Industries facilities, and more!
THE VR IN MARVEL'S IRON MAN VR
The folks over at Camouflaj poured a lot of blood, sweat, and tears in order to build an original Iron Man universe within the game.
The first major milestone they needed to nail was flying—how VR changes flying and how can the game make the entire experience satisfying.
Within the game, and using the PlayStation®Move motion controllers, players can take control of Iron Man's armor and abilities, such as firing up Iron Man's Repulsor Jets or blasting into the skies with his arsenal of iconic gear at your fingertips.
COMBAT MECHANICS
Let's talk about some core mechanics players will come across in Combat Challenges as you progress through the story-driven campaign.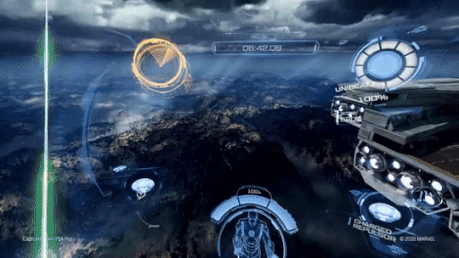 Boost at high speeds
Rocket Punch is a one-two-three hit combo complete with either a Repulsor Blast or auxiliary weapon finisher
Auxiliary weapons can be purchased at the Armor Station by spending your Research Points
Ground Pound is the rough-and-tumble cousin of Rocket Punch—a powerful force—that allows players to descend on enemies at furious spends on both horizontal and vertical planes
Unibeams can be blasted from Iron Man's chest once the meter is fully charged!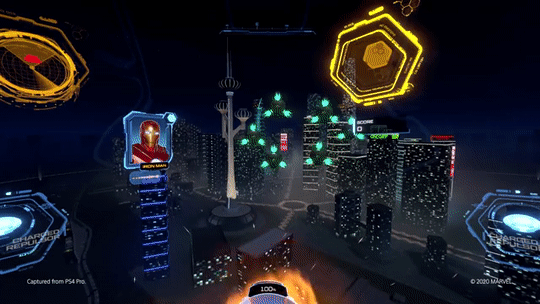 TONY STARK'S GARAGE AND CUSTOMIZATIONS
Earlier this week, the Camouflaj team gave us a behind-the-scenes look at Tony Stark's garage, what players can do with access to his Armor Station, and more.
The Armor Station in Tony's garage allows players to see the iconic armor in full detail. Once you've unlocked access to Tony's garage, in addition to see the armor in its full glory, you'll be able to make modifications such as swapping in Repulsor types, new Auxiliary weapons, Arc Reactors and Thrusters. As you progress deeper into the campaign and complete missions, you'll unlock Research Points, allowing you to do deeper customizations.
PS VR MARVEL'S IRON MAN VR BUNDLE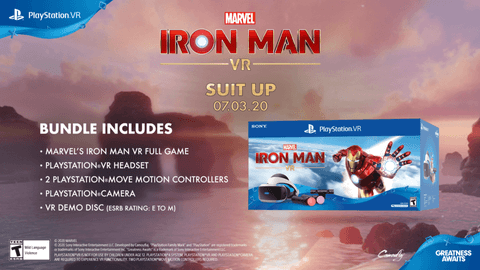 The Hype Box
Can't-miss news and updates from across the Marvel Universe!