Games
Published August 8, 2019
'Marvel Contest of Champions': Summoner Showdown Recap: Week 2
See the next finalist going to New York Comic Con for the ultimate showdown!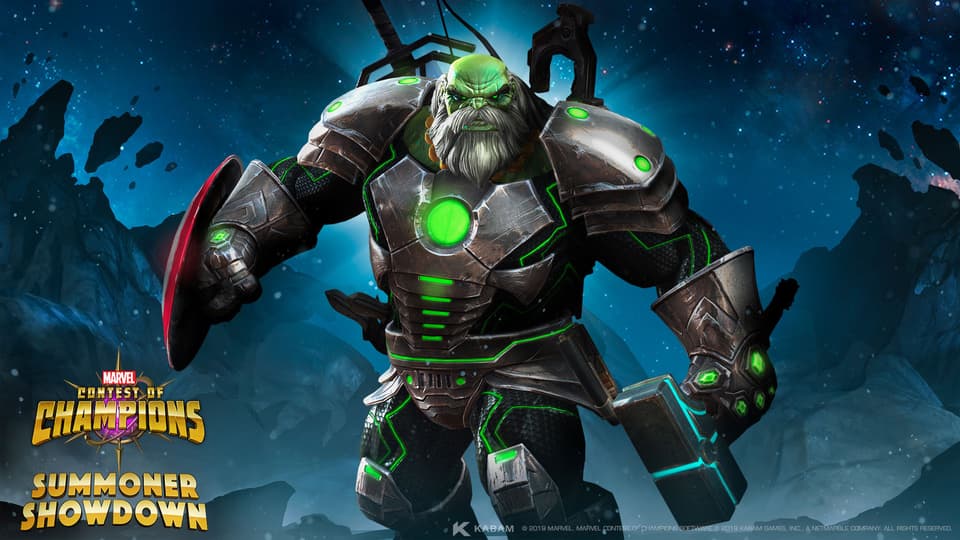 Week 2 of the Marvel Contest of Champions: Summoner Showdown went down at Marvel's NYC headquarters on Wednesday, August 7. And while this contest was no cakewalk for our plucky players, a winner was declared to join Week 1 victor chunkyb at New York Comic in October for the final tournament! After facing this week's boss Maestro, BigBlue807 was declared the winner of Week 2! The entire match between BigBlue807 and his two competitors -- CΛDE and FroJo34 -- was broadcast during the weekly livestream, which you can tune in to every Wednesday at 4:00 PM ET by visiting Marvel.com/mcocshowdown.
This week's challenge: The Maestro's Mayhem! A throwback challenge where the players can only use champions from the year of Maestro's debut (2014-2015) to make it out of a match with the fastest KO time. (In the event that all three players are KO'ed, the winner will be determined by who could bring Maestro's HP level down the lowest.) This challenge is meant to harken back to the Maestro boss battle from the end of Act 4, when all of his buffs were active. But now, flash forward to 2019 and Maestro has two additional buffs: Limber (10%) and Unblockable Special Attacks. Another ace up his sleeve: Heal Blocks, which prevent his challenger from recovering from damage for 10 seconds.
Here's how the mayhem played out:

First up was CΛDE, who chose Magik as his champion, "not just to make [his] good buddy Heisey jealous," but as the best way to counter that L1 buff. Magik makes good use of the Backdraft Intercept, so right off the bat, CΛDE tried to back Maestro into a corner. Maestro implemented a Power Lock that kept his HP safe, but CΛDE landed plenty of hits against the big bad boss -- until Maestro landed some of own, knocking Magik's power down to dangerous levels until Magik was down for the count.
Next was FroJo34, who chose Hulk (a memorable nemesis of Maestro in Marvel Comics) to bring the bulk against this bad guy and drain his health below CΛDE's 30% level. The Hulk is good at causing damage and working in his Fury Buffs, but he can also stun his opponents. The risky thing about Hulk is that he has to take damage to make damage, so he's his best when he's on the ropes. After packing some powerful punches, FroJo34 was able to stun Maestro, but the latter's Limber meant that stun wouldn't last as long as it usually does. For a while, it looked like Hulk might come out on top, but after going Unblockable and hitting Hulk with an SP3, Maestro drained the Jade Giant for a KO.
The last player up was was BigBlue807, who chose Hawkeye, a Marvel character who "gets beat up a lot." But Hawkeye is a choice champ for this week's guest commentator Dorky Diggity Dave, so maybe ol' Clint has more to bring to this fight -- like a Power Drain that keeps him from getting hit by Maestro's SP1! BigBlue807 laid down a few hits then took some block damage. But he got some control back as his own HP hovered around 17% then dropped to a tenuous 10%. Then the fight turned into a true tale of suspense! As Hawkeye's HP dropped all the way down to 3%, he came back landed more damage on Maestro until his HP level dropped below the coveted CΛDE level of 30%.
Since all three players were KO'ed the winner was the one who brought Maestro's HP level down the lowest -- making BigBlue807 this week's winner!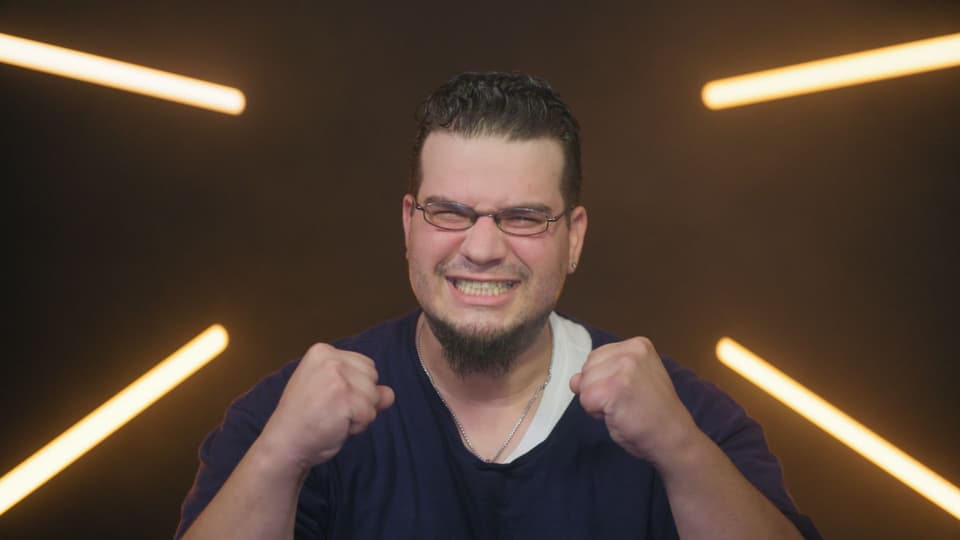 You can watch the winning Week 2 match right here:
Coming up in Week 3 are these gallant gamers!
Captainbayeee of Sacramento, California likes to play aggressively and with big damage dealing characters. He once played for 15 hours straight while doing an arena grind for the 4-star exclusive Deadpool character. But it looks like his real mission is for redemption after losing at last year's Content Creator Showdown Tournament at NYCC! His most used champions are Corvus Glaive, Void, and Blade, but says he's so tough to beat "because I have Loki, the God of Mischief, on my side!"
AtreiuMontoya from Terre Haute, Indiana streams almost every weeknight but plays for the fun of the game. His style is "passively aggressive," often taking the fight to the enemy rather than being patient. He loves a good challenge, including boss rushes and monthly events on epic. His most used champions are Blade, Ghost Rider, and Void, but he's best known for Storytime. "Every month I read the story for the viewers – [with] sad attempts at voicing them." (We're sure it's great!)
DTMelodicMetal from Las Vegas, Nevada is a resilient player who goes into fights with a strategy but is ready to adapt that strategy when necessary. His favorite achievement is live-streaming the Maze event exploration without using units. His most used champions are Omega Red, Doctor Voodoo, and Proxima Midnight, and he says: "I want to win because competing against other players makes Marvel Contest of Champions fun."
Who will join chunkyb and BigBlue807 at New York Comic Con in October for the ultimate showdown? You'll have to keep tuning in to the livestream every Wednesday at 4:00 PM ET! Visit Marvel.com/mcocshowdown to watch the action unfold in the Marvel Contest of Champions: Summoner Showdown!
Want to get in on the action? Download Marvel Contest of Champions for free today! You can find it in the App Store and Google Play.
The Hype Box
Can't-miss news and updates from across the Marvel Universe!