Games
Published August 6, 2019
'Marvel Contest of Champions': Summoner Showdown Week 2 Preview – Meet the Players
Get the details on the next three players who will be competing for the ultimate victory at New York Comic Con this October!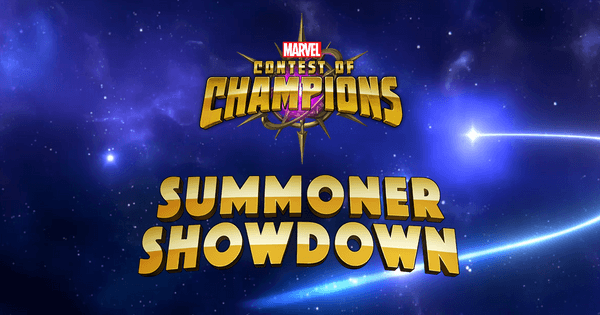 The Marvel Contest of Champions: Summoner Showdown is now underway with our first finalist, chunkyb, all set to head to the final showdown at New York Comic Con this October! (You can read a recap of Week 1 right here!)
Tomorrow – Wednesday, August 7 – marks the second week of tournaments that will decide the ultimate winner of this nine-week mobile gaming event. And you, True Believer, will be able to watch the action unfold LIVE!
Tune in to Marvel.com/mcocshowdown to watch the weekly livestream every Wednesday at 4:00 PM ET to watch three gamers compete in the Marvel Gaming Lounge. Your happy hosts Josh Saleh, Ryan "Agent M" Penagos, and more will provide a play-by-play as the potential champions take on the role of their chosen Marvel character in a fight for victory! Every week, one finalist will emerge victorious and move on to the final showdown event at New York Comic Con this October!
So, who are these gallant gamers going for the gold? Here's a rundown of the three Marvel gamers you'll see in the Marvel Contest of Champions: Summoner Showdown in Week 2!
CΛDE from Altanta, Georgia is not just a gamer, but a musician, guitar instructor, and streamer who loves to plan for his battles. His strategy is to play it safe in game modes where giving up deaths matters. His favorite challenges are competitive war, content like Variant 2, boss rush and celebrity challenges. CΛDE's most used champions are Omega Red, Corvus Glaive, and Ghost, and when he wins, he vows to thank the academy.
Next up is FroJo34 from Houston, Texas! His style of play is parry and destroy – but will he be able to destroy the competition? His most used champions are Rogue, Arch Angel, and Red Hulk, but you'll have to tune in tomorrow to see who FroJo34 brings to this rodeo! His motto: "Never quit, never give up."
Finally, we've got BigBlue807 on the roster. Hailing from Mahopac, New York, BigBlue807 does "whatever it takes to get the job done" while trying to reach his highest potential. He has a 1.4M roster with nearly 300K arena wins and he says he plays MCoC "whenever he's awake." His most used champions are Corvus Glaive, Void, and Hyperion. His most used mantra? "Keep on grinding!"
And those are your plucky players for Week 2 of the Marvel Contest of Champions: Summoner Showdown! Which one will join chunkyb at New York Comic Con? You'll find out tomorrow!
After watching the livestream, come on back to Marvel.com for a recap to see what went down and who's going to New York Comic Con 2019 for the ultimate showdown!
Want to get in on the action? Download Marvel Contest of Champions for free today! You can find it in the App Store and Google Play.
The Hype Box
Can't-miss news and updates from across the Marvel Universe!