Games
Published August 13, 2019
'Marvel Contest of Champions': Summoner Showdown Week 3 Preview – Meet the Players
Get the lowdown on the third trifecta of players competing for the top spot and a trip to New York Comic Con!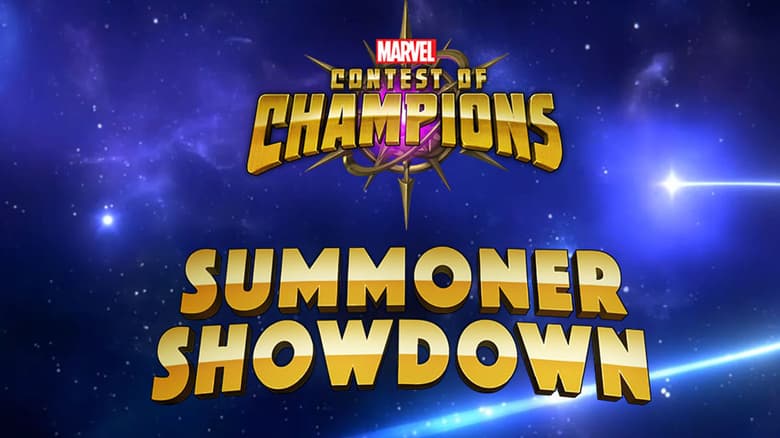 The Marvel Contest of Champions: Summoner Showdown is underway with our first two finalists, chunkyb and BigBlue807, all set to head to the final showdown at New York Comic Con this October! (You can read a recap of Week 2 right here to see BigBlue807's winning match!)
Tomorrow – Wednesday, August 14 – marks the third week of tournaments that will decide the ultimate winner of this nine-week mobile gaming event. And you, True Believer, will be able to watch the action unfold LIVE!
Tune in to Marvel.com/mcocshowdown to watch the weekly livestream every Wednesday at 4:00 PM ET to watch three gamers compete in the Marvel Gaming Lounge. Your happy hosts Josh Saleh, Ryan "Agent M" Penagos, and more will provide a play-by-play as the potential champions take on the role of their chosen Marvel character in a fight for victory! Every week, one finalist will emerge victorious and move on to the final showdown event at New York Comic Con this October!
So, who are these gallant gamers going for the gold? Here's a rundown of the three Marvel gamers you'll see in the Marvel Contest of Champions: Summoner Showdown in Week 3!
Captainbayeee of Sacramento, California likes to play aggressively and with big damage dealing characters. He once played for 15 hours straight while doing an arena grind for the 4-star exclusive Deadpool character. But it looks like his real mission is for redemption after losing at last year's Content Creator Showdown Tournament at NYCC! His most used champions are Corvus Glaive, Void, and Blade. He says he's so tough to beat "Because I have Loki, the God of Mischief, on my side!"
AtreiuMontoya from Terre Haute, Indiana streams almost every weeknight but plays for the fun of the game. His style is "passively-aggressive," often taking the fight to the enemy rather than being patient. He loves a good challenge, including boss rushes and monthly events on epic. His most used champions are Blade, Ghost Rider, and Void. But while he's a warrior gamer, AtreiuMontoya is best known for Storytime. "Every month I read the story for the viewers – [with] sad attempts at voicing them." [We're sure it's great!]
DTMelodicMetal hails from Las Vegas, Nevada and is a resilient player who goes into fights with a strategy -- but he's ready to adapt that strategy when necessary. His favorite achievement is live-streaming the Maze event exploration without using units. His most used champions are Omega Red, Doctor Voodoo, and Proxima Midnight. He says: "I want to win because competing against other players makes Marvel Contest of Champions fun.  When I'm the winner, I'll say this is for T-Rex (4LOki joke)."
And those are your plucky players for Week 3 of the Marvel Contest of Champions: Summoner Showdown! Which one will join chunkyb and BigBlue807 at New York Comic Con? You'll find out tomorrow!
After watching the livestream, come on back to Marvel.com for a recap to see what went down and who's going to New York Comic Con 2019 for the ultimate showdown!
Want to get in on the action? Download Marvel Contest of Champions for free today! You can find it in the App Store and Google Play.
The Hype Box
Can't-miss news and updates from across the Marvel Universe!