Games
Published August 20, 2019
'Marvel Contest of Champions': Summoner Showdown Week 4 Preview – Meet the Players
Find out more about the fourth group of fighters competing for the top spot and a trip to New York Comic Con!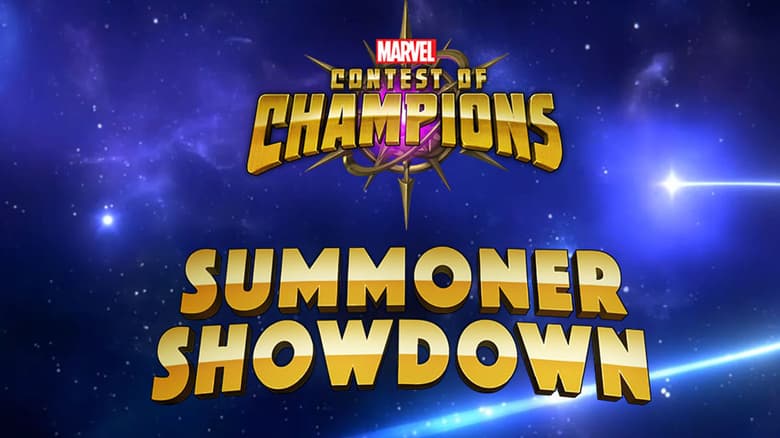 The Marvel Contest of Champions: Summoner Showdown is in full swing with three finalists – chunkyb, BigBlue807, and DTMelodicMetal – all set to head to the final showdown at New York Comic Con this October! (You can read a recap of Week 3 right here!)
Tomorrow – Wednesday, August 21 – marks the second week of tournaments that will decide the ultimate winner of this nine-week mobile gaming event. And you, True Believer, will be able to watch the action unfold LIVE!
Tune in to Marvel.com/mcocshowdown to watch the weekly livestream every Wednesday at 4:00 PM ET to watch three gamers compete in the Marvel Gaming Lounge. Your happy hosts Josh Saleh, Ryan "Agent M" Penagos, and more will provide a play-by-play as the potential champions take on the role of their chosen Marvel character in a fight for victory! Every week, one finalist will emerge victorious and move on to the final showdown event at New York Comic Con this October!
So, who are these gallant gamers going for the gold? Here's a rundown of the three Marvel gamers you'll see in the Marvel Contest of Champions: Summoner Showdown in Week 4!
JJW from Spring, Texas says that his method of play is "try, try again." In addition to being the Alliance Leader of the Simian Defense Force, he's also the producer of the UMCoC Podcast. Part of his player strength is his intimidating internet presence. His most used champions are Ghost, Corvus Glaive, and Spider-Man (Stark-Enhanced), which is also his highest-ranked character. But this cloistered champ is a loner, Dottie. A rebel. Says JJW: "New phone, who dis? Also, don't DM me."
Roastedbagel of Ft. Lauderdale, Florida calls Marvel Contest of Champions both his digital hobby and guilty pleasure because it combines competition, Marvel, and nostalgia from his fighting game days as a kid. He's been playing the game since the day it came out and describes his approach to battle as "aggressive." His most used champions are Ghost, Killmonger, and Void. His mantra? "Anything but arena."
Deacon OTR from Benton, Kentucky is a father of five who has been a radio DJ for 24 years and a Marvel fan since childhood. His favorite character is Cable, which has earned him the moniker "The Cable Guy." The game's amazing animations are what initially hooked him, but the community is what keeps him coming back. His play style is "smart and conservative." His most used champions are Venom, Archangel and Ghost Rider. "Games are for enjoyment. If they start to anger you, put it down and do something else."
And those are your plucky players for Week 4 of the Marvel Contest of Champions: Summoner Showdown! Which one will win their ticket to New York Comic Con? You'll find out tomorrow!
After watching the livestream, come on back to Marvel.com for a recap to see what went down and who's going to New York Comic Con 2019 for the ultimate showdown!
Want to get in on the action? Download Marvel Contest of Champions for free today! You can find it in the App Store and Google Play.
The Hype Box
Can't-miss news and updates from across the Marvel Universe!