Games
Published August 16, 2019
'Marvel Contest of Champions': Summoner Showdown Recap: Week 3
See the next finalist going to New York Comic Con for the ultimate showdown!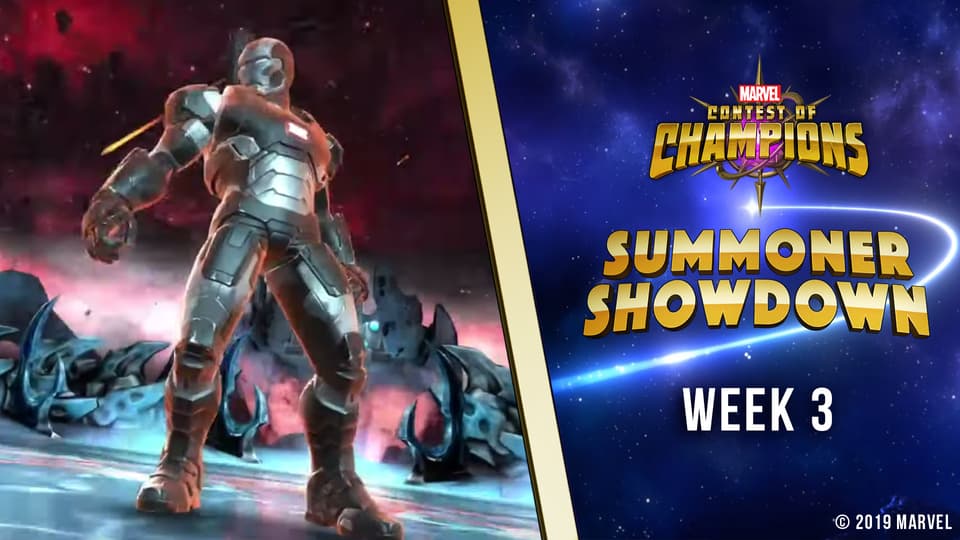 Week 3 of the Marvel Contest of Champions: Summoner Showdown went down at Marvel's NYC headquarters on Wednesday, August 14. Wolverine was the champion of choice for every player this week, but only one would be able to advance to the finals and join Week 1 victor chunkyb and Week 2 winner BigBlue807 at New York Comic in October for the final tournament! After facing this week's boss War Machine, DTMelodicMetal was declared the winner of Week 3! The entire match between DTMelodicMetal and his two competitors -- Captainbayeee and  AtreiuMontoya -- was broadcast during the weekly livestream, which you can tune in to every Wednesday at 4:00 PM ET by visiting Marvel.com/mcocshowdown.
This week's challenge: War Machine's Durability Test! In this three-minute survival challenge, the winner will be determined by whoever has the longest survival time. So in this case, the best offense is a good defense! And this week's players will need it going up against Tony Stark's right-hand man James "Rhodey" Rhodes! War Machine boasts +900% health and +90% Armor, so "formidable" would be an understatement. His Active Buffs also include Limber, which means that War Machine will be much harder to stun. The Champions that are up for grabs are the ones who can heal, endure, and defend the best.
Here's how this week's match played out:

First up was Captainbayeee, who went with Wolverine -- a hearty healer indeed! This week's guest commentator Brian Grant pointed out that Wolverine's healing factor ramps up the more powerful he gets, so it may be in the back half of the fight when his chances are the best. The match started out with a few hits and a few parries against War Machine, giving Captainbayeee's strength a chance to build up. His defense was strong after taking a few hits, but his regenerative powers kicked in, bringing him back up to 100% health before the first minute was up. He backed War Machine into a corner while blocking his hits, giving his health the best chance to stay high. As the fight went on, Captainbayeee took a few hits and dropped to 72% health before regeneration kicked back in. By the end of the three minutes, Captainbayeee survived with 75.31% health.
The next player was AtreiuMontoya, who also chose the Canucklehead to face off against War Machine. After some good blocks and a more aggressive approach than Captainbayeee's fighter, AtreiuMontoya took some hits and his health was drained by almost half, falling to 54% before the first minute was up. But Wolverine doesn't just lay down in a fight -- he was ready to regenerate and come back! Which he did, before taking a massive mauling and falling to a threatening 33%! A few more blasts from War Machine and his health fell into the tenuous twenties -- would he be able to regenerate in time? It was a nail-biter when AtreiuMontoya's levels fell into the single digits as he tried his best to lay out his own attacks and heal himself, but War Machine was coming at him too fast for him to activate his super 8% heal or his 21% heal. In the end, War Machine knocked AtreiuMontoya out just seconds before the three minutes were up.
DTMelodicMetal took the controls next and also chose Wolverine. ("Everyone loves the runt." -- Ryan "Agent M" Penagos) With Captainbayeee's health level of 75.31% to beat and AtreiuMontoya's KO on his mind, Wolverine Part III started out cautious with lots of evades and block attacks. A full minute in and DTMelodicMetal was still at 100% health, but Brian Grant warned that he could put himself in danger by backing himself into a corner, giving him no room to evade War Machine's hits. Then DTMelodicMetal pushed War Machine above his second bar, making it possible for Wolverine to evade a special attack -- and in this match, that's the name of the game. This bought DTMelodicMetal some time to bring his health back up to 100% and gain some power to boot with just over a minute left. Another excellent evade from a big War Machine attack, and DTMelodicMetal was seemingly on his way to a win... which he did! With a health level of 90.43%, DTMelodicMetal beat the 75.31% health achieved by Captainbayeee, making him the winner of Week 3!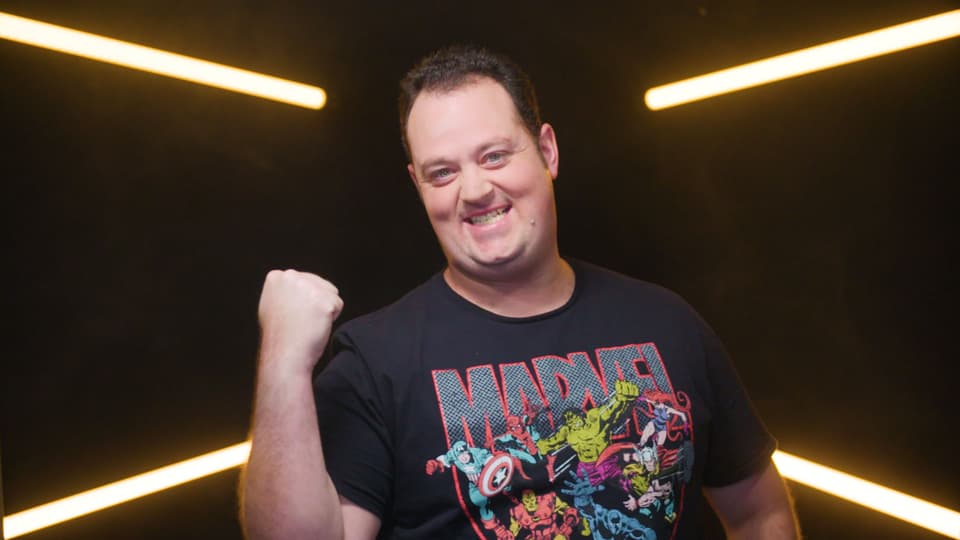 You can watch the whole Week 3 showdown right here:
Coming up in Week 4 are these gallant gamers!
JJW, the Alliance Leader of the Simian Defense Force and the producer of the UMCoC Podcast!
roastedbagel, who's been playing the game since the day it came out!
Deacon OTR, a father of five, radio DJ, and a Marvel fan since childhood! 
Who will join chunkyb, BigBlue807, and DTMelodicMetal at New York Comic Con in October for the ultimate showdown? You'll have to keep tuning in to the livestream every Wednesday at 4:00 PM ET! Visit Marvel.com/mcocshowdown to watch the action unfold in the Marvel Contest of Champions: Summoner Showdown!
Want to get in on the action? Download Marvel Contest of Champions for free today! You can find it in the App Store and Google Play.
The Hype Box
Can't-miss news and updates from across the Marvel Universe!