Games
Published November 27, 2018
MARVEL Future Fight Reveals Luna Snow's New Suit, Crescent & Io Gameplay And More from v460 'Crescent' Update
The 'Crescent' update will kick off on Tuesday, November 27!
In a livestream with Danny Koo, Marvel Games senior producer, and Alfonso Gardeazabal, Netmarble community lead, fans were given a first look at everything dropping in MARVEL Future Fight's v460 'Crescent' update, including Luna Snow's new uniform, gameplay and details surrounding new characters Crescent & Io, and tons more!
Update v460 launches tomorrow, Tuesday, November 27. You can still pre-register for the Crescent & Io event, but you better act fast: http://www.marvelfuturefight.com/crescent/
Earlier this year, MARVEL Future Fight released its second original character, Luna Snow. The ice-wielding K-pop star/part-time hero is now a full-time operative, and with that, comes a brand-new uniform — the Andromeda Suit. Get a look below!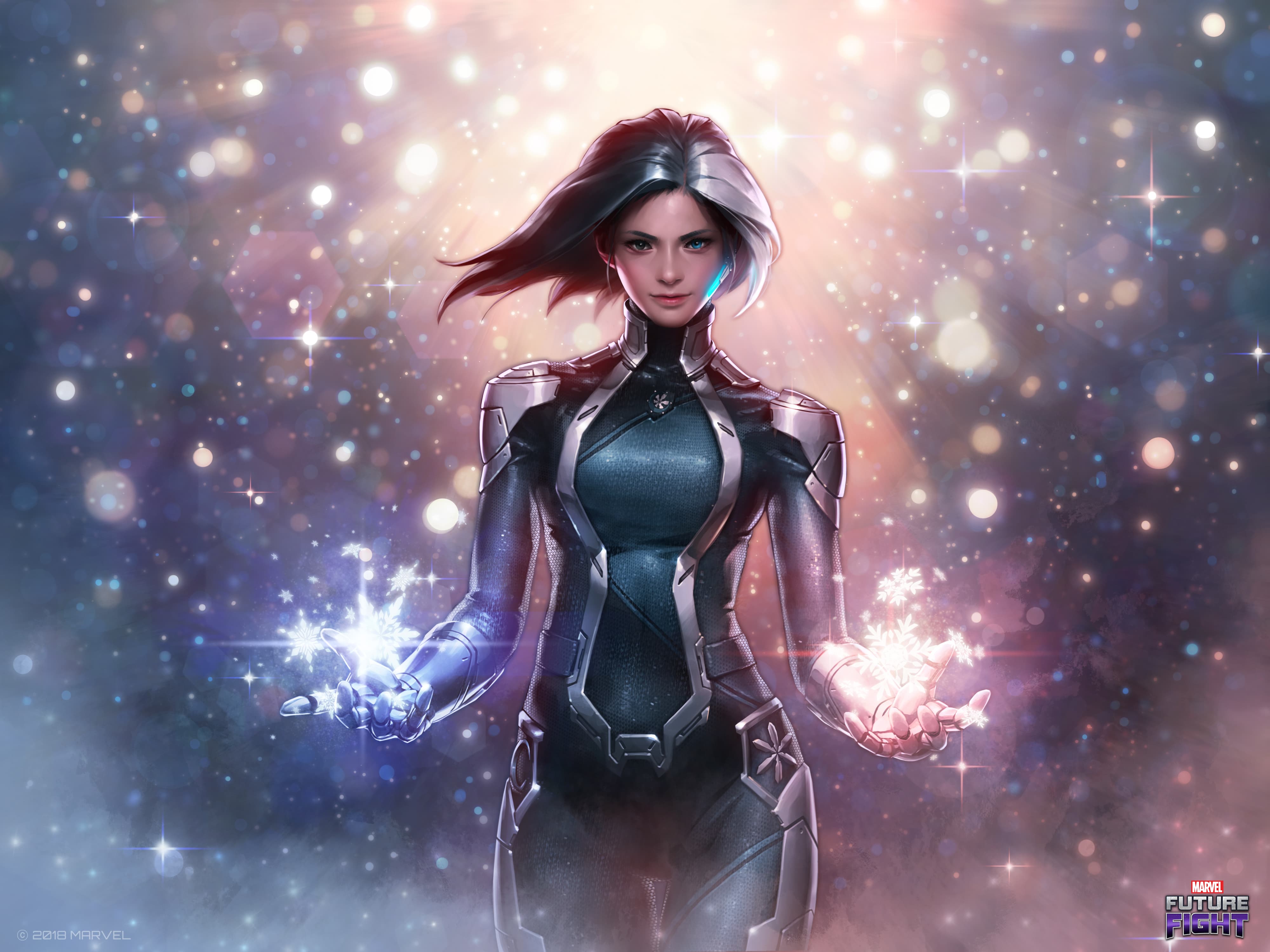 With a new suit comes new added abilities, Luna Snow has a strong mastery in Shimmer Crystal, Dancing Sensation, Winter Heart and more. (See all these abilities and more in the livestream video at the end of the article.)
The new update centers around duo characters — Crescent & Io — the third original character for the hit mobile game. Ten-year-old Korean Dan Bi had superheroism thrusted upon her after returning home from school one day to an empty house. Her father, an antiques dealer, who procured mystical artifacts for the scheming sorceress Morgan Le Fay, has gone missing and now Le Fay's henchman descended upon Dan Bi's home. While running from the goons, Dan Bi came across a mysterious mask which, upon her touch, unleashes a 12-foot-tall glowing "half-moon" bear that she can control. With the mask, Crescent and her spirit protector Io set out on a quest to find her father and stop the evil Le Fay.
Watch Crescent & Io in action in the spotlight trailer below:
The spotlight trailer reveals Luna Snow, Sharon Rogers Captain America, and White Fox joining Crescent & Io on their quest against Morgan Le Fey.
Luna Snow isn't the only original character getting an upgraded look in the new update. Sharon Rogers Captain America gains the Dark Star armor, providing her with more tech support and reinforcements. With her new armor, she can call upon her Reverb Shield, Vanguard Lance, Buster Lance, and Energy Piercer.
An agent for the National Intelligence Service, White Fox has an new origin look exclusive to the game as well. Marvel's first Korean Super Hero's attacks include bleed and charm attacks, summoning white foxes, fox magic, and absorbing her enemies' life energies to heal herself. You can obtain White Fox through Heroic Quest "Fox Hunt," a prelude for the Crescent & Io event.
The immortal Morgan Le Fay also has an original uniform for the game, and her abilities pack a serious punch in this update. Le Fey debuts a new power set in the game where she can summon a group of Undead Fairies (also new characters) that act as decoys for her enemies. These Undead Fairies can also attack on their own.
Lastly, two special highlights for the v460 update — Miles Morales gets a new uniform pulled from the upcoming "Spider-Man: Into the Spider-Verse" animated film. Thanks to a poll decided by you Marvelites, Hyperion got a revamp to fit into the current gameplay with an All-New, All-Different uniform. Not only that, he has the Classic uniform which includes stats changed and new skills Heaven's Fist and Solar Flare.
Catch all the updates above and more when the v460 'Crescent' update launches tomorrow, Tuesday, November 27 at 11pm PST. Pre-register for the Crescent & Io event here: http://www.marvelfuturefight.com/crescent/
MARVEL Future Fight is available worldwide on the App Store® and Google Play™. For all the latest on "MARVEL Future Fight," stay tuned to Marvel.com and @MarvelGames on Twitter!
The Hype Box
Can't-miss news and updates from across the Marvel Universe!