Games
Published March 8, 2021
Marvel Games Celebrates Women's History Month with New Mobile Updates
We round up all the month-long celebrations, events, character drops, and more from your favorite Marvel games!

It's a brand new month, and Marvel Games is excited to share the latest updates across our mobile line-up this month, which includes tons of amazing drops in celebration of Women's History Month. Between MARVEL Contest of Champions to MARVEL Future Fight, and MARVEL Puzzle Quest to MARVEL Strike Force, there's something for everyone! Get ready to game on!
In addition to alerting you of all the free giveaways and events across our mobile games, be sure to follow @MarvelGames on Twitter. Throughout Women's History Month, Marvel Games will be retweeting the amazing women behind your favorite Marvel titles! Follow along and hear their thoughts on what it means to be a woman in gaming.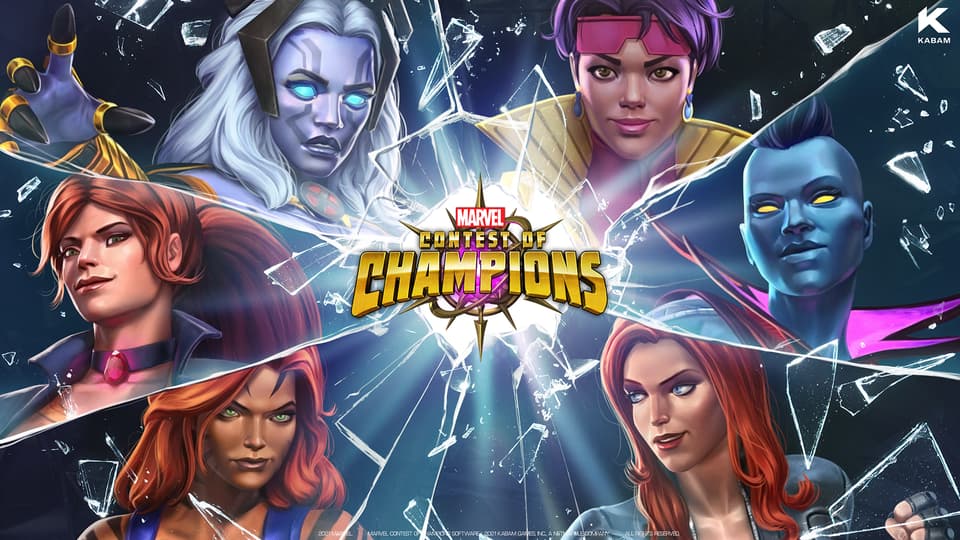 Celebrate International Women's Day in MARVEL Contest of Champions with a Boss Rush Challenge featuring six fights, each designed by a member of the Community!
Get ready to fight buffed versions of Elsa Bloodstone, Sorcerer Supreme, Black Widow, Jubilee, Tigra, and Storm (Pyramid X). A huge thank you to Starfighter0717, Queen of Pawns, Lizer, Dragon, Cat Murdock, and Katy Candy for the fights they've created, tested, and deemed ready to challenge fellow Summoners.
He goes by many names and designations. The All-Father. Ruler of the Nine Realms. You may refer to him as Odin, and he has arrived in The Contest!
To celebrate, he and the residents of Asgard hold a tournament to assess his people's strength. While the competition carries on, the sound of the Eternity Alarm rings across The Battlerealm, drawing Odin's attention away from the tournament! The All-Father must rush to the abandoned palace of Asgard to stall the rampage of an ancient and powerful foe, the hate-fueled Mangog! Will Odin find redemption, or will he succumb to his past sins?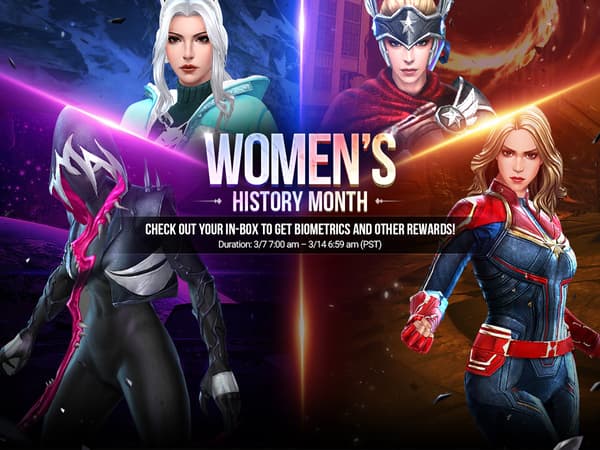 Celebrate White Day in Korea and Women's History Month in the US with MARVEL Future Fight's special giveaways! Login throughout the month of March to earn upgrade material and add these powerful ladies to your roster:  
3/8 - Captain America (Sharon Rogers) Biometrics x 50
3/9 - Clear Ticket x 50
3/10 - Captain Marvel Biometrics x 50
3/11 - Rank 1 Black Anti Matter x 100
3/12 - Spider Gwen Biometrics x 50
3/13 - Norn Stone of Chaos x 100
3/14 - White Fox Biometrics x 50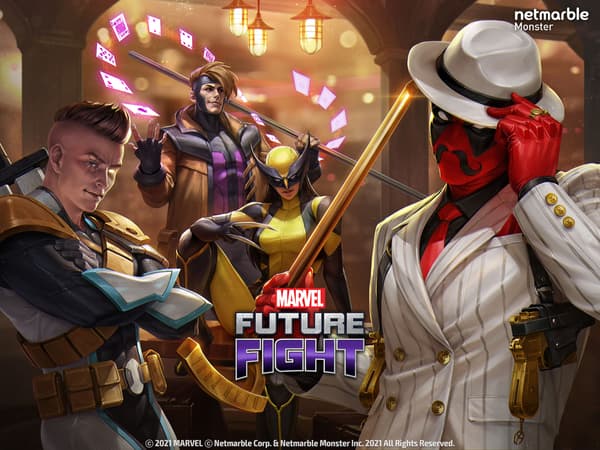 ICYMI, the MARVEL Future Fight's latest X-Men update continues with brand-new costumes for Rogue and X-23! Both characters also receive massive upgrades — Tier-3 for Rogue and Potential Awaken for X-23! 
Lastly, mark your calendars for a 40% Uniform sale from March 4 to March 10!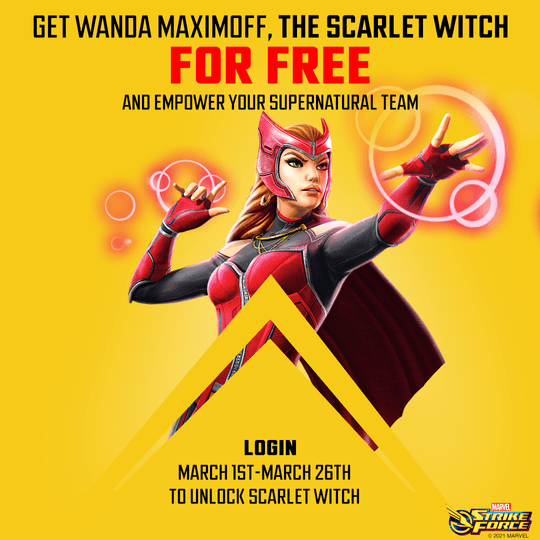 MARVEL Strike Force celebrates Women's History Month with even more giveaways! Login throughout March to receive Scarlet Witch for FREE. In addition, all Blitz events will feature the fierce ladies of the Marvel Universe. Finally, don't miss 2x Bonus events for Captain Marvel and Night Nurse! Ready your teams with the schedule below: 
BLITZ
3/1 - Stature Blitz Event
3/4 - Sif Blitz Event
3/8 - Psylocke Blitz Event
3/11 - Minn-Erva Blitz Event
3/15 - America Chavez Blitz Event
3/18 - Scream Blitz Event
3/22 - Crystal Blitz Event
3/25 - Black Widow Blitz Event
3/29 - Squirrel Girl Blitz Event

2x BONUS EVENTS
Night Nurse (3/22)
Captain Marvel (3/17)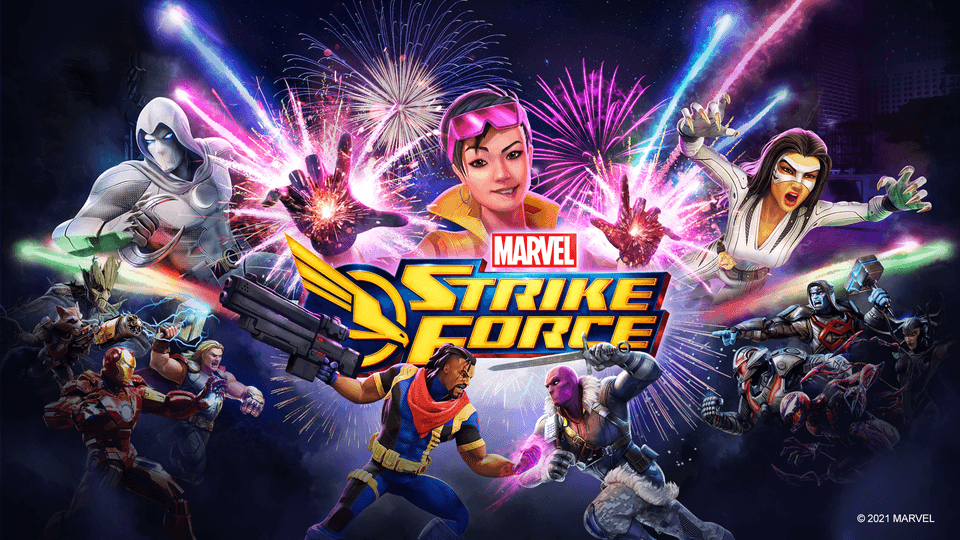 Also, complete your Shadowland team this month with the arrival of White Tiger and Moon Knight!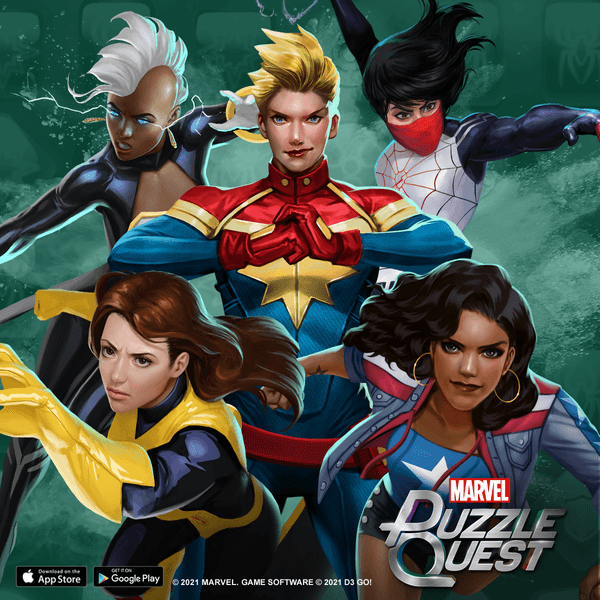 Join MARVEL Puzzle Quest in celebrating Women's History Month! All players who login throughout March will receive 400 4-Star Captain Marvel shards for FREE. 
Also, don't miss out in going to puzzle battle with your favorite female characters in the Women of Power Versus Tournament, currently taking place now through March 10!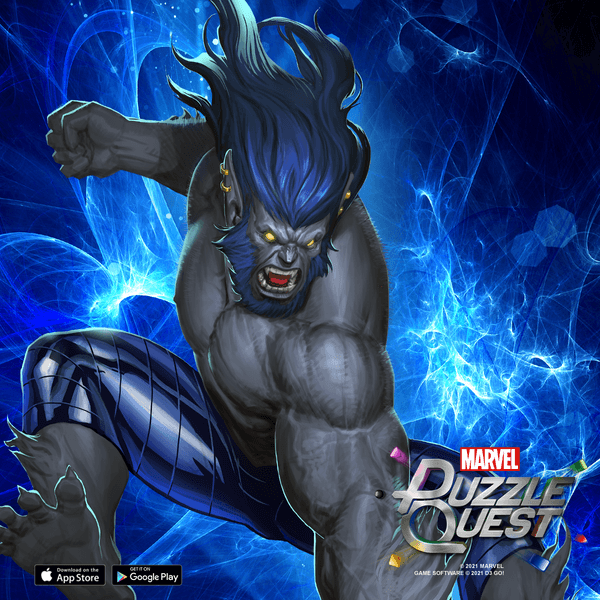 In case you missed it, Dark Beast join MARVEL Puzzle Quest last week. Add this sinister mad scientist to your team today and read about his play style here.
Stay tuned to Marvel.com for Marvel Games news and interviews and follow Marvel Games on Twitter for more!
The Hype Box
Can't-miss news and updates from across the Marvel Universe!