Games
Published February 23, 2017
Mighty Captain Marvel Visits 'Avengers Academy'
The hit mobile game spawns a very special variant comic book cover!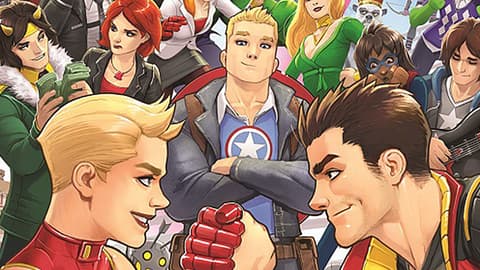 The heroes and villains of "Marvel Avengers Academy" grace a variant cover for this week's MIGHTY CAPTAIN MARVEL #2. Avid players will surely look to pick this up, but those unfamiliar with it can get a peek at some of the game's many characters, straight from the pen of "Avengers Academy" artist David Nakayama!
We sat down with David and pulled in Tim Hernandez, Game Production Director at Marvel Games, to get a behind-the-scenes look at how this cover came together.
Marvel.com: How did this project come about?
Tim Hernandez: Looking back, it has actually been in the works for a while. We had partnered with Marvel Publishing on multiple cool variants for other games last year that all turned out great.  Our fans really dig them and we knew we wanted to put together an "Avengers Academy" cover to showcase David and the TinyCo team's amazing character designs and youthful spin on the Avengers. Being hardcore comic fans, the TinyCo team was just as excited to collaborate, so then it became a matter of picking the right comic series and timing. In September, Marvel Games Creative Director, Bill Rosemann and Creative Assistant, Isabel Hsu, and I took a look at the upcoming calendar of books to see what would make a good fit. We knew that Captain Marvel would be joining "Avengers Academy" in the "A-Force" event in December, and that the MIGHTY CAPTAIN MARVEL series would be launching in early 2017. It was also roughly the one-year anniversary of the game's launch so we all felt like it would be the perfect way to celebrate both the game and the new series. We then approached the Publishing team with the idea and they were all for it.
David Nakayama: Yeah, for me it started with my boss saying "Hey, so we're going to do an 'Avengers Academy' variant cover—you want to do it?" and before he could even finish the sentence I'm going "OMG!! OMG!! YES, PLEASE!!" because I'm about as big a Marvel fan as you can be, and this was such a unique opportunity. I mean, I love working on our game, and I adore drawing covers for the comics, but obviously, it's not every day that you get to put those two things together, so I really, really could not have been more jazzed about it. Also, as a die-hard comic fan I can't help but think—in a "First Appearance" kind of way—that having the characters appear in print, in their native medium, on an actual Marvel comic was like welcoming them into the larger Marvel multiverse, which is just really special to me.
Marvel.com: When did you bring David on board to design it?
Tim Hernandez: Honestly, I think we always assumed it would be David doing the cover due to his massive creative involvement on the game, and his previous experience creating awesome covers for Marvel. When we shared the news with TinyCo that the cover was a go, they requested it be David on art duties and for us it was a no brainer to make it official.
David Nakayama: I definitely made my interest known at the very first whiff of a rumor that this might be happening. No way was I going to miss out on this if I could possibly help it!
Marvel.com: What was the process like for putting this cover together? Did you run through several ideas or did the Captain Marvel/Iron Man arm wrestling come up early?
Tim Hernandez: We proposed a couple of high-level ideas, but David really came up with the arm wrestling idea. I think Civil War II was still on everyone's mind but with Tony being the unofficial "big man on campus," it was a great way to introduce Carol to the Academy in a fun and humorous way that also allowed us to feature a nice diversity of characters, which really speaks to what "Avengers Academy" is about. Throughout the process we ran the concept, sketch, pencil and color phases by Sana Amanat and Charles Beacham who were editing MIGHTY CAPTAIN MARVEL and they loved it too.
David Nakayama: Yup, Tim nailed it. Civil War II established Tony and Carol as rivals, so it felt natural to translate that relationship into the context of the Academy. One of my goals with this cover was a feature as many characters as possible, and the arm wrestling idea gave us a nice excuse for the other students to be present. Even better, they could all be emoting and reacting to the match in their own way: Loki's taking bets, Pepper's freaking out, Black Widow is disgusted, Cap thinks Carol got this one in the bag, etc. I was thinking basically, if we have just one image to show comic fans what "Avengers Academy" is all about, this would be a great way to present a lot of character and story all at once.
Marvel.com: The cover is chock full of "Avengers Academy" heroes and even shows off one of Vision's fan-favorite actions from the game. How did you decide whom to include in the cover from the now 90+ characters in the game?
Tim Hernandez: As long as Vision made it in, I was happy! David came up with the line-up and I think we were pretty locked in on the cover featuring the characters that make up the core story. We also teased a couple of new additions, like Hawkeye and She-Hulk, who we knew were coming to the game by the time the cover would hit and the fans would want to see.
David Nakayama: I started off with the intention of including everyone who'd appeared in the game so far but quickly realized there were just too many. So instead I went for core Avengers first, then fan faves, then deep cuts and in-jokes—I'm looking at you, British Bulldog!—all with an eye towards building as diverse and interesting a color palette as I could. Managed to get in just about all the main heroes, but I wish I'd had a lot more space—and drawing time!—to include more villains and newer arrivals like Doctor Strange. Plus, I happen to know everyone slated to arrive in future "Avengers Academy" events, and it's a monster list of AAA characters that could easily fill their own cover. So yeah, with a whole universe of characters to draw on, it'd be easy to fill up another one of these with just as many characters.
Marvel.com: Were there any particular Avengers Academy characters you were eager to include?
David Nakayama: In every version of the Avengers, I just love Tony and Cap's dynamic, so that was a main focus for sure. In our game, Wasp, Loki, Pepper, and Enchantress are huge fan-favorites, so I definitely wanted to give them their due as well.
Marvel.com: Fans of the game will certainly be eager to know if they'll see more of these. Are there currently any plans for more Avengers Academy variants down the line?
Tim Hernandez: We'd love to do more. Whenever you're ready for round two, David! How about double the amount of characters this time?
David Nakayama: OMG!! OMG!! YES PLEASE!! Bring it on. Any time. Seriously. Call me.
Track down the special variant cover for MIGHTY CAPTAIN MARVEL #2 now, and play "Marvel Avengers Academy!"
The Hype Box
Can't-miss news and updates from across the Marvel Universe!