Games
Published March 2, 2017
Monsters Unleashed Upon 'Marvel Avengers Academy'
New recruits like Moon Girl and Elsa Bloodstone pitch in for monster mayhem!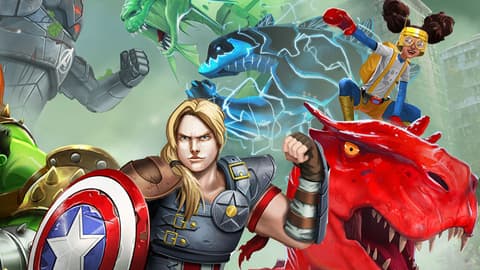 Kang's been defeated and banished from our timestream, for now. However, he left the students of "Marvel Avengers Academy" a parting gift straight from the timefog: Fin Fang Foom has been unleashed and he's ready to take over the world with a horde of monsters by his side. Recruit Moon Girl, Elsa Bloodstone, and more to battle Fin Fang Foom and his monster army and put a stop to his nefarious plans.
We snagged Allen Warner, Lead Narrative Designer at TinyCo, to get the full rundown of everything we'll see in this massive new event.
Marvel.com: What threat does Fin Fang Foom pose to the Academy? Is he alone or has he brought friends?
Allen Warner: Kang the Conqueror was defeated at the end of our previous Young Avengers event, but not before he'd had a chance to explore the timefog surrounding the campus, and plant the seeds for his revenge, and eventual return. He devised a way to free Fin Fang Foom from the timefog, knowing that the gigantic awakened space dragon would wreak havoc on Avengers Academy. Fin Fang Foom is not only furious about being trapped in the timefog, but he's also desperately searching for the immensely powerful Makluan Power Rings that were stolen from him while he slept. He uses his size and powers to not only dominate the campus, but to control the minds of monsters across the globe, unleashing them on the Avengers and the rest of the world to get his revenge and recover his rings. We'll see him using Devil Dinosaur, Orrgo, and Hi-Vo to attack the campus, and there will be references, stories, and decorations based around many more monsters and dinosaurs who are doing his bidding across the globe.
Marvel.com: What new heroes—and monsters—can players recruit to join the student body over the course of the event?
Allen Warner: It's an awesome combination of characters with extreme strength, intelligence, and skills perfectly suited for battling giant monsters: Moon Girl, Devil Dinosaur, Elsa Bloodstone, Orrgo, Amadeus Cho, and Hercules. It's one of my favorite event line ups so far, with every character bringing something cool and different to the table when it comes to their personalities, abilities, and visuals.
Moon Girl is the youngest student to ever join the Academy, and one of the smartest and most creative. Anyone who's read the great MOON GIRL AND DEVIL DINOSAUR comic knows about their fun relationship, but it's also really cool to see her interact with the many super-scientists at Avengers Academy from Hank Pym to Iron Man.
Elsa Bloodstone is one of my favorite underused characters. She has a great look, and I love her attitude. In our world, she has some history with a bunch of other monster hunters and cold-blooded enforcer types, so she'll share a lot of screen time with everyone from Blade to Angela.
It felt weird to have a monster event without letting players recruit at least one monster, and my mind immediately went to Orrgo because he's the kind of character that makes me smile just by looking at him, and he has this goofy, crazy, over-the-top attitude and power set that make him a great fit for the game, and perfect for an event that features a red dinosaur fighting a dragon from outer space. I think players will love Orrgo's animations, and they might be surprised by his chosen career path.
Hercules is a character we've been wanting to get into the game for a long time. He's a classic Avenger, has great history with heroes already at the school and new heroes in this event, and brings great energy and attitude. Our younger version of Hercules is a bro with a heart of gold. He's always looking for the next challenge, and he loves showing off while he's at it.
Amadeus Cho is of course, the new Totally Awesome Hulk. He has a really fun personality that fits perfectly with the game, and he's a mental and physical powerhouse. We did something we've never done with a character before in the game with Amadeus, having him start as Amadeus Cho in human scientist form, and evolve into his Hulk form. It's something we really wanted to do with the Bruce Banner Hulk when the game came out, but it presents a lot of challenges for animation in particular, so we couldn't pull it off at that time. With over a year of animations and experience in the game under our belt, we decided to give it a shot, and he turned out great. Joe Daniels and our animation team deserve a lot of credit. We even have a unique animation for him that plays out in two completely different ways based off of which form he's in. It really makes him feel like one of the most special characters in the game. And while it won't appear in this event, players can now also look forward to a Bruce Banner outfit for Hulk in the future.
Last, but most definitely not least, is Devil Dinosaur. Anyone who's been playing the game since the beginning knows that he's been teased more than any other character. We talked about getting him in from the beginning, but there was not only the challenge of animating a fun-loving Tyrannosaurus Rex, but how do you get a giant dinosaur to fit in a school made for humans? We knew if we were doing a monster event, he had to be in it, and the team did an incredible job of making it work. He's huge, he runs the gamut from silly to ferocious, and there is just nothing like seeing him stomping around the campus. I don't want to spoil anything, but his visual upgrades are both appropriate and absurd, and really great. I'm so happy he finally made it to Avengers Academy, and I think our players will feel the same.
Marvel.com: Likewise, who's going to be decked out in new duds designed to defeat the monstrous threat?
Allen Warner: There will be new outfits for Wasp, Captain America, Loki, Hulk, and Black Widow.
Loki, Wasp, and Black Widow are all monster hunters, but each one looks and feels drastically different based off of their personalities. Loki is the arrogant, old-timey Big Game Hunter, Widow is the deadly and mysterious Monster Hunter, and Wasp is the energetic, fun-loving Monster Catcher who adores monsters and just wants to catch them all.
Hulk will become Gladiator Hulk, using one of his awesome designs from the legendary "Planet Hulk" comics to better battle the giant monsters. Cap will also become a gladiator of sorts, taking inspiration from the Secret Wars [PLANET HULK comic] where he teamed up with Devil Dinosaur. It's fun to see them both looking so different, and the barbarian and gladiator vibe is a great fit for the sci-fi fantasy setting of battling aliens and gigantic monsters.
We usually have special combat outfits for each of the weekly event characters, but this time we're doing something a little different. Each of those characters will have their own personalized mech suit themed to their powers and personalities. They'll get new storylines for each suit, and will be able to jump inside, and trigger some awesome animations.
Marvel.com: What will the event district look like this time out, and how will our heroes interact with it?
Allen Warner: The event district is a sprawling tropical land that time forgot. Fin Fang Foom looms large in the center, flanked by his mind-controlled monsters and trapped heroes. On the other side is a giant, ancient alien mech covered in foliage. If our heroes can figure out how to get the mech running, they'll be able to use it to battle Fin Fang Foom in some epic giant robot vs. giant monster battles!
Our event building this time out might be my favorite yet. It's a multi-tiered gladiator arena for the heroes to practice battling monsters, and the entire building is made out of a giant dragon skull. Our concept artist Steve Chang did an awesome job with it. It looks really cool, and it allows a lot of vertical space for multiple characters to perform actions at the same time.
Marvel.com: In what ways do you draw inspiration from events on the Marvel Publishing side—this time out, from Monsters Unleashed—to choose characters, story beats, and various design elements for events?
Allen Warner: For all of our events that are based on either the movies or the books, I try to start with the high-level idea of the source material, and fit it into the world and tone we've established in 'Avengers Academy.' For example, Civil War is about heroes battling heroes with Captain America and Iron Man leading each side. I kept that in place, but in our younger, more lighthearted setting, those battles were based around insults, dance battles, and arm-wrestling, and the teams were different based off of what I thought made sense for our version of the characters. For Monsters Unleashed, it's essentially a big fun spectacle about gigantic monsters doing battle. Two of the most iconic Marvel monsters of all time, Fin Fang Foom and Devil Dinosaur, have either been on our playspace or been frequently mentioned from the beginning of the game, so it made too much sense to base a monster event around them. I always want to respect the source material, but I also always want to do something that hasn't been done before, and Tim Hernandez and Bill Rosemann and everyone else at Marvel Games are really great about encouraging me to pursue my own ideas and stories, and they offer that same trust and support to our art and animation teams.
Marvel has so much history, and an incredibly deep roster of characters, so I try to use stories from the comics for inspiration, and use that sandbox to create new stories and unique character combinations. Getting to reimagine these classic characters, stories, and events, and helping to create this new world within the Marvel Universe was what drew me to this project in the first place, and it's still what I find the most fun and exciting.
Marvel.com: How does the team at TinyCo use these ideas to create something that fits within the Avengers Academy universe and ties into the ongoing narrative experience of the game?
Allen Warner: We always go back to our premise of the characters being younger, and our lighthearted tone, and what that means for their outfits, powers, and personalities. We know what Hercules looks and acts like in standard comic continuity, but what would he look and act like as a modern day young adult? Is there a school trope that fits him perfectly? Is there a sly pop culture reference we can use to drive the idea home? What would our version of Wasp wear to go monster hunting? How about Loki? These are the kinds of questions we ask with every character and outfit, and our art and animation teams deserve all the credit in the world for knocking it out of the park time after time.
From a strictly narrative perspective, I always want every event to connect to the next, and tie back to the underlying mysteries we've been exploring since the beginning of the game: Why are the heroes younger, and why are some not? What is the timefog? What caused it? What is Fury hiding at the school? Why does he want to recruit some characters, but imprison others? I try to use each character and event to plant new seeds and shed new light on the big mystery, while having fun with each interaction.
Marvel.com: While we have the menace that is Fin Fang Foom and his legion of monsters to deal with now, can you clue players in to what new enemies might be lurking on the horizon?
Allen Warner: Many villainous factions have fallen since Avengers Academy opened. Some have recently been resurrected under new leadership, and others have combined forces with unlikely allies. They recognize that to have any hope of beating the Avengers, they'll need to reach out to rival schools that have remained hidden to this point, and use their combined forces to take down the faculty on their way to defeating the students.
It will be the most eclectic coordinated attack on the campus to date, and it will be the first step in introducing characters that no one ever thought would be joining "Avengers Academy."
Keep up to date with the latest "Marvel Avengers Academy" news on Marvel.com!
The Hype Box
Can't-miss news and updates from across the Marvel Universe!