Games
Published December 29, 2016
New Outfits Bring Fantasy Feel to 'Marvel Avengers Academy'
Iron Man, Spider-Woman, Wasp and more suit up for the A-Force event!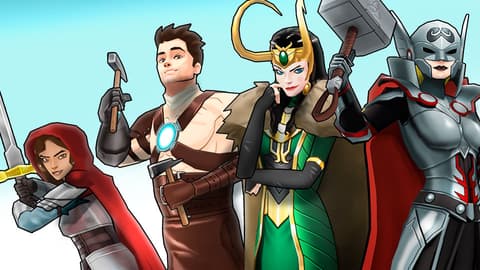 In the currently ongoing "Marvel Avengers Academy" Winter Event, Malekith uses an ancient artifact to plunge the world into eternal winter. With the help of newcomers from A-Force, the heroes attending the Academy battle the evil dark elf and his army of frost giants.
And what would a battle with elves and giants be without the proper attire?
Many of the Academy students—including each of the A-Force newcomers—don new fantasy themed outfits to inject a little joy into their fight against this latest threat. We grabbed Allen Warner, Lead Narrative Designer at TinyCo, to get the rundown of his favorites.
Rogue Spider-Woman – "Inspired by the look of thief and assassin outfits in classic fantasy games and films, Spider-Woman wears this outfit to enhance her already impressive stealth and espionage skills. The outfit unlocks a fun storyline about Spider-Woman uncovering secrets behind Malekith's true plan as well as Nick Fury's hidden agenda, and features unique animations of her scaling the Academy walls, and picking Odin's pocket for intel."
Healer Singularity – "Singularity is a kind and gentle soul who is always looking out for her friends, so it makes perfect sense that she'd play the role of Healer in this group of fantasy archetypes. The outfit plays to her bright and whimsical personality, and features a unique storyline about her offering to heal some of her toughest classmates, including Punisher and Jessica Jones."
Archer Wasp – "No stranger to alternate outfits, Wasp becomes an elven archer in a storyline befitting her infectious excitement and wild imagination. She tries to embody every characteristic of every possible incarnation of elves, seeking advice from everyone from the dark elves she's currently fighting to arrow aficionado Hawkeye. The outfit comes with some fun animations, including playing a fantasy-inspired flute throughout the campus, and attempting to shoot an apple off the top of the head of one of Iron Man's hapless helper robots."
Huntress Angela – "Inspired by her awesome design in the ANGELA: QUEEN OF HEL comic series, this outfit plays to Angela's strengths as a master hunter and assassin. It's one of the most detailed outfits ever included in the game, and features a unique storyline about Angela recruiting famous hunters like Blade for the ultimate Super Hero hunting party to track a once in lifetime target."
Blacksmith Iron Man – "Always the master craftsman, Tony Stark indulges in his fantasy dreams to become an archaic blacksmith, crafting weapons and armor for the Avengers and their new A-Force teammates. It features a fun storyline about Tony using the dark elves' fear of iron to his advantage, and unlocks unique animations like him using his repulsor beams to smelt iron ore, and using his engineering genius to craft a rapid-fire procession of weapons and items ranging from swords to what appears to be Ultron's head."
This is just a small sample of some of the awesome outfits, unique content, and fun adventures available in the current A-Force Winter event in "Marvel Avengers Academy," ending January 5. Stay tuned for all the latest news, interviews and more!
The Hype Box
Can't-miss news and updates from across the Marvel Universe!